10 Places To Visit In Boracay (2021 Edition)
Now that the island is open for domestic travel, we check out what's closed, what's open, and what must you not miss when in Boracay
Before the pandemic, Boracay was one of the hottest tourist destinations in the country, both for locals and foreigners. In 2019, Boracay saw over 2 million tourists, which is a staggering 116 percent increase from 2018. This surge in tourism came right after the famous Boracay clean-up and rehabilitation in 2018, bringing back the beauty and charm of the famous island.
But right when Boracay has finally started recouping their losses from the rehabilitation program, the COVID-19 pandemic struck, closing down the island once again.
In a bid to restart the economy of the island and its locals, who are heavily dependent on tourists and travelers, the Department of Tourism (DOT) gradually reopened the island in June last year with strict protocols and regulations. And while it has been slow, DOT, the local government, and the locals are all working hard to welcome local travelers back to the island.
In the past years, foreign tourists have always made up half of the visitors in Boracay. But now, for the first time in years, Boracay is exclusively for Filipinos. It's time to reconnect with the island that has put the Philippines in the global tourism radar, and rekindle our love and appreciation for the natural beauty our country has to offer.
Metro.Style got the chance to fly back to Boracay last March to check up on the island, and we've compiled ten locations—newly-opened places, reopened places, and the most iconic spots you have to return to—that you can visit now in Boracay.
From modern food finds at Station X like Nonie's and Sunny Side Boracay, iconic restaurants like Dos Mestizos and Real Coffee, specialty establishments that continue to persevere throughout the pandemic like YANNinks Tattoo, to award-winning resort hotels like Crimson Resort and Mandala Spa, there's something at Boracay for everyone.
Check out the gallery below for our full list.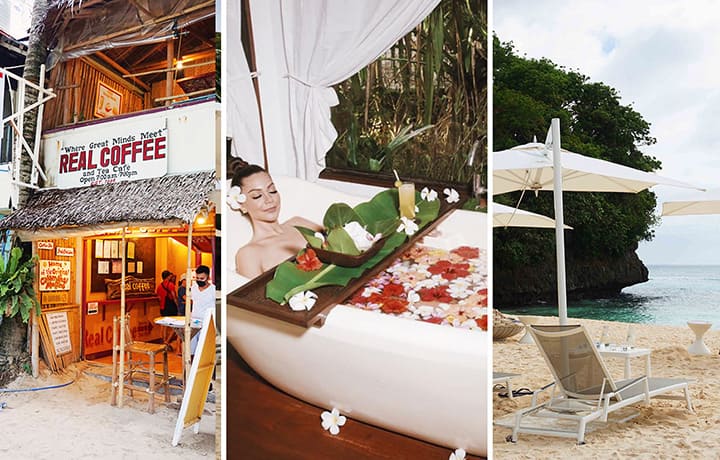 Photo Gallery
Photo Gallery
Traveling amidst the pandemic
It's been a year since the COVID-19 pandemic shut down the country, locking Filipinos inside their homes to stop the transmission of the deadly virus. This meant a lot of things for many people—lack of work, no schools, work from home arrangements, closure of businesses, separation from family and friends, and so much more. While some industries and businesses were fortunate to have thrived in the pandemic, one of the most hit by the pandemic was the tourism industry. As a non-essential business, travel and tourism was put in the back seat, as the country focused on reviving the more essential sectors of the economy.
As the restrictions eased and more businesses reopened last year, we are fortunate to see more people willing to go out and see close-by destinations—of course, while still observing proper health protocols and social distancing. People started to drive to nearby provinces, stay for a meal or two in their dearly missed restaurants, and some are even more fortunate to start flying to local destinations like Boracay.
It's definitely a blessing and a luxury to travel locally now. Not a lot of people can afford the extra requirements like the required RT-PCR tests, especially since the pandemic affected many people's jobs and income. Traveling also carries a significant amount of risk, especially air travel, which puts everyone in a small enclosed space.
But while traveling is a luxury, it also goes a long way in helping our kababayans who, before, earned their living because of the travel industry.
For the longest time, Boracay, for example, thrived mainly because of local and foreign tourism. Most, if not all, of the locals were able to establish restaurants, stores, and their own gigs by taking advantage of the travel boom in the island. So when the rehabilitation of the island kicked in, and then shortly the pandemic lockdown after that, many were left jobless, with no income to support themselves and their families.
Some of the locals we talked to shared that during the height of the pandemic, they would turn to malunggay trees in their backyard and watery lugaw to be able to survive. Many also went back to fishing to find food to put on the table. We met young peddlers selling keychains and bracelets, begging us to buy one because they haven't sold a single one for the whole week. Restaurants that lined the beachfront remain open with flashy lights and sounds, albeit empty, maybe in hopes that some of the very few travelers would care to come in and buy something.
For them, seeing local travelers back in the island is a glimmer of hope, that soon, things will return to normal and bring Boracay back to its usual bustle. Even though Boracay is COVID-free, and technically it is in their best interests to keep locals from COVID hotspots out of their pristine island, they're willing to welcome travelers back with open arms just so more business would come in after the drought of last year.
If you're able, if you have the means to do so, this is the best time to travel now. As long as you follow the protocols—staying masked all the time, washing and disinfecting your hands regularly, and observing social distancing—traveling shouldn't be any riskier than going to the supermarket for a grocery run. In fact, if you visit a COVID-free island like Boracay, you're less likely to get infected than exposing yourself to the crowded Manila.
If you travel now, not only do you get to witness again the beauty of our country, but you also get to help locals who have been struggling in the past year.
It's no overstatement to say that for the first time in decades, the Philippines is for Filipinos to see and enjoy. Hopefully we just do it responsibly and safely.
Please recheck travel restrictions before you book or travel to Boracay as they are subject to change