Indulge In Delicious Plant-Based Dishes At Seabuds La Union
Eating healthy while on vacation is possible at this vegan hot spot on the beach!
Plant-based diets have been all the rage in the recent years, mainly for health or planet sustainability reasons. Incorporating more plants into one's day may prove to be a challenge in the beginning, but once you do get to find your way around it, the results can be pretty rewarding. With the abundance of plant-based options in the city right now, getting into this way of life is a lot more achievable.
Now traveling and maintaining a healthy diet while on vacation is another story. Oftentimes we're used to traveling and simply indulging in good 'ol comfort food—fast food, packaged snacks, pizza, you get the idea. But when in La Union, there's a spot we head to for healthy, plant-based, and yes—delicious food! Meet Seabuds La Union!
Seabuds is situated on the San Juan Surf Resort property, overlooking Urbiztondo beach in San Juan, La Union. Getting to the spot is easy; simply head to San Juan Surf Resort if you're coming from the highway, or walk to it if you're at this popular beach. The cafe is spacious and al fresco, with two dining floors for a big crowd's enjoyment. Choose to work remotely at one of their cozy spots on the second floor, or sit in a spot on the ground floor where you can get prime, undistracted enjoyment of the beautiful ocean.
Seabuds specializes in plant-based smoothie bowls, smoothies, rice meals, sandwiches, juices, and desserts that are good for you and do not lack in taste either! Imagine your body smiling back at you when you nourish it with these vibrant dishes, beautifully crafted for your pleasure.
We sampled some of their delicious fare, such as the plant-based bacon rice meal that looks like actual bacon, paired with brown rice, tofu egg scramble, chopped tomato, and cucumber. The Paradise bowl, which is often available only on weekends, is a halved ripe papaya filled with granola, fruits, superfood seeds, and peanut butter, while the Azul smoothie bowl is a blend of pineapple, banana, mango, and blue spirulina. Pair your meal with a fresh glass of OJ, and finish it off with their insanely delicious Peanut Butter Cups.
Ready to dig in to this vegan spread? Swipe through the gallery below to take a closer look at some of the dishes they offer, and the beautiful surroundings to go with it.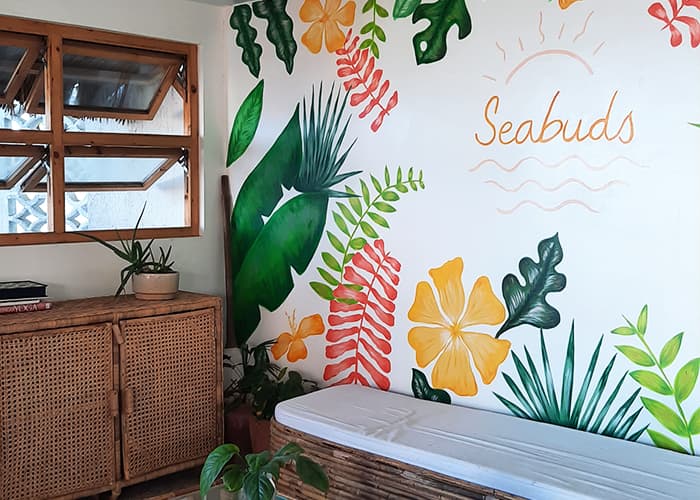 Seabuds La Union
SWIPE LEFT OR RIGHT
TO NAVIGATE BETWEEN PAGES
Plant-Based Bacon Rice Meal
Seabuds is located at the San Juan Surf Resort, Urbiztondo, San Juan, La Union. Follow them on Instagram at @seabudslunion