Our New Year Plans: (Re)Visiting Pinto Art Museum
A new gallery, a special selling exhibition, and a way to rekindle our love for art and travel—it's time to discover or come back to one of the most Instagrammable museums in the world!
After the turbulence of 2020, we're definitely starting 2021 with a more hopeful and positive outlook. And to get us in that mood, we're rekindling our love for art and travel. Even though overseas travel may not be on the horizon yet, there's so much to discover or rediscover closer to home. One of them is the Pinto Art Museum in Antipolo, Rizal, an exhibition space and contemporary museum that's dubbed as one of the most Instagrammable museums in the world.
Metro.style dropped by Pinto Art Museum recently to give you a low-down of what's it like to visit for the first time or come back to this art haven.
New Covid-19 protocols
The Pinto Art Museum officially reopened its doors to guests in September. Like before, the museum is open from Tuesdays to Sundays, from 10 a.m. to 5 p.m., and closed during Mondays. Ticket prices are P250 for adult, P200 for senior citizens and PWD, P125 for students with proof of enrollment.
However, they have New Normal guidelines strictly implemented throughout the museum:
Bringing of children, infants, senior citizens, and immunocompromised guests is highly discouraged.
No facemask, no entry. Face masks are required and must be worn at all times even when taking pictures. Removal of masks is only allowed when eating at the cafe.
Thermoscanner is used at every entrance of the museum.
A Health Declaration Form is to be filled out and submitted before leaving the museum. Guests will access this via QR Code.
Alcohol dispensers are placed around the museum for disinfecting.
Guests must observe social distancing (1 meter apart)
No baggage counters so no bringing of large bags and backpacks.
No smoking and spitting
No food and drinks
No pets allowed
No littering
No recording of videos
No changing of clothes
No props
No flash photography
As mentioned in their new normal guidelines, kids and senior citizens are discouraged from visiting the museum. However, they will still be allowed inside if they are accompanied by their immediate family members.
All visits are through walk-in only. There's no need to call in advance or reserve to visit the museum.
For the first-timers: What's inside Pinto Art Museum?
If you haven't been to Pinto Art Museum, we definitely encourage you to check it out now! Especially since we're hungry for new adventures and memories this year, experiencing Filipino art is an amazing way to start the new year.
The museum opened its metaphorical and literal doors in 2010 to publicly exhibit the collection of Filipino neurologist and patron of the arts, Dr. Joven Cuanang. To date, it has several permanent and rotating galleries that showcase contemporary Filipino art, as a way to connect distinctive nationalities, worldviews, and communities.
The museum collection is home to surrealism, expressionism, minimalism, social realism, and conceptual art—all of them innately Filipino in identity and history. This includes works by artists Elmer Borlongan, Mark Justiniani, Jose John Santos III, Emmanuel Garibay, Rodel Tapaya, Geraldine Javier, Marina Cruz, Joy Mallari, and Antonio Leaño among others.
For the returning visitors: What's new?
Since Pinto Art Museum has collections in rotation, there's always something new to appreciate and discover inside the museum. But if you haven't been to the gallery in recent years, the new gallery wing will be a delight for you to discover.
In January this year, before the pandemic closed off many establishments and borders, Pinto launched its new Gallery 7, featuring works from the museum's permanent collection. Included in this collection is the iconic die-cast car installation by conceptual artist Nilo Ilarde, which was initially displayed at the Art Fair Philippines 2018.
FAVES FROM ART FAIR PH before everyone takes selfies in front of them: a thread

1) Nilo Ilarde, "The Art Fair Is Full Of Objects, More Or Less Interesting; I Wish To Add 24,124 More" (2018). Installation of 24,124 toy cars.

IN THE PHILIPPINES, TRAFFIC IS AN ART pic.twitter.com/MmkxGxEBYT

— 🎄 zoloft the other reindeer 🎄 #ACAB (@bellemaps) February 28, 2018
As a special way to cap the year and usher a new one, Pinto is actually holding a special selling exhibition entitled "20/20." On display at Gallery 7 from December 6 to January 31, "20/20" contemplates on the external and internal conditions brought about by the pandemic through artworks painted on a 20x20-inch canvas.
This special exhibition is curated by Ferdie Montemayor to "inspire artists to continue to work, collectors to discover new names and re-encounter the fresh insights of masters, and audience to engage with themes that are conversant with the contemporary predicament."
Check out the gallery below for a visual tour of Pinto Art Museum.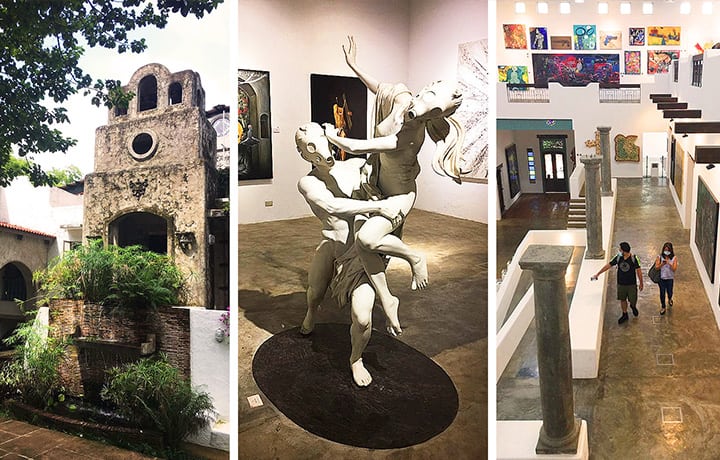 Photo Gallery
Photo Gallery
Pinto Art Museum is located at 1 Sierra Madre Street Grand Heights Subdivision 1870 Antipolo City. For inquiries on the purchase of works and viewing of the exhibition, contact Pinto Art Museum at 8697-1015, e-mail pintoartmuseum@yahoo.com, or visit their Facebook page at Pinto Art Museum.
Photographs by Lala Ventura