Pia Wurtzbach Takes Us On A Foodie Adventure In Bacolod
Pia Wurtzbach visits The City of Smiles for the Masskara Festival, but we follow her steps to discover the city's flavors and eats
We've figured out why Bacolod City is known as The City of Smiles—it's because everyone is always smiling because of how full and happy their tummies are.
Pia Wurtzbach visits Bacolod City during the Masskara Festival for Pia's Postcards to discover everything that makes the locals smile—their beautiful culture, its resilient people, and an abundance of delicious food.
The City of Smiles
The Masskara Festival goes back a few decades ago, after Bacolod bounced back from two back-to-back tragedies: The sugar crisis of the late '70s, which left the city in near economic ruin, and the sinking of the MV Don Juan in 1981 where almost a thousand Bacolodians perished. After these tragedies, that's when the people of Bacolod decided to create a festival that would become their story of hope.
Bacolod City Administrator John Orola, Jr. shares, "We asked then, 'What's going to happen to us?' Everybody was so sad and there was this concept of creating this smiling mask that in spite of all the hardships, in spite of all the sadness, it is time for us to stand up and fight all of the challenges and face the world smiling."
The Masskara culture then became this beacon of light, showcasing how the lives of the people changed and how the mentality of the locals changed. The mask symbolizes the spirit of every Negrense—not to camouflage who they are—but symbolize the spirit and the energy that they want in their future.
And so, from the hardships and the challenges, the City of Smiles was born. And at the core of Bacolod is not just their strong spirits—but also their delicious local cuisine.
Beef Cansi
Beef Cansi is an Ilonggo dish born from the marriage of bulalo and sinigang. It's made from bone-in beef shank with bone marrow that's cooked for 3 hours to bring out all the meat juices and flavors. It's a savory, sour dish made with batuan, Bacolod's sour fruit, instead of the usual tamarind that gives sinigang its sour kick.
Pia visits Sharyn's Cansi House, one of the most popular destinations for beef cansi in Bacolod, to try her very first authentic beef cansi. It's a low-key and chill diner, perfect when you want to taste and savor the locality's authentic recipe.
If you need sawsawan for your cansi, there's an important information that you should take note of when you're in Bacolod to eat: The soy sauce that we know is called patis, and the patis is called Rufina. So don't mix it up!
Inasal
Chicken inasal is one of the trademark dishes of Bacolod, which is essentially chicken marinated in calamansi, pepper, annatto, and sinamak—a very spicy vinegar that's essential in every Bacolod inasal. If you thought inasal only means grilled chicken, in Bacolod, almost every kind of meat can be cooked as an inasal. There's pork inasal, intestine inasal, and seafood inasal.
When you're visiting Bacolod during the Masskara Festival, Lacson street is the best place to head to. You don't have to do much because the party will go to you. Lacson street is lined up with food stalls, offering different street and grilled dishes. Every so often, a decorative float will also arrive, bearing dancers in grand costumes and beautiful masks.
If you're in Bacolod on a normal day, visit Masskara Chicken Inasal, the place to go for delicious and mouthwatering inasal dishes.
Napoleones
Apart from its nickname as the City of Smiles, Bacolod is also known as the Sugar Bowl of the Philippines because of the sugar plantations that abound the area. And thanks to the abundance of sugar, one of their signature pastries was born: The napoleones.
It's hard to find napoleones in the Manila, but in Bacolod, it's a dessert staple. It's a soft, flaky, custardy delight that's the right balance of bread and sweetness. Pia visits the Chefs & Bakers store to learn how to make napoleones from Chef Nathaniel Entuna, and she finds that the process is surprisingly simple, yet laborious.
Simple because the ingredients are very easy to pool together. It's also pretty straightforward to make. However, the true spirit of the napoleones comes from its flaky pastry, which Chefs & Bakers creates with 100 layers or folds. It takes a baker two hours just to do the puff pastry alone, because of the number of folds that he has to do. But the result: A heavenly, finger-licking dessert that will keep you wanting more.
Piaya
Pia reveals that for the longest time, she wasn't a fan of piaya because her classmates would always tease her and call her "Pia Piaya." She also remembers an old memory of a piaya that's crumbly and dry—which isn't at all how piaya is done in Bacolod. As the home of piaya, Bacolod knows how to make perfectly baked piaya, which is basically unleavened bread stuffed with a muscovado filling. Apart from muscovado-filled, some piayas also come in ube or mango flavors.
Pia tries a piaya from Bacolod, and immediately, she's a convert. She says that after tasting Bacolod's piaya, she would no longer mind being called "Pia Piaya."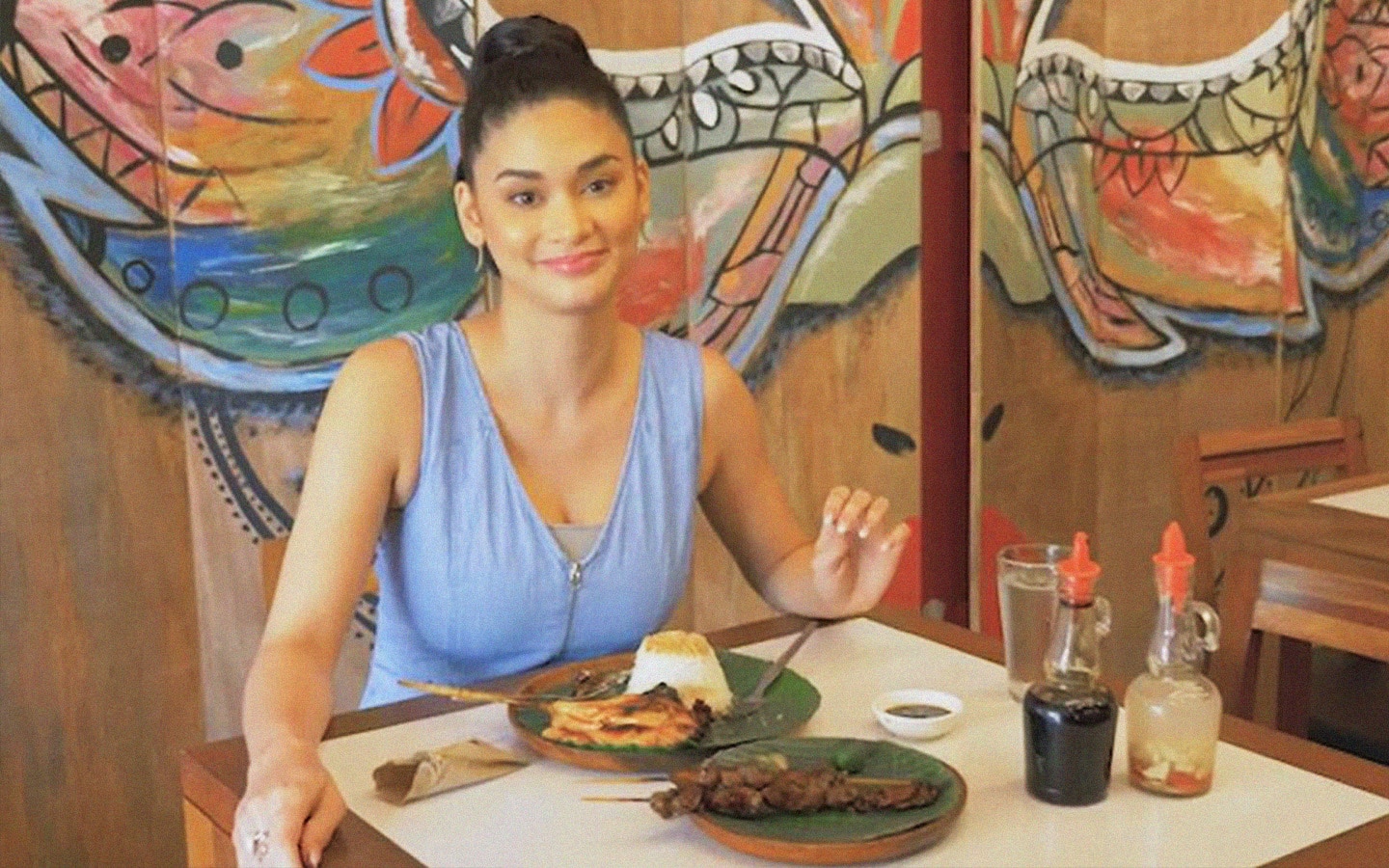 Catch fresh episodes of Pia's Postcards every Sunday, 7 p.m., on iWant, Metro.style Youtube, and Metro Channel, channel 52 on Sky Cable and channel 174 on HD.