Air Travel In The New Normal With INAEC
The country's oldest Filipino-owned airline Iloilo-Negros Air Express Company (INAEC) on what it's doing to make travel safe again
It's early in the afternoon on a Saturday under lockdown, and Benjamin Lopez goes over Zoom to talk to us about flying in private planes. And when it comes to this subject, there are few other people who know as much about it as he does.
Benjamin is the president of the Iloilo-Negros Air Express Company (INAEC)—the first Filipino-owned private airline in the Philippines. Built in 1932, it's a historical part of local aviation, and it's since become one of the most resilient aviation companies in the history of the country. And right now, with a crisis looming over our heads, it's showing us why.
Work might have slowed down across the country, but in the world of private aviation, even the weekends aren't exactly a break: they're business as usual. Though "as usual" isn't what it used to be.
"In general, there's been a reduction in flights," says Lopez. "Tourism has obviously been affected. There's still a lot of fear in travel, there are a lot of travel restrictions in place, there's still a downturn from last year."
With the pandemic being what it is, the last thing people are thinking about is traveling. Around the world, fleets of planes are grounded, flights cancelled, and destinations locked down. Still, while many of us are staying at home, the need to move remains. And it's not just to discover new places or feed photos of sunsets to Instagram: people are traveling because they need to. Because of business, for health, or sometimes, simply to get back home. What that means—at least for private aviation—is that INAEC has had to rethink the way they do things: more than a few times over the past five months.
A crisis of confidence
"There is a crisis of confidence right now," Lopez says. "There is fear because we don't want to catch the virus. We can get stranded in a place and don't know when we can come back."
Flying used to come with certainty, with an assurance that it's one of the safest ways to travel. But it's precisely this confidence, this assurance, that INAEC wants to bring back. The only way to make that happen, though, is to make sure that the passengers and crew are safe. That people can get to where they're going and head back without bringing the virus home.
It was a problem that INAEC quickly responded to. As early as February, the company already had protocols in place to prevent the spread of the coronavirus. First, it was the masks, a more stringent sanitation routine, and physical distancing. But as the pandemic showed no signs of slowing, the protocols likewise kept changing.
Taking no chances, the company has been involving medical professionals to make sure they have it right. Their advisory council involves an occupational health expert with a background in epidemiology, one of the country's best psychiatrist and even an emergency medical services physician who survived COVID-19. They all gave talks to their employees about the latest information on preventing the spread of the virus, what it was like to be under the spell of the disease, and dealing with limited social and physical interactions. And from there, the procedures are changed if needed, adapting as they learn more about the virus.
The entire frontline staff undergo swab testing, essential personnel are sheltered in place, and even stay in a pre-deployment quarantine facility before they are allowed to go to work. They even go as far as checking the staff's home conditions and disallowing public transport, just to make sure there is no cross-contamination at the workplace.
From the facilities, to the fleet, and down to the baggage, everything is being sanitized. They have brought in UV sterilizers in the hangar and set up an open briefing area with circulating air—later developments as more information became available.
At INAEC, there are no longer any papers for passengers to fill-up, and there won't be for a while to come. The entire process is done digitally so there won't be any contact between people. And on the plane, the crew wear full PPEs (suits, masks, face shields), with isolation barriers placed around the entire aircraft.
Flying with INAEC now looks more like flying on a mission to space. Though this is a new world, a new image, that we will all have to get used to. What we're seeing here could be what flying will have to look like in the days ahead.
Flying in the new world
It seems like such a long time ago (though it really is just a few months back) that private aviation had this image of glamor: of people in loungewear flying off to the Bahamas, suitcases in tow, champagne glasses on the seats. It was a way to avoid the crowds at the airport and fly on a jet that they could have all to themselves. And for a few people, that might have been the case. But in reality, private aviation is more about getting things done.
"The business of aviation is all about how people use it. It's being more productive with the use of your time," Lopez says, dispelling the image. "There's a very large industry dedicated to business aviation, I think that's really where a lot of the misconception of private aviation is. It's not all just about luxury. It's about business efficiency, by saving time. It's about saving lives through the humanitarian missions it enables. It's much more than the luxury image that it projects."
Much of INAEC's work runs along these lines. Take the aftermath of Typhoon Yolanda in 2013. They were one of the first to respond to the need for medical assistance, flying in supplies and flying out people who needed to get to hospitals. And in the same way, they've done it again this year, at the onset of the COVID-19 outbreak.
"Earlier on in the pandemic, in March, we were doing a lot of medical runs: moving equipment, moving health supplies from Manila to the provinces, and then doing repatriation flights."
It's during these times of crisis that private aviation's role comes into perspective. It's a guarantee of being kept away from an invisible disease, even as people begin heading outdoors.
And sure, it's always going to cost more than a regular flight. There's no way around that. But while we're on the subject, it's worth knowing that INAEC haven't raised their fees. Even with all the new protocols, tests, and facilities that they've had to make, chartering a flight with them costs the same as it did five months ago.
Whether it's for business, for medical work, or the return home, this is something that people will want to spend on.
Should people fly now?
So given everything that's going on right now, should people even travel?"It's up to each person's risk appetite," Lopez says. "It's difficult, because there is a prevailing sentiment that it's safer to stay home, a lot of people are working from home and they just Zoom. But I guess in time, when travel restrictions are lifted, you'll see more and more coming back."
For now, keeping things (and people) moving has been a thorough, ever-shifting process for INAEC, but it's also one that's paid off. Already, according to Lopez, their corporate clients have increased over the pandemic, with companies chartering entire flights for their staff.
"We're doing a lot more corporate flights, back to back. That's because corporations have a requirement to be in a certain location and would rather not fly commercial. They charter an entire aircraft just for their own requirements."
This isn't to say that it's all just purely business. Because getting on a plane, heading somewhere new, and forging a path that wasn't there before always needs a bit of spirit.
"Private aviation brings people to wherever they want to go, it becomes a pioneering service for certain locations that are yet to be discovered. There's a lot of adventure involved in this."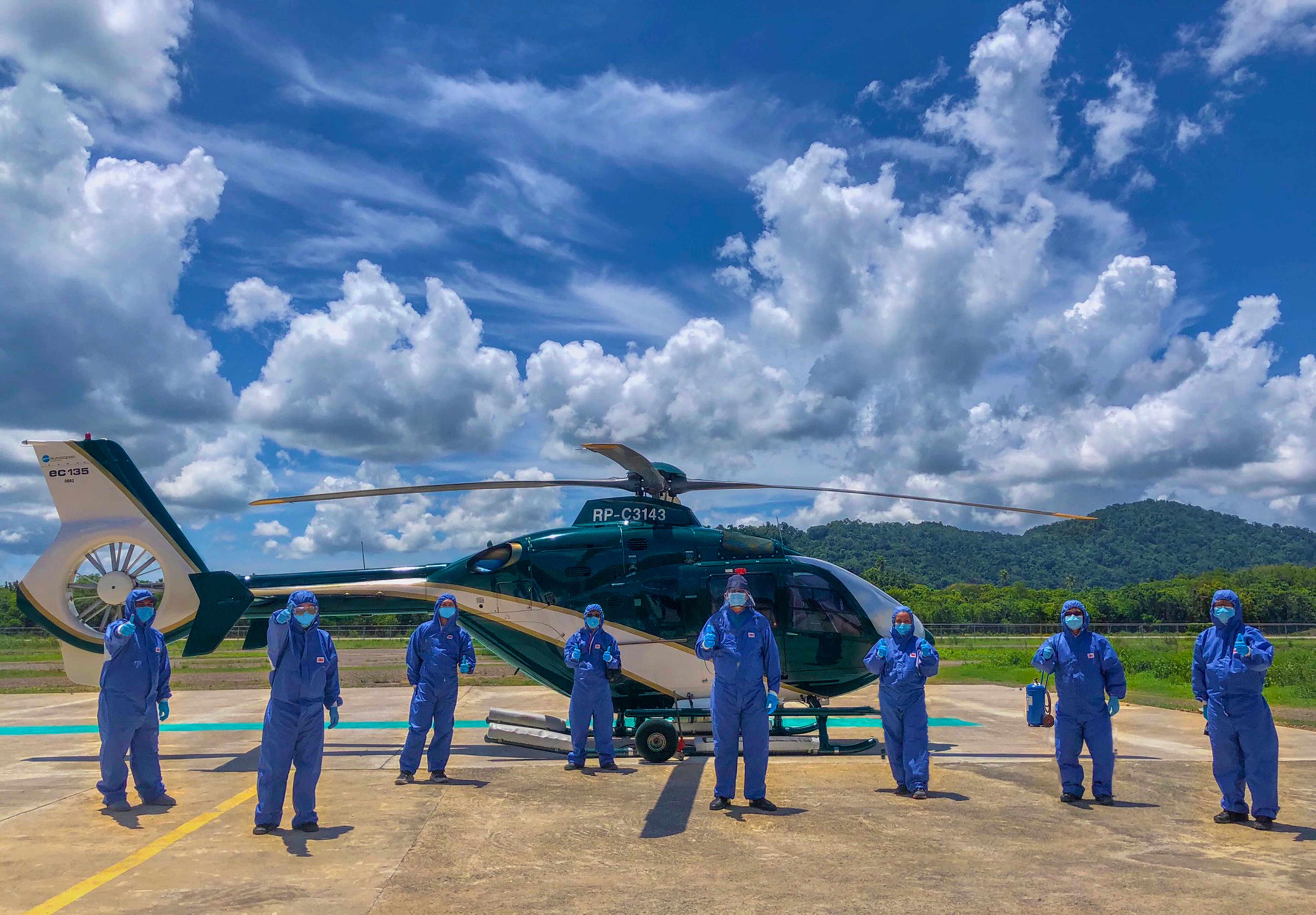 Air Travel In The New Normal
Air Travel In The New Normal
So what about recreational travel?
Over time, the steps that INAEC are taking today could also pave the way for private aviation being used more for recreation in the future. And as early as now, INAEC is already looking at "bubble travel." It's way of travel where you go from one secure place to another, from one "bubble" to the next.
"There are places and operators that have the same passion of going the extra mile, that are willing to safeguard their clients in as rigorous a manner as we do. And once we find them, we'll help promote these operators and destinations."
Could this be where the future of travel is headed? Could this open the way for us to get back to the old routes? It just might, and that's something all of us can look forward to. But for now, at least there's a way to get to where you need to. And a way, most of all, to get back.