Dreamcatchers Phil And Iva Start A Fundraiser To Help Feed Filipino Children Living In Poverty Amidst The Pandemic
Inspired from their last trip to the Philippines, Dreamcatchers and travelers Philippe Estiot and Iva Agüero launch a fundraiser for Project Pearls, a Filipino organization dedicated to helping children get access to better nutrition and education
Picturesque views of the ocean, breathtaking drone shots of beaches, and heartwarming stories of people who gave up everything to follow their dreams—these are what come to mind when we hear the word Dreamcatchers, the travel documentary by life partners, Phil Estiot and Iva Agüero. The series follows Phil and Iva on their home sailboat, Dali, in search not only of the most beautiful places in the world, but also the most inspiring human stories in the places they visit.
On its third season, Dreamcatchers found their way to the Philippines, where they were able to witness the breathtaking beauty of various islands in the country—from the famous Palawan and Siargao, all the way to the rolling hills of Batanes.
Phil and Iva have been to so many places around the world, and it's humbling to hear how much they fell in love with the Philippines, both with its natural treasures and the resiliency and strength of the people living in it. And while their plans to go back to the Philippines has been halted because of the COVID-19 pandemic, the couple has been busy connecting to the country all the way from France. When the pandemic started, they collaborated with the Department of Tourism to launch the campaign "Wake up in the Philippines," a way for Filipinos and travelers all over the world to reminisce about the wonders of the country, all waiting for us to return.
Phil and Iva were also in the loop when news about typhoons Rolly and Ulysses ravaged the country in November. And when that happened, the two dreamcatchers, who can't wait to go back to the country, knew they couldn't just sit by idly while the Philippines take wave after wave of battering—from COVID-19 to the disastrous typhoons.
In response, Phil and Iva launched a fundraiser this month to fund Project Pearls, a non-profit organization in Manila dedicated to giving immediate aid to the poorest communities around Luzon. The couple were actually able to work closely with Projects Pearls during their visit in the Philippines last year, and using the materials they shot from then, they are now launching a 3-part special that showcases the efforts of Project Pearls to help feed and educate Filipino children in the poorest communities around the metro.
In an exclusive Zoom interview, Metro.style was able to talk to Phil and Iva to ask them how they're doing amidst the pandemic, and learn more about the amazing efforts they're doing to help the Philippines even though they are miles away.
How are you both and how have you been spending the pandemic year so far?
Phil: We can't complain. In between the two lockdowns in France, we've been able to travel and work at the same time so we're really very grateful and feeling very lucky about it.
We have been producing for a French network here for a show called My Zen People, which are portraits of women who are living from their passion. We have been lucky to be traveling all around France and a little bit in Spain to meet 13 incredible women who are all making a living from their passion.
Iva: Actually, we were already planning to be back in the Philippines this year. But we've been working a lot, producing a lot of content, and lining up all different projects—one of which is to support the Philippines from far away. We've teamed up with the Tourism Board and we've been using some never-before-seen footage of the time when we filmed Dreamcatchers to do these little one-minute remote videos under the theme, "Wake up in the Philippines."
We have about nine different destinations and it was a great way to travel back in our minds and revisit these places.
That sounds amazing! Can you talk more about this partnership for Wake up in the Philippines?
Phil: Actually, our relationship with the Tourism Board started during the shoot of Dreamcatchers in the Philippines. They guided us for the part of our shoot that we did on land, like when we went to Cebu and Batanes.
I really enjoyed doing the "Wake up in the Philippines" campaign because it's a positive message. There's so much negativity these days in the news, there's not much people can do about it, and I like the approach that they're taking: that we may be going through a tough time, but soon we'll be able to visit those beautiful places again. And for us, it really comes from the heart, we really fell in love with the country, so we're very very grateful to team up with the Department of Tourism to do this.
Iva: We really just wanted to share our love for the country even though we couldn't be there. We really liked it because we were able to be a bit more poetic and share our love for those locations, and encourage people and give them a bit more positivity. It's a message we think that's really aligned with the Dreamcatcher message because a lot of what we tell people is when you have a goal or dream, just sit and plan it out and think about how you're going to get there. So not just because we're staying at home, it doesn't mean we can't plan that next trip. So get started and get organized, so when the restrictions lift, we're ready to travel again.
Check out the gallery below for a throwback to Phil and Iva's amazing travels in the Philippines.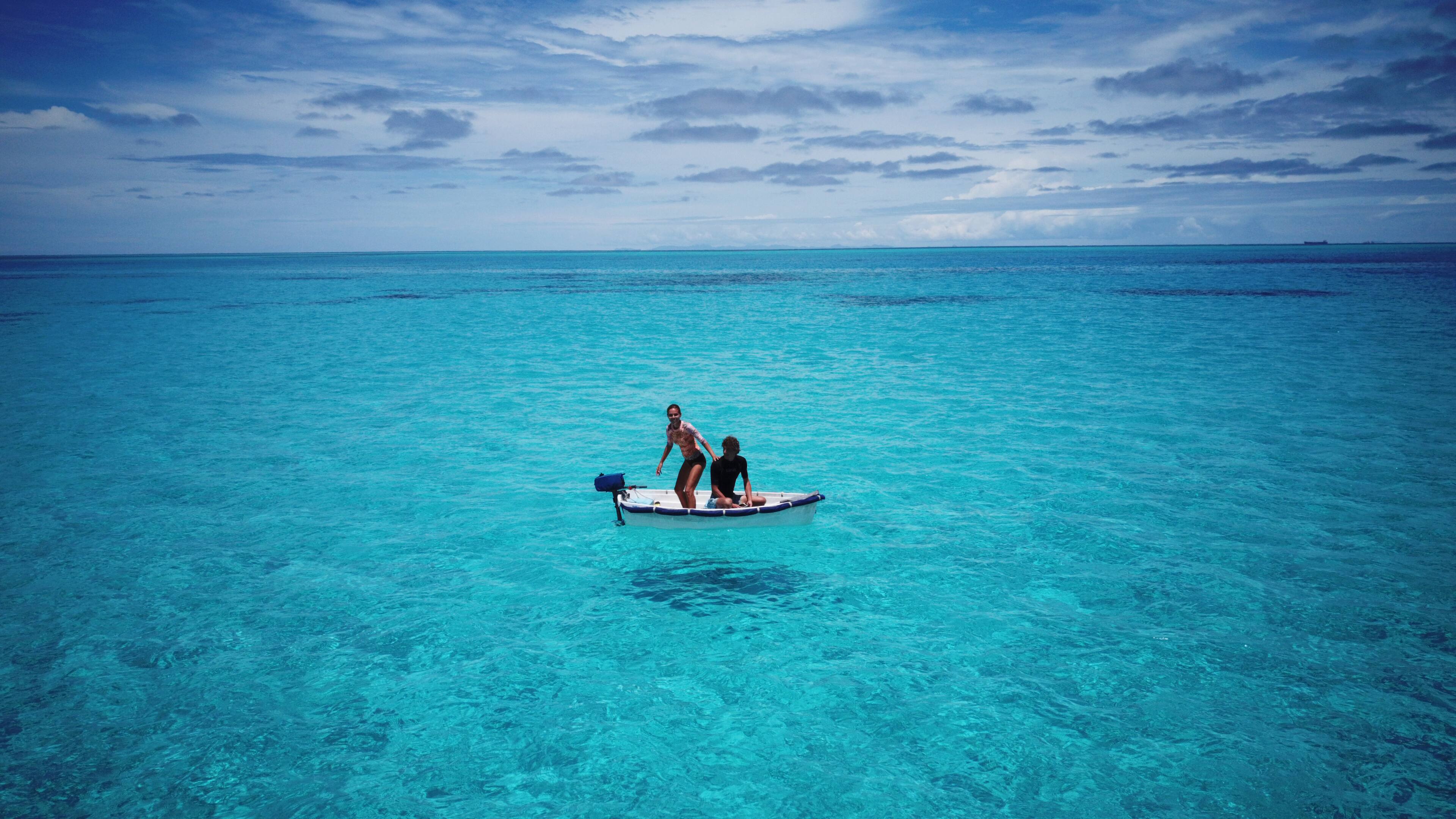 Photo Gallery
Photo Gallery
Traveling is your whole life, so when you were asked not to travel, that must have been crazy! Since you were lucky to have been given the opportunity to continue traveling—albeit locally, for your new show—can you share with us how has travel changed for you based on your experience?
Iva: We feel so fortunate that we had a life where we were able to travel before, so we feel even more grateful for all the adventures that we've had—that really got us through the first lockdown. When we did started moving around, it's really about being conscious of the limits for a while, that there were different radius limitation as to how far you can go. Other than that, we've always believed that you can always have amazing discoveries right outside your door.
Phil: I think the biggest difference for us as well is that we usually travel while being at home—because we usually travel on our sailboat, Dali. This is really one of the reasons why I love living in a sailboat and sailing, because everywhere you go, you're still at home. Every night, you sleep in your bed and you have your things with you.
When we traveled in France and Spain, we stayed in guest houses where people opened and shared their homes with us. Everywhere we stayed, we met a family or couple, so that was really very good to do that.
When one visits your Instagram page, you'll see these short mini-series about Project Pearls, which features stories of resiliency and hope from the most underserved communities in the Philippines. Can you talk to us more about this new advocacy that you're promoting?
Iva: In parallel to things still being restrictive, the typhoon season arrived in the Philippines and that's when we realized we wouldn't be able to get back. There's all these devastation happening on such a massive scale and it was a little bit overshadowed by the COVID-19 pandemic. We knew people weren't aware of how desperate the conditions were following the 2 typhoons in November, so we thought we would try helping in the best way we can.
When we were filming for Dreamcatchers, we had the privilege of working with Project Pearls. Project Pearls is a Filipino NGO that does different community outreach programs. When it's not the pandemic, they do a lot of feeding programs and educational programs in the poorest communities around Manila and now, following the typhoons and during the pandemic, they're extending their efforts to communities around Luzon who were affected by the typhoon. It's an organization that's all about breaking the cycle of poverty in the Philippines and I think they're doing a great job. It starts with one hot meal a day at least, and access to education.
Iva: What we really struck us when we visited them, on top of the feeding and education they do, what's really impressive is they relocate whole families to different areas so the children have access to better education. We met high school students who come from very poor backgrounds, who used to pick charcoals when they were children, and now they're talking about becoming doctors and architects and teachers and when we saw that, it really warms your heart to see how people are selfless.
When we filmed for that episode, in Tondo and Bulacan, it really was one of those moments that stayed with us. That's why if there's any way we can help, we knew we definitely want to do it with Project Pearls.
Phil: Since we launched this fundraiser, the response has been overwhelming. The response and messages that we got from our friends and our followers, we saw how people were really concerned and very generous. It's incredible how selfless people are. The main thing that struck us as well is the atmosphere in those conditions, how people can still live with a smile in their faces, just to keep their positivity.
Iva: During such a difficult year, we want to bring people together and make an impact in somebody' else's life. Just to get the message out there, just 60 cents of a dollar can buy someone a meal, and that's a huge difference. It's a really great feeling to know that your dollar is going such a long way to somebody that really needs it. So it's our Advent Calender for a good cause, and we're going to keep it running until Christmas eve.
We want to keep the Christmas spirit alive, so let's make a difference in the lives of so many people who have been devastated by recent typhoons and the COVID-19 pandemic.
To donate, click on this link to get redirected to Phil and Iva's Facebook fundraiser page.
With everything that's happened this year, what are the biggest lessons that you've learned and that you're taking with you for the next years to come?
Phil: Learn to enjoy what you have and live in the present moment. Because we can't many plans anymore, that really helped a lot of us look at what we have and learn to be satisfied with what we have. Just enjoy what you have, appreciate the people around you, and be grateful for the fact that you have shelter and food.
Iva: It's definitely a year where we learned to be very grateful, not only for what we have now, but for what we've been able to enjoy prior to all this pandemic. And what I've learned personally is to do what you want immediately. As soon as you can, start doing what you can, because this pandemic has really faced us with a lot of questions of how we spend our time, what's really important to us, and why we do what we do.
If you've had that dream in the back of your mind, now is the time to really put in place, and now it's just a great time to pivot and be prepared so if things happen like this again, you won't have regrets.
Photographs from Phil and Iva