Coming Back Home To Manila In The Time Of COVID-19
Planning to come back to Manila but don't know what to expect? Here's an OFW's personal account of his repatriation back to Manila
---
PJ Bernardo is a partner in a Singapore law firm and oversees its Myanmar and Cambodia offices.
He has been living overseas since 2011. You may follow him on Instagram at @peejbernardo622 and Twitter at @pastaboy622.
---
I had for some time completed arrangements for a Grecian holiday in May, with the long-desired objective of retracing some portion of Odysseus's journey on his epic homecoming to Ithaka. But as with many plans and schedules in this time of pandemia, these arrangements were hastily and unceremoniously cancelled: Our offices in Yangon were shuttered, physical distancing was imposed, and I was confined to living alone in lock-down while the Myanmar government prepared for the coming of the virus. I did not realize it then, that I myself would be taking an odýsseia of my own, and one that while not perhaps as epic as Odysseus' adventure, was nonetheless (to my mind) filled with just the same exhilaration, fear, and foreboding.
Pre-departure anxieties
The decision to return home was not instant or immediate. When the Philippine Embassy in Myanmar sent a survey on April 3 on whether I was interested in being repatriated, I was uncertain of my response. Prime on my list of concerns was the lack of solid guidance on how the 14-day "facility quarantine" was to be implemented. News media reporting on the condition of these facilities did not inspire confidence.
The actual date of the repatriation flight was also not immediately determined. While initially scheduled for May 1, the direct flight, which was to be then undertaken by a Myanmar commercial carrier, was cancelled because of the Philippine government's insistence that it should be completed by a Philippine-owned airline. AirAsia Philippines was thereafter scheduled to take-up repatriation on May 8, but the final departure date was eventually fixed to May 18 because of passenger arrival quotas in Manila. Along with the Philippine Embassy's announcement on the final flight schedule came the following notice: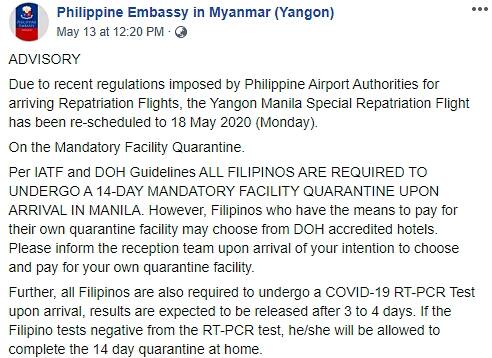 I was still somewhat unconvinced. Myanmar at that time (and as it continues to be to this date) did not display the same virus surges that characterized the experience of its other ASEAN neighbors. Myanmar officially reported its first COVID-19 infection on March 23, and by the time the repatriation flight was considered, it had only 180 positive cases. New infections also only averaged about two to three per day. While all flights were, by then, suspended, mass gatherings disallowed, and curfews imposed, businesses were not required to close, workers could travel to and from work, and restaurants were allowed to deliver. Walking on the street, and sans the usual traffic and the proliferation of pedestrians with face masks, Yangon was still, on the whole, a safe place to hibernate.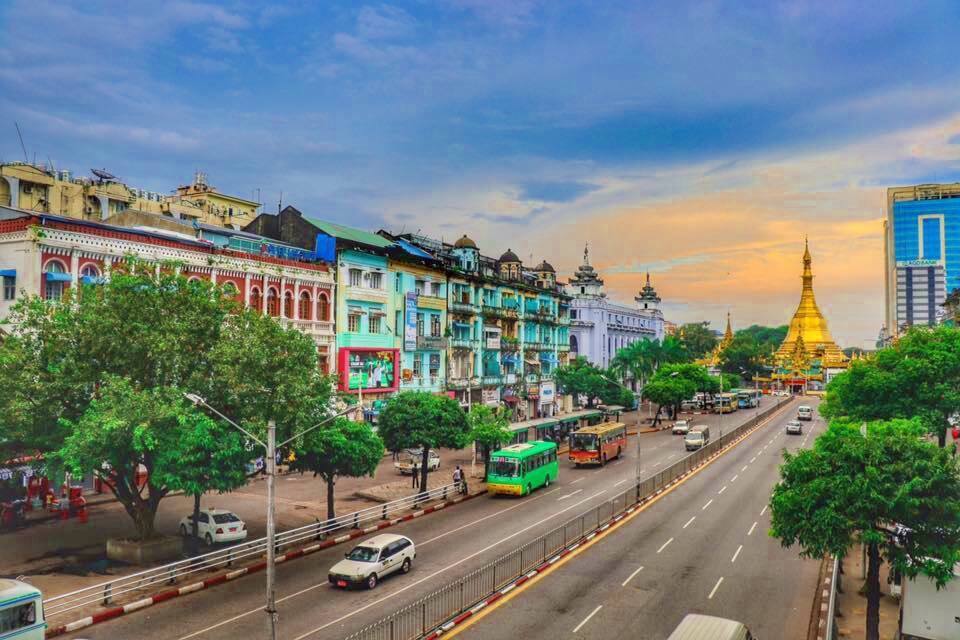 Yangon, Myanmar's largest city and commercial capital | Hein Min Htun/KCY
Being on lock-down suited me well in the beginning. The office allowed us to work-from-home, and all of my transactions were able to proceed through similarly-distanced associates, and the wonder of technology and the internet. But as April turned in to May, and as May threatened to stretch on to forever, I was beginning to feel the restlessness, impatience and boredom of one who is marooned or imprisoned, confined and alone in a tight space.
It was not that I had no one to talk to—I am a natural introvert, and the ready access to social media sated the little need I had for human conversation; instead, it was the routine, and the confinement, and the uncertainty of the future that was oppressive. It was not that, on normal days, I would actually have ventured out of my apartment; but at least I knew I had the option or ability to, if I wished. What was psychologically challenging was the reality that I could not leave, even when I wanted to—out the door, out the building, or even out of the country. Adding to this psychic unease was the physical reality of Myanmar's healthcare system. God forbid, I catch the virus in Myanmar—what is to happen to me then?
No doubt, staying in Yangon at that point was the sensible thing to do. But if the objective was to find my way back soon to the familiarity and comfort of Manila, then what was sensible had to yield to what, to my mind, could be managed with a reasonable amount of risk. And so, with the assurance that I would be able to select the venue of my facility quarantine, I confirmed my participation on the May 18 repatriation flight to Manila.
For good measure, the Embassy circulated a list of accredited facilities from which we could ostensibly choose where to be quarantined. These facilities ranged from motels that are "so clean, so good" to hotels recognized as part of the Philippines' national patrimony. I narrowed my list to hotels near my home in Quezon City, although none of them accepted online commercial bookings. I therefore had to reach out to them directly, to ask whether it would be possible for me to pre-book, and I confirmed with the first hotel that responded, not knowing how long after arrival I would be receiving my COVID-19 test results, or how long I would thereby need to stay at the hotel for the period of my quarantine.
Getting ready to venture out
With all the panic caused by COVID-19, medical science has consistently prescribed relatively simple measures of prevention: Wash hands often, do not touch your face, wear facemasks, adopt strict social distancing. The challenge with air travel, therefore, is one of proximity: How is one to implement social distancing in an aircraft that must fit some 150-odd people in a cabin no more than six seats across? Accepting the inevitability of contact in close quarters, I decided to take the more cautious approach: Short of actually traveling in a full-body hazmat suit (which I would have considered, if a hazmat suit were readily available), I decided to procure both goggles and a face shield, instead, which were both to be worn on top of my eyeglasses and in addition to a face mask.
So, for the first time in over 55 days, I stepped out of my apartment, backpack and one-small luggage in tow, to a world the was altogether the same, but also eerily different.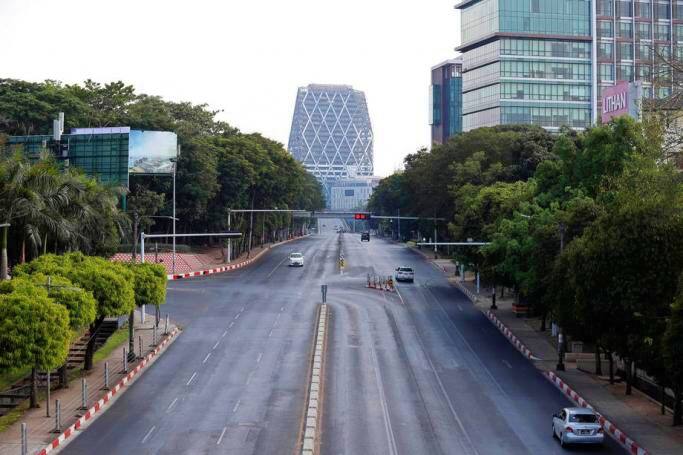 Yangon's empty streets in early April | Nyein Chan Naing/EPA
As was to be expected, the airport was virtually deserted—ours was the only flight to depart that day. The air-conditioning was off, and a skeletal crew of airport personnel manned the security checkpoints. After the first of many temperature checks, I was asked by Embassy staff to fall in line for check-in, reminding me of what would now be a standard queuing practice everywhere—of leaving a distance of at least six feet from the next person in front and behind me. Face masks were made mandatory for the flight, although many also came equipped with face shields.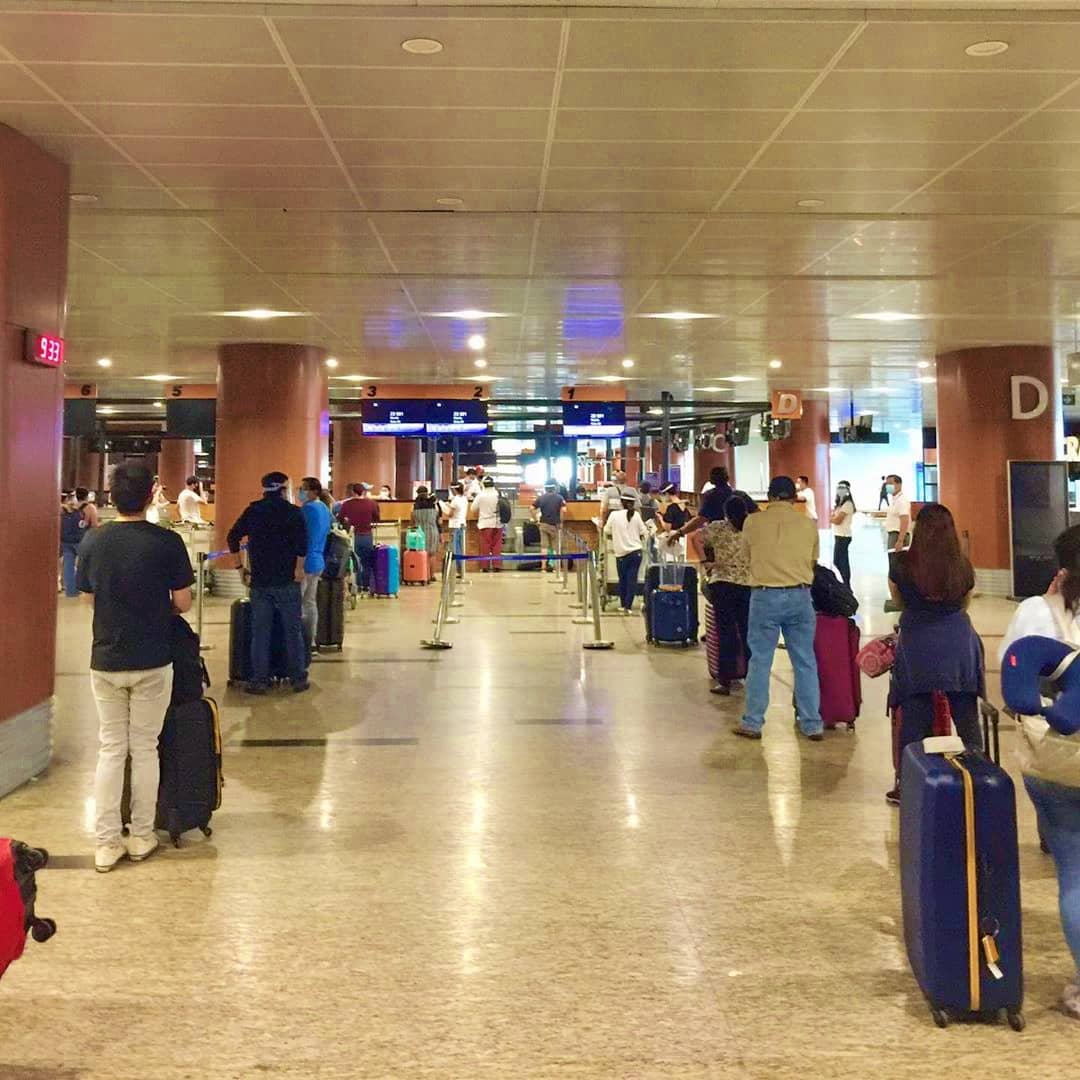 Social distancing at the Yangon International Airport
What struck me then, while waiting for my turn at the counter, was the discomfort of having to wear all this protective equipment. Never mind the face shield: Wearing googles on top of eye glasses with a face mask was hot, uncomfortable, and very unnatural. No wonder, then, that some experts say that wearing such equipment actually increases one's risk of catching the virus: The temptation to fix and fidget with one's googles and mask meant touching one's face more often. And what of the doctors, nurses and other front-liners: How indeed could they endure these precautions—and more—for hours and hours on end?
After depositing my luggage at check-in, I was asked to go straight to immigration, and then to the departure area, Gate 6, where I sat in the heat, with every other seat cordoned-off, waiting for the flight to be called. No other special checks were made apart from what one would usually expect for departing passengers. If anything, the Myanmar security personnel looked kindly upon what to them would have looked like hapless Filipinos risking sickness just to be able to catch the only available flight home.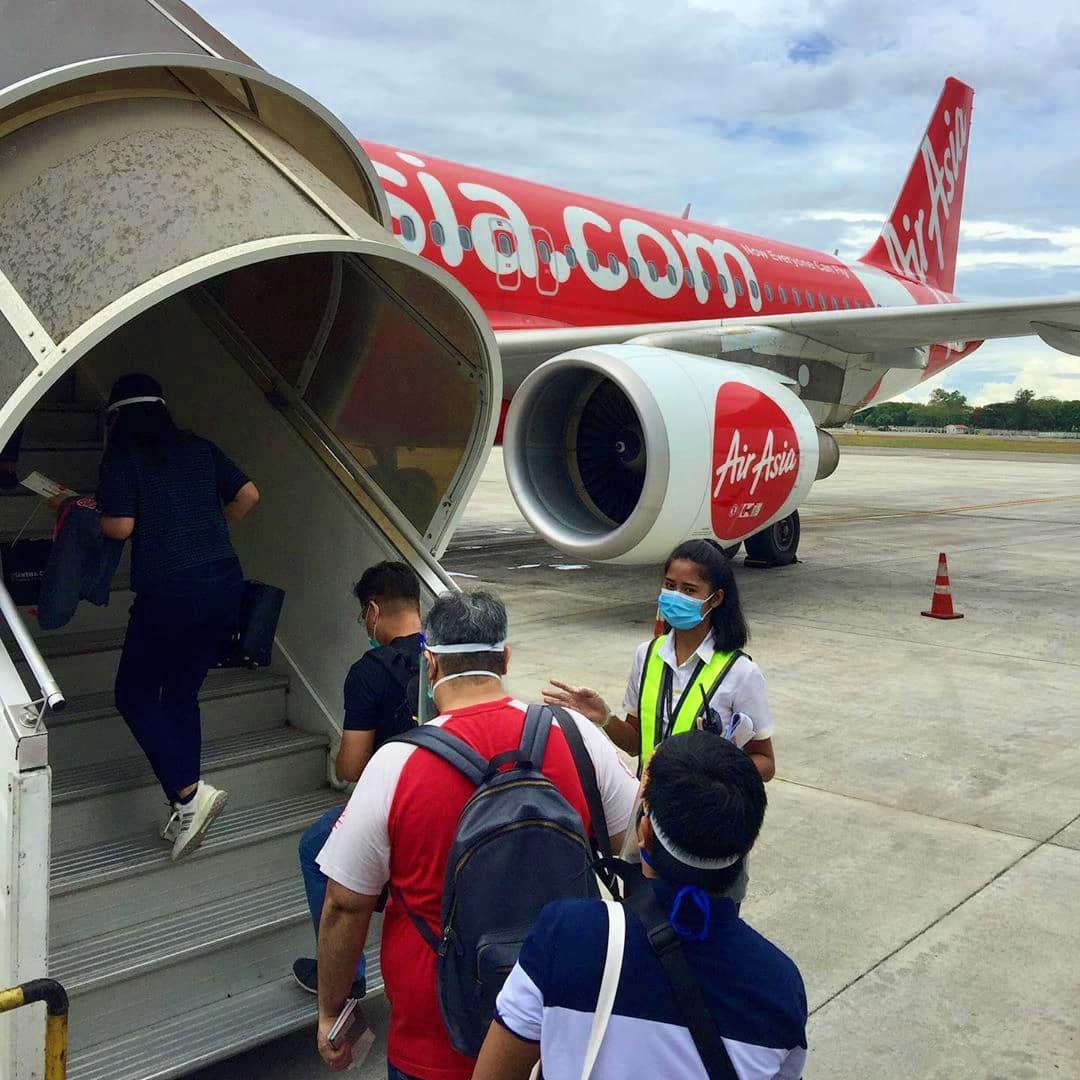 Boarding for our flight back to Manila
Finally settled in my seat, wearing my full travel gear, and waiting for takeoff
We took off at exactly 11:35 AM, on schedule, with 99 passengers and four flight attendants. The flight was not full, although it was still not possible to leave middle seats vacant. Fortunately, though, I had no neighbors in my row 21A. All seats were assigned by the Embassy without choice, although rows in front and behind me were occupied. Apart from the occasional whiff of alcohol, the spritzing of disinfectant spray, and the blur of flight attendants gliding through the aisle in bright-red hooded jump suits, I found it comforting that many of the rituals of flight were still observed, like normal: The welcoming of passengers over the PA system, the crackling of the captain announcing the flight time and altitude, the need to fasten seatbelts and the dimming of cabin lights.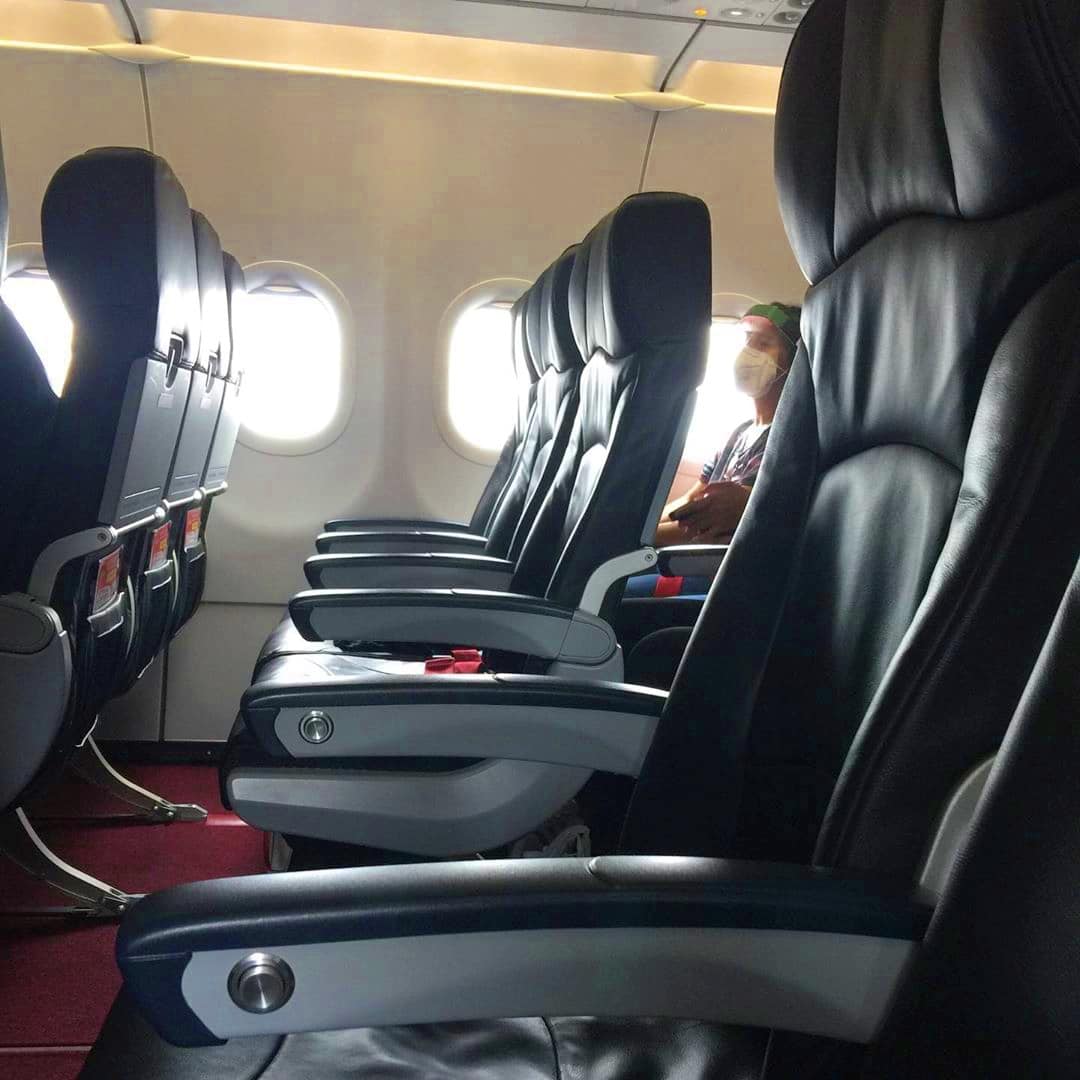 Got lucky with my assigned seat—no seatmates around me.
Touchdown, Manila
We landed just as sunset fell over Manila, at 5:43 PM, and taxied to NAIA Terminal 2. As soon as the engines were powered-down, my fellow-passengers, as would be expected, sprung up and started retrieving their overhead luggage and positioned themselves for exit. But deplaning was not to happen just yet.
Over the loudspeaker and from the front of the aircraft, a doctor from the Bureau of Quarantine clad in full hazmat gear (she was apparently traveling with the aircraft from Manila) required everyone to return to their seats, while the flight attendants distributed a yellow Bureau of Quarantine health declaration form. It was the first of four forms that I had to complete, all of which requiring me to handwrite more or less the same identical information: Complete name, address in the Philippines, birthdate, country of departure, date of arrival, flight number, seat number, signature. Those who had completed the form could deplane but maintaining the required six-feet distance. Crossing the threshold onto the airbridge, being welcome back to my country by people in full hazmat gear, eyes barely visible, but waving small paper Philippine flags, I felt that I had stepped into an outbreak movie, which both thrilled me and frightened me at the same time.
Instead of heading to immigration as would usually be the case, we were instead directed to the departure lounge of the terminal, which had then been converted into a makeshift receiving area for arriving passengers. We were given two new forms to fill-up: (1) the arrival card for the Bureau of Immigration, and (2) the Health Declaration Form for the IATF. To ensure that entries were properly completed, a quarantine official took a microphone to guide us through each and every entry: This meant 45 minutes of waiting while seated on socially-distanced chairs.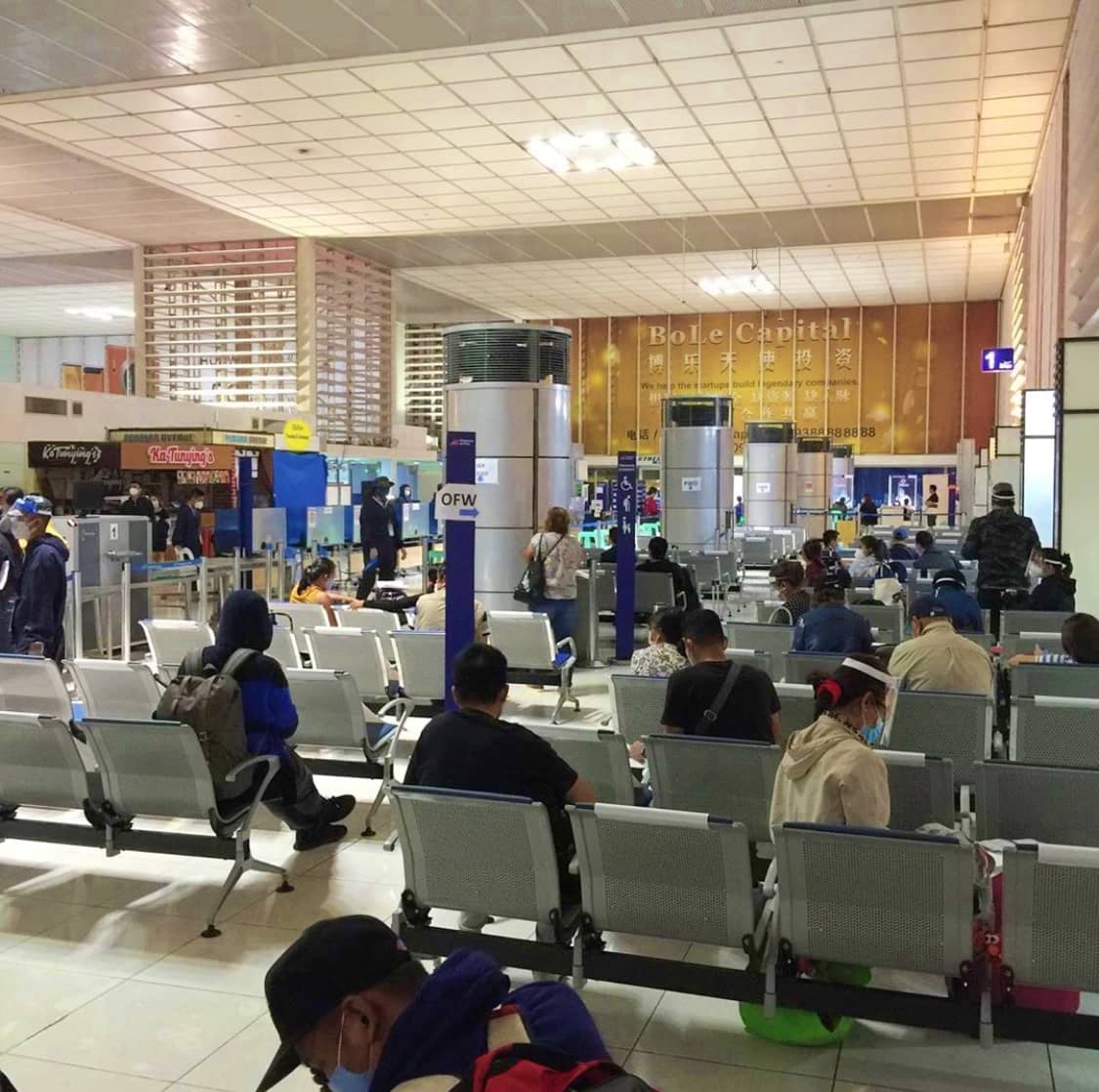 At NAIA Terminal 2's departure lounge which has been converted into a makeshift receiving area for arriving passengers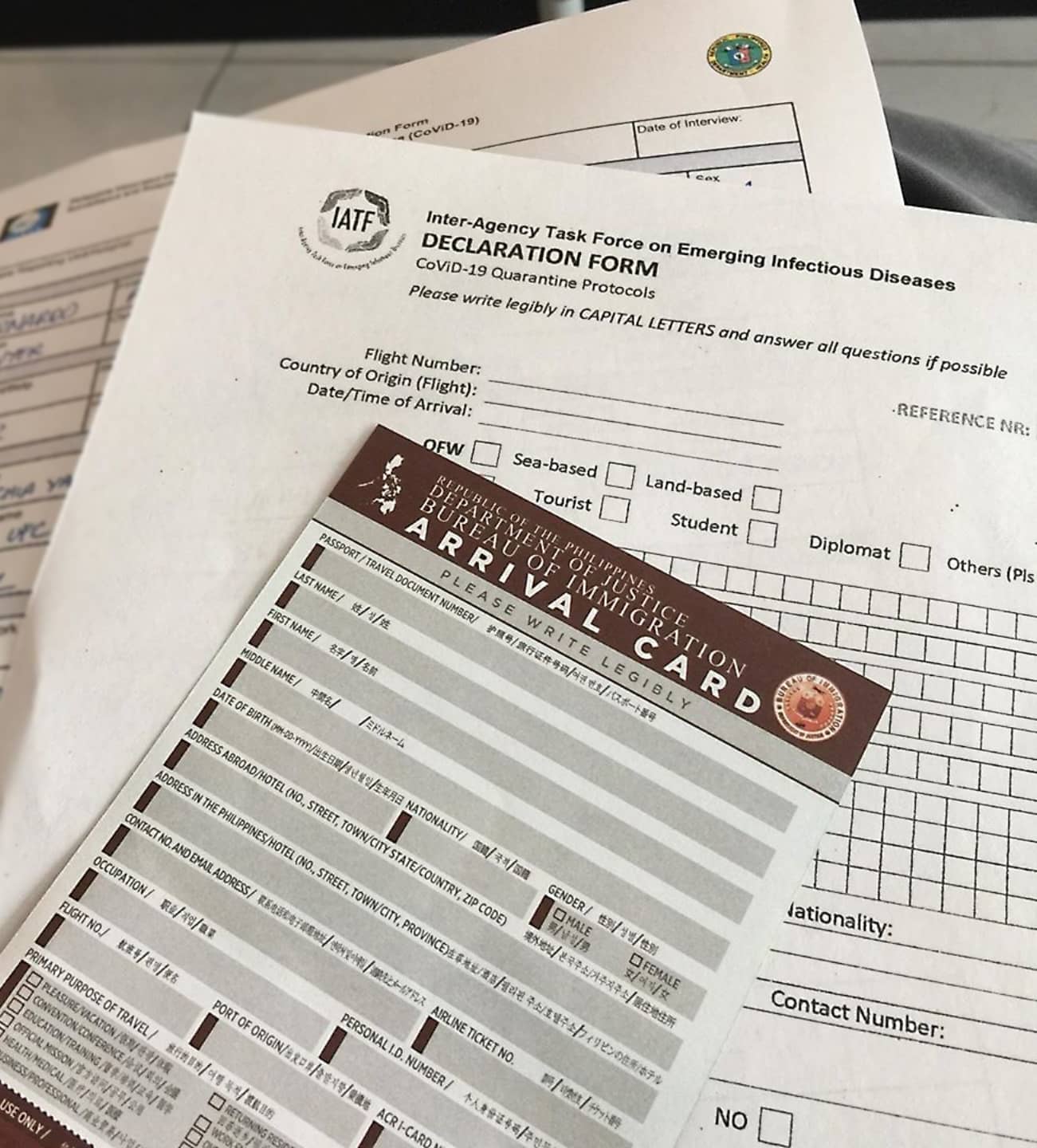 More forms to fill up
Meanwhile, non-OFW passengers were also required to fill-in the same forms and wait within the same area as the rest of us. While waiting, though, they were separately briefed by officials from the Department of Tourism on their quarantine accommodations. Similar to OFWs, they were required to complete a 14-day quarantine, and like OFWs, they were also extended free lodging—at the 2Go ships at North Harbour. They could also select their own quarantine facility (presumably from the same list circulated among OFWs), provided that they shoulder their own costs. The problem with this arrangement, I was to learn later, was that the DOT appeared to only have a shorter list of accommodations available for that day—for the non-OFWs that arrived with us, there was a selection of only four hotels.
Getting the swab test
In groups of nine, we were then ushered to the forward area of the departure lounge, where nine testing booths were positioned. I took my seat in one of them, submitted my IATF form, and a medical technologist in full hazmat gear reviewed my entries. There was a glass partition between me and the med tech, and there were two circular openings at about the level of my face through which she handled the swabs used to take my samples: One from the throat and two from each nostril. I would not call the COVID-19 test painful, as it was more uncomfortable, particularly for the nose swabs, which caused me to tear-up and sneeze as a reflex. Thankfully, it was over in three minutes, and the med tech tore the bottom portion of the IATF form which I was to present to the immigration officer as evidence that I had already taken the test.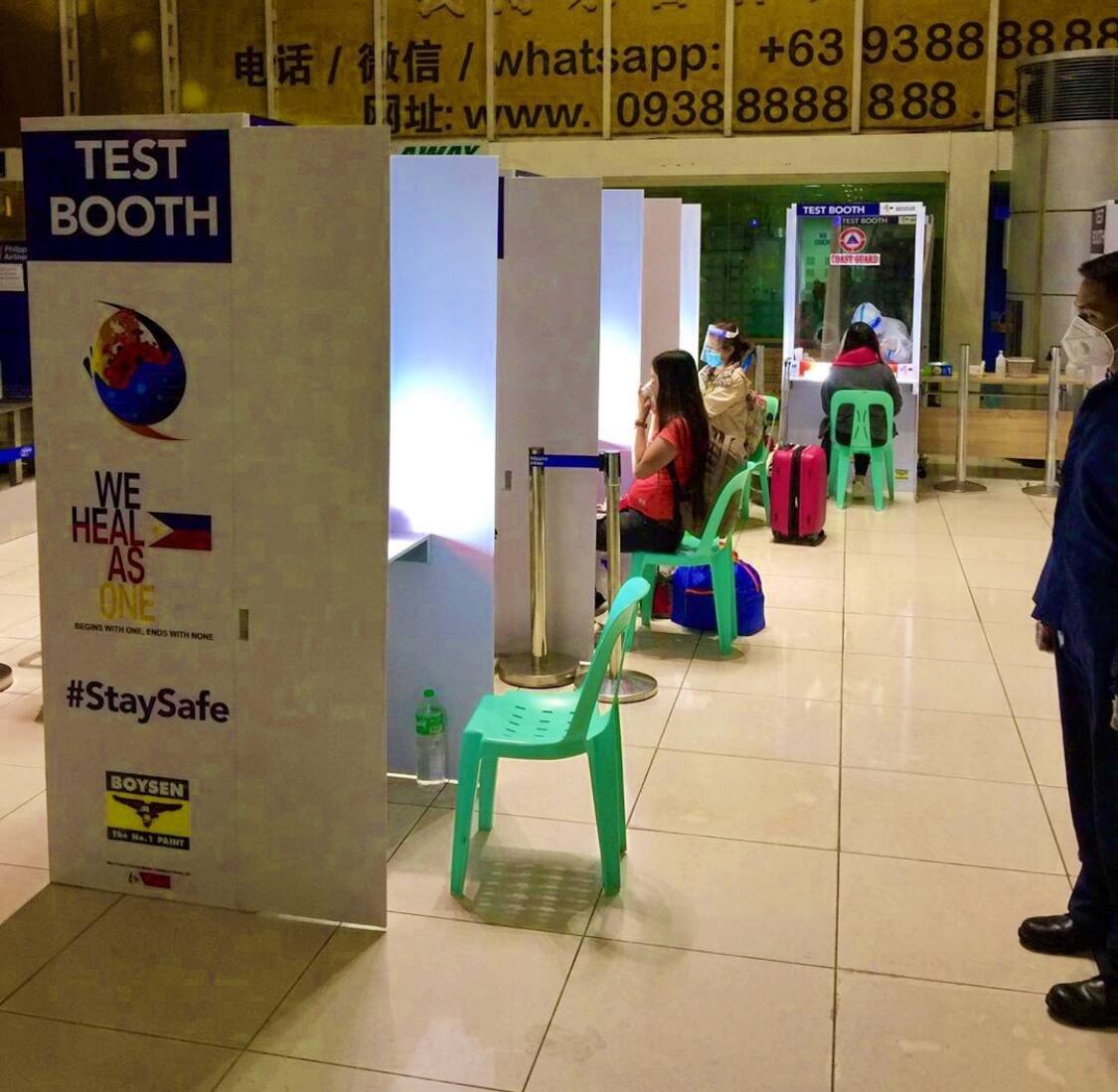 The COVID-19 testing booths at the NAIA Terminal 2
Similarly straightforward was the encounter with Philippine immigration, the only hitch being that I had to divest myself of all of my facial accoutrements for the arrival photograph. The next stage was the retrieval of luggage, and because we were the only arriving flight, all our bags had already been laid out in neat rows for us to identify and take. It was then that the long waiting for transportation to our accommodations began.
The long journey to 'home'
Assisting our arrival that evening were officers from the Bureau of Quarantine, the Department of Tourism (DOT), the Overseas Workers' Welfare Administration (OWWA) and the Philippine Coast Guard. We had already completed the arrival briefings and testing, as supervised by the Bureau of Quarantine. Now, it was the turn of the Department of Tourism and the Overseas Workers' Welfare Administration to respectively coordinate non-OFW and OFW accommodations. The Philippine Coast Guard was, in all cases, responsible for transporting travelers, both OFW and non-OFW, to these accommodations.
The snag emerged when I and some other fellow OFWs were waiting for transportation to take us to our quarantine facility. According to the OWWA official, all OFWs were required to be grouped together to stay in the same quarantine facility. The prescribed quarantine facility, while extended free of charge, was a motel in Cubao that unfortunately did not appear to me to even to be "so clean, so good" at the very least; and more importantly, this arrangement was not what the Philippine Embassy in Yangon had earlier communicated to all returning OFWs. It was, after all, this choice of quarantine facility that convinced many of us to opt for repatriation.
We pleaded our case with the OWWA official, presenting the Embassy's earlier instructions, our confirmed hotel reservations, and the accredited list of facilities circulated among OFWs. Radios hissed, calls were made, and in the meantime, we were presented with a bottle of water and a pleasant packed meal of rice and filleted fish. Thankfully, the OWWA eventually recognized the pre-arrangements that we had made, and as the other OFWs were led out of the terminal to board waiting Coast Guard buses, we were asked to wait with the non-OFWs for our own separate transportation to our various quarantine facilities.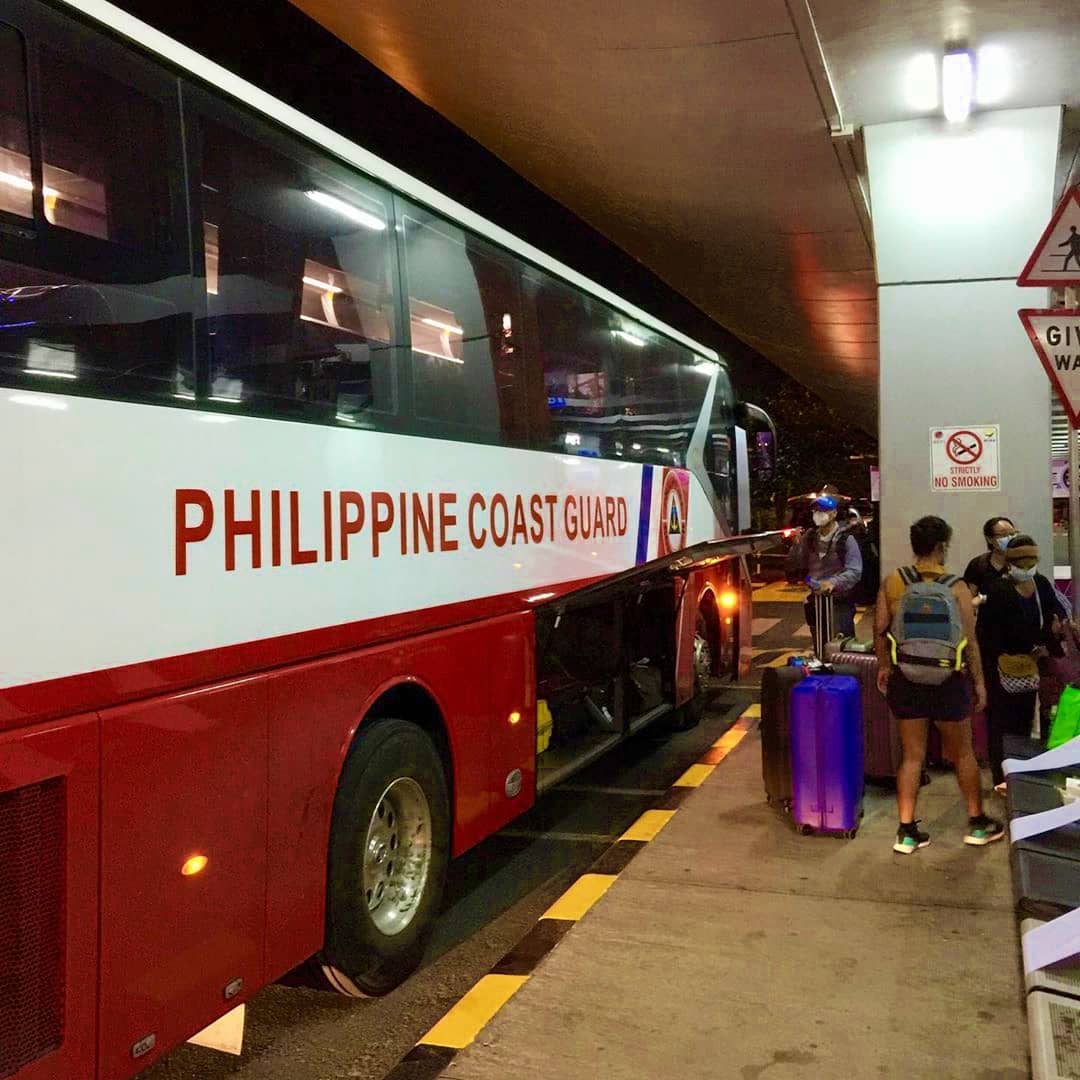 The Philippine Coast Guard escorts arriving travelers to their respective quarantine facilities where they shall await results of their COVID-19 tests
It was only at about 10 PM when we were finally ushered out to our buses. Boarding was indiscriminate, and so at some point it was necessary for passengers, after having already boarded, to declare the facility where they were staying—and it was only then that people were reshuffled and grouped together according to destination. And so it was in that way that after arriving from Yangon, I was given an impromptu tour of Manila, dropping-off passengers in a number of hotels along Roxas Boulevard, and then in Makati, and then finally, after traversing a completely empty stretch of EDSA, I was finally deposited at my hotel, near Timog Avenue, in Quezon City.
It was 30 minutes before midnight.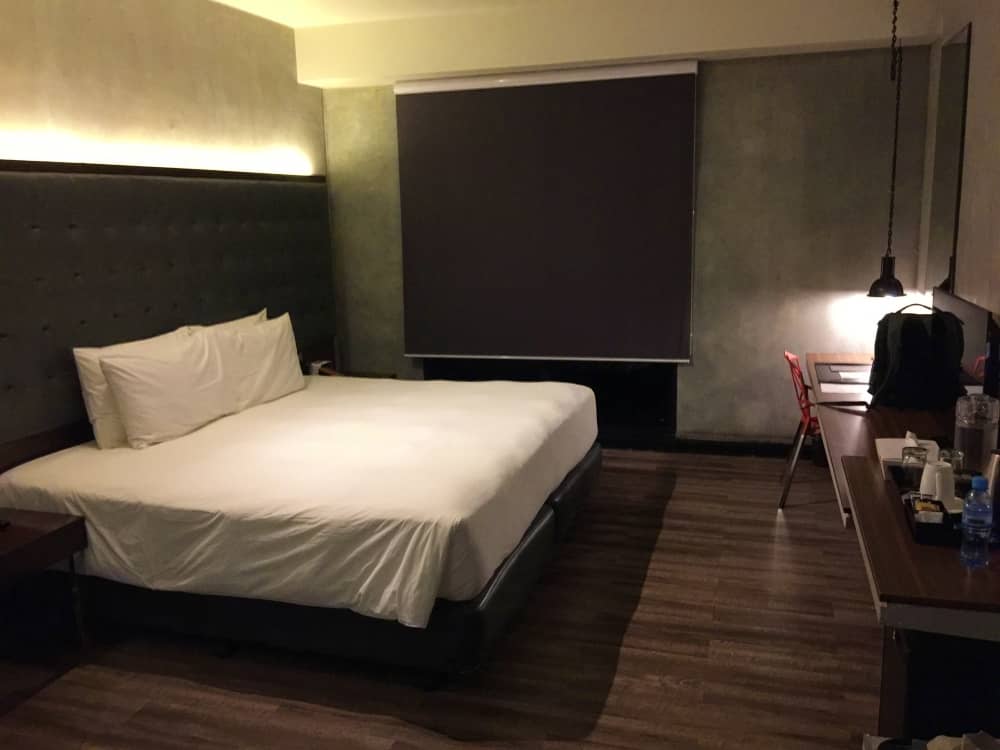 My chosen quarantine facility and temporary home as I await the results of my COVID test
Home, but not quite
I write this after having just received my negative test result for COVID-19, a full five days after arriving on May 18. Looking back, the journey home as an OFW repatriate was relatively, and mercifully, painless and uneventful—this, in spite of all of the hype and anxiety that led up to the repatriation flight. I suspect that this was because of the preparation, efforts and good humor of the frontliners—from the Embassy in Myanmar to the Bureau of Quarantine and the OWWA officials in Manila to the Coast Guard officers who brought me to the very door of my hotel. I may not agree with much of what their bosses in government have been doing, whether in this pandemic or with the general governance of this Republic, but I cannot doubt the sense of public service that these frontliners have shown in this very difficult time.
Distilling from this experience, therefore, I outline some significant points to consider for travelers who are thinking of traveling back to Manila:
Unless you have to travel, stay where you are. No matter how diligently you or the airport or airline tries, true social distancing will be impossible, and especially with the arrival procedures now being implemented at the NAIA. Not that this can be avoided – proximity is, I think, part of the very nature of airline travel. As such, you will need to be armed with proper protective equipment, including a face mask, googles and a face shield. But donning this protective equipment will be uncomfortable, and you will have to discipline yourself to not only constantly wash your hands, but also to resist temptation of fidgeting with your mask or googles.
The existing state of the law requires all arriving passengers to undergo a COVID-19 test and complete a period of quarantine while waiting for the results of these tests. The government offers free quarantine facilities for this waiting period—for both OFWs and non-OFWs—although the government also allows you the option from selecting a desired quarantine facility from a list of accredited facilities. Except that this selection will be at your own cost.
Once negative results are received, you may leave the quarantine facility, but you will be expected to complete the balance of your 14-days of quarantine at home.
It would also appear that for those selecting separate accommodations, this selection will be limited to those presented to you upon your arrival. From my experience, it appears that pre-booked accommodations will be allowed, provided that these are in the list of accredited establishments, although you will also have to consider how transportation to this establishment will have to be made. Remember, the Coast Guard will have to escort you to your selected accommodation, and while buses are made available, how your selected accommodation will be fit into the existing Coast Guard's itinerary will have to be discussed upon your arrival.
You will not know when the results of the COVID-19 test will be released. The release of these results will determine how long you will need to be in facility quarantine. If you are selecting separate accommodations, you will need to make arrangements to make day-to-day extensions, until the tests are released.
Now, how will you know the results of your test? Online, at the Coast Guard's Facebook Page. Beginning May 2, negative results have been allowed to be posted through this site. But that's not all. Apart from testing negative, persons in facility quarantine will also need to receive (also through the same site) a separate Quarantine Certificate in order to leave the quarantine facility. This certificate, which indicates your name and residential address, will allow you to return to your stated residence even as most of Manila (and indeed other areas of the Philippines) are in community quarantine.
I received results of my tests on May 23, five days after my arrival on May 18. However, because I opted to stay in my chosen quarantine facility (similar to non-OFWs), the testing authorities failed to note the residential address I had indicated in all of the four forms that I had filled-up as a returning OFW. Thus, even if I had already received a negative result on my COVID-19 test, I am still required to stay in quarantine until the issuance of the separate Quarantine Certificate.
And so, until I receive this certificate, my odyssey home continues, and there is, as there had been over the last weeks, this abiding exhaustion of living through such disorienting and uncertain times. Already, so much of the world has changed, and no doubt, it will to continue to change, as it battles with a foe that it cannot even see.
For how long will we live in uncertainty? Another month, or two, or six? Not even the Delphic Oracle can tell. In the face of this uncertainty, I try to remember the words of Odysseus, our worldly-wise hero, who contemplates still, as we do, the struggle and the journey that lies ahead:
"We are not now that strength which in old days
Moved earth and heaven; that which we are, we are;
One equal temper of heroic hearts,
Made weak by time and fate, but strong in will,
To strive, to seek, to find, and not to yield."
---
Editor's Note: PJ was finally able to receive his Quarantine Certificate (seen below) on May 26, and is happy to report that he is, finally and officially, back home.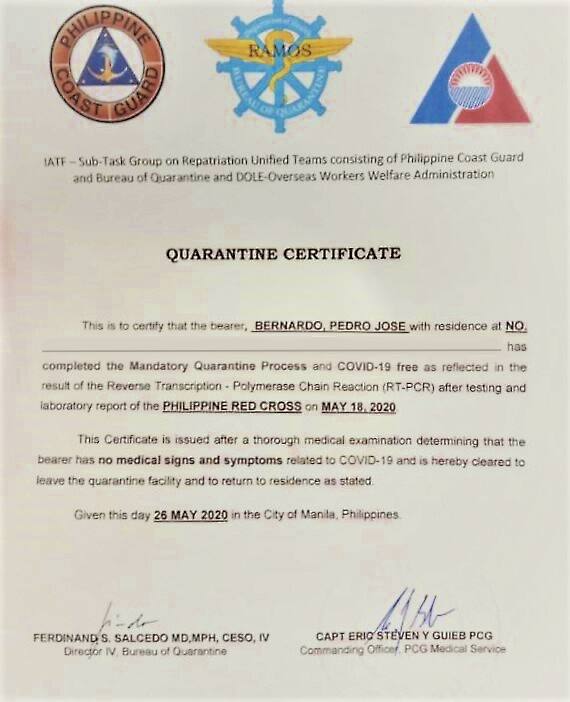 Quarantine Certificate, finally! Securing was more difficult than passing the bar! This may have to be framed beside my law school diploma.