Relive Your Unforgettable Travel Moments Thru Digital Scrapbooks
Now that we're staying home and have put our trips on hold, we have time to make those photo albums that we said we'll get around to doing. Set aside those scrapbooking materials—you won't need them, promise—because we're going digital!
Most of us probably consider our smartphones a travel essential we can't leave home without. If you're a photo hobbyist, then you'd most likely be lugging around a digital camera, too, to take photos of your trips abroad. Some precious moments that make you scramble for your phone to capture a perfect second? Your child's gleeful laughter while making snow angels during your Sapporo trip or your mom's serene smile illuminated by the sunset while having coffee at a sidewalk café in Paris.
Indeed, there's inexplicable magic that comes with immortalizing memories through photos. And because time wears recollections away, turning them into cloudy thoughts as years pass, summoning them only in bits and pieces as they age, it's really only through images that we can recall them as clear as day.
It's no wonder mothers are obsessed with taking photos and videos! Thanks to technology, we can catalog events on social media, and even share our day-to-day activities in real-time. Looking back at special occasions and milestones is as easy as a snap of a finger.
The problem with keeping digital photos online or in our phones is that they can easily be forgotten once new photos are taken—and with digital images, it's so easy to take snapshot after snapshot. While nothing quite beats flipping through photo albums or rummaging through boxes of old pictures, reminiscing on the stories behind each photograph is even nicer when you can capture the thoughts and feelings that go with every shot.
Now that we're confined in our homes and unable to see our dearests, scrapbooking can bring you and your family closer together. Looking back at your family trips breeds hope for the future, knowing that one day you'll forge new memories with them.
No need for fancy Mother's Day gifts you can't buy or celebrations you can't do at the moment. All you need are the photos you already have and a lot of time to look back, laugh, or even cry as you take in all that nostalgia. And the best part? You can share and do all this virtually—the only way we've been safely convening nowadays.
So how do you start?
Scrapbooking taps your creative muscles as you find ways to visually package an entire experience in a few pages or slides. It's can be a fun family activity, whether it's you with your children or you with your mom. We've listed the steps to help you get started:
1. Choose a trip to focus on.
Here's a tip on choosing which of your trips you can start with: Ask your child which of your family vacations they had the most fun. Their answer should be your starting point, as the memory of this trip is most vivid in their mind.
If you travel quite often, you can also make a thematic travel scrapbook. Will it be your favorite foodie trips last year? Or perhaps all the theme parks your family has ticked off from your list?
2. Decide on how you want to tell the story.
There are a number of ways to tell your travel story; the thematic style mentioned above is one such example. You can also go chronological and log a vacation's day-to-day happenings. Doing a map-based style scrapbook is a fun way to draw up the connections between trips, especially if you did a road trip or visited multiple cities.
Or why not try telling a story about the purpose of your trip? Was it to visit relatives your children hadn't met yet? Or was it an all-girls bonding trip with your mom and sisters? Dive deep into the thoughts behind the images, from funny anecdotes to lessons learned.This will help you shortlist the photos that'll go into your travel-themed book.
3. Pick the photos.
Now that you have decided on how to tell your travel story, you can concentrate on the photos to include. A story has to be engaging, even if it's a scrapbook. The right photos are bound to make it a page-turner that's sure to take you down memory lane.
Choose pictures that aren't blurry, of course, and make sure that every member of the family is well-represented throughout your scrapbook. Make it a fun mix of group photos with individual shots, if possible. If you've taken photos of places and things that caught your eye during that trip, include them, too. That photo of your child about to go on a ride at Universal Studios, add that. A snapshot of your mom and dad sitting on a park bench beneath a cherry blossom tree—of course that goes in! What about that shot of the famous Boracay sunset? Make sure your photos show the different characteristics of a destination, conveys a particular feeling, or rouses a recollection.
4. Personalize it further.
Whether you're creating a scrapbook with your kids for your own keeping, or with your siblings as a surprise gift to mom, make it a time for bonding. Get your children to write down what they remember about the images, what feelings they were having, or what fond reminders the photos bring. You and your loved ones can contribute their notes and pepper the pages with tender touches your mom will appreciate. Weave these into your story to bring your book to life. Remember to add in names of places, dates, and even times, if important.
Now put them all together digitally!
A computer and an internet connection are all you need to get started. Digital scrapbooks aren't just paperless and earth-friendly; its designs and executions are endless, too! If you're resourceful enough, you can create your scrapbook using something as common as PowerPoint. But to package that scrapbook into one that's for keeps, turn to these websites and apps in the gallery below: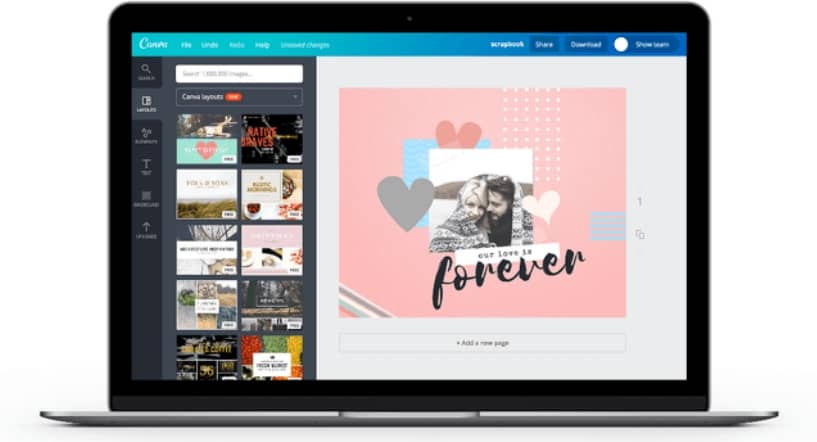 6 Digital Scrapbooking Sites To Check Out
6 Digital Scrapbooking Sites To Check Out
Main photos from Pexels and Canva.