Reservations In Paradise: A Food, Wine and Leisure Weekend At Shangri-La's Boracay Resort & Spa
Metro Channel's EIC on the Move Raul Manzano spent three days at the breathtaking Shangri-La's Boracay Resort & Spa for the Reservations in Paradise event.
Once a year, I make it a pojnt to reserve one weekend in March to attend the much anticipated Reservations in Paradise. This year, lovers of food and wine were treated to a one-of- a-kind gastronomical journey, featuring sunset cocktails, a champagne garden brunch, sumptuous banquets and an exquisite dinner prepared by six featured chefs (12-hands dinner) under the stars. Shangri-La's Boracay Resort & Spa, in partnership with wine distributor Bacchus International Inc., celebrated its 9th iconic three-day culinary and wine affair, Reservations in Paradise last March 2020.
A collection of wines from French wineries Henri Bourgeois, Chateâu Miraval, and Chateâu Palmer were paired with menus intricately crafted by this year's featured chefs. They included Edsa Shangri-La's Executive Chef Scott Brands, Shangri-La at the Fort's Chef de Cuisine Carlo Huerta Echegaray, and Shangri-La's Boracay Resort & Spa's culinary team led by Executive Chef Gilles Galli, Executive Sous Chef Alain Rion, Chef De Cuisine Shanmuga Raja Ravi, and Pastry Chef Julius Conde.
The first evening of Reservations in Paradise started with cocktails at the picturesque Beach Villa, followed by a sumptuous dinner set-up at the resort's Banyugan Beach. Guests witnessed the chefs in action as they prepared the evening's meal, starting with exquisite hors d'oeuvres, a main course of giant bouillabaisse with a variety of John Dory fish, red mullet, Scorpion fish, prawns, clams, crabs, mussels, seabass, saffron potatoes, rouille sauce and cheese, and desserts featuring vanilla crème brûlée, and Floating Island, all paired with wines from Henri Bourgeois. The dinner culminated with a spectacular dessert showcase, headed by the resort's culinary team and guest chefs.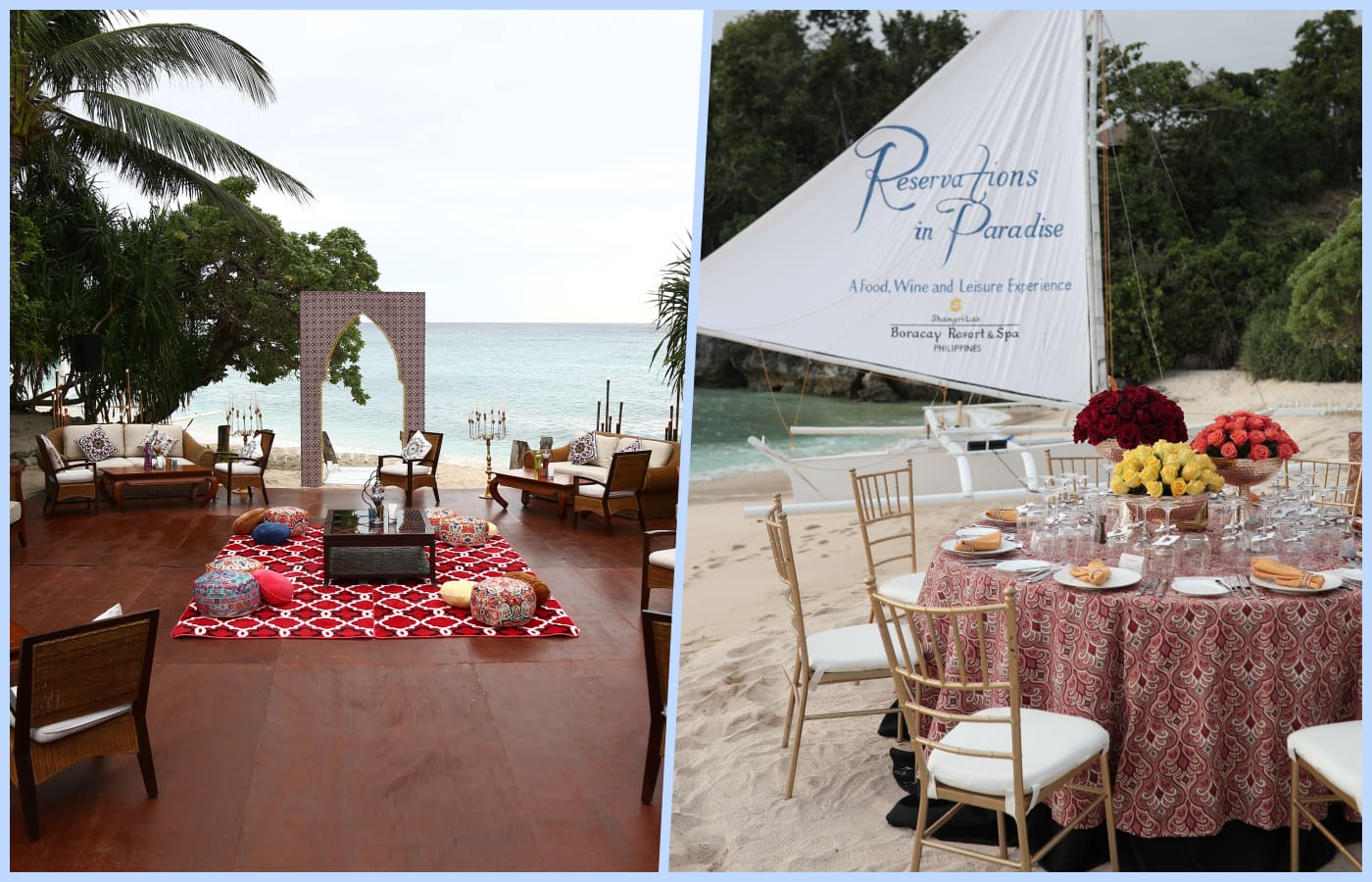 Reservations in Paradise event.
Reservations in Paradise event.
The feast on the second day started with a seaside picnic brunch in the Alon Garden, complete with international food markets and paired with world-renowned wines. Each chef crafted a dish or two inspired by the popular food markets, which included London's Borough Market, India's Chandni Chowk, Tokyo's Tsukiji Fish Market, Cusco's San Pedro Market, and Nice's Cours Saleya. Chateâu Miraval Rose, Cotes de Provence, 2017 Perrin, Sinards Chateauneuf du Pape Blanc, 2017 Famille Perrin Vacqueyras Les Christins Rouge were among the wines featured.
A 12-hands dinner was served in the beautifully set up Cielo Arena later in the evening, with each course expertly prepared by the guest chefs and paired with wines from Château Palmer. After the welcome cocktails, dinner began with amuse bouche of scallop cheesecake by Chef Shanmuga Raja Ravi and was closely followed with entrées by Chef Carlo Huerta Echegaray, paired with Alter Ego de Château Palmer 2015 and Alter Ego de Château Palmer 2014.
The next course was Chef Gilles Galli's fish course paired with Château Palmer 2012. The main affairs were the sumptuous meat courses by Chefs Alain Rion and Scott Brands, paired with Château Palmer 2006 and Château Palmer 2000. Dinner ended on a sweet note with Chef Julius Conde's dessert course featuring an Ice Vase with limoncello granita, mango caviar, dehydrated coconut foam, fresh currants paired with digestif of Warre's Otima 10 Year Tawny, Delord Armagnac Hors D'Age, and Beluga Gold Vodka.
On the last day, a hearty breakfast spread awaited guests at the Sirena Seafood Restaurant & Clifftop Bar before departure. As we left the resort reminiscing about the weekend , we were already planning for next year's Reservations in Paradise.
Reservations in Paradise is a highly acclaimed food and wine weekend created by the resort's team of dedicated hospitality professionals. Follow Shangri-La's Boracay Resort & Spa on Facebook and Instagram @ShangriLaBoracay. For inquiries and reservations on the resort, log on to www.shangri-la.com.