What To Expect When Going On A Hotel Staycation In The Time Of COVID
Summer is coming up! If you're planning a quick escape with your family via a hotel staycation, here's an idea on what it was like in Okada Manila
Quarantine fatigue is real. And although travel restrictions have eased up, many people living in the metro are still not comfortable with riding a plane to at least visit local destinations like Boracay or Palawan. For a quick escape from the stress and anxiety brought by the pandemic, going for a staycation in a hotel located in Metro Manila could be the next best thing to do with your family.
A little change in the environment can be good for mental health. And for parents like me, especially, this is a good idea to finally give kids something to do and enjoy outside the house after being quarantined for months. Since kids no longer have mall trips to look forward to on weekends, by this time, parents must have ran out of fun activities to entertain their children at home. Now, even getting in a car (when we go to the clinic for my toddler's pedia visit) and having the chance to do some sightseeing seemingly fascinates my son. I knew he would a love a staycation in a hotel where he could go swimming (even in a bathtub!).
Of course, like any parent, I hesitated to go on a staycation for fear of exposing my toddler to COVID-19. The question I repeatedly asked myself was "Is it safe?" The answer is it can be. It all begins with researching on the hotels that are very strict with their safety protocols; check out reviews online or, better yet, ask your friends who have tried staycationing in the properties you're eyeing in order to get a more solid picture of how safe they really are.
Do take note that there's a list of Department of Tourism-accredited hotels that are allowed to accept guests for leisure purposes; hotels need to be issued a Certificate of Authority to Operate for Staycation (CAOS). In an ABS-CBN News article, Tourism Assistant Secretary Rica Bueno said that only hotels with a 4-star rating or higher are allowed to accept staycation guests following the issuance of the CAOS. Check out the list of hotels allowed to operate for staycations in Metro Manila through this link.
After reading how Okada Manila launched a 3T campaign (True Clean. True Safe. True Heart.) that details the 44-hectare integrated resort-hotel property's proactive measures for health and safety, I was assured of how they adapted to the new normal, to ensure a safe stay for their guests. Strict safety measures were implemented across the property in full compliance to the guidelines given by the Inter Agency Task Force (IATF), the national government, and the local government of Paranaque City.
Once we had decided to do the staycation, I called up Okada Manila and booked an overnight stay in their Junior Suite. The booking was confirmed via email, wherein the current staycation guidelines set by the Philippine Department of Tourism were also detailed.
The email stated, "As outlined by the Philippine Department of Tourism's Administrative Order 2020-006-A, all guests (excluding children ages two years old and below) are required to present a negative result from a Rapid Antigen Test (rapid diagnostic test thru nasal or throat swab) taken on the same day of check in or negative result from RT PCR test conducted within 72 hrs prior to arrival. Permitted guests are individuals of all ages (except those with comorbidities or are currently pregnant) and are residing within National Capital Region (NCR) and Region IV-A (Cavite, Laguna, Batangas, Quezon and Rizal provinces).
"In addition, we would only be able to welcome our guests who travelled from other countries once they stayed in the Philippines for fourteen (14) days or more after their arrival in accordance to the Philippines Government directives on the COVID-19 pandemic."
For the convenience of their guests, Okada Manila works with a 3rd-party Rapid Antigen Testing facility available on-site. We availed of this service and picked from this schedule: Sunday-Thursday: 12pm to 8pm or Friday-Saturday: 12pm to 10pm. The fees are, of course, shouldered by the guests; the rate is P1,400 per head, and the results are released within 30 minutes on the day of the test.
Guests may also undergo the Rapid Antigen Test in their preferred clinic/hospital provided that the test is taken within the same hotel check-in day.
Upon arriving at Okada Manila, we went through thermal checks and high-end disinfection chambers that sanitize each person by the entrance. At the lobby, disinfection robots were going around, eliminating bacteria and viruses through misting or fogging. At the reception, staffers wearing face masks and face shields were on standby to ensure guests who are about to check in observe social distancing while waiting in line.
Once the receptionist had confirmed our booking, a staffer escorted us to the elevator that took us to the floor where the on-site Rapid Antigen Testing is conducted (this elevator is separate from the others used by the checked-in guests who are already done with testing). The testing area is spacious, and the staffers are clad in PPEs and of course, face masks and face shields. While waiting for the necessary documents to be processed, we were seated in a lounge area, where a staffer was on standby to disinfect the seats each and every time guests leave.
We were then ushered into a small function room where the testing was done, and while waiting for the results, we were made to stay in a separate room with just me, my husband, and our toddler. Since there weren't a lot of guests at the time we went, we got our results in as fast as 15 minutes (thank God, our results are negative!). And when the remaining steps for check-in were done, we were then finally given our room key cards.
An immediately noticeable detail upon arriving at our suite's doorstep was that the door was sealed with a sticker that read "Sealed for your Protection." Inside the room, the drawers, mugs/glasses, bar items and other food products were sealed with the same sticker. The private bar offerings are put inside a paper bag, and there was a note that said, "Items that are removed for more than 60 seconds will automatically be charged to your guest account."
For food ordered from hotel room service, they no longer come in plates but disposable containers with disposable utensils. There are restaurants open around the property (e.g. Enbu, Gonza Nagaoka, Goryeo, or Catch by the Bay), so dining there may also be an option, but we just preferred to eat in the room. At the time we went for a staycation in Okada Manila, their Medley Restaurant just re-opened, where we could avail of the complimentary breakfast buffet. However, we requested to just have our breakfast delivered to our room and, upon approval, we were given the option to choose from their breakfast set menus: America, Filipino, British, Chinese, and Continental.
Other amenities in the hotel were opened, such as the pool. But if you're still uncomfortable with swimming there, Okada Manila's suites are spacious and equipped with private jet tubs or bathtubs with rain shower, so your hotel experience will still be enjoyable (especially for the kids!) even if your staycation just literally means staying inside your suite for the duration of your stay.
For the stressed out moms who need some pampering, there are The Retreat Spa and The Sole Retreat which I did contemplate on checking out but didn't really have the chance to. Take note that you need to schedule an appointment first.
The Junior Suite we stayed at in Okada Manila was exceptionally clean. And while the paranoid mommy in me still panicked at the sight of my toddler rolling on the floor, hiding behind the curtains, and touching every surface he could reach, I was generally comforted by the fact that cleanliness and safety were clearly of utmost importance to the hotel. (Well, to be more sure, it won't hurt to run after your toddler with wet wipes and alcohol/sanitizer on hand or nag at him to wash his hands with soap and water; after all, we can never be too sure during this time.)
And even if you're in a hotel, be reminded of cleaning and disinfection measures you would follow at home—like, if you're stepping out (don't forget to wear your face mask and face shield!), make sure that upon returning to your room, you disinfect your footwear by the entrance and leave it there. Change your clothes and take a shower as well before sinking into that soft mattress.
Summer is coming up, and if going to the beach would be impossible for us, we'll definitely consider going on a staycation again.
Check out the gallery below to see more photos of Okada Manila's Junior Suite: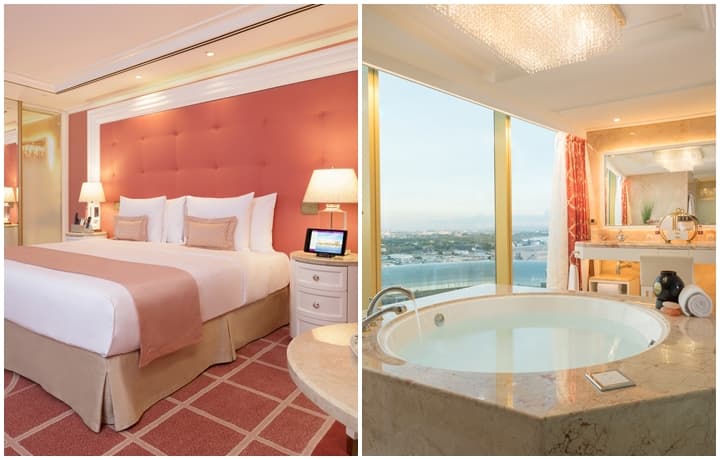 Okada Manila's Junior Suite
Okada Manila's Junior Suite
Recently, Okada Manila received its second Forbes Travel Guide 5-Star Award for not just offering world-class services and state-of-the-art features but also by adapting to "numerous adversities all while maintaining high service levels and ensuring the health security of their guests and staff" during an unprecedented time.
Lead and gallery photos from Okada Manila