IN PHOTOS: Siargao's Most Luxurious Resort Is A Tropical Paradise You Shouldn't Miss
Nay Palad Hideaway, a six-star beachfront resort in Siargao, has set the bar high on barefoot luxury. Read on for a quick tour on the island, and plan your next tropical getaway to this piece of heaven on earth
The first six-star beachfront resort in Siargao, then known as Dedon Island, set the bar high on barefoot luxury in 2012—and continues to do so now in 2020 as Nay Palad Hideaway.
To stay in the "Hideaway," as the Nay Palad family simply calls it, is to have all worries melt away as you take in the breathtaking views of calm, bluer-than-blue ocean against a lush green tropical forest. Here, going barefoot is encouraged, but it is so much more than merely slipping out of your sandals and digging toes into fine, white sand. Rather, it's the kind of mood that involves pure bliss and peace, and having the time to enjoy and savor each moment in a home away from home.
Tucked away in a secluded area on the southeastern tip of Siargao, one of the last islands of the Philippines, getting to the Hideaway is a journey in itself, but it is a destination well worth it. Most of the arrangements for transportation and food are prepared prior to arrival, and at Sayak Airport, located along the west coast of Siargao, a member of the Nay Palad team awaits to take guests to a retro-fitted luxe jeepney—more aptly described as a plush living room on wheels—that will take them through a 40-minute drive amidst the sights and sounds of the peaceful island.
THIS ISLAND BECOMES HOME
While the resort has been around for nine years, it has maintained its world-class standard of accommodations, amenities, and experience. Its 10 beautifully decorated villas with a total of 17 rooms ensure privacy and exclusivity for the guests' own tropical slice of paradise.
Local materials are used for all furniture throughout the property and in its overall design and interiors showcasing Nay Palad Hideaway's root, such as the iconic daybeds and sofas that Dedon, maker of exemplary outdoor furniture are well-known for.
Each villa's spacious rooms and en-suite bathrooms are soothing, airy, and awash with natural light. The villas and huts are all thoughtfully laid out throughout the resort, enveloped by lush greenery to bring about a feeling of communion with nature for every moment of one's stay.
YOUR OWN PIECE OF HEAVEN
A stay at The Hideaway is whatever guests want it to be—from activities tailor-made for every guests' interests, mood, and personality to the meals crafted to satisfy diverse palates and tastes. Chef Marc Silvestre and his team promise a feast centered on the freshest catch and what the local farm has to offer, making sure that dining is always a pleasantly creative surprise at The Hideaway.
While the environment beckons one to fully surrender to relaxation, the resort facilities do not leave guests wanting in terms of entertainment and other leisurely activities. Aside from the resort's private beach, there is also a swimming pool, a yoga pavilion, a volleyball/badminton court, table tennis and soccer area, and a gym, along with a selection of sports equipment for land- and watersports such as kayaking, surfing, paddle-boarding, Hobie Cat sailing, snorkeling, cycling, or wakeboarding, for more active guests. For those with more laidback interests, The Hideaway has board games, cooking classes, an outdoor cinema, a spa, a fire pit, and pagodas for lounging to keep them occupied.
The family-friendly resort has also created a children's village outfitted with a trampoline, a swing, a kid-sized treehouse, and many more for its young guests. Babysitting services are also offered at no extra cost.
A PEEK INTO PARADISE
Have we piqued your interest just yet? Browse through our Nay Palad gallery below for a glimpse into this tropical paradise in Siargao: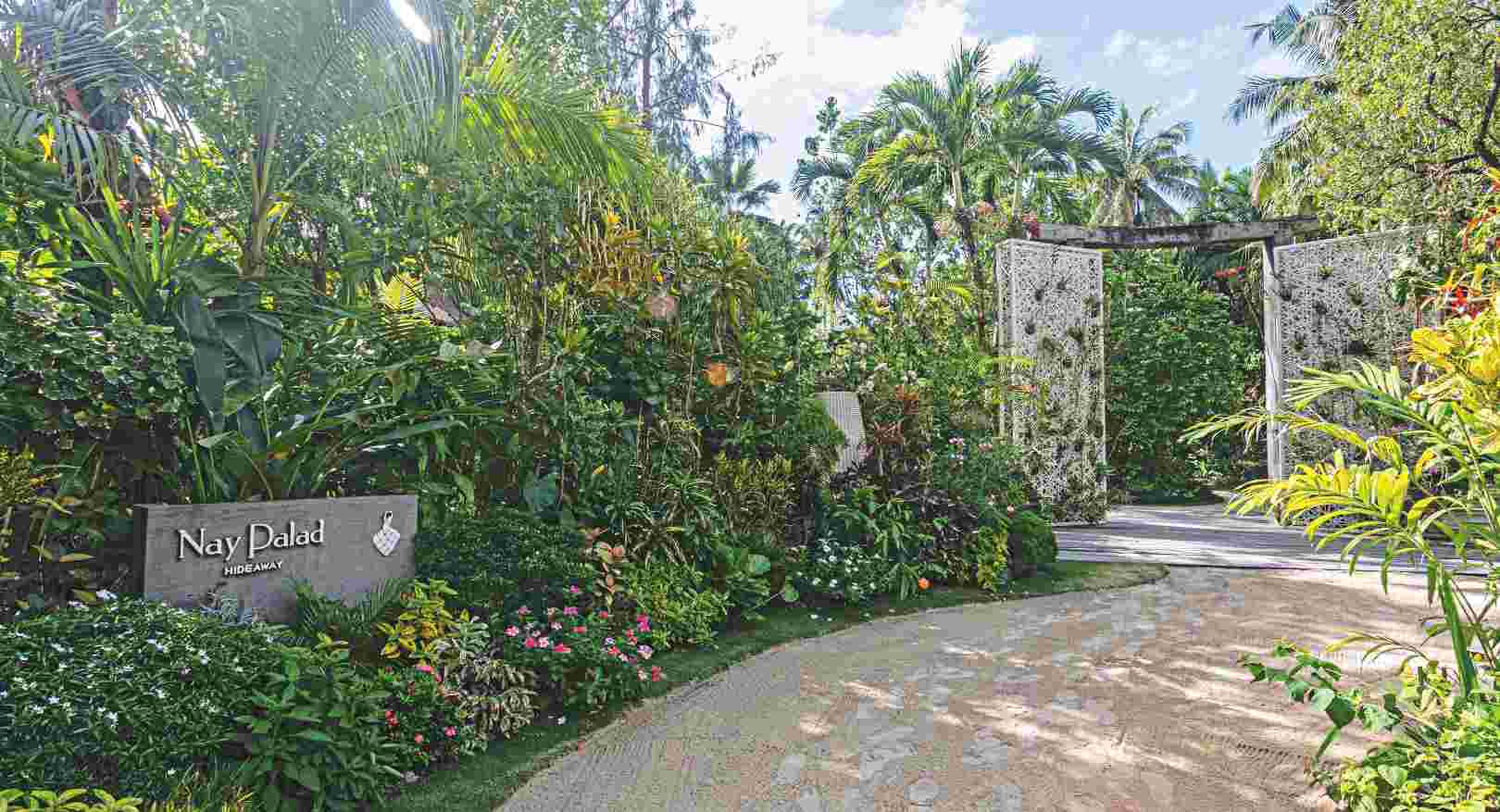 Get a copy of Metro Society's latest issue for an in-depth look into Nay Palad Hideaway.
All photos by Jar Concengco.