Enjoying The Incredible Wildlife And Landscapes Of Tanzania And Kenya In A Safe And Responsible Fashion
A2A Safaris Co-Founder Victor Dizon and his family spend holidays in Tanzania and Kenya
A2A Co-Founder Victor Dizon and Creative Director Tracie Dizon recently returned from a memorable family trip to Kenya and Tanzania. They got to experience some of Africa's most luxury Safari lodges and its diverse wildlife.
Here, in his words, Victor gives a rundown of the awesome sights and sounds they got to take in, as well as the unforgettable moments they spent together throughout their trip.
Asia To East Africa via The Middle East
We arrived earlier than usual at the airport expecting a lot of hassle to check in. The airport was deserted and we were pleasantly surprised that the check in process was smooth and efficient. The only difference was there were extra checks for our Covid tests, and we were also asked to show our travel insurance docs. There were hardly any lines at check in and immigration so we got to the lounge with 2+ hours to spare before our flight.
The Emirates flight was quite empty, too. There were only 5 other passengers in business class and the economy was only about 20% occupied. We had to wear masks for the entire flight except during meals. I brought along different types of masks and found the N95 ones to be the most comfortable for a long flight, as they had a lot of space between your mouth and the mask surface to breathe.
In terms of the flight, the main changes I noticed were that the food on board was all pre-wrapped (even the bread), no more magazines or newspapers on board and the cabin crew were all wearing PPE's. But other than that, the rest of the flight felt pretty normal. Thankfully they still have a good wine selection and that continued to flow generously.
Before departing Manila, we had to fill out a Kenya health declaration online and then we received a QR code after submitting this. When we landed in Nairobi, the A2A representative met us as we got off the shuttle from the plane to the terminal. He then assisted us as our temperature was taken and then we had to present our Covid certificates. We then went to the next counter where someone scanned our QR codes, then it was off to immigration. This whole process took less than 20 minutes. And we were out of the terminal in 30 minutes. So overall the arrival process was very smooth and painless.
We then drove to Wilson Airport to connect to our flight to Tanzania. Wilson was quite empty and the check in process was pretty fast and efficient on Air Kenya. We were on a scheduled flight to Kilimanjaro and there were only 2 other persons with us on the Caravan plane. The entry process was also relatively seamless in Tanzania and as we were out of the airport in less than 30 minutes.
Lamai Private Camp, Northern Serengeti
We flew into our first camp in the Northern Serengeti and were met by our guide at the airstrip. The guide was in a mask and made sure that we sanitized before entering the vehicle. We started seeing general game on the way to camp but the highlight was seeing some lion cubs playing on top of a rock close to camp. What a way to start our safari.
Upon arrival at Lamai Private camp, our temperatures were taken and again there was more sanitizing before entering the camp. We were finally able to remove our masks and relax at the camp, as we were the only guests in the camp—since it was sole use, and all the camp staff were tested and quarantined before they would report for their 2-3 month work stint at the camp. Nevertheless, all the staff in camp were wearing masks so you felt safe the entire time.
Sayari Private Camp, Northern Serengeti
We then drove to our next camp in the area, Sayari. Sayari was closed for a total refurbishment at the start of 2020 and only re-opened in June. So very few guests have experienced the new Sayari which is a shame as the camp is gorgeous and extremely comfortable. There were only 2 other guests at camp and we each had separate dining tables in different parts of the camp. So you would hardly even notice there were any other guests. There were no more buffets for dining. So it was either a fully plated dinner. Or on other occasions they would place platters of food on our table, allowing us to serve ourselves family style. We spent Christmas in Sayari and they had Christmas décor around the camp and a special festive menu for Christmas to make the day more special. Our kids had a lazy Christmas day opening their presents and lounging around the amazing rock pool at camp. We stayed in camp all day but didn't miss the game as we had good sightings of giraffes, zebras, and buffalo that were around close to camp. And they even had a poolside spa where they had amazing massages to further put us in a relaxed mood. And we even found out that the masseuse was trained by a Filipina therapist from Zanzibar. The other highlight in camp was they had their own micro-brewery so you got to try out different types of beer each day. So that was a huge incentive to spend sundowners back in camp.
During our game drives around the northern Serengeti, we hardly came across any other vehicles. And we had good sightings all to ourselves—including a fantastic sighting of leopard cubs.
Olakira Private Camp, Southern Serengeti
Our next leg took us to the Southern Serengeti where the great migration was currently located. We took a scheduled Caravan flight and there were 2 other persons with us on the 12 seater plane. We sat at the front of the plane while the other passengers took the rear most seats. So there was plenty of distance between us. And even on the small planes, they take your temperature before entering the plane and everyone is required to wear a mask and sanitize during the flight. We had amazing views of the migration from the air during our quick 45 minute flight.
Upon landing, we started encountering herds of wildebeest on the way to Olakira camp. And we were fortunate enough to witness a wildebeest stampede of thousands of wildebeest that held us up from our lunch. But no complaints and it was well worth it.
Olakira had more guests than our previous camps as I supposed they were here to see the migration. Interestingly, there were 2 other families with young kids like us, and then another couple. Since Olakira was a mobile camp, they set up the dining tables outdoors to ensure plenty of space between guests. And all the guests had their own vehicles and guides as well. In the camps, it is up to the guests whether they want to wear masks in the common areas. Most guests wouldn't wear masks but would always keep a respectable distance from other guests. And I felt that this was fine, especially since we were outdoors the entire time.
The wildlife in the Southern Serengeti was pumping as the migration was currently in full swing. We saw huge herds of wildebeest numbering in the tens of thousands. And had the most memorable bush breakfast in the midst of the wildebeest herds. Of course the predators weren't far away and we saw a cheetah hunt and kill a Thomson's gazelle. Unfortunately the hyenas were lurking nearby and they ended up stealing the cheetah's hard-earned kill.
There are no big rivers in the Southern Serengeti so no wildebeest river crossings to be seen here. However, we did see an amazing lake crossing which was a first for me. And I didn't even know that the wildebeest crossed lakes. So looks like these animals will cross anything once they set their minds to it. Aside from the plains areas, the forests also yielded great sightings. We saw a pride of lions up on the trees—a very rare sighting as lions typically don't like climbing trees due to their huge bulk. And we also saw a leopard that had killed and treed a zebra foal, and then went off to mate with another leopard. It was very eerie to see a zebra up on a high tree branch. Just reminded us how powerful these leopards are.
Namiri Plains, Eastern Serengeti
We then drove to Namiri Plains in the Eastern Serengeti which is one of the more isolated and lowest density areas of the Serengeti. This area was off limits for tourists for many years and was mainly an area reserved for wildlife researchers. Namiri Plains was a stylish contemporary camp that was totally refurbished in 2019. It has great views over a marsh and there was a regular parade of wildlife to be seen from the camp. But the rooms were spacious and stunning and you could easily spend the whole day just relaxing in your room and looking out at the amazing vistas and wildlife from your outdoor deck and hot tub. The food and service were first rate in keeping with the new look and feel of Namiri Plains. We had an amazing selection of dishes including a very memorable lamb kofta and Zanzibar chicken curry. And they served this with the most amazing rice. There were other families with kids in camp for the New Year's weekend, so all the kids had marshmallow toasting competition to celebrate the new year. It actually felt very normal that evening and you forgot about the pandemic, with kids running about and just being themselves.
Once we managed to extricate ourselves from the camp, the area was crawling with predators. In one day I saw more than 20+ lions and 12 different cheetahs. I'm usually super pumped to see even one cheetah on an entire safari so this place really spoils you. And so it really deserves the title of cheetah capital of Africa. There were also remnants of the migration which were in this area a few months earlier. But what also struck me were the vast herds of resident zebra and gazelle herds in the area. They vastly outnumbered the wildebeest so it was like their own migration for these other species.
Entamanu Private Camp, Ngorongoro Crater
After getting our fill of predators, we flew to Ngorongoro to wind down our trip. We drove by Karatu to get a Covid swab test at a clinic, as we needed it to get back to Kenya. We had made all the arrangements for the test ahead of time so the process was quite efficient. We spent the next few nights in Entamanu Private Camp in Ngorongoro which has magnificent views of the crater on one side, and views of the Serengeti on the other. The camp was designed like a mountain cabin and felt totally appropriate given the mountain views and the chilly weather. Our stay here was very relaxing with most activities focused on walking and hiking. We did one drive into the crater and there were not too many other tourists, and the scenery was still as stunning as ever, and there was game everywhere. And we got lucky to see the elusive black rhino out in the open plains.
We then flew out of a very empty Kilimanjaro airport back to Wilson airport in Nairobi. The departure formalities were fairly straight-forward and we just had to show our Covid test results at the check in counter. There were only 2 other passengers with us on the plane so arrivals were also a breeze in Nairobi.
Loldia House, Lake Naivasha
The last leg of our trip took us from Nairobi to the historic Loldia House in Lake Naivasha. I last visited Loldia House 15 years ago. And back then the 100km drive was a nightmare with huge potholes on a mainly gravel road which took more than 4 hours to get there. Fast forward to 2020 and there is now a smooth paved road all the way and the trip can be done in 2 hours in relative comfort. And you now get to appreciate the beautiful scenery on the drive across the Great Rift Valley as you are not dealing with bumps and potholes anymore. Loldia was as atmospheric as ever with a fantastic setting at the shore of Lake Naivasha. All the soda lakes in Kenya were at very high levels due to the heavy rains of the past 2 years. So you could see that the waters had significantly encroached on the shore. And many trees and other structures close to the shoreline were now underwater. This made for some scenic boating experiences and sightings which reminded me of the dead trees in Lake Kariba in Zimbabwe. Loldia was the perfect way to end our safari as it has a very relaxing vibe and ambience. And we were the only guests in camp so it truly felt like our own private home.
The weather was ideal at this time of the year. The temperature ranged from 18 – 23 degrees Celsius with low humidity, so it was pleasant throughout the day. It rained for a few days on our trip, but it didn't get in the way of our activities and enjoyment of the trip.
The Journey Back Home
The trip back home went pretty smoothly as well. The Emirates flight to Dubai and Manila was relatively empty. And when we landed back in Manila, we had to take a PCR test and then wait in our pre-booked hotel for the results to come out. We got our results via email 21 hours after taking the test, so within the promised 24 hour turn-around time. As we got our results back in the evening, we just decided to spend an extra night at the hotel, and then went back home the next morning.
It truly was the perfect family get-away and it was maybe our most enjoyable safari as a family. Having been locked down for most of 2020 made us truly appreciate being free to roam in a natural wild place, with no walls and masks. And going on safari as a family also made us realize that family trips in a wild place like Africa are the best bonding trips. Being unplugged during game drives also made us focus on each other more.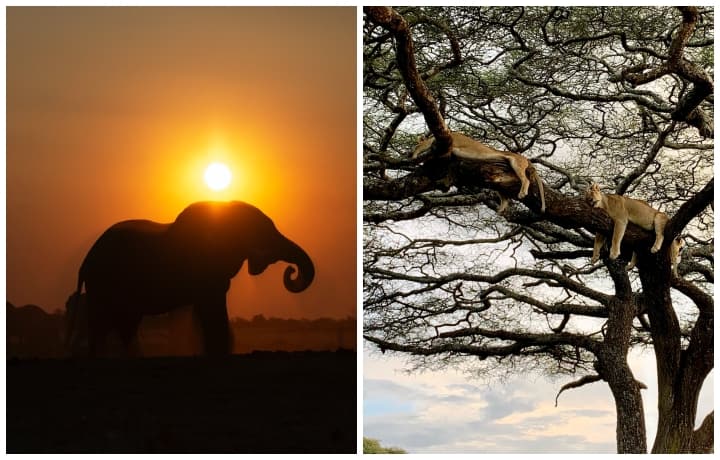 Kenya and Tanzania
Kenya and Tanzania
Photos courtesy of A2A Safaris, Tracie Anglo-Dizon