We're Dreaming About The Seine, The World's Most Famous River Located In Paris
Here are 7 things that we're looking forward to seeing along The Seine when the lockdown lifts and the COVID-19 threat is over
France has been one of the hardest hit by COVID-19, currently the fourth country in the world with the highest number of infections at 162,100. It shocked the world when the busy streets of Paris turned into an empty ghost town as the country went into lockdown last month.
According to ABS-CBN News
, last week, France has reported a decrease in its coronavirus toll, with 242 deaths in 24 hours, their lowest daily toll in five weeks. Because of the declining numbers, French Prime Minister Edouard Philippe has announced that they might gradually bring the country out of lockdown by May 11.
With a good outlook into the future, we're staying positive that we can visit Paris very soon. But until then, here are 7 things that we're looking forward to seeing and enjoying along the Seine, one of the world's most beautiful and popular rivers.
The Bridges of Paris
The Seine runs 776 kilometers through France, and in Paris, the banks of the Seine are connected by 37 bridges. We're looking forward to cruising and passing through these historical bridges, including the Pont Neuf (the oldest bridge), Pont Alexandre III (dubbed the most beautiful bridge in the world), Pont des Artes (the old love lock bridge), and the Pont de l'Alma (nearest to the Eiffel Tower).
The Parc Rives de Seine
This 7-kilometer park that extends along the Seine is a UNESCO World Heritage Site that should be on every Parisian bucket list. On its trimmed lawns, you can play a game of pétanque (a Parisian sport involving metal balls), enjoy a drink on the terrace of the Scilicet fair-trade café, ride a bike, or just hang out.
Square du Vert-Galant
Named after Henry IV (he was nicknamed "vert-galant" because he had many mistresses), this square has now evolved into a popular destination for couples. There is no entrance fee and it's open around the clock.
Bouquinistes of Paris
The Seine has been described as "the only river in the world that runs between two bookshelves" mainly because of these bouquinistes or booksellers who conduct their business along the banks of Seine. These booksellers usually offer used and antiquarian books and occupy some three kilometers of the left and right banks of Seine.
Port de l'Arsenal
Also known as the Bassin de l'Arsenal, this port is now used as a marina for charter or holiday rental boats in Paris. Historically, it's one of the most important ports in Paris but now, it's a favorite spot for its a nice view of the Bastille.
Rosa Bonheur sur Seine
This modern barge is a beautiful guinguette for locals and travelers to eat, drink, and dance. They serve tapas all-day and churn out delicious pizzas from the biggest wood pizza oven in Paris.
Ducasse Sur Seine
Glide across the Seine aboard this state-of-the-art floating restaurant while enjoying a full-course Michelin-star meal—this is the Ducasse Sur Seine experience. Created by Alain Ducasse, one of the only two chefs in the world who owns 21 Michelin stars, Ducasse Sur Seine will take you on a gastronomic cruise befitting of the finesse and luxury of Paris.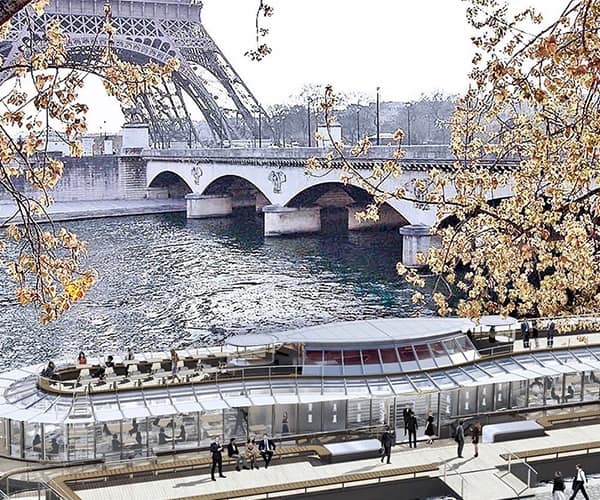 Ducasse Sur Seine Experience
Ducasse Sur Seine Experience
Hosts Stephanie Kienle-Gonzalez and Jhonel Faelnar try this extraordinary restaurant during their tour of France on The Crawl France, and they've got nothing but praises to say about it. They enjoyed a beautiful meal prepared by head chef Francis Fauvel himself, along with exquisite wine, all while enjoying a view of the Seine and the Eiffel Tower. Truly, a priceless experience.
Watch Steph's and Jhonel's luxurious experience aboard the Ducasse Sur Seine—and get a glimpse of how Chef Fauvel runs his kitchen—in the video below.