#RealWeddings: With Every Element Telling A Story, This Wedding Was Pure Personalized Perfection
Intent and purpose—they're what this bride and groom considered most as they conceptualized their forest-themed ceremony that highlighted the best parts of their love story!
Parma ham—it makes a filling snack, a tasty treat at any time of the day, a yummy appetizer to a satisfying meal ahead, and... is a great precursor to love, too?
Ask Giorgia Guidicelli if this is true and she'll say, "Absolutely!"
In fact, that's exactly how she (unknowingly) took her first steps to becoming Mrs. Ian Dato. Now happily married for almost two months, the sister of actor Matteo Guidicelli looks back fondly on how she stumbled upon her then husband-to-be who thought that a good conversation starter was to ask her about well, cured meat.
A couple of years later, and with the help of a sneaky date set up by friends and family, Giorgia and Ian discovered that they were forming a lifelong bond over things much deeper than food; there was shared respect and admiration between them, they were both hardworking and driven, and they certainly realized that they had found the kind of love in each other that was right for them and only them.
Below, Giorgia tells us more about her love story spawned by one of Italian cuisine's biggest stars, describes her beautiful ceremony, and most importantly, what it takes to turn a pretty wedding into an unbreakable marriage.
About the couple
How did you and your husband meet?
"Long story—He first saw me in a traithlon magazine in 2015. There, our team, Forza Triathlon, was featured. In 2016, he and a couple of his friends came to my restaurant, Trattoria da Gianni, in Cebu. He apparently came up to me and asked me where we got our parma ham. I then replied 'From our supplier,' and walked away. I really don't remember this. Finally in 2018, he was working up a business deal with someone. She then asked him to meet at Da Gianni in Alabang and told him that she's best friends with the owner. He was shocked and then asked my mom's best friend to set us up. The rest is history."
How long have you two been together?
"Almost two years"
What are your current occupations?
"Ian is a lawyer and a businessman. [I am] a restaurateur. I also help run the family business [and] we make souvenir items. So I guess I, too, am a businesswoman."
What do you enjoy doing together? Hobbies, interests?
"We like sports. What sealed us was triathlon. We like to bike a discover new places, we like to run, we like to swim, [and] we also like playing tennis."
Preparing for the wedding
What is your wedding's theme, and why did you choose it?
"We didn't really have a 'motif' per se, but we just really wanted the reception to be as leafy and green as possible. We also really like to use and promote our local leaves. We didn't want too many flowers. Ian proposed in the manmade forest in Bohol, at our yearly family cycling event, Giro d Luca, so we wanted the reception to be almost like a forest."
How long did you prepare for your wedding day?
"Six months."
What were the challenges you encountered along the way?
"The guest list! Although we really wanted to invite and celebrate with all our friends and everyone we knew, we agreed to have a more intimate wedding. We agreed that it would be best to know each person in our wedding rather than meeting them for the first time in our most special day."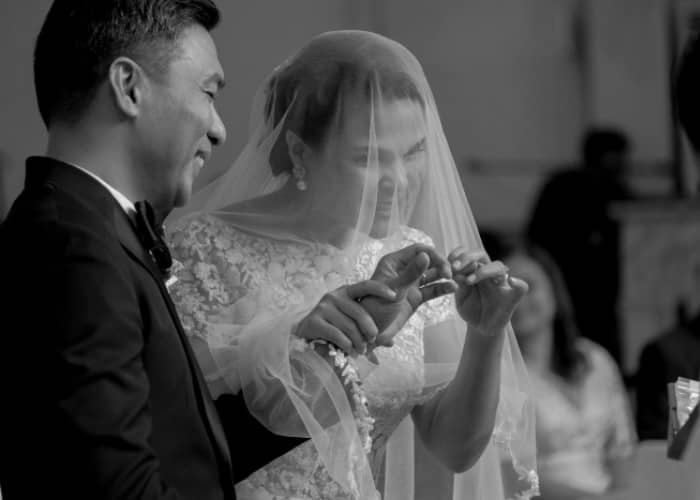 Giorgia Guidicelli and Ian Dato's wedding
Giorgia Guidicelli and Ian Dato's wedding
What was the best part in preparing for your wedding?
"Preparing and planning for our future, learning about each other along the way. We did a Discovery Weekend Center for Family Ministries and it really helped us learn more about each other and showed us that our values were really attuned with each other's."
What tips can you share with brides-to-be when it comes to planning a wedding?
"Take it slow and enjoy the process. The day goes by so fast!"
The Wedding Outfit
Tell us something about your wedding gown designer and why you chose them.
"My cousin, Mia Arcenas-Branellec. There was no other person who I would want to wear but her. Mia has been making all my gowns since she's been in the business. I only trust her. We also grew up together, so she knows what I like and what I don't like."
What about your hair and makeup looks, and accessories?
"I only wore one set of jewelry and it spoke for itself. I wore Jewelmer's Dolce Rosa pearl earrings. I wanted to be simple yet elegant."
What was the story behind your choice of wedding venue?

"Church: St. Therese of the Child Jesus—
1. Where I was baptized, where my parents got married.
2. Near my house. Grew up going to church there
3. Had to do it there!
Reception: Shangri-La Mactan
- The Ironman 70.3 is hosted there every year. This is probably where Ian and I first crossed paths, without even knowing.
- Matteo and I also grew up in Shangri-La Mactan. I probably even learned to swim there when we were little kids. The staff there [are] like family to us."
What were the highlights of your big day?
"Ian and I really wanted to showcase the beauty of our tropical plants. So we wanted to highlight leaves, more than flowers. Of course we did use some flowers, too. He also proposed in the manmade forest in Bohol, so we wanted to reception to feel like a forest as well. As for the ceremony, we wanted it simple. I walked down the aisle to the song 'Forevermore' played [on] the violin. It was intimate. It also felt great knowing that everyone that mattered was there."
Details
Number of guests: 450
Date of wedding: December 8, 2019
Wedding coordinator: Stanz Catalan
Photographer and videographer: Lito Sy (photography) and Angulo Films (videography)
Invitations/Printers: Corinne Cases of CDI Designs ("I couldn't thank her enough. The invites and collaterals were made so beautifully").
Designer of entourage gowns: Mia Arcenas-Branellec
The groom's suit maker: Ziggy Savella

Florist: Pink Flora
Officiator: Archbishop Jose S. Palma
Giveaways: "A wooden bowl that has a phrase in Italian saying 'come ti vidi mi innamorai. E tu sorridi perche lo sai.' (In English, 'When I saw you I fell in love. And you smiled because you knew.'). In the bowl [was] traditional Italian confetti."
Hairstylist and makeup artist: Gela Laurel (makeup) and RJ dela Cruz (hair)
Wedding hashtag: #IANasiGiorgia
Photos courtesy of Giorgia Guidicelli-Dato