Grizelle Gratela & Fourth Solomon's Modern Rustic Civil Wedding Was So Picture-Perfect!
Grizelle and Fourth's wedding was originally planned for March 2021 in Boracay, but COVID-19 made them pivot to a civil wedding held last August instead
The coronavirus (COVID-19) pandemic may have put life on pause, but it hasn't stopped love from flourishing, even after multiple schedule changes brought about by quarantine.
Newly-married couple Grizelle Gratela and Fourth Solomon originally planned their wedding for March 2021—in time for the bride's birthday—in Boracay, but the pandemic has made them pivot to a civil wedding held last August instead. Their intimate event looked so beautiful and picture-perfect, so it's amazing how everything was put together in two months.
Weddings during a pandemic are definitely different—the number of guests needs to be trimmed down even further and everything has to end by 8PM, but these extra hurdles sure aren't stopping a couple that is so deeply in love with each other!
Grizelle shares the details of their modern rustic civil wedding below:
About the couple
When and how did you and your husband meet?
"We met during college. I was batchmates with his sister in FEU Nursing; she invited me to one of her parties and she introduced me to her brother. We are also both TVC models then, so we saw each other during one of the castings."
How long have you been together?
"We've been together for nine years."
What are your current occupations?
"We own a restaurant and trading business together. We've been business partners for six years now."
What do you enjoy doing together? Hobbies, interests?
"Fourth loves to cook, and I love to eat! We enjoy going grocery shopping and preparing our meals together. We also love traveling a lot. If we have time, we make sure we squeeze in a little travel, may it be out of town or out of the country."
Preparing for the wedding
What is your wedding's motif, and why did you choose it?
"My friend Vernon Carandang helped me in deciding the motif of the wedding, which is modern rustic chic with lots of dried flowers. The pink accent was my stylist's choice and it turned out to be very beautiful. I'm glad we found Ginger Events Styling because her work really suits our peg and everything turned out beautifully. She executed everything from our moodboard very well. I really wanted to make it memorable since it's going to be our first official wedding. I want everything to be Pinterest-worthy, so that when we take photos it will be memorable and not just some plain civil wedding."
How long did you prepare for your wedding?
"Our original plan was a Boracay wedding in March 2021 on my birthday but COVID-19 happened and we weren't really sure when it's going to end, so by June we decided to do a civil wedding on our anniversary which was on August 13. We just planned everything in two months. "
What were the challenges you encountered along the way?
"Our wedding was supposed to be held on our anniversary which was on August 13 but then Metro Manila was suddenly placed under MECQ (modified enhanced community quarantine) so we had to reschedule our wedding to August 27 instead. Our original plan was at least 50 guests but since COVID cases were rising, we had to trim it to 30 guests. Curfew was also imposed, so we wrapped everything up by 8PM. But despite the challenges, everything still turned out to be perfect!"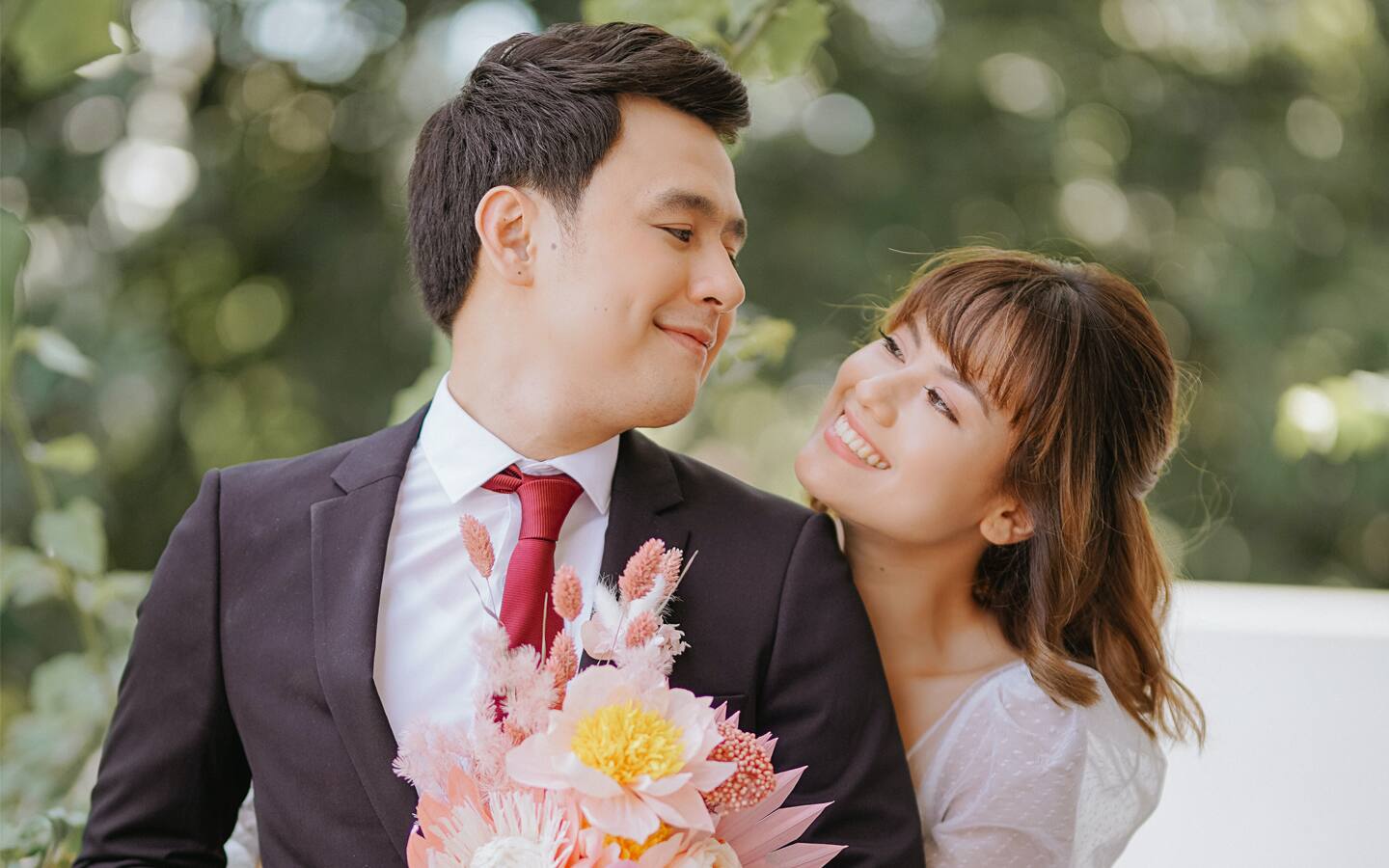 Roberto Pagotan IV & Grizelle Gratela's Wedding
SWIPE LEFT OR RIGHT
TO NAVIGATE BETWEEN PAGES
What was the best part in preparing for your wedding?
"Everything! I love contacting my suppliers. I love it when I got to put everything together. It's also good that I only planned everything for only two months, so I didn't have to wait longer."
What tips can you share to brides-to-be when it comes to wedding planning?
"Just have fun, don't stress yourself too much. There are a lot of things to consider, but my advice is to think of what will make you happy and then decide from there. Some people will be happier if they celebrate with big groups, so they wait until everything gets settled. But if you can't wait like me, you can plan a simple intimate wedding now. Just make sure you follow all the safety guidelines and talk about this with your venue and your coordinator on how you can make your wedding safe, so you'll be worry-free on your wedding day. I'm so thankful for my wedding coordinator Maxine Covar because she made sure everything was going smooth and chill."
About the wedding
Tell us something about your dress.
"I stumbled upon Heleyna bridal one day and I saw how beautiful and modern all her pieces are. Plus, they are affordable! So I knew she's going to make my dress. I got inspired by this dress with the picture I saw on Pinterest, but I wanted it mid-length only. They also made my flowery veil which I saw on Pinterest too. I got so many messages and compliments about it! So happy how my whole outfit turned out!"
Tell us something about your hair and makeup looks, and accessories.
"I didn't have any accessories on. I think what also made my look very nice was my bouquet, which was made up of dried flowers and paper flowers. My stylist, Ginger, wants me to keep the bouquet forever. My hair and makeup was done by my friend RMES who owns RME Salon. He just put simple makeup. We really wanted to go for a more natural makeup look."
What are the highlights of the program?
"We didn't really have an actual program but we had some of our closest loved ones give us a message. Everything was short and sweet."
Details
Number of guests: 34
Ceremony and reception venue: Las Casas Quezon City
Date of wedding: August 27, 2020
Wedding coordinator: Maxine Covar Events
Photographer and videographer: Nice Print Photo & Video
Caterer: Las Casas Quezon city by Margarita Forés
Invitations/Printers: Lucia Artisania PH
Bridal gown designer: Heleyna Bridal
Bridal robe: Drém Luxe
Bridal shoe designer: Charles & Keith
Wedding ring designer: Paul Syjuco
Set designer/florist: Ginger Events Styling
Entertainer/s: The Frequenzy Band
Lights and sounds: JCM lights and sound
Officiator: BCIDP Law Office & General Consultancy
Giveaways: @samting_pH and @weara.damnmask
Cake maker: Jenn Lim
Hair and makeup artist: RMES of RME Salon
Wedding hashtag: #maytheFOURTHbewithZEL