5 Things We Loved About Mikki Eduardo And Bettina Carlos' Tagaytay Wedding
This is, no doubt, one of the most beautiful and well thought out weddings we've seen this year
Actress, TV host, and mom Bettina Carlos is now a happy wife, too, as she tied the knot with Mikki Eduardo last December 2 at Tagaytay Highlands. With this extraordinary wedding, she's a proud "COVID bride," who proves that even during a pandemic, love can bloom and usher a new beginning.
Bettina Carlos' wedding to Mikki Eduardo comes just less than two months since they announced their engagement on social media last October 7. Many engaged couples today decide to not wait till the pandemic is over to tie the knot, to make every moment with each other count especially in a time of great uncertainty. As the Bible verse that was placed on their wedding aisle by the altar said, "For everything there is a time for every activity." As the saying goes, tomorrow is never promised—if the timing feels right now for the couple, why not get married right away? The couple's wedding planner, Teena Barretto, said it best: "Their love story was quick, but certain. Assured, and never rushed. Filled with faith, love and happiness."
After months of COVID-caused event delays and cancellations, it's great to finally see the local wedding industry picking up again and celebrities tying the knot with the most stunning celebrations. As Mikki Eduardo and Bettina Carlos' wedding perfectly shows, a breathtakingly beautiful destination event can now be possible despite quarantine-related limitations and restrictions for social gatherings.
Mikki Eduardo and Bettina Carlos' wedding was not just beautiful aesthetically, the stories that led them to their big day make for beautiful memories, too, that they will forever cherish. As a single mom to Gummy, Bettina prayed for a man who would raise her daughter as his own. Bettina shared that she secretly prayed to the Lord and asked Him for a sign that'd confirm that Mikki is indeed The One He prepared for her; the sign she specifically prayed for was for Mikki to give Gummy a ring too. "After all he is not just marrying me but her as well. God heard and heeded my prayer," she shares on Instagram. A day before their wedding, Mikki proposed to Gummy as well with a ring that matches her mom's.
And because this stunning wedding had several other noteworthy elements, we listed down all the things we loved about this #BeKki union:
1. The location
Because non-essential travels weren't allowed for several months, many engaged couples had to contend with holding micro-weddings in the city. So it's refreshing to see an outdoor wedding that was held so close to nature, with clear skies and trees all around. Mikki and Bettina's venue of choice was Tagaytay Highlands. The Taal Volcano eruption early this year was soon followed by the COVID-19 pandemic, which made things doubly hard for the people and the businesses in Tagaytay. Tagaytay has always been a top-of-mind local wedding destination; seeing how dreamy Mikki and Bettina's wedding turned out could make more engaged couples realize the beauty of holding events there and hopefully help the event scene in the area thrive once again.
2. The bridal looks
Bettina looked impeccable in her minimalist long-sleeved, form-fitting gown that features a boat neck and a sexy low back design with a ribbon detail. The classy, sophisticated, and timeless gown was created by her good friend, designer Celline S. Bautista. This clean and polished bridal look was complemented with fresh, glowing makeup and a sleek bun. Come afternoon, Bettina changed into a strapless gown, also by Celline, and matched it with a wavy hairstyle and a bolder makeup look punctuated with dark red lips. Her makeup was done by celebrity go-to Lala Flores.
3. The bouquets
Bettina had two wedding gowns—of course, she had to have two bouquets to match the styles of her outfits, too! To go with her minimalist gown, Ginger Event Styling arranged for her a nosegay bouquet of white and peachy blooms. As for her strapless gown, it was accentuated with a nosegay bouquet that featured a mix of red and white flowers, also put together by the same supplier.
4. The fact that the couple got married twice that day
How clever is that?! This could actually be the solution for couples who wish to spend their big day with more people despite the limited number of allowed guests in events these days (of course, safety protocols must be in place). Mikki and Bettina had two ceremonies and two receptions with two different themes and different sets of guests in one day, and they were able to pull off this idea thanks to pro event planner Teena Barretto and her team.
Because of the health crisis, this couple only met with Teena virtually. Even when there were challenges in organizing it, Mikki and Bettina's wedding turned out to be one of the best events we've seen this year. On Instagram, Teena shared that she and Bettina hadn't seen each other for over a year until this wedding. Teena says, "Learned about her love story over the phone. Planned her entire wedding in barely six weeks virtually!"
The photos for the morning event were captured by Jay Jay Lucas and Chestknots Studio. Pat Dy and his teammates Caliber King and Chissai Bautista, meanwhile, were in charge of documenting the scenes from the second event. The video coverage was entrusted to Jairus Bernardo.
5. The wedding motifs
And because they had two weddings, the couple also went for two themes or motifs to differentiate them. The morning event held outdoors was styled predominantly in white. On the other hand, the afternoon event had a bolder mood board, primarily red hues that went well with the log cabin venue. We loved this white and red contrast! The venues were dressed up by Ginger Event Styling.
Check out more scenes from Mikki Eduardo and Bettina Carlos' breathtakingly beautiful wedding in the gallery below: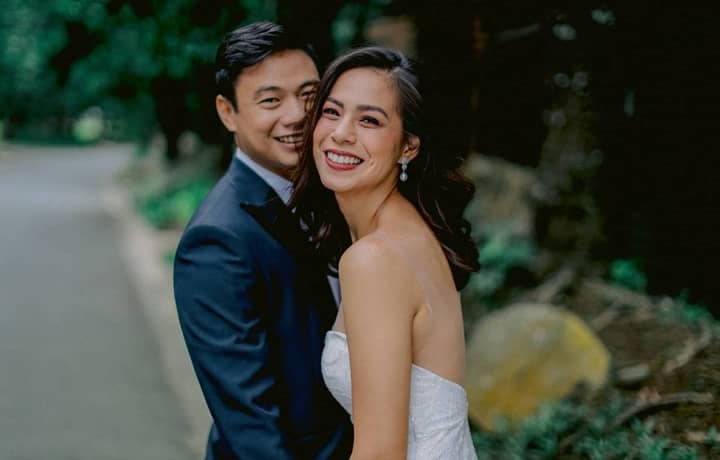 Bettina Carlos and Mikki Eduardo's Tagaytay Wedding
Bettina Carlos and Mikki Eduardo's Tagaytay Wedding
Photos from @jayjaylucas @chestknots @patdy11 @teampatdy @chissai @felizlucas @abettinacarlos @mikki.e.eduardo @cellinesbautista @teenabarretto @ginger_eventstyling