5 Things We Loved About Rachel Peters And Migz Villafuerte's Wedding
The new Mr. and Mrs. kept their wedding simple, sweet, and intimate
Rachel Peters and Migz Villafuerte are married!
Miss Universe Philippines 2017 / Metro Channel's Beached host Rachel Peters and Cam Sur governor Migz Villafuerte married in civil ceremony on July 15 (on their exact seventh anniversary as a couple) after being engaged for one year and eight months, and two months after they revealed they were expecting their first child.
There to witness the event held at the Supreme Court were select family members who later joined the newlyweds for an intimate wedding party. The couple shared a handful of photos from their special day, highlighting all of their favorite moments plus Rachel's beautiful earth-toned bridal look.
Check out what we loved most from Rachel Peters and Migz Villafuerte's wedding below!
It was an anniversary and wedding in one.
Sometimes, couples are cute and celebrate two anniversaries—the first being when they became official, and the second being their wedding anniversary. It's nice to remember relationship milestones this way and look back on how far you've gone as a couple, but for Rachel Peters and Migz Villafuerte, they wanted to make things extra official by getting married on their 7th anniversary! Now, just one date holds a truly special place in their hearts.
It was a family affair.
It's always lovely to see couples' kids participate in the ceremonies in any capacity. For Rachel and Migz, they'll have quite an interesting story to tell their little girl about how she did exactly this! Although, their baby girl wasn't exactly "present" in their wedding in the way you're imagining; she's still tucked away in her Rachel's belly at approximately six months old, but she was very much involved in this special time in mommy and daddy's lives. After all, Rachel and Peter had always talked about wanting to start a family alongside their wedding plans. With their little girl on the way and Rachel's pregnancy coinciding with their I dos, both items were ticked off this couple's pandemic relationship goals checklist!
The wedding set a great example.
Since 2020, we've seen all manners of couples get married despite the pandemic. Many weddings are still uniquely styled to reflect a unique theme/personality, but what unifies them all is that they're simple, intimate, and very personal. The Villafuerte-Peters nuptials was no different; the civil ceremony was held with just family as witnesses, and it was followed up by a private meal at The Blackbird at the Nielsen Tower at Ayala Triangle. Nothing about the day was grand or showy, but a lack of big gestures and crowds didn't make it any less meaningful. Perhaps this is a trend we hope to keep seeing even when larger weddings can happen again; it's great to see a high-profile couple like these two set an example for others that smaller ceremonies can still be beautiful and still be your "dream" wedding.
Rachel Peters' dress was in keeping with the trend of simplicity, and she complemented her wedding dress with a gorgeous bridal hair and makeup.
Again, we're hoping that low-key, understated wedding OOTDs aren't just a temporary thing, because we love them! Simple wedding dresses can be worn again in other occasions, making them well worth what you paid for. Plus, if you ever want to re-style them with the help of an experienced designer in the future, a simple design easily allows this. Rachel's wedding dress was by Just Bonita, an apparel brand favored by the likes of Chi Gibbs, Nadine Lustre, Pia Wurtzbach, Denise Laurel, and Sue Ramirez. She was glammed up by makeup artist Jelly Eugenio who did a subdued earthy beauty look that enhanced Rachel's pregnancy glow; hairstylist Paul Nebres styled her hair in a bun and accessorized with a jeweled accent.
They waited for the right time.
Rachel and Migz were engaged for one year and eight months before they tied the knot! He popped the big question in November 2019, and while they initially wanted an Indonesia-based ceremony, COVID came not long after they got engaged. The pair decided to wait things out and flesh out wedding plans they could both be satisfied with before pursuing anything big. Now, after 20 months of being engaged, they're officially married and it looks like they're planning something for next year, too. Migz hinted at throwing a bigger ceremony for 2022 (perhaps the realization of their Indonesia wedding or something close to it?) with more guests.
See scenes from Rachel and Migz's wedding in the gallery below!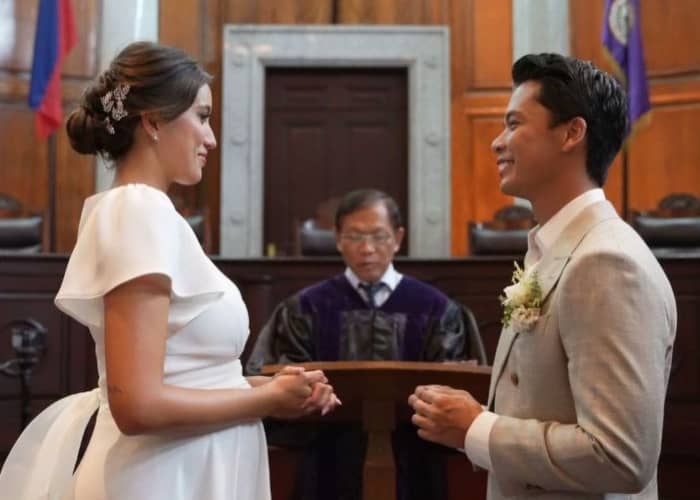 Scenes from Rachel Peters and Migz Villafuerte's wedding day
SWIPE LEFT OR RIGHT
TO NAVIGATE BETWEEN PAGES
Photo Credit: @jellyeugenio
Photo Credit: @rachelpetersx
Photo Credit: @rachelpetersx
Photo Credit: @paulnebreshair
Photo Credit: @rachelpetersx
Photo Credit: @migzvillafuerte
Photo Credit: @migzvillafuerte
Photo Credit: @migzvillafuerte
Photo Credit: @migzvillafuerte
Photo Credit: @migzvillafuerte
Photo Credit: @migzvillafuerte
Photo Credit: @rachelpetersx
Photo Credit: @rachelpetersx
Photo Credit: @migzvillafuerte
Photo Credit: @migzvillafuerte
Photo Credit: @migzvillafuerte
Photo Credit: @migzvillafuerte
Photo Credit: @gideonhermosa
Photo Credit: @gideonhermosa
Photo Credit: @gideonhermosa
Photo Credit: @rachelpetersx
Photos from @rachelpetersx @migzvillafuerte