5 Things We Loved About Rocco Nacino And Melissa Gohing's Wedding In A Naval Ship
Come 2021, we continue to say "I do" to more beautiful and unique intimate ceremonies like Rocco and Melissa's!
We've heard of many original weddings cropping up around the metro as couples tie the knot amidst "unique" circumstances, but Rocco Nacino and Melissa Gohing's wedding atop a naval ship was a league of its own.
The military man turned actor and volleyball player were married on January 21, and while it was their love that was the center of attraction at the intimate event, their ceremony venue sure came at a close second. It's just one of the things from this one of a kind ceremony that wowed us, and below, we share everything we loved about the Nacino-Gohing nuptials!
The venue
First things first. Rocco Nacino and Melissa Gohing's wedding was held atop navy shipBrp Davao Del Sur Ld602 in Pier 13, a place not known to many. Pier 13 is located in Port Area, Manila, and if you're wondering why this is where this couple chose to exchange "I do's" in such an atypical venue, it's because the groom once trained with the Philippine navy. Before he became a celebrity, Rocco was a Navy reservist!
The suit
One of the best things to look forward to come weddings are the couple's outfits, and almost all the time, brides get the spotlight in this department. And while Melissa was absolutely gorgeous on her big day, Rocco turned heads, too! He did without a suit, or a tux, even. Instead, he donned an outfit called an "Alpha White Dress B," a.k.a. a uniform worn by men in the Navy for very special occasions. (He did change into a classic suit after the ceremony for their after party!).
The vows
There's no one who doesn't cry at weddings, and more often than not, tears are shed when vows are read. And at Rocco Nacino and Melissa Gohing's wedding, tears flowed when they took their time reading all the reasons why they couldn't wait to become husband and wife, a couple united for life. Both of them shared heartfelt messages to each other and they're better watched than read.
The highlights were Melissa talking about her past—how she had come from a broken family and understood love only when she and Rocco found each other—and Rocco describing all the ways in which he'd commit his life to loving Melissa forever.
The dress
Melissa was a Francis Libiran bride. But what we loved most about her bridal look wasn't just her choice of designer, but the elegant simplicity of it all. Her dress' figure-hugging silhouette paired with just a touch of daintiness via off shoulder bow details was in line with "pandemic weddings"—understated and not over the top. Many brides at this time have mostly opted for clean and timeless looks, foregoing fairytale-inspired dresses, volume, and intricate details.
The sequel
Many couples who got married in 2020 were glad to become Mr. and Mrs. for the most part, but they couldn't help but feel a pang of disappointment in knowing that they had to change their wedding plans in light of COVID-related restrictions. It was a sacrifice for some, but for a few lucky brides and grooms, it simply means getting the opportunity to get married all over again!
The last item on our list of favorite things about Rocco Nacino and Melissa Gohing's wedding is that it won't be the only one. Their January ceremony was a civil wedding, and they continue to plan and look forward to a Christian ceremony in the future, one where they're likely to invite more friends and family to witness. That means there will be a second round of outfits, dancing, photos, and of course, falling in love.
Check out more photos from Rocco Nacino and Melissa Gohing's wedding in the gallery below!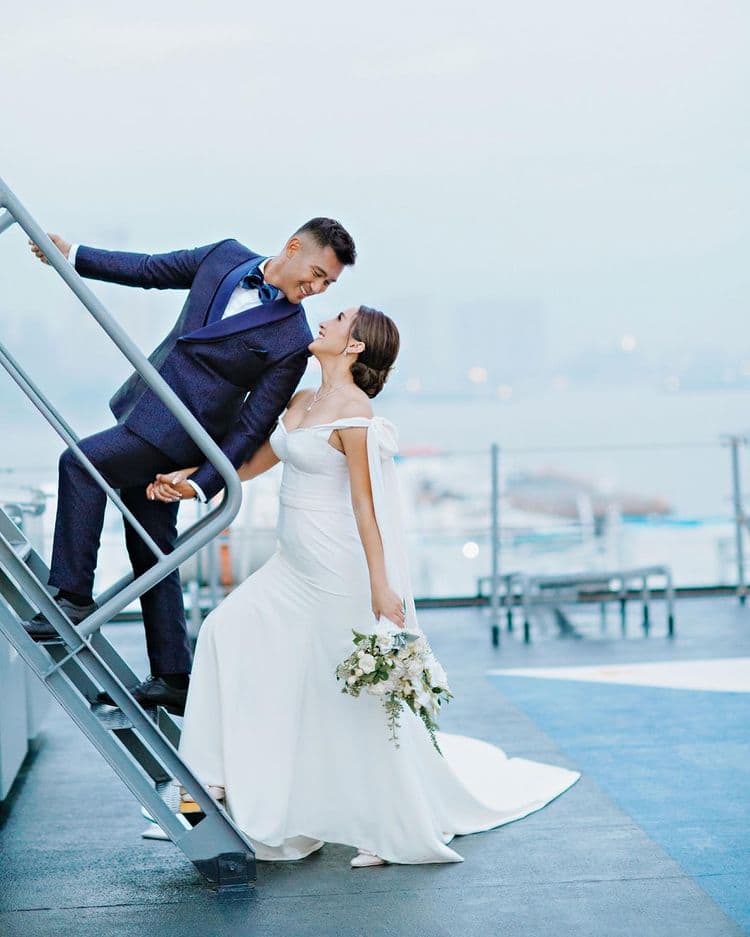 rocco nacino and melissa gohing's wedding
rocco nacino and melissa gohing's wedding