Our Favorite Elements From Sam Pinto And Anthony Semerad's Wedding By The Bay
There's a lot of pretty elements to love about this simply stunning, intimate wedding
Sam Pinto and Anthony Semerad are married—finally!
The couple that got engaged since 2019 pushed through with a "pandemic wedding" last March 8, their venue of choice being the Conrad Manila's roof deck overlooking Manila Bay.
Sam Pinto and Anthony Semerad's wedding was a small ceremony with just four guests, a simple after-wedding celebration, and relaxed charm, but the love that day was big and warm and felt by everyone there.
We chose our favorite elements from Sam Pinto and Anthony Semerad's wedding, so read on!
Opting for an intimate wedding doesn't mean you have to scrimp on styling and décor. In fact, you and your guests might even be more appreciative of how pretty a venue is, precisely because you're a much smaller group!
For Sam and Anthony's wedding, Gideon Hermosa was the creative genius behind the floral pieces and the color palette. The celebrity fave designed a soft-toned setup for the couple with lots of dusty pastels beautifying the altar and tablescapes—nothing loud, nothing bold, and instead all demure and understated. Gold accents livened up the space with metallic chairs and candleholders, details that matched the few pops of yellow in Sam's bouquet.
And when the sun set on this wedding party, fairy lights scattered on the wooden floor lent an extra stroke of romance.
There was no way Sam could have gone wrong with any dress she chose, but for her big day, she picked Michael Leyva to doll her up.
Her wedding dress featured a deep neckline cutting through the bodice of an all-white tulle number. The voluminous skirt had a thigh-high slit and a puffy bow, with all these little details calling attention to Sam's best assets.
According to this bride, she was intentional in her choices for a much more casual wedding, including her bridal look by makeup artist Ting Duque and hairstylist Arci Barcenas. She and Anthony are planning on a second wedding in December, and she's saving her more formal looks for their second ceremony.
The bouquet and matching boutonniere
Matching outfits at a wedding can be a tricky business. If not done well, couples risk the chance of looking costume-y and less elegant than they'd envisioned. A great way to get around this is to pick subtler details in ensembles to pair instead of, say, going all out with twinning colors, fabrics, and other hard-to-miss details.
Look to Sam and Anthony who absolutely nailed the bride-groom outfits; her bouquet matched his boutonniere, and neither stood out too boldly from her white dress and his gray suit. We also love, love, love how Gideon Hermosa picked out colors that went beautifully with the hues of the sky that day—lilac and lavender, sweet pea-pink.
Gold and diamonds—this is always a pretty combo, and it's made even more beautiful when they come together to form the rings symbolizing a lifetime commitment of love between husband wife.
Sam's engagement ring was a sight to see indeed; with its oval diamond centerpiece surrounded by even more diamonds, and with the gold band itself also encrusted in diamonds, it was a piece that was all about a love that didn't hold back. Her wedding ring was similarly a gold band that framed diamonds. On the other hand, Anthony's was a classic gold band. All rings are by Manila Diamond Studio.
Last but not least, there was the three-tier wedding cake made by Honeyglaze Cakes.
If Sam on her wedding day could have transformed into a delectable dessert, she would be this cake! The edible creation was also decorated with white frosting (which had patterns and words embedded in it, too), but with extra touches to really make it worthy of such a special occasion. Roses and other metallic blooms crawled from the cake's base up to the top to make it a lot more romantic and whimsical.
Check out the gallery below for more beautiful scenes from Sam Pinto and Anthony Semerad's wedding below!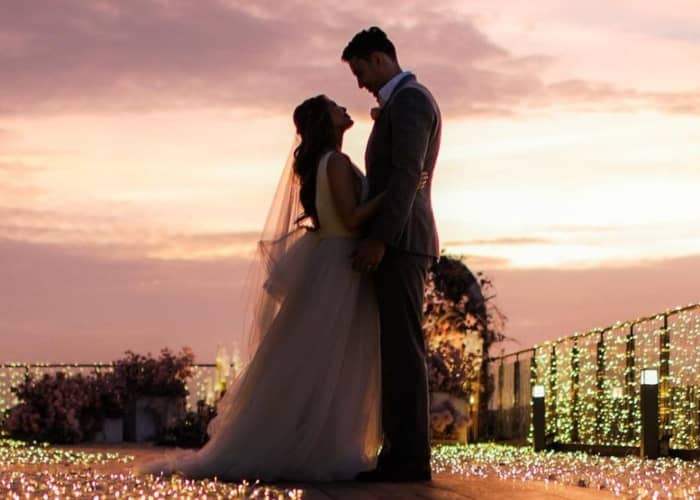 Introducing Mr. and Mrs. Semerad!
Introducing Mr. and Mrs. Semerad!
Here's their complete suppliers list:
Photography by Team Pat Dy
Videography by Bob Nicolas
Coordination by Kim Torres Events
Makeup by Ting Duque
Hairstyling by Arci Barcenas
Venue styling by Gideon Hermosa
Cake by Honeyglaze Cakes
Wedding bands by Manila Diamond Studio
Bridal gown by Michael Leyva
Groom's suit by Francis Libiran
Grooming by The Spoiled Groom
Hosting by Edroy Lim
Streaming by Live by Kim Torres Events
Gifts by Donut Wall by Hazel and Peppr (PH)
Curated boxes by FloreScents by The Oops! Shop
Table and Chairs from The Hire Duo
Table setting from Casa Luxia
Lead photos from @sampinto_ | Official wedding photographs by @patdy11 @teampatdy @caliberking @chissai