Reimagine Your Wedding Gown With Rosa Clara's New Bridal Capes, Coats, and Jackets
With evolving times come evolving designs, befitting of your Big Day
Planning for your Big Day amidst these new times we're in? You're not alone! Along with many other couples all over the world, the nitty gritty of planning for a wedding is still on, and the mission to create the best day ever is very much still real.
While many have chosen pared-down ceremonies as opposed to grand ones, ladies are still going for beautiful dresses that celebrate their unique bridal personality, no matter the wedding size or destination. With this, Spanish bridal designer brand Rosa Clará joins brides-to-be all over the world in their quest for that perfect wedding dress that caters to their unique needs, and ever-changing lifestyles.
They've recently launched their capsule collection that features bridal capes, coats, and jackets, a first of its kind in their rich 25-year-history in the bridal industry. These pieces are meant to complement their existing bridal collection, to help women find their perfect dress match. It's inevitable that a lot of weddings have moved venues, even climates; and with chilly weather comes the need to cover up a bit more, hence these delicate, beautiful pieces suited for these developments.
There's the long or bracelet sleeve designs that make ladies even more beautiful on their big day, as well as long capes in crepe and georgette fabric, a shoo-in for winter weddings. They're dreamy, they're minimalist, but they're big on impact, if we may say so.
While those additions are already satisfying to the eye, the brand even adds more options for the modern bride—chic jackets, sheer tulle capes, and lace coats, imaginative and relevant additions to these times. Endless options are now available with these precious pieces. Scroll through the gallery to see more: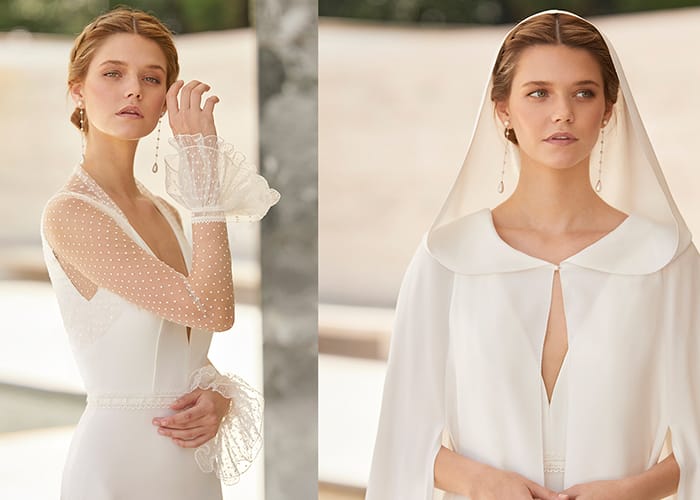 Rosa Clará Capes & Jackets
Rosa Clará Capes & Jackets
Spanish bridal house Rosa Clará is at the Residences at Greenbelt. For appointments: +632 72381310 Greenbelt@rosaclara.es. Open daily 10am-6pm. Log on to www.rosaclara.es