This Hip, Easygoing Couple Flew To Vietnam To Shoot Their Prenup On Film!
This casual destination prenup shoot mixes the old-school vibes of film and Hanoi with the young, hip energy of the couple!
Nostalgia brings about an undeniable charm. Do you remember the joy of blasting feel good mix tapes on your stereo? What about the romance of flipping through pages of decades-old literature, slowly inhaling irresistible old-book-scent—or even sealing handwritten letters inside crisp envelopes? Of course, nobody can also forget the excitement of having your films developed, waiting for weeks without the slightest idea of how your photos will turn out.
We have to admit: while we have the digital age to thank for Facebook, Instagram, and the instant convenience it has brought into our lives, nothing still compares to the magic of tangible memories—which is exactly why the Metro.Style was intrigued by the uniquely creative pre-nuptial destination shoot of Elaine Carag with her then-fiancé and now-husband Jose Mari Calderon.
A few months ago, Elaine, the former editor-in-chief of Star Magic Catalogue and Chalk magazine, and now the general manager of travel app Lemi, flew to Vietnam with her partner Calde of MYX Philippines to shoot their pre-wedding photos, old-school style—they had every layout shot on film!
"Coming from my previous work in publishing, I personally think the beauty of shooting in film is that it captures moments without the need for editing," quips Elaine. "It was our photographers, Jonathan and Maika of Oak St. Studios, who suggested shooting in film. They have a great collection of cameras, and Hanoi has a lot of stores that sell cheap film. I think it was something like 50% off! They initially discussed it with us before the trip, and we were just excited to work with Oak St. Studios for our wedding. They were one of the first suppliers we booked!"
The old-fashioned photoshoot had a relaxed, casual feel, capturing the couple living the moment as they explored different picturesque spots in Hanoi. "We initially wanted to shoot here in Manila, but they recommended Hanoi because of its old world charm. It provided an interesting contrast with our personalities and us as a couple."
Looking for inspiration for your pre-nuptial photoshoot? Keep scrolling to score tips from our Metro real bride Elaine!
What were the challenges you encountered in this photoshoot, especially since everything was shot on film?
"Working with Jonathan and Maika was easy, so there weren't a lot of challenges. Because we didn't have the option to check the shots right after, tuloy-tuloy lang 'yung shoot. Kahit pawis na pawis na kami ni Calde kakakulit sa isa't isa, it was so hot in Hanoi during the time because of summer. We just had so much fun."
What was your favorite part of this shoot?
"Apart from shooting on film, I personally can't forget shooting on the Long Bien Bridge and the Long Bien Railway Station where pedestrians are allowed to walk on the tracks! We spent the most time there, and even went back for a second time during a different time of the day to capture it differently. We have a shot with our backs against the gate while a train passed by. It was scary and exhilarating at the same time!"
What were the most picturesque places you shot at in Vietnam?
"My favorite was the Long Bien Bridge. Before going, we didn't even know that it was designed by Gustave Eiffel, the same man behind the Eiffel Tower! We also roamed around the Old Quarter area, which was also a charming location."
What are your tips for couples who want to have their photoshoot done abroad?
"Get photographers who produce work that represent you as a couple. Whether you're shooting locally or abroad, you should clarify your expected output before anything else. Collaborate with them, but also trust them to direct you during the shoot. They won't be able to fully capture great shots if you're not game!
"As I also experienced during the shoot and just the whole wedding planning in general, we tend to get caught up on a lot of little details that sometimes ruin the experience. It's supposed to be fun! Shooting abroad is a dream, but it comes with its challenges (especially financially) so just make sure you enjoy it!"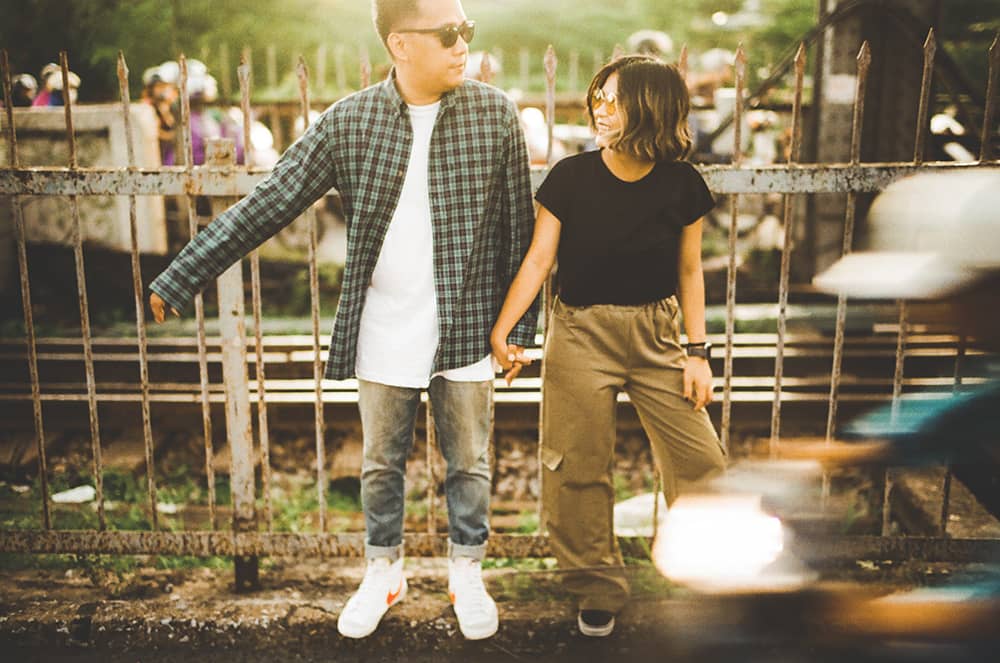 Swipe through this album to check out more scanned photos from this old-school pre-nup shoot!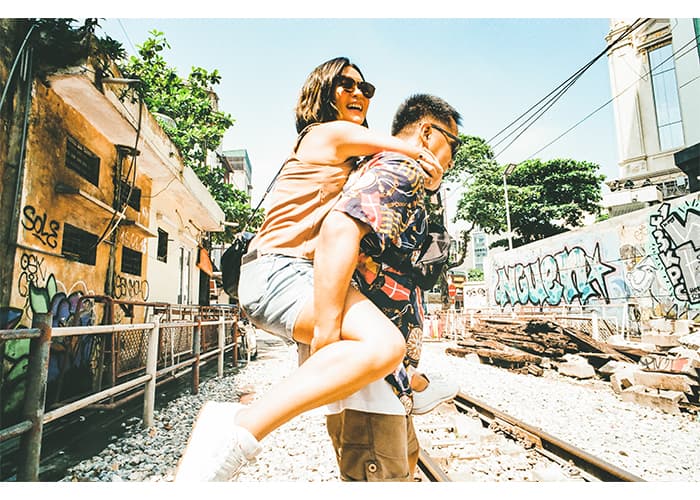 All photographs taken by Oak St. Studios
Artwork banner by Raff Colmenar