Never-Before-Seen Photos Of Fashion Designer Patricia Santos And Fiancé Lester Yao's Pre-Nup Shoot In Iceland
It's so breathtakingly beautiful!
Go-to bridal fashion designer Patricia Santos would've been busy ironing out the details of her lavish wedding to Lester Yao had the COVID-19 pandemic stayed out of the picture. As someone who's partly responsible for turning a dream wedding into a reality through her stunning bridal creations, she also has grand dreams for her own big day. But those will have to wait for now. The couple doesn't mind waiting a bit more—after all, what are several months of waiting compared to the lifetime they're meant to spend with each other?!
Patricia and Lester got engaged in Mexico back in April 2019. They've since been traveling the world together and getting to know each other better in the process of planning their wedding. As she was designing and creating one beautiful wedding gown after another for her clients, she was also excitedly visualizing her own wedding gown. While some fashion designers opt to wear creations by another designer on their big day, Patricia prefers to love her own.
Wedding planning is an exciting aspect of a couple's road to forever. And what's even more fun for couples during this stage is holding a pre-nup shoot or an engagement photo session that has truly become a standard pre-wedding activity. It immortalizes in photographs their sheer pre-wedding bliss, and is meant to capture who they are as a couple. These are not just simple photographs that will find their place in your home, many years down the line, these will prove to be great reminders of the love you shared prior to starting your own family.
It's that special, so Patricia and Lester made sure to go all-out with their pre-nup shoot. Reflecting their love for traveling, the couple jetted off to Europe, specifically in Iceland, for a dramatic and romantic engagement photo session that surely fits as the dream pre-nup shoot of many couples.
Patricia tells Metro.Style, "Lester and I decided to do it in Iceland as I have always dreamed of having a winter wedding and see the Aurora Borealis. Since it would be so hard, logistically, to get married there, we decided to do our pre-wedding shoot there instead. The weather was so intense but it was all worth it, and we were so happy when we got the photos from Oly Ruiz [of Metrophoto] as they were beyond our expectations." Patricia wore wedding gowns she designed herself, and the hair and makeup looks that complemented them were all thanks to makeup artist Anthea Bueno and hairstylist Renz Pangilinan.
But as it turns out, these photos would serve a meaningful purpose earlier than expected. With the ongoing global health crisis, Patricia and Lester decided to postpone their wedding indefinitely. These are truly uncertain times, but what's certain for this couple is that, one day, they'll be able to say their "I dos" in an event that fits into their idea of a perfect wedding.
"Due to the whole COVID situation, sadly, all our plans got cancelled and we decided to postpone our upcoming wedding until everything is better," Patricia says. "We really wanted to celebrate with our families complete and with the people who have been part of our lives."
It's really sad to have to put a wedding on hold, but if there's a silver lining to that, it gives them more time to prepare and, as Patricia says in all honesty, save up more.
Their pre-nup photos are a source of happiness for Patricia these days. She shares, "Just looking at these photos, especially during this sad time, gives me hope and makes me look forward to the day when everything will be back to normal and we can finally have our wedding." When one looks at these photos, it's easy to smile and dream along, too.
Patricia shares with Metro.Style some never-before-seen photos from their Iceland pre-nup shoot. Check out the gallery below: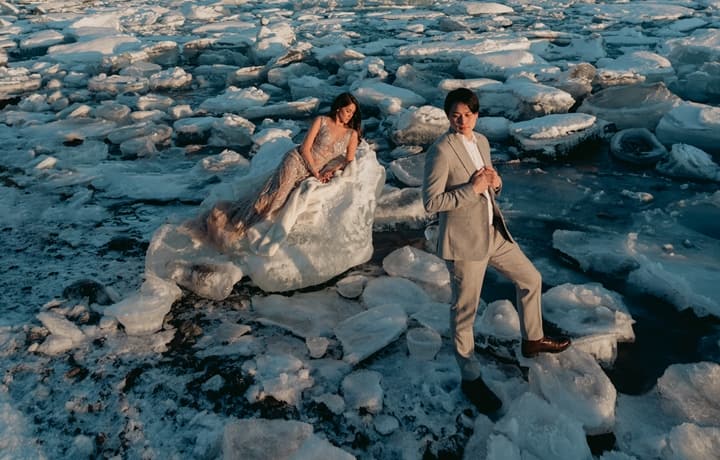 Patricia & Lester's Iceland Pre-Nup Shoot
Patricia & Lester's Iceland Pre-Nup Shoot
Photographs by Metrophoto (Oly Ruiz and Erron Ocampo), courtesy of Patricia Santos