EXCLUSIVE! Charlie Cojuangco and China Jocson Betrothal Ceremony
Metro Home editor Anton Barretto shares a tender essay on China Jocson and Charlie Cojuangco's private betrothal ceremony last December
Last December 29, 2020, Tarlac 1st District Representative Carlos "Charlie" Cojuangco and journalist and former Assistant to the Presidential Spokesperson China Jocson held a betrothal ceremony with their closest family and friends in Josemaria Escriva Shrine in Gerona, Tarlac. In this Metro.Style exclusive, Metro Home editor-in-chief Anton Barretto shares his thoughts on the beautiful ocassion.
"Just don't pick out the cheesy parts," my friend China Jocson messaged me, when she sent the video of her betrothal ceremony and private reception to Congressman Charlie Cojuangco.
But how does one even begin to write about love and a coming marriage without venturing into cheesy territory? It would take a writer far more gifted than I. All I can offer is the honest and straightforward perspective of a friend.
A friendship rekindled
I can't even remember how China and I met; but I know it's been years that we've been friends. But at the very start of lockdown, she messaged me: " I know that you live alone. I'll send you some food."
I was very moved by this simple but very considerate and caring gesture. When the lockdown eased, we would meet, one on one. I would ask her to meet me in my shop Nest, where I would go over my projects and spend time brainstorming for its reinvention, and we would just spend hours and hours, chatting and catching up. And she casually mentioned that she was seeing someone, but at first, she wouldn't name him. I understood perfectly the need for privacy and never ever pried or tried to get her to open up.
She then started slowly telling friends about Charlie. The public knows that Charlie became a widower when his wife Rio succumbed to cancer back in 2004. Though he did date, he has been single for years and would later on tell friends that in just two weeks of meeting China, he immediately knew she was the one.
Kei Tiu Laurel was the unwitting bridge for China and Charlie. She and China were hanging out in her house, when Charlie came with Kei's dad Kiko. Charlie then called China the next day, on the pretext that he needed Kei's number because he was going to order beef from her. They began chatting and got along so well. Later on, it was revealed that it was all just a ruse. Kei said that Charlie had already had her number for years! But Kei also said, "When I see them together, I can see that they complete each other."
When China messaged our mutual friends to invite us to their betrothal ceremony, we were all surprised. Surprised but happy.
A date with destiny
Many asked what is a betrothal ceremony? The priest explained: It is a public vow made in church to promise marriage. Unlike an engagement, that can be canceled, the betrothal ceremony signifies a promise that the couple will be married. As binding as marriage according to canonical law, it is a ceremony where the affianced couple promise to marry each other. The priest gives them a blessing, and this blessing gives them the graces to struggle with the difficulties and complexities of preparing for marriage. A betrothal makes the marriage a matter of when and not if.
Charlie and China want a proper wedding, with all their family and friends. but with COVID-19 restrictions in place, the betrothal ceremony is the perfect chance for them to seal their commitment to each other before the next big step of marriage.
It's been said that when things are meant to be, they will all fall into place. China quickly called her friend Vania Romoff, who helped her choose a dress from her atelier. The dress didn't even need any alterations! Their friends and chosen family members were all free. Since I had been cooped up in the city because of COVID-19, I was very happy to take a long drive out to Gerona, Tarlac and see the Saint Josemaria Shrine for the first time.
The church was so beautiful, but even more beautiful than the architecture or the wonderful ornamentation, was the intimacy of the gathering and meaningful vows exchanged.
"No difficulty would extinguish love," said Fr. Melwin Castro. "You already had your own families before. You've loved before and you've decided to love again. Pray together, not a little, but a lot everyday. Husband and wife can remind each other to pray everyday."
Fr. Melwin even shared, "One day, I just asked Charlie, how's your love life. He said that he was seeing someone new. When I asked, love na ba? He was just quiet. Then he introduced me to China, I was happy."
For their gratitude video, they can be seen dancing with each other and singing along to the classic "Let's Stay Together," which was Charlie's song for China. "Loving you whether, whether, times are good or bad, happy or sad."
With all the doom and gloom of the past year, it was really a heartwarming and uplifting experience to witness so much love and joy. No matter what bad news can fill our world, love and marriage and family will overcome everything.
When I told China that I would love to do a story on her wedding, she told me, "But we're very private." And yet, she still very graciously shared her memories and photos of her special day. Knowing just how caring and generous she is as a friend, I am sure that she will be a true devoted and loving wife.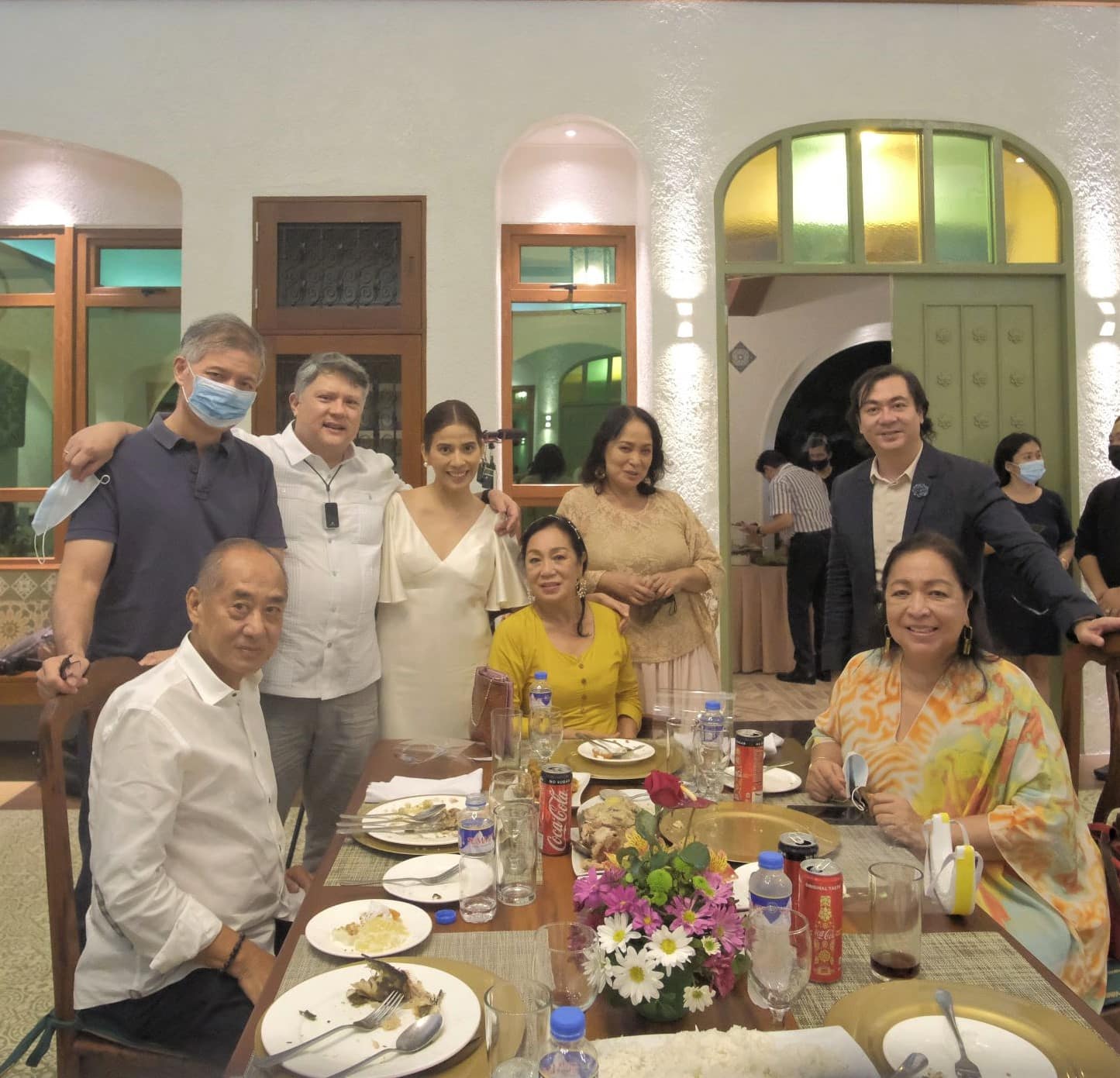 Photo Gallery
Photo Gallery