This Couple Did A What's Wrong With Secretary Kim-Themed Engagement Shoot!
They did Park Seo-Joon and Park Min-Young proud!
The Korean wave has truly hit fever pitch in the Philippines! Several months into the pandemic, 2020 can surely be described as the year Korean pop culture took over Filipinos' lives, in a good way! One can barely escape conversations about the hottest K-dramas and K-pop idols these days, as they are being watched, consumed, and talked about for their excellent contribution to the entertainment world as we know it.
One couple that has taken the K-wave to heart is Bryan and Cris, an engaged couple in the process of planning their dream wedding. Cris, a new K-drama convert, is a huge fan of Hallyu actress Park Min-young, that's why it seemed natural for them to pursue such a fun theme for their engagement shoot! Scroll ahead to find out how the planning went down: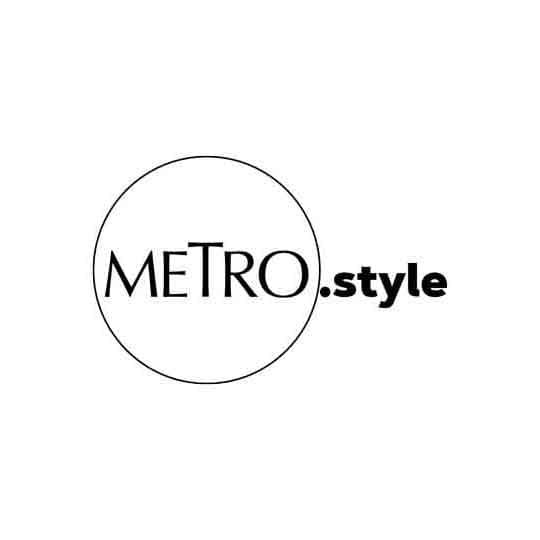 What's Wrong with Secretary Kim? | tvN
1. Please share a bit about yourselves and your engagement and how it happened, and your plans for your wedding.
We're just the usual cheesy couple who love to take photos together. We are both lawyers in corporate practice. My fiancé, Bryan, surprised me on my birthday when he suddenly knelt down in front of our friends and proposed to me. Of course, that became my best birthday ever. The wedding is going to be sometime next year, which hopefully, will be a safe time for my parents to travel to Cebu from Manila. Due to the pandemic, we are still making soft plans and canvassing possible venues which will still depend on the limitations/requirements next year.
Also, this year, I became a K-drama convert and realized what I have been missing. What's Wrong With Secretary Kim is a series that people always recommended [to me]. It became an ultimate favorite that I convinced Bryan to watch it too. Of the few K-drama series he has seen, this also became his favorite. We loved the series so much that on our anniversary this year, he surprised me with a WWWSK-themed cake topped with a fondant figurine of Kim Mi-So and Lee Young-joon. I appreciate how he's supportive of my K-drama (and Park Min-young & Park Seo-joon) madness.
2. How did you come up with the theme for the shoot? What was the process and how did the planning take place?
When we got engaged, we already thought of having an engagement shoot before we became busy with planning our wedding. However, since we always take a lot of photos wherever we go, we couldn't think of a theme that wouldn't look like our photos before. For example, since we took a lot of beach trips and have quite a number of photos there, that could not be our theme anymore (aside from the possible travel restrictions lately).
We initially planned to have a simple studio photo with us just standing next to each other. But, months ago, my father sent me a link of a very beautiful engagement shoot inspired by one of the most popular K-drama series recently. With that, we thought of having a shoot inspired by none other than our favorite, What's Wrong With Secretary Kim. We just wanted to have a fun engagement shoot. I knew our photographer, Anthony Hejie Suralta, because he took the photos for my older brother's wedding and prenup shoot. We discovered that he is also a huge fan of the same series. So, we asked friends to help connect us and called him up to schedule a shoot.
Planning the shoot was easy because he was the one who conceptualized the photos, so that it'll stick to the WWWSK theme. He planned everything from the scenes, the venues, the clothes we needed to wear and even the hairstyle. Also, though getting lots of likes and getting viral weren't Bryan and I's goal in having a shoot, we knew that Sir Hejie's photos are always good. Sometime last year, he was even featured in Rated K for a Jollibee-themed pre-nup shoot!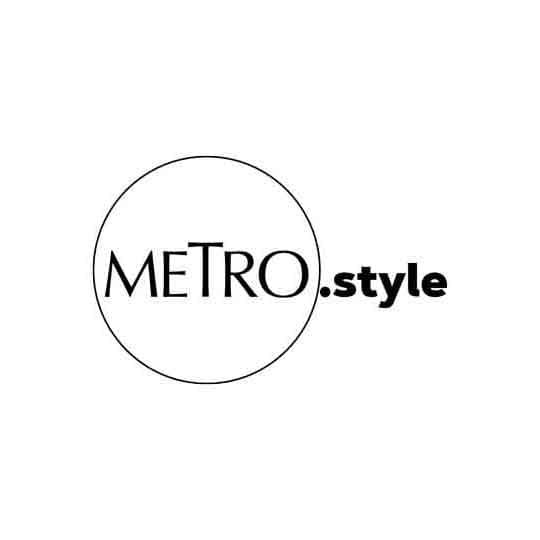 Bryan and Cris | Anthony Hejie Suralta
3. Where was your location? Who decided on the outfits?
We shot in various locations within Cebu City. Our first location was at a rooftop lounge of a condominium in Cebu Business Park. We had other shoots in a flower farm in Busay, a Korean restaurant, and a milk tea shop. Since they consisted mostly of office attire, we had to either search in our closet or shop for clothes which we knew we'd also get to use daily.
4. Who conceptualized hair and makeup? Set design (if any)?
Our photographer, Sir Hejie, took charge of the concept. It was an advantage that he was a huge fan of the show. He knew the iconic scenes and even the minute details of the Mi-so and Young-joon. For the hair and makeup, we tried to follow Kim Mi-so's usual ponytail look. Thankfully, even my hair and makeup artist Kael Bontia, has seen the series too.
5. How does your fiancé feel about it?
Surprisingly, Bryan was very game and comfortable about it. It helped that there was a scene taken during lunchtime where we just had to eat pizza. Although we followed the scenes of the show, most of the time, we were just our usual selves laughing together. The shoot lasted from morning till evening, but according to him, he never felt tired that day because of how fun the shoot was.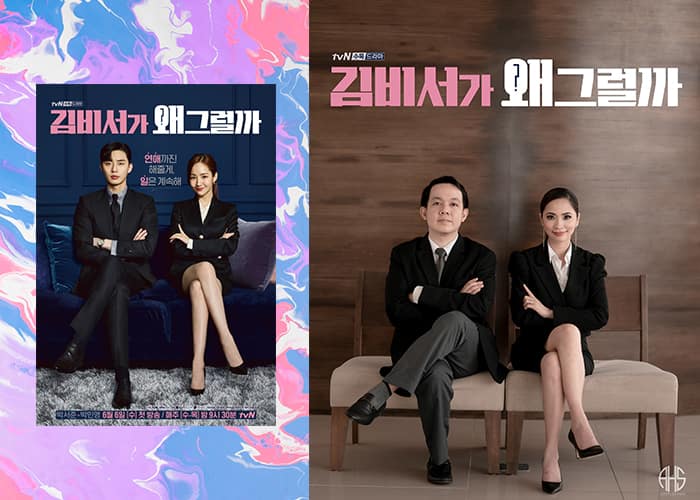 K-Drama-Inspired Engagement Shoot
K-Drama-Inspired Engagement Shoot
6. Any more insights, stories you'd like to share with us?
The pandemic really made my fiancé and I's relationship stronger because it allowed us to grow as a couple, especially when we had to overcome the challenges during the peak of the ECQ here in Cebu. We were also able to spend more time with each other and our families, be it physically or online, and it strengthened our faith in the Lord and His plans for us. Everyday, we don't miss out in specifically praying that the Covid-19 pandemic will end, and we will continue to do so.
Suppliers:
Photography by Anthony Hejie Suralta (assisted by Glendon Lunzaga)
Hair and Makeup by Kael Bontia assisted by Ryan Villamor
Location: various locations in Cebu City