The Best Pandemic Weddings We Loved That Were Held Around The Metro
Some of these couples had to postpone their destination weddings and pushed through with intimate events in Metro Manila instead. Although their plans changed, their wedding days were special just the same
The bustling cities around the metro that were home to unending commutes, millions of residents, and all kinds of stories became quiet just enough for church bells and applause to rise above the urban soundscape in celebration of very special unions indeed.
These 10 couples saw themselves become Mr. and Mrs. in this time, enjoying the familiarity of settings close to home and their hearts, yet also experiencing them in a whole different way as newlyweds in love.
We share the each of these couples' unique stories, beautiful weddings, and most touching memories from their special days in this list rounding up our picks for the best 2020 pandemic weddings held in Manila.
Check out the galleries below:
Paj and Patrice in Café Ysabel, San Juan
A wedding day like a dry run for marriage, a lifelong commitment. You can plan for weeks and weeks and still be bothered by a snag or two (some bigger than others, like, say, a global health crisis), but treat it as an exercise in finding the silver lining in things; as husband and wife, it's imperative that you become each other's official one-person pep squad, cheering the other person on when challenges big and small threaten to bring them down.
Such was the case for Paj Rodriguez and Patrice de Asis who didn't end up going to Bali, and got married in an intimate ceremony instead and capped the beautiful day off with a reception at a café where they had one of their first dates.
Besides, Patrice smiles, there's beauty in going with a small wedding first—you can look forward to a second ceremony and be one of the handful of brides that got to say "I do" twice!
What we love about this wedding: The simple rustic romantic vibe of the styling for their reception venue, Café Ysabel, San Juan, was so charming. In lieu of a stage, the couple got a lovely nook with a circular accent as backdrop that was dressed up with leaves and roses in white and peach. Their muted color scheme is so refreshing to look at, too!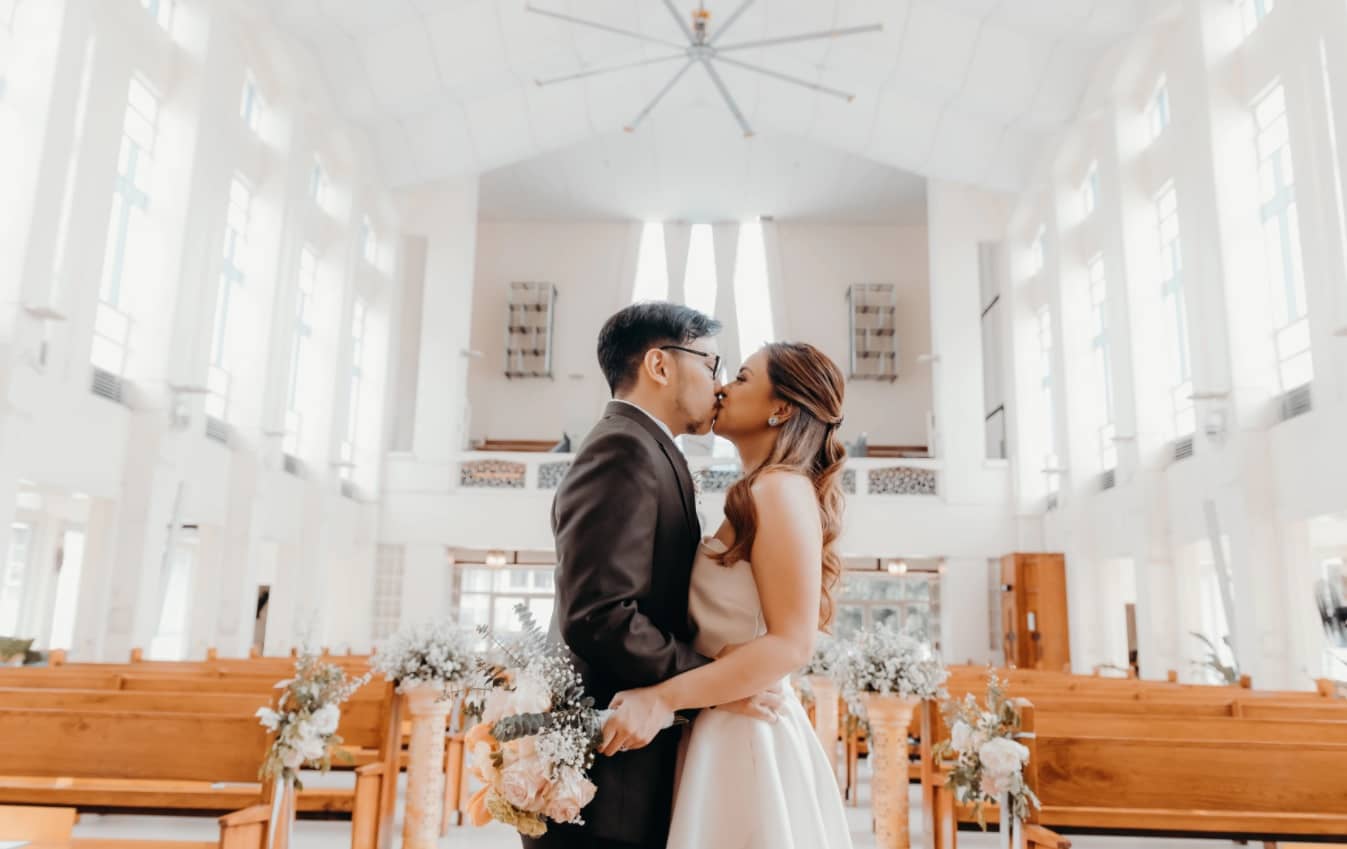 Paj & Patrice
Paj & Patrice
Christopher and Krizziamaine in Fernwood Gardens, Quezon City
Change isn't a bad thing. It's change that births uniqueness, great memories, and one heck of a story to tell!
Christopher Narvaez and Krizziamaine Apor, yet another couple whose wedding plans were irrevocably changed by the COVID-19 crisis, took the experience as the ultimate opportunity to remember this time in their lives as the most unmatched, unparalleled time in their relationship. It fits right in with the first 12 years of their relationship, one that Krizziamaine describes as a journey that started off rather uniquely from day one.
If there's anything that husband and wives in-the-making can learn from Mr. and Mrs. Narvaez, it's that unconventional can be the big, pretty bow you need to wrap up your most special day as a couple!
What we love about this wedding: You have to see the reflective mirrored aisle the bride walked in that was accentuated with white pillars—it gave a luxurious feel to the magical rustic setting of this garden wedding. The event may have been intimate, but there sure was no shortage of lush elements here, starting from the design of the venue itself.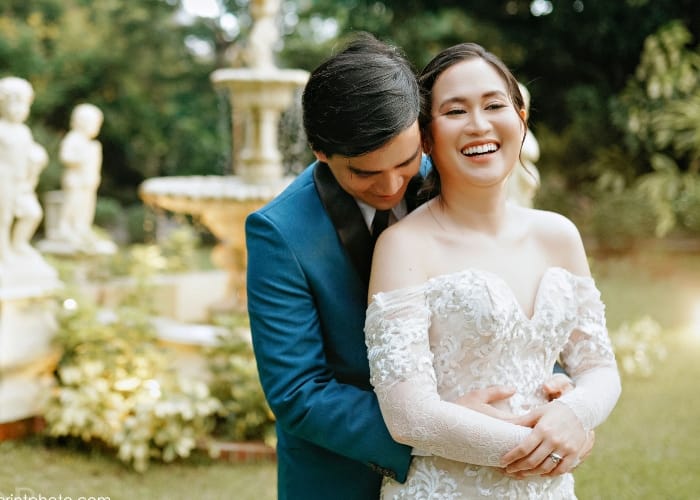 Christoper & Krizziamaine
Christoper & Krizziamaine
Andrea and Camille in Palacio de Memoria, Parañaque
When you know, you know. There are connections that run deeper than what the eye observes or what the hand feels with a caress. These are the invisible things that the heart just knows, forces that grow stronger with each step a bride takes down the aisle as she meets her groom—or in Camille Diago-Lhullier's case, down the stairs at the Palacio de Memoria dressed up with 12,000 roses in full bloom.
The bride with a love for all things with beautiful histories saw herself writing her own that day for the first time as a married woman. It will be the first of many, many chapters that she and Andrea Albani will write together.
What we love about this wedding: For one, Palacio de Memoria is a stunning heritage home-turned-events place that features remarkable architecture and a visually rich interior design that looks lavish even with minimal décor. Still, the couple tapped event stylist Gideon Hermosa, who gave the grand staircase in the venue a hefty dose of romance as it was dressed up with 12,000 roses. Then, of course, the bride's tea-length, off-shoulder outfit done in Mark Bumgarner's signature clover dress silhouette—so chic!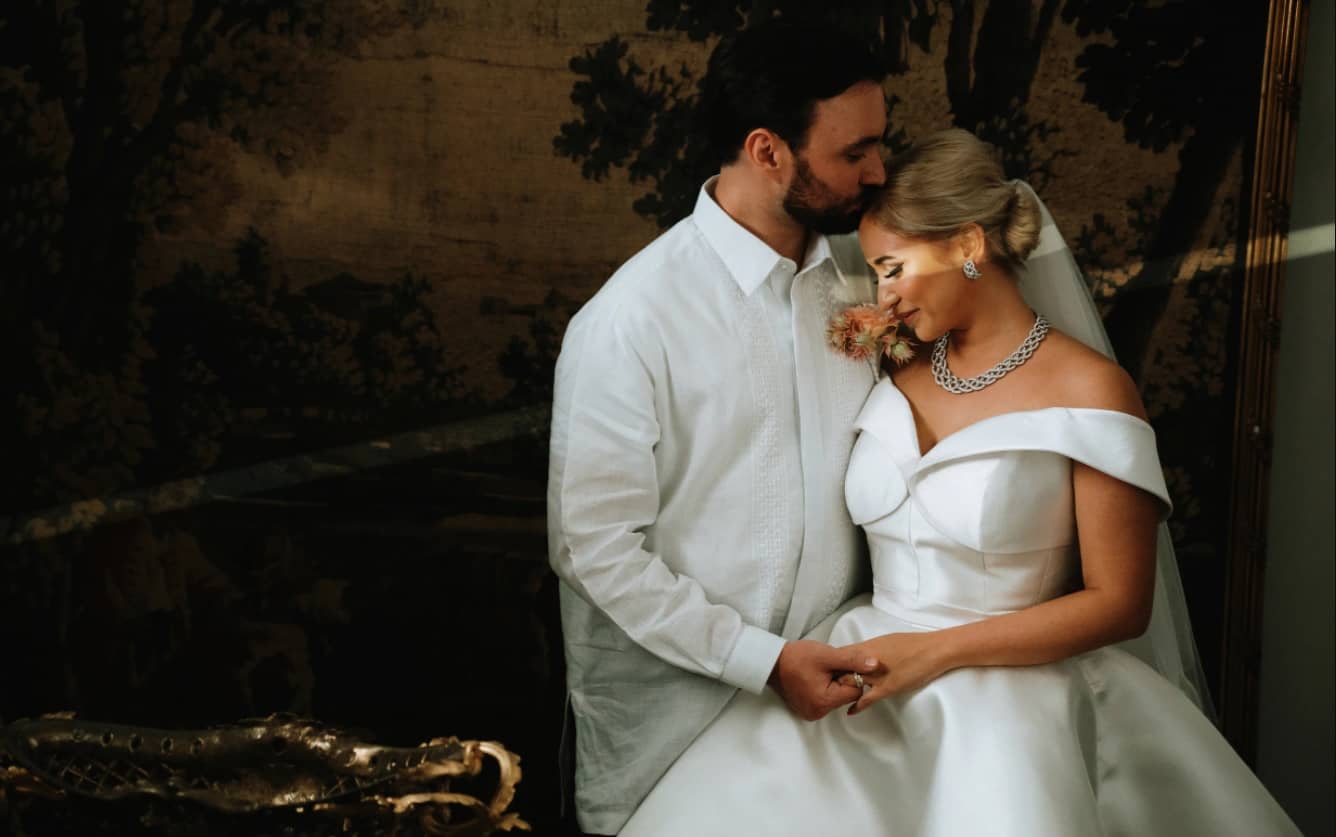 Andrea & Camille
Andrea & Camille
Marc and Patricia in East Ocean Palace, Parañaque
A dictionary defines classic as something "judged over a period of time to be of the highest quality and outstanding of its kind." There really is beauty and strength in that which has stood the test of time, and for newlyweds Marc Lim and Patricia Tan, this couldn't have been more true for both their wedding and relationship.
Despite their wedding plans absorbing big blows from 2020's events, their intimate ceremony and wedding party was nothing but beautiful. They went for classic white, a color beloved for its symbolism of a fresh page like that bestowed upon a couple on their wedding day, and more so, found it within themselves to be more than okay with the changes to their big day as it was about their relationship, and not about an event after all—a classic lesson to learn by husbands and wives beginning their journey of wedded bliss.
What we love about this wedding: We are in awe of the ethereal and classic all-white venue styling by Teddy Manuel; it had a crescent-shaped accent on the stage, dressed up with 1,000 blooms of white gladiolus. The bride's voluminous ruffled gown by the Princess Tan Sisters was jaw-droppingly beautiful as well.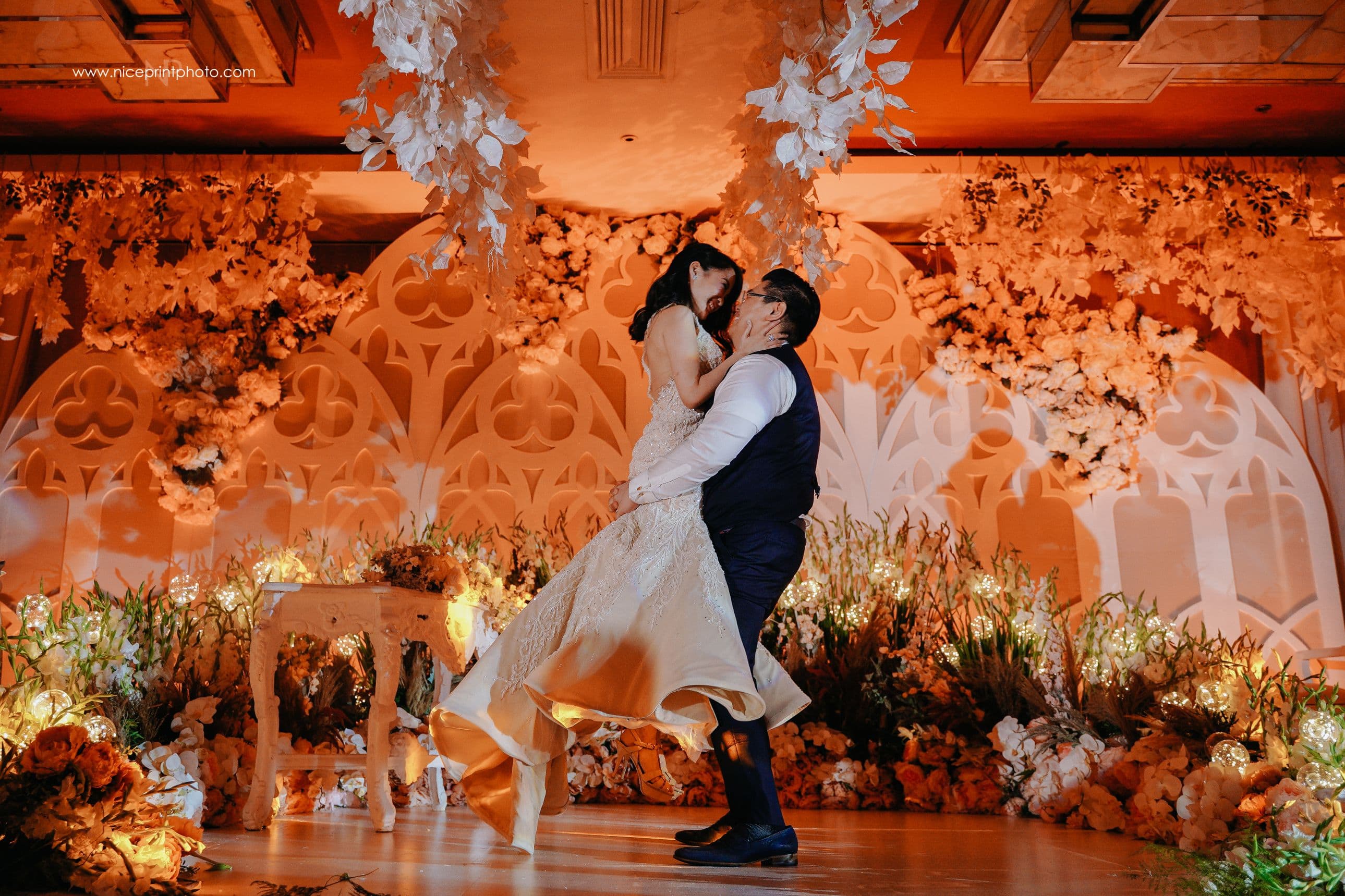 Marc & Patricia
Marc & Patricia
Steven and Gaile in Conrad Manila
Who would have thought that downsizing a wedding, one originally planned to welcome 900 guests, would offer magnified results? There were warmer intimacy, larger-than-life memories, and hearts bursting big with gratefulness and happiness.
The hallmark of a beautiful occasion, it's close to impossible for these newlyweds to put day's emotions into words; after an almost three-year engagement, Steven Chuacokiong and Gaile Tan tied the knot under different circumstances than what was planned for, and in the end, celebrated what can never be minimized, diminished, or lessened in any way—their love for each other as husband and wife.
What we love about this wedding: Despite the restrictions when it comes to holding gatherings amidst the pandemic, this couple pulled off a grand event that still followed safety protocols. Their ballroom was styled with vibrant elements with chinoiserie as the anchor theme. The simplicity and the silhouette of the bride's wedding gown from White Label Bridal also made a stunning statement.
Steven & Gaile
Steven & Gaile
Aaron and Bernice in Ministry of Crab, Shangri-La at the Fort
Love can brave any storm—including literal ones, and the most powerful ones in the history of global weather, at that!
Aaron and Bernice became husband and wife with Typhoon Ulysses at their tail, threatening the couple with a historic downpour that could have been enough to dampen their spirits on their first day as Mr. and Mrs. But with God's grace, a solid coordination team, and a little luck on their side (enough luck to turn a monster storm into a tamable drizzle within hours), Aaron and Bernice emerged from their beautiful church wedding safe and dry, save for a few wet cheeks in the crowd moist with happy tears.
Love can brave any storm—a day or two of bad weather stands no chance against what love sets out to do.
What we love about this wedding: Their wedding ceremony was held in Manila Cathedral, a favorite church venue for weddings. It was almost always full, but because of the safety protocols in place, the venue only had few people then, so it looked like they had the church all to themselves. There may have been a typhoon on the day of their wedding, but the smiles on their faces outshone the gloomy weather in their photos.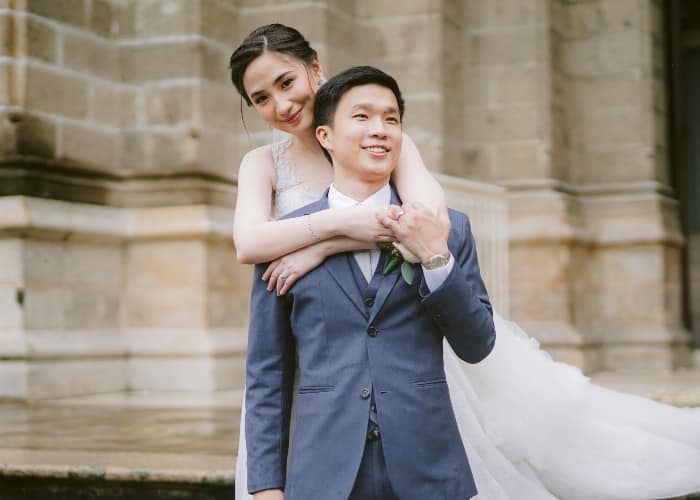 Aaron & Bernice
Aaron & Bernice
Bow and Sab in Tomo Japanese Dining, San Juan
Going full circle—that's what the Cua-Abis nuptials were like.
Never mind that they had to chuck their original plans of throwing a wedding party good for 400 or more guests; when they downscaled their reception to just a party of a dozen, the newlyweds found themselves in the most romantic of situations. Bow and Sab enjoyed their first meal together as husband and wife in the same spot where he asked her the question of a lifetime, where this chapter in their lives had a joyous beginning.
It just goes to show us that Plan B doesn't mean settling for less; the "B" in this plan can very well stand for beautiful, beyond expectations, and (so much) better!
What we love about this wedding: The fact that their reception was held in the exact place he proposed to her make their choice more meaningful. Their loved ones also drove by the church to be able to celebrate with them albeit for a short period of time.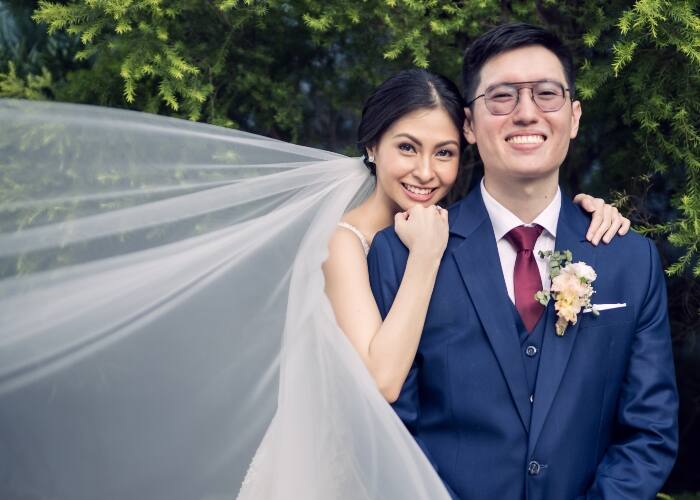 Bow & Sab
Bow & Sab
Anna and Geloy in Gallery MiraNila by The Blue Leaf, Quezon City
This wedding is, no doubt, one of the most beautiful weddings we've seen in 2020. It was elegant and luxurious, with lots of well thought out details.
Anna Cay had been documenting her road to the aisle on her YouTube channel—from their pre-nup shoot to their wedding ring hunt to the wedding gown fitting to food tasting to last-minute shopping before the big day. All these moments were wrapped up beautifully in one stylish and heartwarming event that reunited them with their loved ones.
The same-day edit video of their wedding has reached more than 600,000 views on YouTube, as netizens not only loved how stunning all the design elements came together but also their tear-jerking vows.
What we love about this wedding: There are many things to love about this wedding really. That the venue was breathtakingly dressed up by Gideon Hermosa with a luxurious yet warm ambiance is a given. But as is the intention for every wedding, the bride must shine above all, and Anna did with her sophisticatedly sultry wedding gown by Mak Tumang, as styled by Jeff Galang. It is definitely not obvious that they only had a little over a week to pull off this look. Of her wedding gown, Anna says, "This Mak Tumang gown is actually a skintone unitard underneath so you can see the silhouette. It doesn't feel like I'm wearing a gown at all. Comfort and elegance entwined."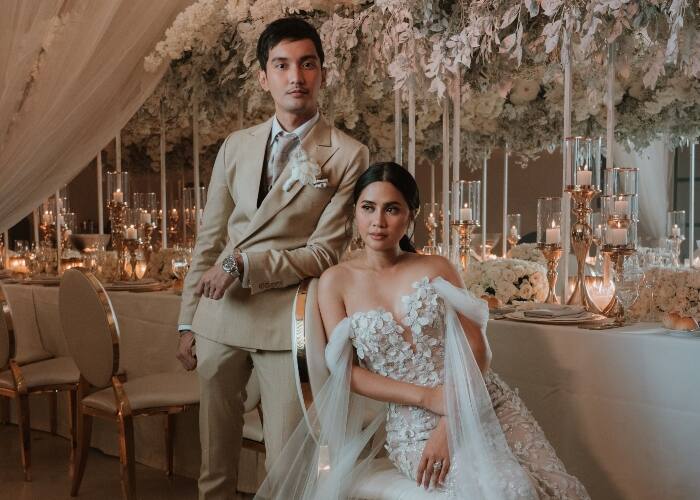 Anna & Geloy
Patty and Sam in Conrad Manila
If there's anything the pandemic did for this couple, it was to make them realize that they can't live without each other and can't bear to be apart from one another for a long time. It strengthened their relationship and convinced them it was time to take it to the next level.
This wedding was three and half months in the making. They really intended to hold their wedding in Manila but were planning to hold a bigger beach reception in Bohol after; the other celebration is on the backburner for now, but despite that, Patty Mendoza and Sam Paler are now glad to spend every waking day next to each other.
2021 may just be starting but it's already a brighter and better year for these two, because they can now go through these uncertain times together.
What we love about this wedding: We love the bride's unique wedding dress by Atelier Esme—the color, the design, the silhouette. It went perfectly well with their color scheme which Patty described as "warm, sunset tones." Her bouquet was equally unique as it was bigger than usual. And since the couple discovered K-pop boy group BTS last year, they learned the dance moves of "Dynamite" and grooved to its tune as they made their way to their reception venue as Mr. and Mrs.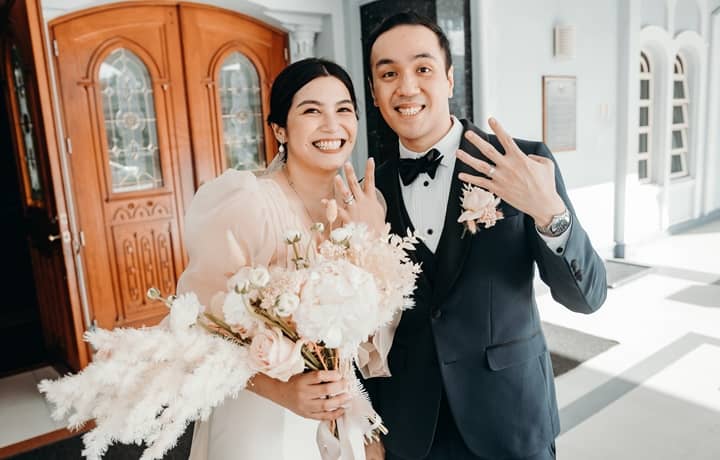 Patty & Sam
Patty & Sam
Lead photos from NicePrint Photo, Metrophoto, Benjie Tiongco, and Atlas Studios