10 Of The Best Out-Of-Town Pandemic Weddings We Loved
The pandemic and the typhoons didn't stop these couples from achieving the most beautiful and heartwarming intimate wedding they could possibly have during these challenging times
We rounded up ten of the most beautiful, heartwarming out-of-town weddings held last year that caught our attention.
These couples embody the old adage "If there is a will, there is a way" with the stories behind their special days. As they braved the year's biggest storms and learned all about husband and wife teamwork, remembered the true meaning of a wedding and found the most perfect venues in the nick of time, these newlyweds ended 2020 on a high note.
Love triumphs over tragedy any day, and it's the perfect message to close the year with and keep in mind as we begin anew this 2021.
See the stories, photos, and inspiration behind our picks of ten of the best "pandemic weddings" held outside Metro Manila in the galleries below:
Art and Ish in Las Casas Filipinas de Acuzar, Bataan
Weddings are always a family affair. For Art and Ish, they were delighted to take the tradition to heart even more with the help of Ish's older sister, Ycoy Sitchon who heads wedding and event styling company La Belle Fête, to make their nuptials as beautiful as can be.
Together, Art and Ish exchanged "I dos" in a architecturally stunning setting, one that wasn't only a visual treat, but a tangible representation of who they are individuals and now, a married couple.
Their wedding is an ode to staying true to who you are—authenticity always gives rise to effortless charm.
What we love about this wedding: There are many things to love about this wedding, but the best thing has to be their venue, where the Hispanic heritage houses are breathtakingly beautiful. The raw feel of the church in the property was softened by an elegant arrangement of flowers in subdued hues, mixed with leaves that lent a rustic charm. Of course, we can't forget about the bride's Mak Tumang gown—its intricacy was extraordinarily exquisite.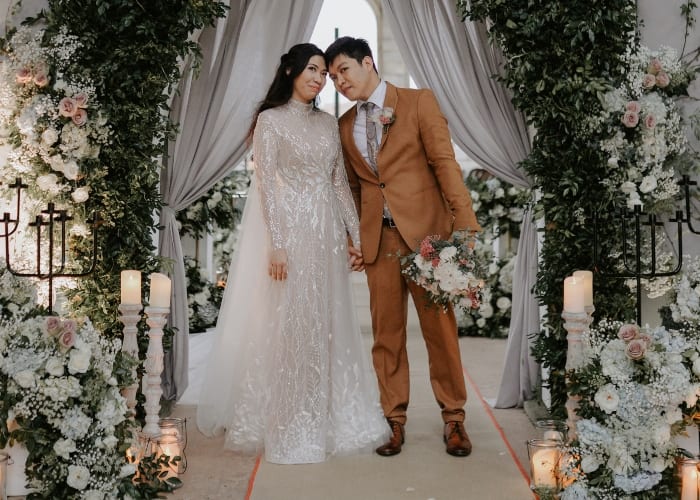 Art and Ish
Art and Ish
Charles and Sari in Tagaytay Highlands
Brides might call it a tragedy if their springtime wedding in Bracciano, Italy had to be postponed—indefinitely.
But for Mr. and Mrs. Tiu, all it took to ease their frustration was a reframing of the experience; their Europe-bound nuptials might not have pushed through as planned, but their shift to a more modest ceremony was a further reminder for the essence of a marriage.
Forgoing a venue, no matter how breathtaking, still leaves you with each other and the love you bring to the altar, the things that truly count in a union like this.
What we love about this wedding: As Sari is a fashion designer, she knows a good material when she sees one. Although it would've been more special if she created her own wedding gown, she just didn't have enough time for it because of the pandemic. Thankfully, she got to visit Rome at the end of February, before travel restrictions became strict; there, she went to the atelier of Antonella Rossi and immediately knew they were going to be perfect for designing her wedding gown. She couldn't go back for her fitting, however. Sari shares, "They worked seamlessly with me by sending photos of the model wearing the gown, and thankfully, making gowns is what I do for a living so I knew what to tell them, and I knew where to make the adjustments. As soon as they were done, they shipped the wedding gown to Manila, and the gown fit me like a glove." We thought it looked perfect on her too!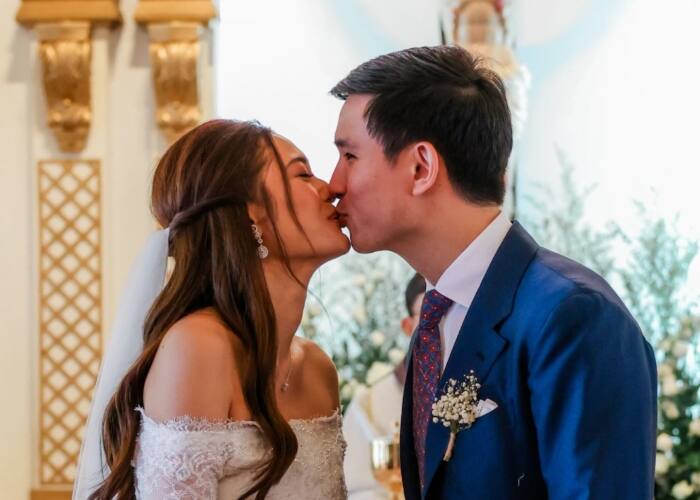 Charles and Sari
Charles and Sari
Francis and Patricia in Sonya's Garden in Alfonso, Cavite
How much of love is determined by fortune pre-written in the stars, and how much of it is created by conscious, deliberate decisions people make?
It's half and half perhaps, at least according to the Parado-Puno nuptials.
As Francis Parado and and Patricia Puno's story goes, they originally set out to become husband and wife on August 8—an auspicious "8/8" date Patricia chose for its cosmic luck, and also the date they consistently celebrated their anniversary five years prior. In actuality, anniversary fell on another day in August. But as it would be, destiny had other plans for them. After months and months of planning, they only found themselves back at the drawing board and with a cancellation or two in their midst, who knew when they would finally get to say "I do?"
There was always a plan, however. August 22 went on to be their wedding date—the couple's real anniversary date, that is.
What we love about this wedding: We thought the Filipiniana elements came together exquisitely with the spectacular garden setting. The quotes written on the wooden boards, which accentuated the outdoor aisle, were lovely and inspiring touches as well. Lastly, the bride's gown stood out with its minimalism, as she was surrounded by lush greens and blooms.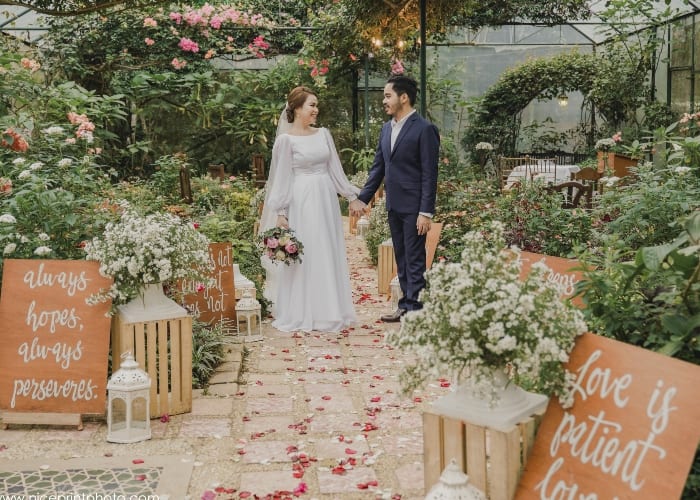 Francis and Patricia
Francis and Patricia
Dennis and Kylee in Baguio Country Club
The more personal, the better.
It's a golden rule to remember for all couples planning their special days when it comes to deciding on elements of a wedding; venue, theme, giveaways, and all the other details in-between that come with their own little stories.
For Dennis Gan and Kylee Lagman—despite giving up plans of wedding in Turkey—they found themselves eyeing Baguio, where the bride's family is all based, and finally, at Saint Aloysius Gonzaga Parish, a rustic church whose construction her father led.
As for her wedding décor inspired by many of their favorite memories, much of it told the tale of when Dennis and Kylee first started talking about settling down and gearing up for forever.
What we love about this wedding: The bride's Elizabeth Hallie gown was stunning in its simplicity (check out its intricate patterns and the sexy back design. Her unconventional bridal bouquet also perfectly embodied their wedding's overall rustic theme.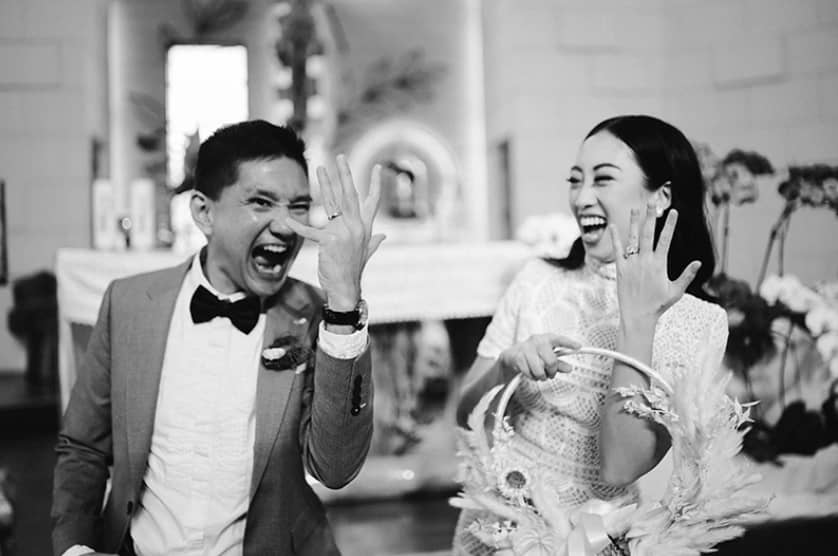 Dennis and Kylee
Dennis and Kylee
Mark and Ysa in Masungi Georeserve in Tanay, Rizal
A worldwide health crisis in the background and an unyielding thunderstorm on your wedding day? It's a combination that's enough to turn most blushing brides into nervous wrecks, but not Ysa, who now happily calls herself Mrs. Magalong.
It was faith, really, that got her through the terrifying uncertainties presented to her in the weeks, and even in the hours, before she walked down the aisle. It's the same kind of faith that binds two people together for life and gets them through storm after storm, only for the sun to shine brighter and brighter each time gray gives way to blue.
And for Ysa Obcena and Mark Magalong, they'll gladly tell you that the sun has never shone brighter these days.
What we love about this wedding: Getting married on top of a mountain is a dream for many, and this couple made that dream happen on their big day. The exact spot where they said "I do" was truly picturesque. The tone and mood of their photos also perfectly complemented their rustic theme and summed up all the unforgettable, romantic moments that happened on that special day.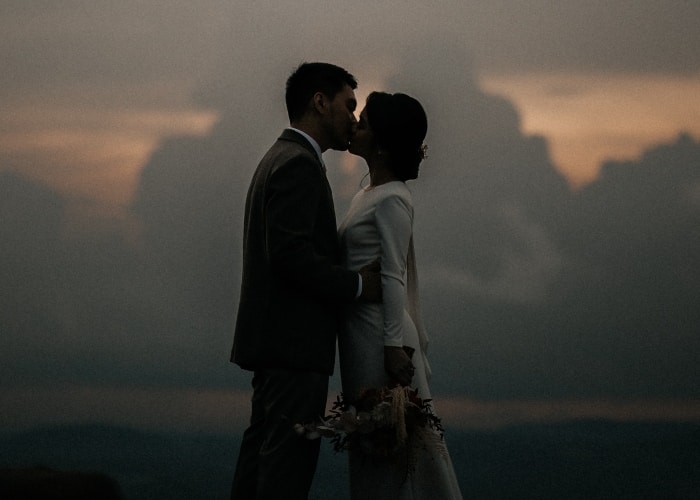 Mark and Ysa
Mark and Ysa
Erick and Sheena in The Farm at San Benito, Batangas
There's beauty in geometry; almost all geometric shapes are composed of equally symmetrical parts that when placed side by side, complete a pretty whole with all its perfectly drawn curves, corners, and points.
It comes to no surprise that Erick de Leon and Sheena Pedrieta's Batangas wedding featured exactly that—a geometric, geodesic-inspired occasion—to represent the union that took place that day.
On the ground was a modern, almost magical sphere at the center of the room to symbolize a cycle completed in this chapter of this couple's relationship, while up above was a canopy of lights that borrowed starlit charm to encourage this couple to think of what now lays ahead—infinity and beyond, together.
What we love about this wedding: The thoughtful attention to detail resulted in a unique venue styling that came from the concept of fusing geometric elements with lights and marrying them with the natural aesthetic of The Farm. It was a dreamy and magical setup that gave the couple lots of beautiful photos to look back on.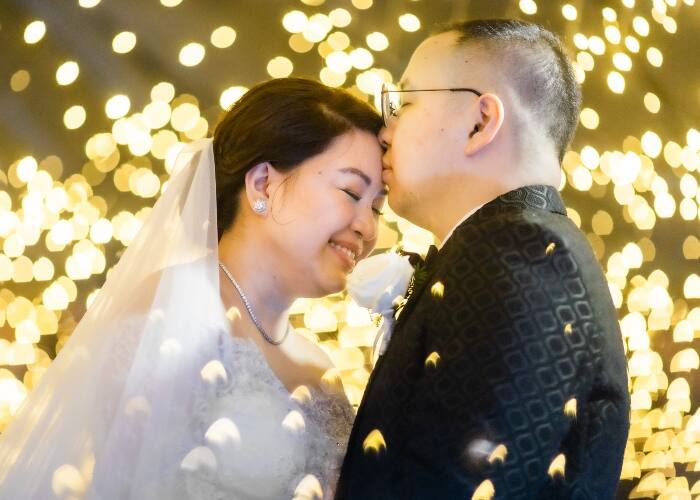 Erick and Sheena
Erick and Sheena
Kate and Anna in The Pulo Events Place at Silang, Cavite
When years and years have passed from today, what will we think of think of 2020? It will be a year of loss, heartache, and headache for many, but for Kate Cabalo and Anna Paras, 2020 would be nothing but 365 days of celebrating and loving, of winning and conquering—love does conquer all when you need it to the most.
This LGBTQIA+ ceremony was a beacon of light this year, showing everyone in attendance what it meant to be authentic and brave; true love gives you strength, after all, and it unites, not divides.
With their union, Kate and Anna gave us a dose of hope for better days to come, ones full of happiness, smiles and yes, rainbows, too.
What we love about this wedding: Their modern rustic, Tuscany-inspired theme immediately caught our attention, more so with its soft-on-the-eyes color scheme of blue, white, silver, and gold. The presence of their fur babies during the event was also a very cute and personal touch.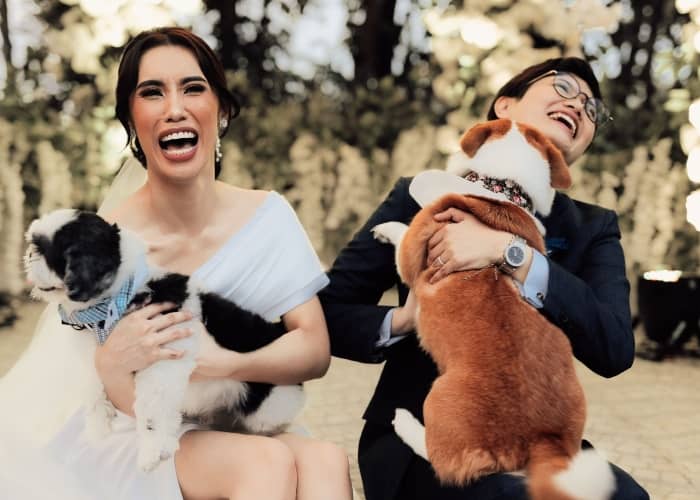 Kate and Anna
Kate and Anna
Eric and Reena in Pico de Loro Beach and Country Club, Batangas
Indeed, distance makes the heart grow fonder.
And in the case of Eric Uy and Reena Tee, once a long distance couple, it also helped them embrace the beauty of a scaled down wedding. With so many postponements getting in the way of the day designed to finally bring them together for life, both in love and in distance, this couple came to a conclusion: Why keep waiting for the perfect time to hold a bigger, grander ceremony, when they can have one sooner, despite it being a celebration of just them with a selected few in attendance?
The bright idea was the best they'd have this year as husband and wife-to-be; in just three weeks, Eric and Reena pulled off a French countryside-inspired ceremony that wasn't "small" in any respect, but rather, overflowing and exuding the biggest kind of love there ever can be—one built to last a lifetime.
What we love about this wedding: During a time when a destination wedding seemed impossible, this couple pulled off a fairy tale-like event. We are in love with the French countryside feel of their wedding, its The Secret Garden aesthetic for the ceremony (the rustic walkway is lovely!), and the reception spot with a romantic tablescape under a canopy of fairy lights.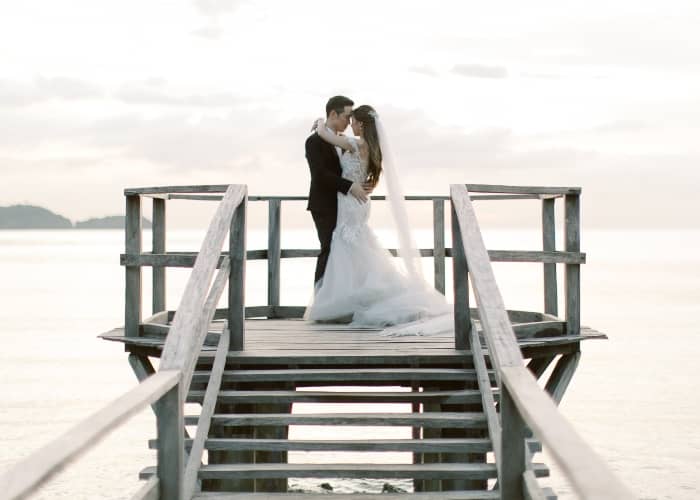 Eric and Reena
Eric and Reena
JM and Dianne in Antonio's The Cabana, Tagaytay
It was, quite literally, a COVID happily ever after.
JM Joaquino and Dianne Reyes are both doctors. They completed med school and soon after began their careers, and in 2020, found themselves at the front lines of what would be the century's worst global health crisis, both contracting the deadly disease while in service.
But there was no way that they were going to take a step back and allow a force—not even one as terrible and as powerful as a pandemic—that wasn't their love for each other tell them "No." They were engaged in July last year, and they were to be wed in the same year. 2020 to them would not be a year of sickness and exhaustion, but one of triumph, romance, and love always enduring.
It was almost a now or never year for Mr. and Mrs. Joaquino and with rings on their fingers, smiles on their faces, and a gentle warmth in their hearts, it was clear that choosing "now" was the best decision they'd ever made for themselves.
What we love about this wedding: Antonio's Tagaytay has become a venue of choice for countless weddings, but it still manages to have a different look every time, depending on the couple's personality. For this wedding, we love the simple approach to the styling that achieved a classy outdoor garden feel with the hanging lights and greens. The bride's gown was RTW, but it fit her perfectly.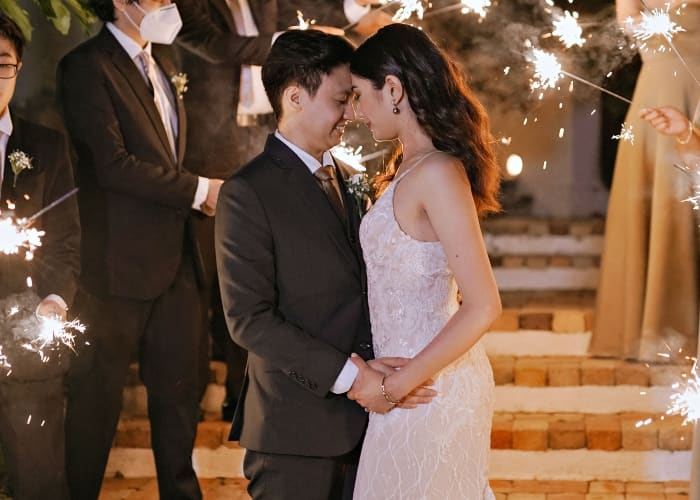 JM and Dianne
JM and Dianne
Mark and Camille in Ica Sebastian's Cafe Voila in Tagaytay
Mark Peckson and Camille Andrada became husband and wife this year—and a mom and dad, too!
Cheers to this couple who not only announced the lovely news on their big day, but took the chance to reveal that they were expecting a baby boy to their nearest and dearest present in the intimate occasion.
Drawing on their creativity to interlace charm and efficiency to create what would be one of their their lives' most memorable afternoons, Mark and Camille managed to make 2020 a year worth remembering for all time.
What we love about this wedding: We can't get enough of how simply beautiful this wedding was with its muted color palette. The bride looked extra radiant, too, in her strapless Mich Araullo wedding gown.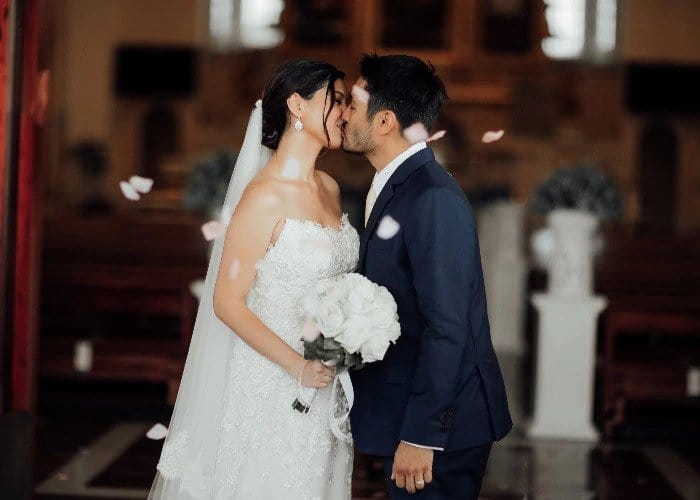 Mark and Camille
Mark and Camille
Lead photos by NicePrint Photo (Art and Ish), Randolf Evan (Eric and Reena), Mayad Studios (Mark and Ysa), and Pat Dy (Charles and Sari)