The Best Pandemic Weddings We Loved That Were Celebrated At Home
We've gathered eight lovely home weddings that grabbed our attention in 2020
They say home is where the heart is—but throughout the pandemic, this felt more true when the home became the venue for the union and celebration of two hearts entwined.
Because of the global health crisis and the uncertainty it comes with, many engaged couples found themselves coming to terms with the fact that their dream wedding needed to be modified or put on hold to make way for a more intimate gathering at the comfort of their own homes. Pushing through with their wedding amidst the pandemic wasn't an easy decision to arrive at, but one that they embraced nonetheless. These couples all agree that the reasoning behind them going for a pandemic wedding is aligned with these quotes: "if not now, then when?" or "if you can do it now, why wait?"
For them, the importance of sealing the deal and starting their marriage right during a time when being together safe and healthy is all that matters far outweighs the thought of holding a big wedding. As they say, at the end of the day, it's really the marriage that counts and not the wedding. Of course, having a beautiful wedding a couple will cherish forever is important, too, but the grand celebrations can wait for now; besides, just because a wedding is small and intimate doesn't mean it's less special or memorable.
As these featured weddings prove, a pandemic wedding celebrated at home has its own charm and personality as well. It's more laid-back, heartwarming, and—honestly—practical and convenient.
Check out the galleries below to see our eight picks for the best pandemic weddings that were celebrated at home:
Greggy & Bianca
Sometimes it's best to not overthink things, as proven by the wedding of Greggy Santos and Bianca Guidotti. They had been together for a little more than seven years when they got engaged, and really wanted their wedding to happen on their eight anniversary as a couple.
The eight anniversary is too special to miss after all. Not only does it mean that the couple successfully debunk the so-called seven-year-itch in a relationship, the number 8 can also symbolize infinity with the goal of being together forever in a happy, healthy marriage.
Greggy and Bianca pushed through with the original date they intended to get married, only they had to make their wedding smaller and hold it at home. It felt right for them to proceed as planned, and that's all that matters really.
What we love about this wedding: The beauty queen (Bianca is Miss International Philippines 2014) truly glowed on her wedding day. We thought her Mara Chua wedding dress was chic and perfect for a laid-back home-based event (look closely and you'll see that it's also unique as its sleeves extend to gloves); the dress was well styled, too, with the neck accent, her hand-tied bouquet, and her multi-colored pumps that just gave added character to her overall look. Of course, we can't help but love the "rustic charm" of their dressed-up home; the oversized rattan chairs truly suited the king and queen of the day.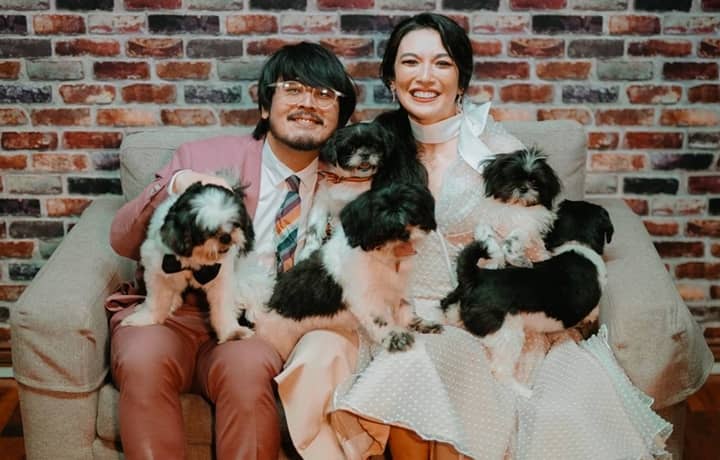 Greggy & Bianca
Greggy & Bianca
Nikko & Bea
For blushing bride Bea, she and her now-husband Nikko were blessed to have felt the power of the statement "home is where the heart is" in more than one way as they became Mr. and Mrs. in Bea's childhood home.
Many of our best memories are made at home. With Nikko surprising Bea with a drive-by that had their nearest and dearest loved ones honk their horns, shout their congratulations, and send flying kisses their way right after the ceremony, they were in equal parts smiles and tears about the day immortalized by so much love.
Home is what you make it. This is definitely a universal truth. And as Bea and Nikko look to the future, they'll be happy to know that they've now found a new and forever home in each other's hearts, one they both chose and said "I do" to.
What we love about this wedding: There's beauty in simplicity, and this wedding proved that. We were drawn to the stylish modern and minimalist overall theme, starting with the bride's chic and sexy wedding dress by Martin Bautista. The bride was going for that "maaliwalas" look, and they succeeded in achieving that. We love the wedding's unique features as well, such as the bridesmaids who wore pantsuits in earth tones and pastels, plus the drive-by surprise of Nikko to Bea.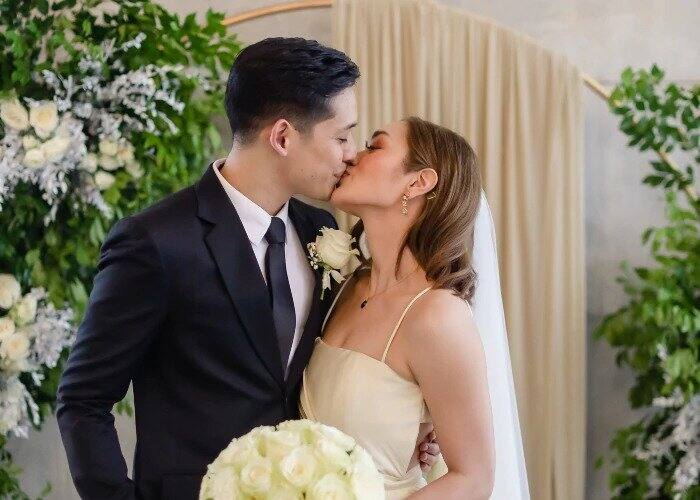 Nikko & Bea
Nikko & Bea
Cole & Ginger
Life isn't always rosy, yes. But during this pandemic, one can choose to ignore the thorns, focus on the beautiful blooms instead, and even create a garden out of them to spark joy when you most need it to. That was what Nicole Maristela and Ginger Serranilla did literally and figuratively on their wedding day. The couple chose to zoom in on the bright side of things and celebrate the fact that they have found a lifetime partner in each other, someone they can go through these times of great uncertainty with.
Despite the pandemic, they made life rosy even just for a day, with the hope that this happiness will embrace their marriage during the toughest of times for many years to come. Their "Secret Garden"-themed wedding in a way symbolized a fresh start—that the flower (a.k.a. their love) that bloomed in adversity is the most rare and beautiful gift they'll ever receive in their lives.
Life isn't always rosy, yes. But for this couple, at least they have their wedding day to look back on to remind them that, really, life is what you make it.
What we love about this wedding: Ginger's home is beautiful as it is, but in true #Gideonized fashion, event stylist and florist Gideon Hermosa transformed the venue's backyard into an enchanted garden which truly gave this couple a wedding that was straight out of a fairytale. The bride looked radiant and stunning, too, in her Ezra Couture wedding dress that designer Ezra Santos created for her in just a little over a week; she sent her measurements to him and the dress was flown in from Dubai. Even sans fitting, it looked perfect on Ginger. To match the light and romantic dress, Ezra even customized a matching headband for Ginger that had her channeling a dreamy "swan bride" look.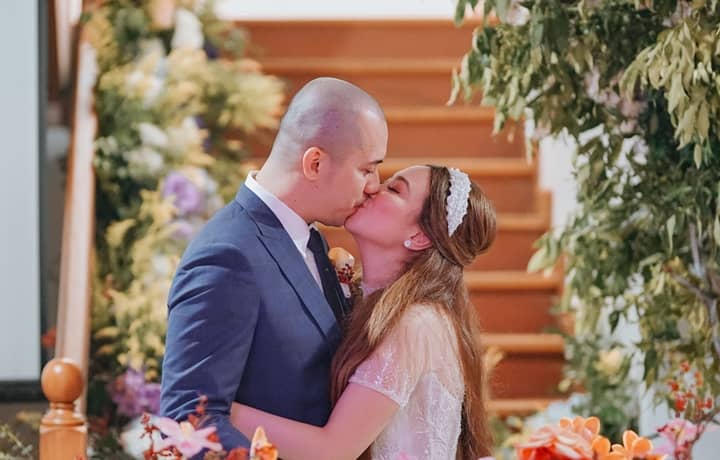 Cole & Ginger
Cole & Ginger
Michael & Kristelle
Would you believe that this wedding was held at home? Thanks in part to the ethereal rustic charm of the venue's styling by Gideon Hermosa, Michael Schnitzius and Kristelle Perez had the best possible intimate civil wedding they could have.
As is the case with many engaged couples during this time, Michael and Kristelle had to postpone their destination wedding as well because of the pandemic. Since no one really knows when this global health crisis will be over, they decided to just go ahead with a small event to mark this big milestone in their relationship.
This was three months in the making, a fairly shorter period of time typically spent on wedding planning; regardless, the outcome was mind-blowing and, more importantly, heartwarming.
What we love about this wedding: Their rustic garden wedding, with its light and bright mood and refreshing color scheme, is so Pinterest-worthy; it's the stuff that a stylish bride would definitely go for. We are in love with Kristelle's wedding dress by Patricia Santos as well; it's light, intricate, and elegant in its simplicity.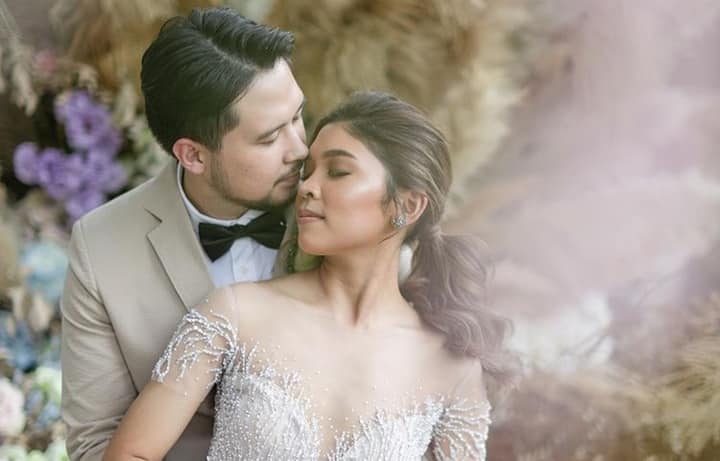 Michael & Kristelle
Michael & Kristelle
Rich & Natalie
The great thing about a wedding is that it's not just made up of one highlight—it's made of several highlights that make the occasion more special no matter where or when it was held.
That the wedding of Richmond Ley and Natalie Hu was held at his house didn't make it less special. If anything, it was even more memorable because of the timing and the uniqueness of the celebration. In lieu of a big wedding that may be stressful for the couple to put together and to even enjoy on the day itself, they got an intimate event that had them bonding with each of their guests and basking in every minute of newlywed bliss.
Everything happens for a reason, and the changes in their original wedding plans turned out to be better for them as they paved the way for this heartfelt celebration to materialize just the way they wanted it to.
What we love about this wedding: When we saw the photos of Rich and Natalie taken by wedding photographer Pat Dy outdoors, we thought the wedding was held out of town until we read his caption: "Rich and Natalie's wedding was just beautiful! Ceremony took place inside their house and portraits just outside their garden." As those photos prove, it's a matter of perspective. In the midst of this pandemic, we can choose to look at life from a different angle or perspective. The interior of the house was also styled with a modern-romantic theme that looked sophisticated and simply dreamy.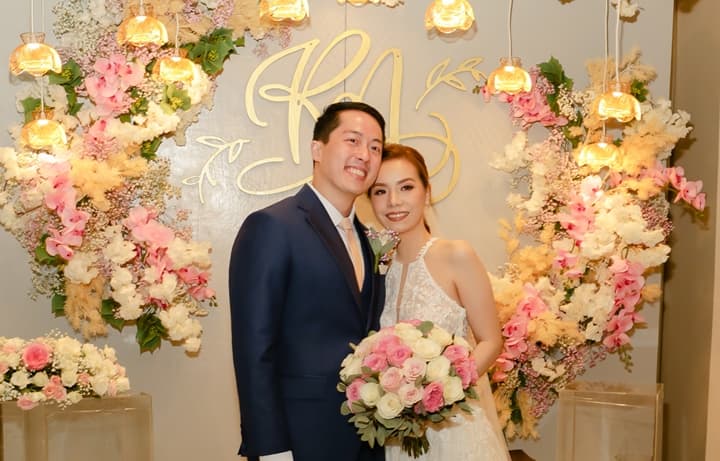 Rich & Natalie
Jopee & Vada
As the old saying goes, "Pagkahaba-haba man ng prusisyon, sa simbahan din ang tuloy." Jopee and Vada may have been engaged fairly longer than most couples would usually be engaged for until their big day. But no matter how long their journey was, what matters is that they've reached their destination together hand in hand.
The bride admits that all the time she procrastinated in organizing their big day allowed her to have a more stress-free wedding planning experience—that, and perhaps it allowed them to get married in God's perfect time as well. It turned out to be the perfect time and perfect venue, with their wedding ceremony held at St. Andrew's church where they first heard mass together.
Interestingly, the abovementioned Filipino saying is, in a way, also aligned with their wedding's theme: Modern Filipiniana.
What we love about this wedding: We've seen many weddings executed with a Pinoy theme and twist, but this stands out in more ways than one. The theme was not only reflected in the awe-inspiring reception styling by Gideon Hermosa but also in the menu by chef Margarita Forés, the performance by Noel Cabangon, and even the woven pamaypay and bayong giveaways—all these made the whole event cohesive not just visually but also in terms of guest experience.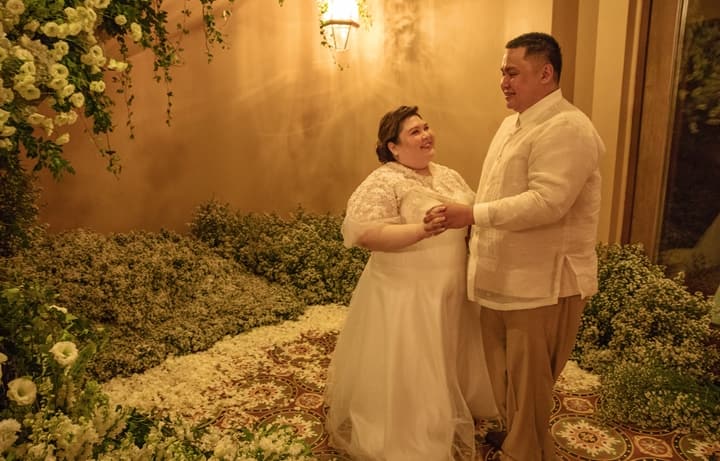 Jopee & Vada
Jopee & Vada
Matthew & Hanna
The wedding of Matthew Que and Hanna Miranda was one of the first pandemic weddings we've seen. Because it was held in June of last year when the quarantine rules were stricter than they are now, they were only really allowed to celebrate with a limited number of guests.
Despite the limitations, however, the simplicity of the celebration highlighted the love these two have for each other (hey, they now have a bundle of joy to share this love with). Their wedding day also had them reuniting with their loved ones after being away from them because of quarantine, making the mini celebration all the more special than it already is.
Hanna had been preparing for their ting hun and wedding for months, but they had to modify their original plans and all of a sudden rethink the event and re-plan for an intimate civil wedding in two months' time. That was depressing for a bride-to-be, but she said, "In spite of this I knew in my heart that it is not about the wedding, but about the marriage."
What we love about this wedding: The whole event looked so elegant and casual at the same time. Hanna showed how a bride can look so radiant and chic despite getting married in the time of COVID; she looked gorgeous from head to toe. We especially loved her stylish Charina Sarte bridal dress that was paired with a dainty pair of Jimmy Choo heels. Her makeup was fresh and daytime-perfect, and her hair was effortlessly pretty.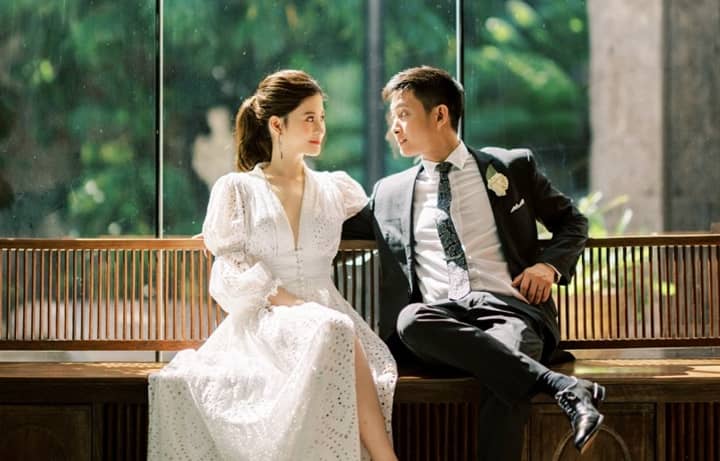 Matthew & Hanna
Matthew & Hanna
BJ & Jeri
Some of the heartiest conversations at home happen in the dining area, while bonding over delicious food. This spot in the home becomes special because of all those simple yet touching moments.
In the case of BJ Kua and Jeri Lim, the dining area at Jeri's house had more meaning when it served as the venue of their wedding's reception. The rest of her house, like their garden, is also no longer just an ordinary garden because it became the backdrop for the couple's wedding photographs that are meant to be cherished forever.
From the original plan of having 600 guests, they were left with no choice but to only welcome into their home two guests on top of their families. The also wanted to get married in Yarra Valley, Australia. While that idea will surely result in the dreamiest wedding, nothing can quite replicate the happy experience of getting married at home, where the familiarity of the setting brings unparalleled warmth and joy.
What we love about this wedding: Their dining area had a fun and elegant tropical tablescape that gave their predominantly white wedding more character. The huge white balloon accent that read "Mr. & Mrs. Kua" was a cute add-on as well. But our favorite is the bride's dainty and sexy wedding dress by Charina Sarte with its eyelet fabric, puffed sleeves, and thigh-high slit.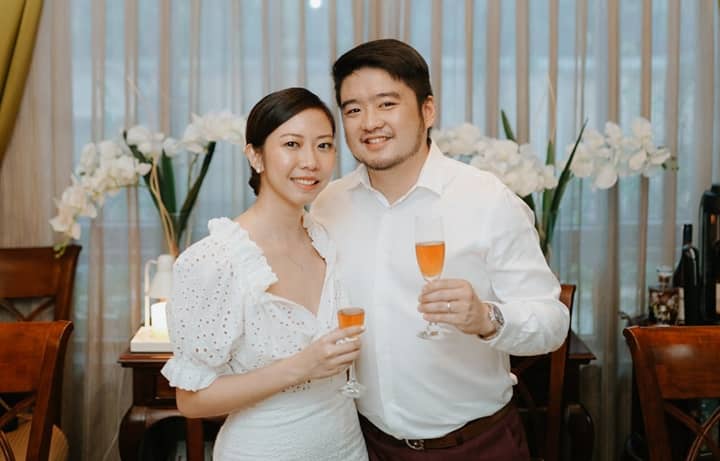 BJ & Jeri
BJ & Jeri
Lead photos by Pat Dy and NicePrint Photo