#RealWeddings: This Couple's Wedding Portrayed A Korean Aesthetic
Bryan and Cris' wedding was a mixture of elegance, love for classy Korean weddings, and a dainty touch of pink
Everyone remembers Cris and Bryan as the couple who re-enacted scenes from "What's Wrong With Secretary Kim" for their pre-nuptial shoot! And their love for Korean dramas continued to follow them on their wedding day held last July 03, 2021. Despite the gloomy weather, warmth was still felt on Cris and Bryan's wedding day as they tied the knot at the Sacred Heart Parish and Radisson Blu in the presence their closest friends and families. The rainy weather surely didn't dampen this special day!
Just a short background—Cris and Bryan met in the stressful world of lawyers. As Cris described it, "We met through common friends when I had my internship in law school. During our first date, we ended up laughing the night away. I thought we'd only be best friends, but I guess we ended up being best friends for life." They got engaged three years later, married a year after, and they now continue their journey as a married couple while balancing their lives as lawyers in the corporate scene. Talk about finding love at work, just like Secretary Kim!
Here are some of the many things we loved about #EsganabeLee:
1. The bride's Mikado Silk gown and the groom's Chinese Barong
Let's start with Cris' stunning wedding gown by Debbie Co. It was minimalist, elegant, and it complimented her figure well, while showing just the right amount of skin. The clean cut was reminiscent of the gowns Korean actresses would wear—classy but sexy. It's truly a surprise how this creation was made without any virtual or physical meetings, just efficient communication between Cris and Debbie Co.'s team. Bryan's Chinese-style barong suit from Lemuel Rosos was equally eye-catching. The groom surely stood out among the sea of barong Tagalog ensembles worn that day, with its embroidered design that incorporated his roots. It not only looked good, it also embodied his roots, mixing his Chinese and Filipino heritage seamlessly.
2. The Korean-inspired Photo Wall
As a fellow lover of Korean shows and music, it was a delight to see splashes of Korean culture on the night of Cris and Bryan's wedding. Cris was so inspired by the minimalist elegance seen in K-dramas that she started following some Korean wedding suppliers on Instagram (@plan_maju; @__aprilsnow__; @verygoodwedding) for pegs. This Korean wedding vibe was evident in their photo wall, which instantly caught our eyes. It was minimalist, classy, and similar to the background in pre-nuptial photos that Koreans take before their weddings. Everyone that took a photo with that wall as a background surely left with a great shot that they could boast on their Instagram feeds. In fact, when Bryan and Cris' couple photo at the photo wall was taken, we couldn't help but gasp in awe as it truly mirrored a Korean couple's portrait shoot on their wedding day.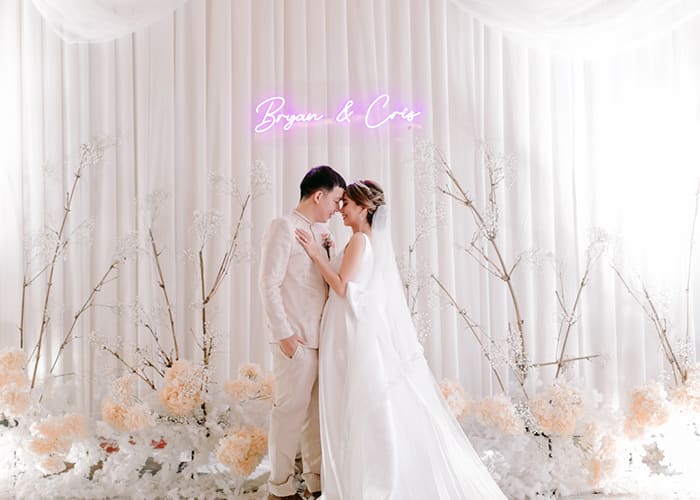 #RealWeddings: Bryan and Cris
SWIPE LEFT OR RIGHT
TO NAVIGATE BETWEEN PAGES
3. That evening's playlist showed the couple's various interests.
The #EsganabeLee playlist was a fun addition to the night. At one point, we sang along to a few songs that reflected Cris and Bryan's journey. A few minutes later, we found ourselves in an unexpected memory game while trying to remember which K-drama's soundtrack was playing. Later, we were gleefully surprised as we witnessed Cris and Bryan's first dance to "As Long As You Love Me" by The Backstreet Boys. We were also touched by the sweet serenades from the bride's brother and his girlfriend—a great personal touch to the playlist. It was really a fun playlist that showcased Cris' love for K-drama and Bryan's love for 90s boyband songs, and we were really up for it.
4. The Delicate Touch of Pink
Pink, when used excessively, may turn out to be a bit overwhelming. Cris and Bryan managed to use the captivating color in a subtle, pulled-back manner that gave off a very classy vibe. It reminded us of the warmth we felt while walking along a foreign country during Spring time with cherry blossom trees setting the mood for all the passersby. Having the guests wear different shades of pink also resulted in a lovely pink ocean that added a lovely feel to the occasion—which, by the way, made such a great look for the photos!
5. The Couple's story
The whole night truly reminded us of what weddings are about—the couple and their story. Learning about the couple's story from the perspective of friends and family gave us a few laughs while taking a trip down memory lane. There were also games (with prizes!) that featured facts about Cris and Bryan's journey as a couple. The inclusion of interactive booths by the entrance, specifically the 360-video booth and the photo booth, reminded us of the couple's fun side and their love for photos. Cris and Bryan also used a cartoon version of a photo they took years back which was used in a lot of details for the night.
6. How the wedding was very "Bryan and Cris"
While planning their wedding, Cris had one thing in mind— "It does not have to be the grandest or the most perfect, as long as the day was ours to share. We didn't have a definite theme, but we wanted the celebration to show us & the things we loved." And indeed, the whole night was a celebration of both their differences and similarities. Thanks to suppliers who respected their wishes and tried their best to personally know the couple, the guests definitely left the night learning a thing or two about Cris, Bryan, and their journey together.
Cris and Bryan's wedding teaches us one thing—there's no cookie-cutter way of planning your dream wedding. Sometimes, it can be a combination of random things that the couple dreams of happening—songs that bring back childhood memories, a color one of them favored back in college, and a love for Korean aesthetic. No matter how unfitting these details are to some people, they somehow make sense to show the bride and groom's unique colors that are celebrated on this one special day. Just like how most stories go, this wedding and their story speak of compatibility that goes beyond differences and boundaries.—Frankie Fernandez
Wedding Suppliers:
• Church/Ceremony venue – The Archdiocesan Shrine of the Most Sacred Heart of Jesus
• Reception venue – Radisson Blu Cebu
• Date of wedding – July 3, 2021
• Wedding coordinator – NM Event Planners/ Nicole Maderazo
• Photographer – Alvin Asayas Photography
• Videographer – Zaleda Films
• Sounds, Lights and Live Stream Services – System Sounds/Lights by DJ Marlon Orellano
• Invitations/Printers – Imprint Studios
• Wedding Cartoon – Fel Kevin Alingasa
• Hair & Make-up Artist – Janice the Beauty Fairy assisted by Shantal Davidson
• Bridal Gown – Atelier Debbie Co
• Groom's Attire and Bridal Robe – Lemuel Rosos
• Florist and Set designer/stylist – Floral Touch by Chaty/ Chaty Archival
• Bridal Tiara – Chungdam Bridal
• Church choir/music/band – C3-Core Singers and Gabriel Esgana & Frances Pestanas
• Priest – Fr. Felipe Bacalso
• Pastor (to facilitate the marital vows) – Pastor Gamy Alba
• Giveaways – Imprint Studios and Sandalo Vineyards
• Cake – Kaydy Cakes
• Video Booth – Glambooth 360 Cebu
• Reception Host – Edd Buenaviaje and DJ Maikee