IN PHOTOS: Ernie Lopez and Michelle Arville's Laidback California Wedding
Wearing jeans, hoodies, and sneakers, CPI President Ernie Lopez and his wife Michelle Arville wed in an intimate ceremony in the backyard of his brother's house
When two people are fated, there is no need for pomp and circumstance—the love of two people and the support of family and friends are more than enough.
This what was reinforced in the casual and cozy intimate wedding of CPI President and Executive Director of ABS-CBN Foundation and Host of G Diaries Ernie Lopez and Michelle Arville, at the backyard of the groom's brother Gabby Lopez's house in San Mateo, California last April 30.
Instead of a tux and a wedding gown, Ernie and Michelle donned jeans, hooded sweatshirts, Star Wars socks, along with their 'couple' sneakers—Fear of God x Nike basketball shoes designed by Jerry Lorenzo.
The two earlier got their marriage certificates in the county of San Mateo, California, and then held an informal service with Ernie's friend he knew since he was 18, the pastor of the church he would often go to in San Francisco. The whole service lasted for 30 minutes, with a 10-minute message from the pastor while the rest of the service comprised of the exchange of vows of Michelle and Ernie.
There were no photographers, hair and makeup artists, choirs, or coordinators, but instead, they were graced with the presence of family who took turns in taking photos and videos, or thoughtfully providing wedding staples such as the reception venue, the bouquet, and the cake.
"I was just so happy that my family was there, Michelle's family was there. They all came together, and it was so amazing. It was so simple," says Ernie of their guests, all 22 of which were comprised of immediate family, the pastor and his wife, and the few who helped facilitate the preparations.
Ernie Lopez and Michelle Arville met in the midst of a family health crisis, got engaged in the middle of the pandemic while in lockdown, and got married in an intimate, heartfelt ceremony. Before us is a couple whose union has thrived in extraordinary circumstances, and together, they strive to be a channel for blessings for others, not just for themselves. Here are all their beautiful moments, as shared with Metro.Style.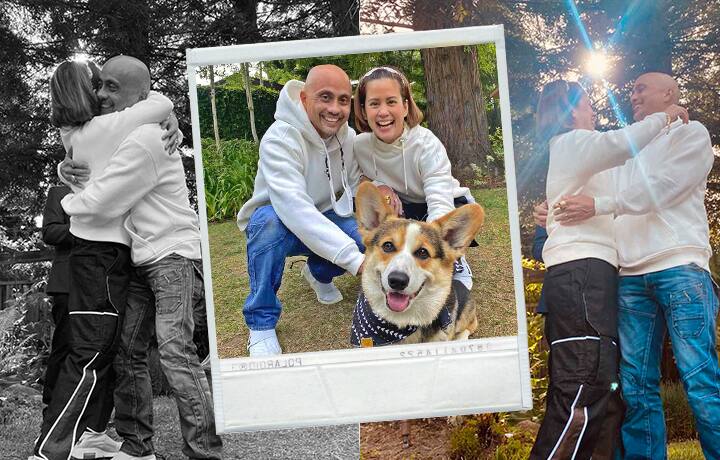 Ernie Lopez and Michelle Arville
Ernie Lopez and Michelle Arville
The two chose to make the ceremony and wedding preparations as casual and relaxed as possible
It was Michelle who chose the theme, ultimately, especially the casual wardrobe. "I love to wear sneakers and jeans. That's my usual uniform. I wanted it to be as casual and as informal as possible. And also for our families to be relaxed during the entire event and just celebrate," she shared with Metro.Style right after their wedding.
She also joked about how wearing a wedding gown would keep her from eating. "I don't have to say 'I won't eat because I can't fit into my wedding gown,'" she adds.
Ernie fully supported Michelle's dream wedding.
"I'm so happy that Michelle is not a high maintenance kind of girl that needed all these name brands, and all this pomp and circumstance," he says.
He shares how Michelle got him the Fear of God Nike shoes by Jerry Lorenzo to match hers when she found out he liked it. The pair he wore was actually the wedding present of Michelle and her son, Alessi. This limited-edition series is the collaboration between Nike and Fear of God founder Jerry Lorenzo who is known for his "fluid casual" menswear line, with the brand's name inspired by the founder's Christ-centered household. Thus, the shoes somewhat reinforce the spirituality and the beliefs that are very close to Ernie and Michelle's heart.
The two also made use of fast fashion and everyday luxury pieces—Ernie's hoodie came from Zara, his shirt was from H&M, with jeans from G-Star. On the other hand, Michelle's top was from Banana Republic (from the sale rack at $20), and she wore her favorite pair of jeans from designer CJ Cruz. A really cute touch came with their choice of socks: They had Star Wars prints, because Michelle is a big fan of the franchise.
Non-traditional and fuss-free preparations
"It was so easy because I didn't hire any photographer, there was no makeup and hair stylist, no wedding coordinator, no choir, no invitations, and no same-day-edit. I didn't even have a manicure or pedicure, I didn't go to the salon, there was no microphone, no wedding car," she says.
"We didn't even have a reception venue, it was all done in Ernie's brother's backyard, and that was so beautiful. Ernie's sister-in-law gave us a cake," she adds, since they didn't order one. "My mom got a super simple bouquet coming from the mall, it wasn't even a bridal bouquet," she adds.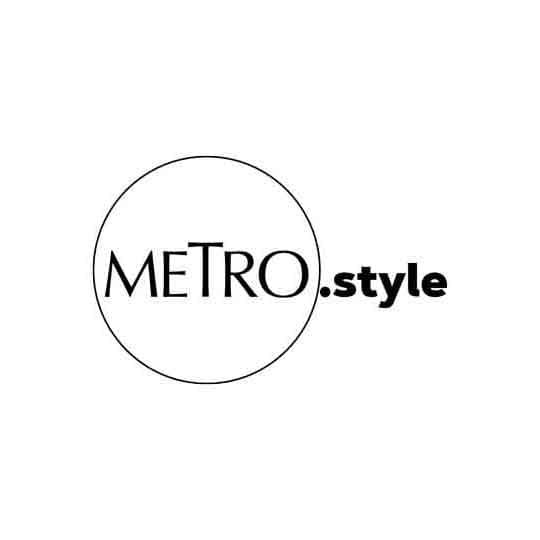 "My simple bouquet had a locket with Gina in it, since she was the cupid that brought us together," says Michelle.
Gina's special presence
For those who have followed the beautiful love story of Ernie and Michelle from how they met to how the got engaged, there is always a reference to Ernie's late sister, Gina, who was instrumental in bringing them together.
The two commemorated and honored Gina through a locket that was part of the bouquet.
"We really wanted Gina to be part of this whole ceremony," she adds.
The songs were all meaningful
One of the moments that Ernie treasured the most was the bridal walk—when the theme of Love Affair (1994) by Ennio Morricone accompanied the march of Michelle towards Ernie. This Warren Beatty and Anette Bening film is one of Michelle's favorites.
"I knew she was going to cry when she heard it, and she did," says Ernie. Another memorable song was Gaucha, which was written Ernie's brother Raffy Lopez. This song, which is on Spotify, was composed and professionally recorded by Raffy in collaboration with a singer.
"It's a song about second chances, and this song about his second chance with Gaucha is also perfect for us," says Ernie.
"I never thought that there could be a new happiness for me. Like schools of fish that swim the sea, moving in perfect harmony. A purpose for living life, that's what you've given me. Who'd ever thought that there could be a new happiness for me," begins the acoustic song.
Family dogs in attendance
"My favorite part was having the dogs run around the wedding," shares Ernie. Dodger, was their "wedding mascot" along with the dogs of Ernie's brother Mon: named Rooka and Callie.
The message of the pastor was more like a dialogue with the guests
"During the message of the pastor, people would just start talking and chiming in with the pastor's message. They would just speak their mind, and it totally cracked me up," shares Ernie.
Their wedding rings had skulls
"What I liked was when we exchanged rings, they rings had skulls—because we both loved that," shares Ernie.
One of their favorite moments were of the toasts and speeches from their siblings
Michelle's sister, Mariel and Ernie's brother Mon, both gave short speeches, "I love the toast given by my siblings, and Michelle's siblings as well," says Ernie. Aside from Ernie's vows, the one that I was really touched with was my baby sister's speech. I couldn't help but cry," says Michelle.
Everyone being vaccinated helped make the gathering easy
"What made it easy also was that everybody was vaccinated so we didn't have to wear masks. Over here, you don't have to wear masks if you're all vaccinated," shared Ernie. "And the gathering was outdoors, and we stayed outdoors the whole time."
While the Philippines still has regulations about group gatherings, in California, various counties are allowed to have gatherings depending on their tier provided that the participants have proof of vaccination.
Their vows expressed how they felt about finding each other
One of the most meaningful parts of the ceremony was their vows, because they reinforced the idea that in being blessed to be together, they will also strive to be a blessing for others.
Michelle's Vows:
"Dear E, I waited for 22 years to get a second shot at this….
Thank you to Gina, you are now my home, my north star, my forever partner, and officially, my husband.
I give you my hand, my heart, and my love. From now on, you will never be alone.
Thank you for all you are and for showing me the right way. You lead and I will always trust and walk with you.
I will love you faithfully, deposit in your love bank, and promise the four gifts of love:

I will pretend to love your MC Hammer pants when you wear them.

I will love all your farts that average 25x a day. The smelly ones, too.

I will love your dancing even if its robot-like.

I will make our bed each morning until we both shall live.
In return, please solemnly swear you will: Protect me from frogs, never criticize my singing, and that you will love me even if my butt gets old and wrinkly.
I love Blade, Sabrina, and Ice so much as I love Alessi.
I will always thank God for the number of years we are given. Together, we lift up in praise even when times get difficult and always make sure our union fulfills whatever God's purpose for us will be.
You are my forever and always and more.
Ernie's Vows
I know there is a God, I know He is good, and I know He loves me. I have spent many years alone but I wasn't always lonely. I didn't realize, however, how amazing my life could be until God brought Michelle into my life.
I have my family to be thankful for because God knew exactly how to open my eyes. I was so traumatized by my past mistakes that I was too scared to ever even consider dating again. I hid behind the line "I don't have my annulment yet" when anyone tried to set me up.
My family is so protective of me that I know they would never let me go out with someone who was bad for me so when 100% of you gave your blessing, including my kids... that was the only time I felt safe and you all gave me the courage to do something I had not done in decades... ask a girl out on a date... and it was to church.
Over time I was amazed that this girl who was not my type, stole my heart. She didn't do sports, she was not domineering or bossy, she was not a bad girl. She didn't like making decisions. She left decisions to me and helped me to become a real man. Through her I discovered an Ernie that I never knew and I am happy with who I am today.
You all fell in love with Michelle ahead of me and I needed time to see what you all saw in her. She is a kind heart who loves to serve others. She has a unique relationship with God that made me feel safe with her. She is a fiercely devoted mother and she takes cleanliness and tidiness to Marie Kondo levels.
I am familiar with commitment through thick and thin because of my experience with my previous marriage, but the ingredient that will allow us to keep our commitment to each other is a deep relationship with Jesus Christ. From the beginning of our relationship, we decided that we cannot just be a blessing to each other. We must be a blessing to others. We cannot just be recipients of His blessings. We have to be channels of blessings to others as our purpose.
With this purpose in mind, Michelle, I commit myself to You by the grace of God alone in front of family and friends to love you until my last breathe and to help you fulfill God's plan for our lives by working with you to serve others.