#RealWeddings: This Couple Had The Perfect Intimate Wedding For 25
"We are each other's plot twist", shares the bride about how she describes their love story
We are each other's plot twist. That's how I would describe our love story. Ryan and I met in 2016 during his birthday party, as I was with a common friend of ours. We have known each other since then but we came to know more about one another towards the end of 2019 during a wedding in San Diego, California. We were inseparable since then. We instantly knew in our hearts that we would one day end up together.
Ryan proposed in April 9, 2021 (Day of Valor! Because as he said, 'courage'). I was deep into my Dermatology board exams review then which took place in June 2021. It was unfortunately also the season 2 of lockdown in the Philippines. We originally wanted to have a destination wedding in Spain, Italy, or California, but because of the global health restrictions, we pivoted to a micro-wedding in the Philippines with 25 guests composed of immediate family and close friends, and postponed the big celebration to 2022 (hopefully).
Our event stylist and florist Teddy Manuel is brilliant! We wanted to accentuate the garden vibe of the venue using rustic highlights, hence the wood, greens, and flowers with mostly white hues. We also wanted the venue to be lit with fairy lights for drama.
For my wedding dress, I wore a trapeze-cut gown in silk brocade with a detachable lace cape by young designer Rosenthal Tee. I wanted it to look minimalist and dramatic without being to bride-y. For the dinner and party, I switched into a draped red Martin Bautista set which was perfect for the mood of the reception. The party was everything we imagined for an intimate group of 25. It was a beautiful evening for family and friends finally seeing each other after two years of lockdown. Everybody danced to the beats of the Naughty Pandas. It was such a breather! We had so much fun our guests did not want to go home! We are ecstatic that our wedding turned out to be an intimate but luxe gathering where guests had a great time celebrating our marriage. It's the best feeling ever!—Claudine Malaca-Fabros
Swipe through the gallery below to see more of Claudine and Ryan's wedding: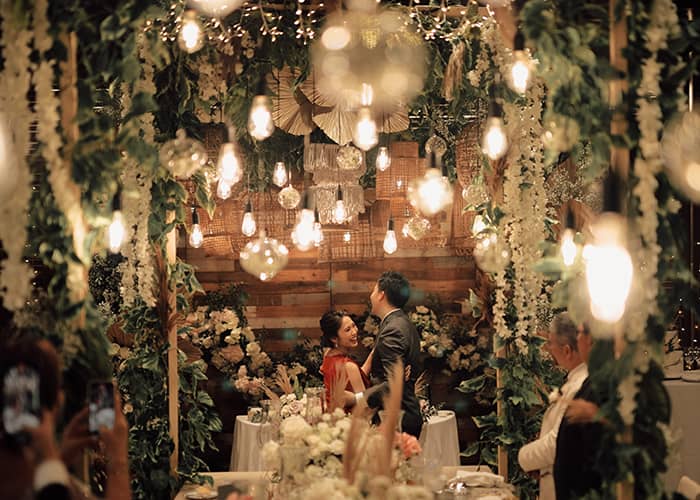 #RealWeddings: Fabros-Malaca Wedding
#RealWeddings: Fabros-Malaca Wedding
Wedding Suppliers:
Church/Ceremony venue – Santuario de San Antonio Parish, Forbes Park
Reception venue – Garden Pavilion at the Grand Hyatt BGC
Date of wedding – July 16, 2021
Wedding coordinator – Getting Married Philippines
Photographer – The Proud Rad
Videographer – Ian Cruz Films
Invitations/Printers - @putitinpaper on Instagram (Gem Zapanta)
Designer bridal gown – Rosenthal Tee
Designer reception dress - Martin Bautista via Vestido Manila
Designer groom – Cornell's Tailoring
Florist – Teddy Manuel for bouquet and reception; Flowers of May for the church flowers
Jewelry designer – JMA Jewelry (engagement ring and wedding bands); bride's earrings and necklace – something borrowed from my aunt
Church choir/music/band – The Naughty Pandas for reception; Anima Choir and Strings for church
Priest – Fr. Luis Ramon Yulo Lorenzo, LC
Giveaways - @papeletal
Cake maker – Grand Hyatt BGC
Hair and makeup artist – Mikka Marcaida & Kenjie @hairbykenjie
Bridal shoe designer – Manolo Blahnik Hangisi Blue Satin Jewel Buckle Pumps
Wedding hashtag - #ryryclod