#RealWeddings: This Festive Wedding Gave Traditional Filipino Elements A Cool, Modern Spin
In this modern age that has brought waves of Western influences to Filipino weddings, this young couple shows us how to embrace our very own culture and turn it into something magical
Australia—it's where Keena Vazquez and Paolo Laurel met, fell in love, and envisioned a future together that was eight years in the making.
You'd think that a love story that unfolded in a land far away from home might culminate in a wedding that shows off the best of their overseas romance, but for this couple who remained deeply rooted in their Filipino roots, their "I dos" were nothing but an homage to exactly that: their first home in the Philippines, where fiestas bursting with visual treats, a smorgasbord of flavors, unending activity, and unbridled happiness reign supreme on occasions as joyful as the union of a husband and wife.
As inherently creative individuals, Keena and Paolo succeeded at modernizing recognizable Pinoy elements for a super chic Filipino-themed wedding and after-party. The liveliness of Filipino celebrations was perfectly captured by their locally produced décor, accents, and tokens, all of which also represented a "community effort;" that is, several Philippine provinces' signature products played a part in bringing their vision to life and showed off the best of best that their country had to offer.
Learn the story behind their wedding inspiration and the work that went into making it happen below!
About the couple
When and how did you and your husband meet?
"We met overseas in Australia eight years ago in 2011. Paolo was working in Melbourne while I was finishing my architecture degree in Sydney. Our matchmaker came in the form of Paolo's cousin, Denise, who was a good friend of mine. She visited me in Sydney and dragged me to her side trip to visit Paolo in Melbourne. Little did I know, Paolo had already Facebook-stalked me and plotted to pull out all the stops to impress me that short weekend trip. I was unsuspectedly and successfully smitten, and we were back and forth ever since."
How long have you been together?
"We were together for eight years when we got married. Most of that time was spent long distance—two and half years between Sydney and Melbourne, two and half years Australia and the Philippines, and the last three years between Quezon City and Alabang."
What are your current occupations?
"Paolo currently works at the Laurel-run Lyceum of the Philippines University (LPU) in the school administration. He's primarily involved in three of the six campuses. This year, he was also appointed by Office of the President to work under the Department of Tourism as a board trustee of Nayong Pilipino.
"Their mandate is to help revitalize and facilitate the promulgation of cultural hubs in the Philippines. I am a practicing architect working for my family's design consultancy, Vazdesigns Asia Consult, Inc. We handle numerous residential projects in Forbes Village, Dasmariñas Village, Alabang, and the like, and a number of resort and hospitality developments including Maremegmeg Beach Club in El Nido."
What do you enjoy doing together? Hobbies, interests?
"Since a lot of our time together has been characterized by being apart, we really just enjoy being physically together. We could be watching a movie, attending a show, visiting a gallery or pigging out; we could really be doing nothing but we truly enjoy just being together. We do bond a lot over art, design and the most random YouTube videos. Music was a big one that brought us together in our early [years when] Paolo [was] still actively DJ-ing in Melbourne on weekends. We would send each other songs we would find and make plans to attend festivals and our favorite artists when they would be in town."
Preparing for the wedding
What is your wedding's motif, and why did you choose it?
"From the beginning, we were less drawn to the typical wedding approaches and styles. Since Paolo started working with the Department of Tourism and we had a number of guests from overseas, we really wanted to showcase a tropical and distinctly Filipino motif in modern and less literal ways. We wanted a lot of greenery and fruits. We sourced as much as we could from local and community oriented suppliers.
"To take it further, we decided to name our tables after different provinces all over the Philippines. We added more modern and millennial-friendly touches like neon lights, jeepney-style table name signs, a jeepney photo booth and a ton of buko from the local fruit stand. We wanted to re-frame and encourage our guests to engage in traditionally Filipino motifs in refreshing and approachable ways. We wanted to steer our wedding away from formal and stiff to festive and light-hearted, much like our own Filipino culture."
How long did you prepare for your wedding?
"We booked our venues a little bit over a year before our wedding. But we went full speed on planning about nine months before the date."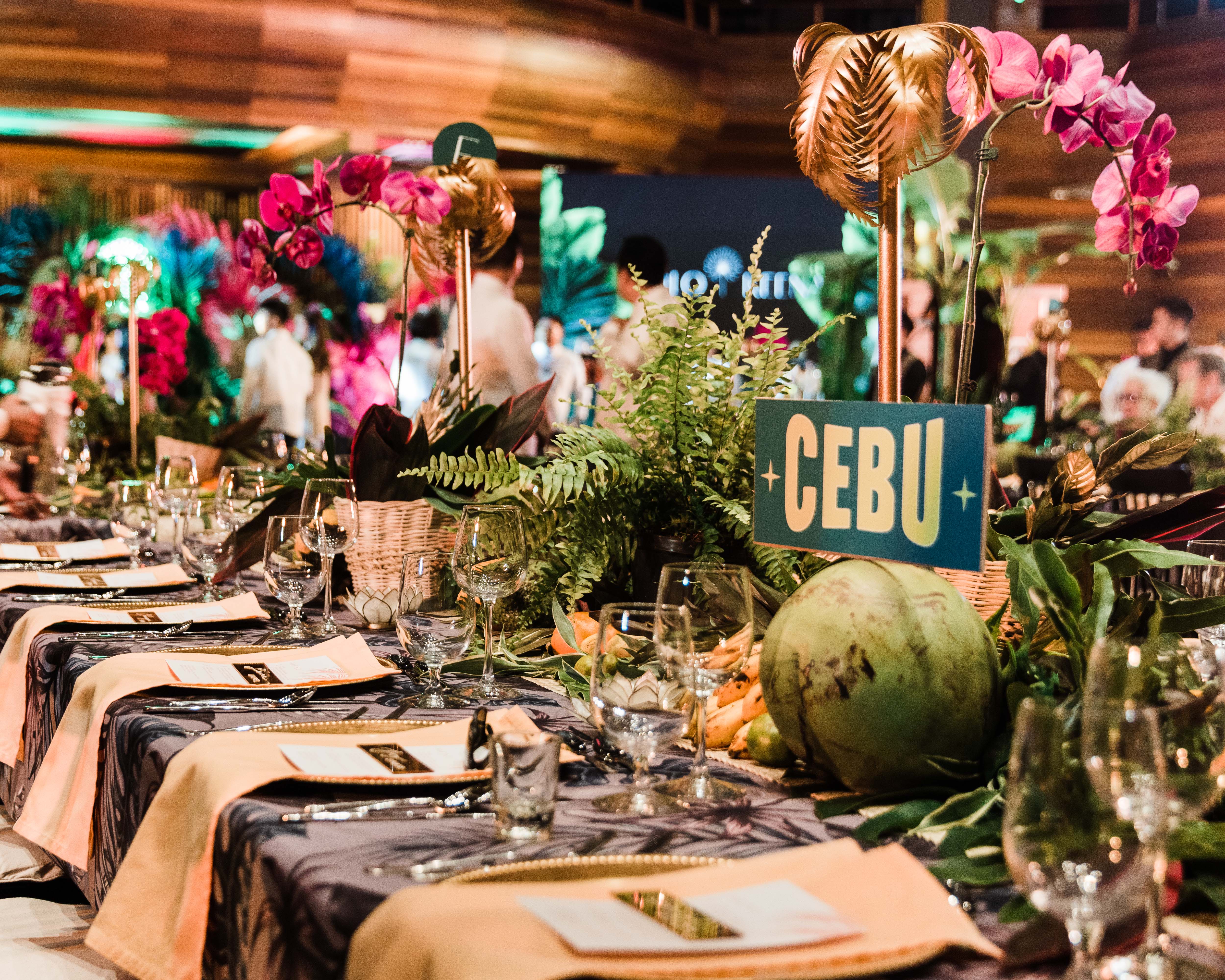 Is there a story behind your wedding venue?
"Being an architect, ambience and setting was one of my top priorities. It was important whichever venue we would settle on already had its own character and charm. Both Montecito Chapel and Angelfields were overflowing with those.
"Montecito is a very intimate chapel that has a very serene quality to it. Not to mention, it is also an extremely photogenic chapel; we did not need to do much to make it shine. The surround landscape and beautiful drive leading to the chapel, was also a mood setter for our guests.
"When we first visited, it really felt like you were being transported elsewhere, and we loved that sense of procession. We visited our reception venue in Angelfields when it was still at its finishing stage. Even then, we were absolutely floored by all the reclaimed wood cladding and three-storey high ceilings. It was grand but very warm and inviting at the same time.
"As a couple, another top list item was the comfort of our guests, especially our beloved grandparents. And Angelfields had every amenity our guests would need. We also had full trust in our Tito Bernie Concepcion, who is the mastermind behind Angelfields. He and his team are on the ball about every detail. They shared the same commitment and investment in our wedding as we had, which made it an almost immediate venue choice for us."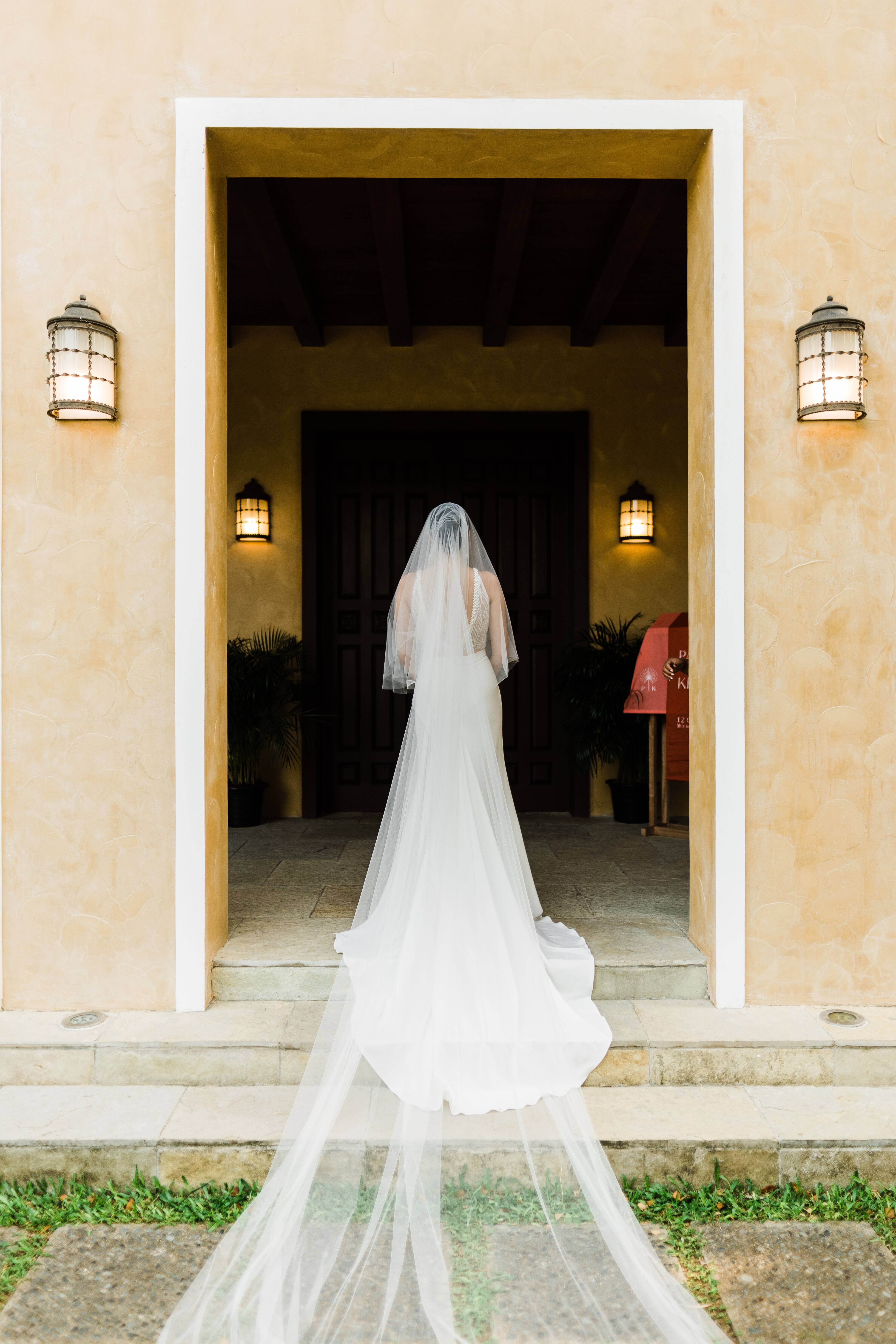 What were the challenges you encountered along the way?
"Fortunately, many things about wedding planning felt quite similar to my work as an architect—designs, coordinating with suppliers, investigating details, working with a schedule and budget. So the process was somewhat familiar territory. Since we were very hands-on with a lot of the elements, that meant designing and drawing up everything ourselves.
"And of course, being an architect, every brief came with dimensions, detailed specifications and sometimes even 3D models! This was time-consuming on top of coordinating with other suppliers and full-time work for both Paolo and I. Fortunately, we were surrounded by other trusted creatives to share some of the load; my sisters and bridesmaids in particular [lent] their own design and calligraphy talents.
"Apart from time management, every wedding's challenge is budget. So from early on, we conceptualized the styling in practical ways as well. We were conscious about prioritizing the expenses which would have the most impact on the event itself, and finding alternatives that worked better with our budget. The result was working with many suppliers that weren't from your typical roster of wedding suppliers. It gave way to a lot of creative alternatives like our wooden engraved arrahe."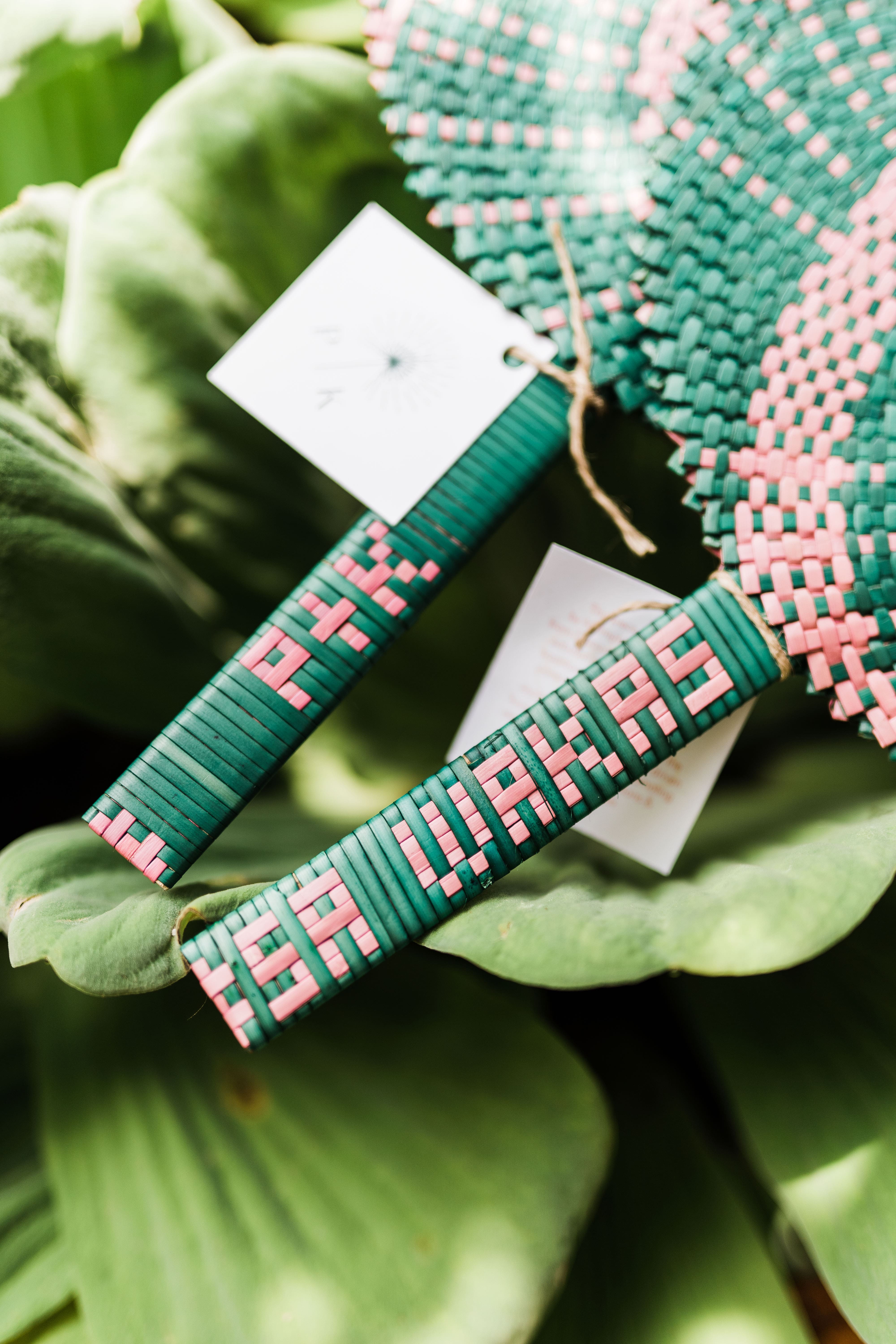 What was the best part in preparing for your wedding?
"We had the most fun adding our own personal touches to the wedding. We designed a lot of the small touches ourselves like the signage, monogrammed buko, bahay kubo, napkins, website, and bucket hats for the after-party. It was great injecting our personality as a couple and seeing it all come to life.
"As a creative, I also really enjoyed collaborating with other creative minds like our stylist, Kitty, our coordinator, Berlyn, and the animators of our story video, Carl + Kim, our other suppliers, Something Personal, Stylecat, Malingkat, PIOPIO and The Olive Tree. The process felt like a true collaboration, bouncing off our concept with their expertise. Some of them helped us make our wedding a full community affair; a lot of our suppliers support the different weaving communities and artisans all over the Philippines from Quezon, Palawan and Tacloban. It made the wedding a more meaningful homage to our Filipino theme."
What tips can you share to brides-to-be when it comes to wedding planning?
1. Have a good team. Take time to engage suppliers who are on the same page as you, who can work at your pace and can execute reliably. It will be easy to relax and let go on the day when you're able to trust that your suppliers will protect and defend your wedding vision. We had a superhero team with our coordinator, Berlyn, the Angelfields team, and the Bayleaf F&B Team who made sure every issue was addressed on the day of the wedding.
2. Delegate what you can. There are hundreds of smaller tasks involved in bringing a wedding to life. Maximize your friends and families' strengths to help your life easier. They will be more than willing to lend a hand.
3. Identify from the get-go who will have a say in the wedding decision-making. And more importantly, to what extent will their say be. It is easy to get caught up with everyone's comments and opinions which may muddle your decision-making process. If it's important for certain family members to be involved, make sure the boundaries for their involvement are established early on. You can't please everyone, so do what gives you as a couple most joy. Your sanity will thank you!
4. Remember that the day is a celebration of you as a couple. Listen to each other and what each of you consider important. What is important to other couples may not be what is important to you, and that's okay. Inject as much of your personality as you can! Enjoy the once in a lifetime process!"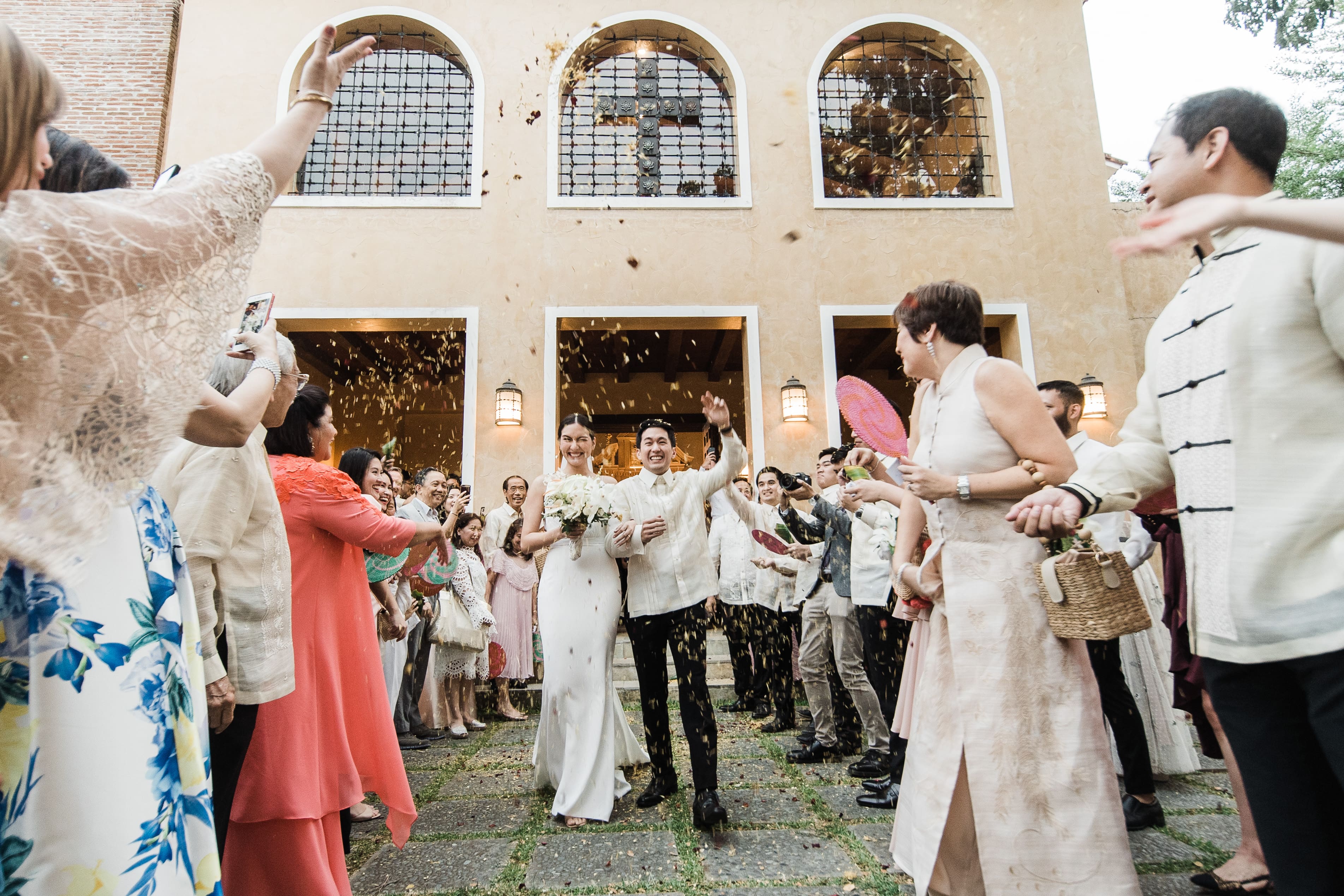 The Wedding Outfit
Tell us something about your gown and the designer you picked.
"Boom Sason was a dream to work with. Being quite a modern bride (at least by my standards), I knew I wanted separates. I also wanted something relatively simple but very streamlined, so the fit and tailoring had to be impeccable. Boom fit that bill to a tee. She and her team were a breeze to work with—extremely precise, beyond professional and, most importantly, equally excited about my big day as I was. We came up with a three-piece ensemble: a beauty lace bodysuit with pearl straps, the most perfect-fitting skirt, and disco-friendly trousers for the after-party."
What about your hair and makeup, accessories, and overall look?
"In keeping with the streamlined ensemble, I kept everything else really simple and classic. I kept my nods to our Filipino motif subtle with baroque pearl earrings from local brand Nami. Being a bit different, I opted to set my rings in rose gold. The stone of my engagement ring is a special heirloom from Paolo's maternal grandmother. He knew I wanted this unique offset setting for it. To keep it paired down, I chose a delicate baguette eternity wedding band to complement my unique engagement ring.
"Everything about my bridal look was kept classic. I wanted to look back on pictures without wondering what I was thinking with my bridal look! We kept to styles that I knew worked for me, that would stand the test of time in photos and last the entire day of festivities. The very first supplier I booked after our venues was Nate Javier, my makeup artist. We've done glam a few times prior and he consistently makes me feel like an elevated version of myself. I had full trust in him and he delivered in giving me my bridal glow. We focused on emphasizing the eyes for the ceremony and amped it up with more glam lashes and shadow for the reception.
"Rikka Villarey was so easy to work with for my hair. We had no time for a trial but he was so keen to listen and perfect what we had wanted to achieve. We did a sleek updo for church and after party-proof ponytail for the reception."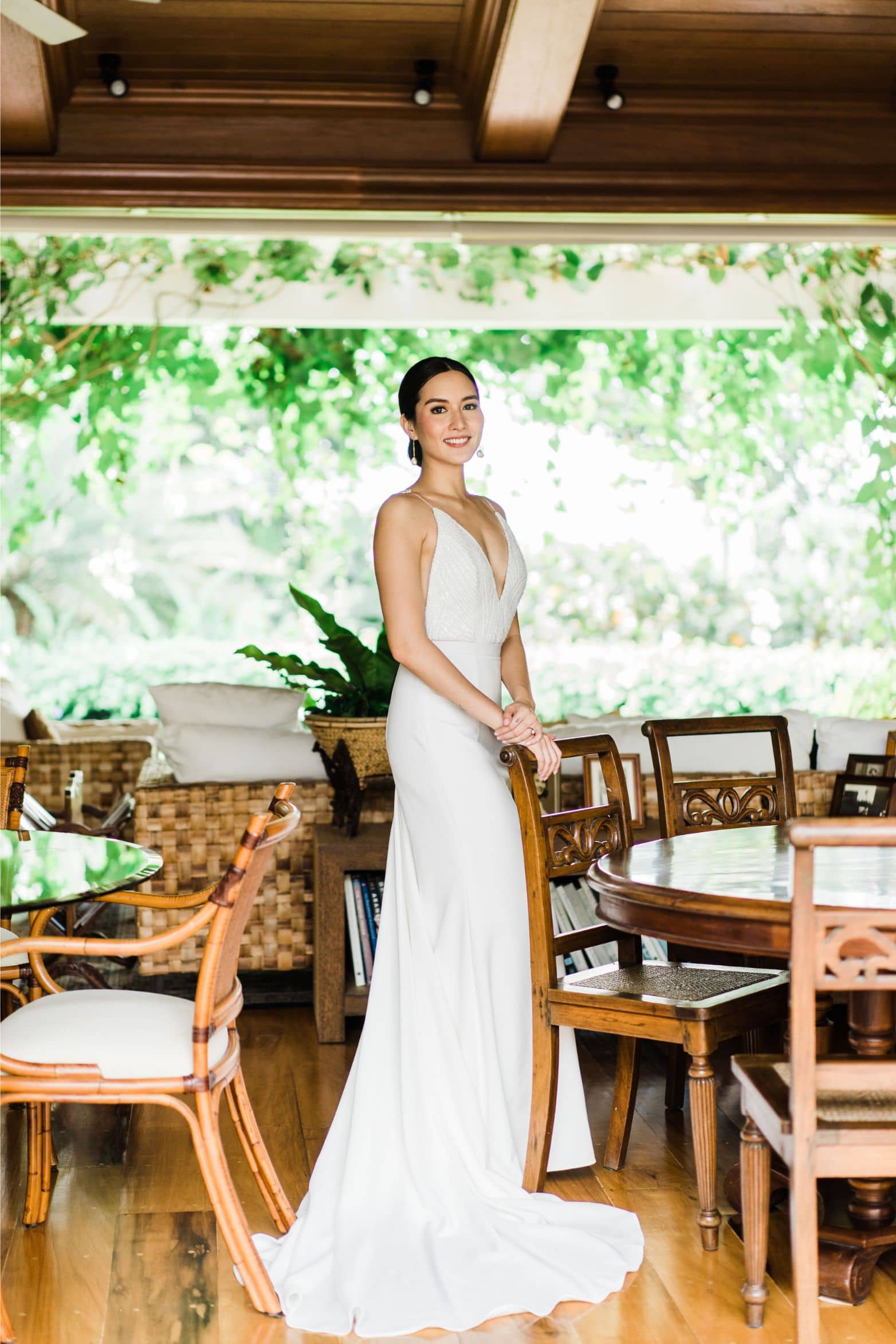 What are the highlights of the program?
"The whole day was a dream come true. Despite the flurry of things happening leading up to the big day, I was relaxed and so excited come the day of the wedding. Not everything came out perfectly but it was still truly the best day of our lives. I knew everything that was planned for the styling, but seeing how Kitty and the team put it all together was beyond all expectations.
"The abaca Pahiyas lanterns, 'Sa Wakas' neon entry tunnel and jeepney photo booth were big hits. Our Filipino-themed cocktails spread was also a big hit for our guests. The F&B team from The Bayleaf Hotel, headed by Chef Carlo Santiago, prepared a unique menu which featured squid ink pan de sal, local cheeses, palitaw mochi and, other creative takes on Pinoy staples.
"We tapped the help of Proudly Promdi who served cocktails from their solihiya sorbetero cart. They kept everyone refreshed with cocktails made from locally made alcohol called Tapuey and Bugnay wine.
"Being Paolo's biggest fan, my ultimate highlight (apart from his vows) was his three-hour DJ set that had everyone, from our parents to the flower girls, on their feet to the early hours of the morning. Perhaps the one of the most memorable parts of the reception was Paolo's impromptu song number with President Rodrigo Duterte. Incidentally, the President and I share our favorite Filipino love song. To the surprise of everyone, they serenaded me with a duet of my wedding march, 'Ikaw.'"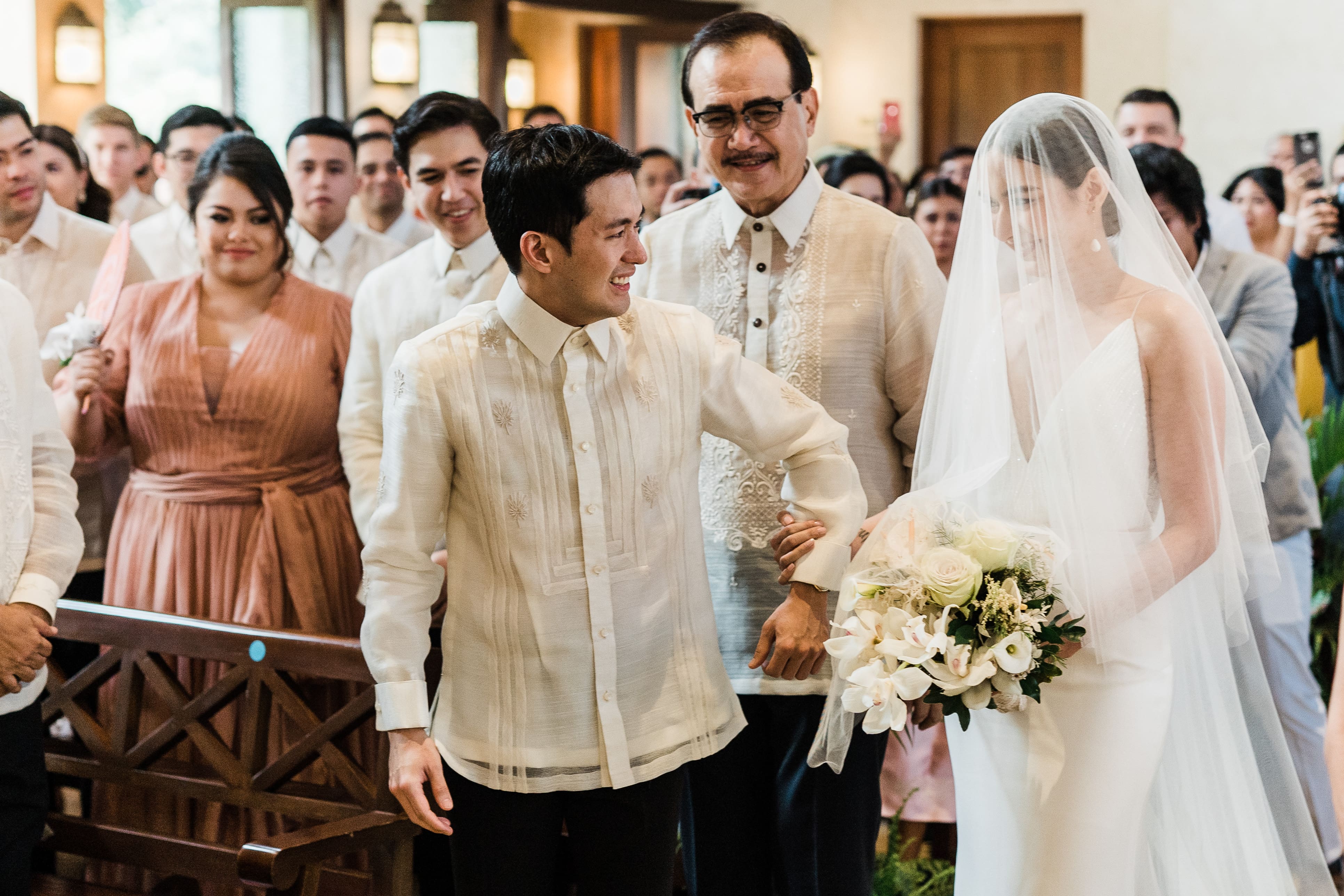 Details
● Number of guests: About 330
● Wedding date: October 12, 2019
● Wedding coordinator: Berlyn Yap Events
● Priest: Fr. Tito Caluag
● Photographer and videographer: Regina Roque Photography and Ian Celis Productions
● Invitations and other printed materials: "I designed our monogram, invites, signages and other printed goods. We had them printed at Bindmaster."
● Hairstylist and makeup artist: "Nate Javier for makeup and Rikka Villarey for hair. My bridesmaid, Erica Manos, did some of the entourage makeup as well."
● Entourage outfit designer: "Rosalyn Lagdameo brought my bridesmaids and mother's outfit to life. My mother-in-law's top was a vintage Rajo Laurel brought back to life by Rajo as well."
● Groom's outfit designer: A barong by Rajo Laurel
● Florist: "I had minimal flowers as I wanted to keep it mainly greenery and fruits. My bouquet was from Serge Igonia, orchids from Flossom by Teddy Manuel, and styling was a collaboration between us and Craftsmith Guild, led by Kitty Bunag."
● Host: Justin Quirino
● Entertainment: "3rd Avenue, DJ Bea Alonso Te back-to-back with the groom's three-hour DJ set. We were also serenaded by the super talented LPU Concert Singers (LPU Laguna) during the ceremony."
●Giveaways: "Woven goods by Stylecat, Malingkat weaves and PIOPIO, personalized giveaways by Something Personal, custom scarves by The Olive Tree, and wooden laser-cut goods."
● Caterer and cake maker: "Catering by Angelfields, a Filipino grazing table by The Bayleaf Intramuros, Charlie's Pritchon, cocktails by Proudly Promdi, and cake by LPU Laguna's Chef Bie"
● Wedding hashtag: #PaoloKeenasal
Photographs by Regina Roque Photography, courtesy of Keena Vazquez