#RealWeddings: This Couple Had Their Wedding At This Dreamy Venue In Chilly Baguio
"We both believe that the recipe for a successful wedding is for the love of the couple to really shine through"
Jay and I met a little over 12 years ago while playing baseball and softball in ILLAM (International Little League Association of Manila). Because of our shared passion for competition and never-ending thirst for improving ourselves, sports has always played a big part in our relationship. We spend most weekends playing golf with the Laurels and Oliveses.
After Jay proposed to me in Ilocos, we decided that we didn't want to have a long engagement and started planning the wedding right away. We both believe that the recipe for a successful wedding is for the love of the couple to really shine through; it carries the whole mood of the wedding… that along with the right mix of the people, good friends, great music, good food and a lot of booze.
We were lucky that several of our friends had already gone through it and offered A LOT of help and guidance. Being in the creative industry, I was more excited to design the giveaways for the wedding, collaborate with the designers and to work with a lot of talented people. Shout out to Alessa Lanot of Life After Breakfast for the illustrated Laurel leaves, Olive branch and the beautiful Cordillera mountains that we turned into a print for most, if not all, of the merch. All of the talented artists and creative people we worked with were so inspiring and made the whole wedding planning journey more enjoyable.
Baguio has always had a special place in our hearts, it brings back childhood feelings of warmth, togetherness and being able to spend days with family, that's why it was a no brainer to choose Baguio as the destination of our wedding. The moment I first saw the chapel in the newly developed Alphaland Baguio Mountain Lodges, my heart was set and I knew that that is where I wanted to tie the knot with Jay. It had the perfect balance between the old and new Baguio, highlighting the beauty of the mountain range in such a unique chapel.
Sarah Bulahan, popularly known as Sabu (also the voice of our same day edit), was generous enough to lend her amazing voice as she filled the space with so much love and warmth as she sang me down the aisle. I was able to get the wedding march of my dreams. There were a lot of happy tears and loud laughter as a few quirks popped up here and there but those things are really just cherries to top the wedding sundae.
The next step was looking for a venue that can fit our guests because we both come from big families and wanted to include all of them as much as possible. We decided to have it at The Infinity Garden at Baguio Country Club. Jay and I wanted our guests to experience the cool Baguio weather in December. The vibe was classic and understated with unique personal touches. The attire was chic more than formal with hints of modern Filipiniana details. Deep jewel tones and bright colors in bold prints were highly encouraged. I wanted to see our guests pop in the midst of all the blues and greens and for them to also have fun with their outfits. Just in case they were unprepared for the cold Baguio evening, we asked BCC to provide heat lamps for the guests in case it was a bit too much.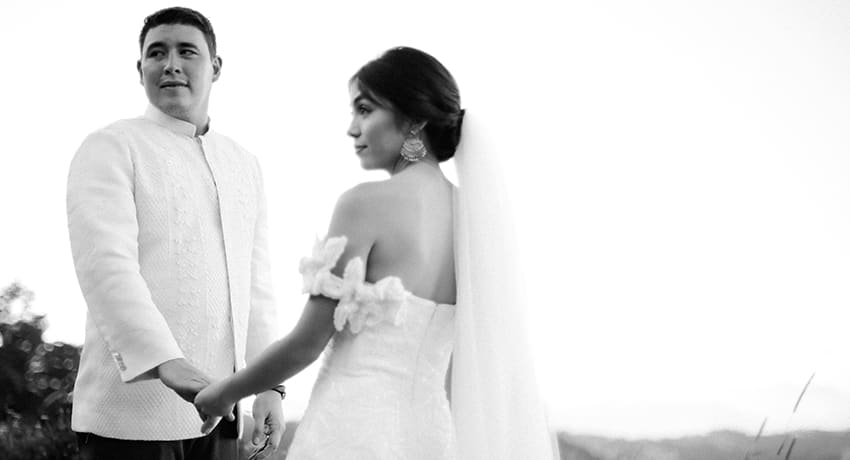 Jay and Kyla
Jay and Kyla
We also wanted the vibe of the wedding to reflect our personality so we made sure that the mood was light and fun. We had Jay's brothers Matt, Carlos and Dan Laurel along with our very good friend Ria Atayde to host the wedding. Intimate speeches were given by our parents, siblings and closest friends.
We hired a Baguio based band called The Edralins who specialize in The Beatles songs, 70s and 80s music to keep all the guests, young and old, entertained. We had special performances by my cousin and lead singer of Session Road Hannah Romawac - Olives and Jay's cousin Franco Laurel and his wife Ayen Munji - Laurel. We made sure that the glasses of our guests were never empty with a gin bar, Baguio local craft beer keg and free-flowing whiskey and wine. We opted to do couple games hosted by Jay's tita and our ninang, Tessa Prieto - Valdes and our good friend Bob Santiago. After the ceremony, DJ Myless Tan kept the party going until the wee hours of the morning.
Our wedding was exactly how we wanted it to be, and is still the best day of our lives. We made sure that we made decisions that would make us happy as a couple rather than following the usual wedding formula. The most important word that I kept with me was restraint and I always asked myself "will this make the wedding more meaningful?". Some of the unique parts of the wedding was Jay choosing to have his grandmother, Dr. Ingrid Sala Santamaria, walk him down the aisle and having his dad, Arsenic, be his best man. I opted to keep my brother, Marco, as my bridesman and to have our brothers walk down the aisle side by side. Our wedding cake was a three piece Burnt Basque cheesecake dream created by Cecily Mabasa of The Barn PH (she also hosted our Despedida de Soltera) and we topped it with a barrel man and woman with our photos attached to it (that gave everyone a giggle). We went for a rustic lechon baka rather than roast beef or steak for the dinner; it was turned into mami for an after party treat.
The most important word that I kept with me was restraint and I always asked myself "will this make the wedding more meaningful?"
We chugged our champagne toast to determine who would rule the household. I won twice by the way, but I'm sure Jay would say otherwise. We played couple games to celebrate marriage which were highly appreciated by the usually tormented singles. We all sang my mom and sister, Pey & Bernice, happy birthday at the end of the wedding to celebrate their 70th and 40th milestones. These small details made the wedding feel like it was ours and everyone else's and if we could, we would pause the last few hours of our party and extend it to a few more hours so we could relive that moment forever. —Kyla Olives-Laurel
Wedding Suppliers:
o Church/Ceremony venue – Alphaland Mountain Lodges Church
o Reception venue – Infinity Garden, Baguio Country Club
o Date of wedding – December 16, 2019
o Photographer – Proudrad (Prenup & Wedding) & Paui Guevarra (Despedida de Soltera)
o Videographer – Ian Cruz Films
o Invitations/Printers – Kasali by Mela Garcia
o Illustrations for the Invitation & Giveaways – Alessa Lanot of Life After Breakfast
o Invitation Envelopes – The Olive Tree
o Designer bridal gown – Atelier Pronovias through Mi Sueño
o Designer after party gown – Franko Barrio
o Designer for the Despedida de Soltera – Gabbie Sarenas
o Designer entourage – Franko Barrio for the Bridesmaids & Flower Girls, Rajo Laurel for Mother of the Groom, Elizabeth Hallie for Mother of the Bride & Maid of Honour and Ines Moda Infantil for the Bearers.
o Groom's Shoes – Blackwing Shoes
o Florist & Stylist – Patricia Bernardo of Thirty One Events
o Jewelry – heirloom pieces from both my grandmothers, Carmen Diestro and Angelita Diokno Olives.
o Church Choir - North Sound Ensemble o Reception Band – The Edralins with special performances by our cousins Hannah Romawac – Olives and Franco & Ayen Laurel
o Soap Giveaways – Custom Olive and Laurel Berry soaps by Amparo's Apothecary & Scarf Packaging by The Olive Tree
o Bridal Fan & Entourage Fans – Casa Mercedes Collaboration
o Thank You Gifts for Godparents – Custom Linens and Totes by The Olive Tree
o Entourage Pajamas – Ash & Muff o Reception Linens – Casa Kyla Inc.
o Cake maker – Cecily Mabasa of The Barn PH
o Hair and makeup artist – good friends of mine, Pia Reyes for makeup and Renzo Lusterio for hair; Iya Gueco's makeup team for the entourage
o Fashion Styling for Prenup Shoot – Cath Sobrevega
o Nails – Dear Alice o Priest – Fr. Jean Baptist Mabibi, CICM & Fr. Fransiskus Gela, CICM
o Gift registry – Knots & Pans and Rustan's
o Wedding hashtag - #kyjaymayforever
o Despedida de Soltera Venue – The Barn PH