#RealWeddings: This Couple Wed In Mystic Pokhara, A Nepalese City That Leads To The Himalayas
There was nothing more meaningful for this Mr. and Mrs. than getting the ultimate opportunity to express their faith in more ways than one with the help of beautiful Tibetan spirituality
Lexi Rodriguez was as in love as a bride can be when she married Drew Switaj in November. The dress was perfect, her makeup on point, her heart a hundred percent sure of the man waiting for her commitment of a lifetime.
But rather than throw a wedding party that put their love story at front and center, Lexi and Drew chose to let their spirituality shine—social advocacies, meaningful passions, and prayers included—which made their choice of venue extra special: Pokhara, Nepal.
The city that has preserved centuries-old Tibetan tradition and faith while beautifully melding it with modern elements was every bit mystical and magical; everything about it enhanced the love between this now-husband and wife, and it certainly helped make the coveted goal of a destination wedding much more meaningful.
"That's whats so great about destination weddings; you get to put together more than just a day program for guests," Lexi explains, as she goes into detail about what holding a wedding and reception in an unexplored pocket of the world was like for her.
Learn more about her Nepalese ceremony, the activities that delighted her guests, and all the pretty outfits spotted at the special occasion in the exclusive feature below!
About the couple
When and how did you and your husband meet?
"Drew and I met in Bali through mutual friends while I was working there for a few months on a project. One of my girlfriends from Singapore said I had to meet him as he would help with anything I needed in Bali and we started off as friends—for me, not so much for him!
"I was also consciously dedicating that time in Bali to really get to know myself, heal, and basically fall in love with me, so I really wasn't looking for a partner.
"A few months later, we went for dinner with a big group of friends and he was taking me home with a pit stop to feed his dogs at his villa. On the way home, I looked up and realized it was [a] full moon, so when we arrived at his villa, I walked out by the pool trying to look for the moon and fell in the pool backwards, fully clothed. Drew's 40 kg. German Shepherd and rescue Bali dog then followed me straight [in] after thinking it was swim time, whilst a very unimpressed Drew looked on at us.
"From then, we started spending more time together and when I was moving back to Singapore, I basically said I don't do long distance. This is a fact. My love language (if you've read the book or done the test) is Quality Time and Physical Touch. So he went all-in—set up an office in Singapore, and I guess the rest is pretty much history.
"I think the key points for me that really made this different [from] any other relationship [were]:
(a) I did the work to really know me and practiced a lot of self-love. I was seeking a lot out of my previous partners and was unsure of who I was as a person even though on the outside, everyone always thought I was very confident.
(b) There was also something about Drew that always made me feel safe in every way. I never feel I have to hide anything from him. I know he will always have my back and he's always allowed me to truly be me which then led to...
(c) We both were completely fearless in going all-in with this relationship because there was an unwavering level of trust. When I say trust, I don't just mean staying faithful to each other; I think that is the easiest form of trust. When we fully trust, we give our partners room to grow and meet us in a place of spontaneity, openness, and abundance. Trust in a relationship is not a means to guarantee results, it is an invitation to move beyond results. It wouldn't be called trust if the results were guaranteed."
How long have you been together?
"Three years."
What are your current occupations?
"I currently head events for Soho House in Asia looking after Singapore, Tokyo, Shanghai, Bangkok, and Seoul. After working for myself since I [was] 16, it's actually so nice to work for someone else. But I absolutely love my job and the company. We are a global membership club for creatives with 26 houses around the world. The people I meet everyday are doing such amazing things, and creating events for 'creatives' really pushes me to think out of the box. It's also great to create events that bring meaningful connections and extremely valuable content. The values resonate strongly with me, which as I got older, it has become really important that my work aligns with my soul.
"After working for Chevron for many years, Drew is currently a partner in a renewable energy company that also focuses on social responsibility projects in developing countries in Asia."
What do you enjoy doing together? Hobbies, interests?
"We are so the opposite in characteristics, but love a lot of the same things. We spend a lot of time in nature with Leo and are really lucky Singapore has some amazing parks we can take him to often. When we travel we really like to discover local eats as well as spiritual and historical places. Drew is an amazing chef so we often host dinners with friends or cook at friends' places. We really cherish our friends who have now become family to us and are a big part of our lives."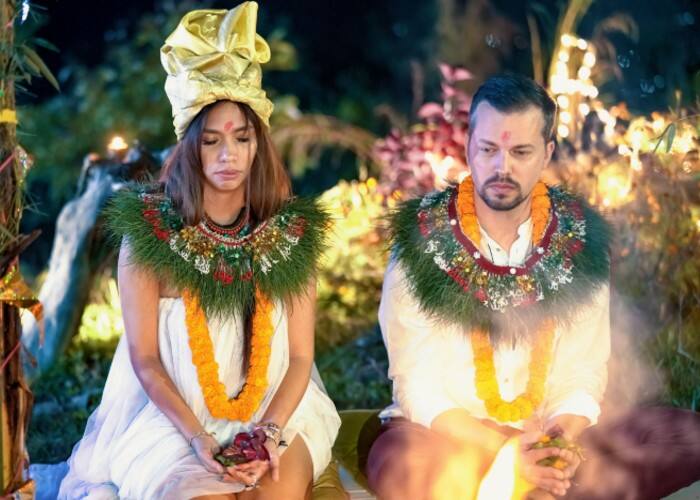 Preparing for the wedding
What is your wedding's motif, and why did you choose it?
"Our wedding motif was created by a dear friend and Australian watercolor artist, Jenna Milne (www.brandedbymrs.com). We really wanted something that was a symbol to show two coming together as one so it is a 'DL' in one motif with a lot of earth elements around it."
How long did you prepare for your wedding?
"We prepared for the wedding for about a year."
What was the best part in preparing for your wedding?
"Putting together the experiences throughout the weekend so all our friends and family could really experience the beauty of Pokhara. That's what's so great about destination weddings, you get to put together more than just a day program for guests."
What were the challenges you encountered along the way?
"The limitations in Pokhara but it was a really great experience to learn to trust and let go! It all ended up perfect.
"Everyone thought we were crazy trying to plan a wedding there, but there were a few things that were really important for Drew and I:
(a) It had to be out in wild nature
(b) It had to give back, and
(c) It had to be a small, intimate gathering
"Drew met Doug [Maclagan] four years ago [when] The Pavilions Himalays just opened and [he] was their second guest there. They hit it off straight away and Drew fell in love with their sustainable and social practices. The resort is one of the world's 'greenest' hideaways. It generates its own power using biogas technology and solar panels. All plastic used is biodegradable and they even have paper soap which is homemade from herbs and aromatic plants found in surrounding forests. They have a farm of cows, buffalo, goats, chickens as well as grow their own organic vegetables.
"The Pavilions Himalayas, most importantly, donates 70 percent of its profits to charity projects for disadvantaged children that have been affected by child trafficking and earthquakes. So having our celebration here really resonated with our personal values and made our guests feel that their trip with us supported Nepal long after their holiday with us.
"Doug usually doesn't let the resort host weddings so we were really happy he let us have our weekend there."
What tips can you share to brides-to-be when it comes to wedding planning?
"Don't sweat the small stuff. At the end of the day, everyone is there to celebrate your union and it shouldn't be about everyone else. Stay true to what you and your partner believe a marriage should be about and come together in a way that resonates with you both.
"The most magical moments for us would definitely be the wedding ceremonies. We did wedding blessing ritual by a local Shaman who usually never leaves the village at the welcome barbecue and then we had our wedding ceremony by a Rinpoche the next day.
"All rituals (from a mass to a deity offering to ceremonial rituals at weddings) are a way of combining intent with meaningful action, awareness and energy. When we engage in ritual, combine intent, meaning, purpose and awareness (functions of our conscious mind) with much deeper movements of energy, correspondences and meaning (subconscious mind). It's felt more than thought so by bringing all these aspects together, we are creating a space that bridges the mundane and the mystery.
"It allows us to slip into our 'sacred self' and with that comes a deeper connection with the patterns and the deeper meaning and purpose of our everyday life. It really doesn't get more beautiful and magical than that so definitely honoring and celebrating in a way that resonates with you and your partner is the most important.
"And the other tip, definitely bring a trusted glam squad! You don't want to be worrying if you look your best. Jing Monis seriously was so amazing, I love him so much!"
The Wedding Outfit
Tell us something about your gown and the designer you picked.
"My dress was made by an old family friend who is a Filipino designer from Amante Couture.
"He really let me have full control on what I wanted for all my dresses. My wedding dress has a lot of feathers! This is because I just love feathers and also because symbolically, they represent trust, honor, strength, wisdom, power, and freedom—all the qualities I want to resonate as a wife and mother in this marriage.
"Drew's outfits were both made by his amazing tailor Q from The Prefecture in Singapore. He decided to go with a purple linen trouser and white shirt for the welcome barbecue, and for the wedding went with a olive green linen suit and the lining was silk skulls and feathers fabric. He accented it with an arrowhead necklace I had given him for his birthday which is an artifact from Alexander the Great's campaign."
Tell us something about your hair and makeup looks, and accessories.
"Our theme for the welcome barbecue was 'Free Spirit' while the wedding ceremony was 'Bohemian Black Tie' which sang true to Drew and I.
"I had headpieces for both days which definitely represent my fun, wild personality! I'm obsessed with headpieces; if you [see] my wardrobe, you would be shocked at how many headdresses and hats I have. It was more a nod to a part of me that I honor, love and, appreciate.
"I also had the amazing Jing Monis, another family friend, who went to our wedding and did my hair and makeup throughout the weekend. I would suggest that as a definite must for any destination wedding—bring a trusted glam squad as I always felt amazing because of it. When it came to my looks, I completely trusted him. He went for a super sleek, straight hair look for the welcome barbecue with natural makeup and natural waves for the ceremony with a more gold and bronzed look for the makeup. Having someone you completely trust to make you look your best seriously takes so much stress off your shoulders and just allows you to enjoy the day."
What are the highlights of the program?
"Different guests arrived at different times so this was our run down for the weekend!
Friday, November 8
"Blessing by the Head Abbot at Tibetan Monastery, Matepani Gumba where we also caught a sunset view of Annapurna Range, followed by dinner at Sarangkot
Saturday, November 9
"In the morning, we gave guests the option of doing a hike to the Peace Pagoda, a momo cooking class, shopping by the lakeside or having a massage. In the afternoon, we all went to Pavilions Lakeview for the welcome barbecue. Some guests were already staying there. For guests staying at the Pavilions Himalayas, the journey included a 20-minute row boat ride across Phewa Lake which definitely made you kick it back to basics and bathe in the glory of mother nature. The welcome barbecue involved the Nepalese wedding blessing and a huge Nepalese barbecue feast. For entertainment, we brought an amazing singer from Paris, Awen Lucille, and then had traditional Nepalese dancers perform.
Sunday, November 10
"In the morning, we gave guests the option of a Tibetan singing bowl class, yoga in the hilltops facing Annapurna, shopping by the lakeside or having a massage.
"In the afternoon, we had the wedding ceremony at Pavilions Himalayas so this time all the guests staying at Pavilions Lakeview could do the row boat ride across Phewa Lake. The wedding ceremony started at 4 p.m. and baby Leo held my train and walked me in while Lucille sang a capella which was definitely my favorite moment!
"My girl friend, Cristina McLauchlan (founder of the Vibe Tribe and a yoga and meditation facilitator), held a collective meditation before the ceremony to open everyone's hearts and set the intention for the ceremony. The Rinpoche then started the blessing which included beautiful mantras and all the guests also lit candles to bless us as part of the ceremony. We then did our personal wedding vows which got everyone in tears. The night then continued in the dining room for dinner and plenty of dancing under the full moon. It really felt like a Disney movie!
Monday, November 11
"We held a Nepalese Hangover Feast for everyone. For those who stayed one more night, we took a boat trip to a temple in the middle of Phewa Lake at sunset. Everyone was pretty tired by then!"
Details:
Number of guests: 40
Church/Ceremony venue: The Pavilions Himalayas and The Pavilions Lakeview in Pokhara, Nepal
Reception venue: The Pavilions Himalayas and The Pavilions Lakeview in Pokhara, Nepal
Date of wedding: November 10, 2019
Wedding coordinator: The Pavilions Himalayas general manager, Rajiv
Photographer and videographer: Aaditya Chand
Invitations/Printers: Designed by Branded by Mrs and silk screen printed on recycled Nepali paper
Bridal gown designer: Miguel Amante from Amante Couture
Bridal entourage designer: Miguel Amante from Amante Couture
Florist: The Pavilions Himalayas
Entertainment: Awen ("We flew her in from Paris who sang with a DJ as well as sang a capella during our wedding ceremony and for our first dance. We had an amazing local Nepalese funk band recommended by Doug.")
Giveaways: "We gave two halves of a geode crystal represent the heart of the mountain and two halves becoming whole, a Philippine South Sea pearl bracelet (champagne color for women, black for men), Himalayan salt, Nepalese Mala Beads, Tibetan Incense from the refugee camp, and Himalayan prayer flags."
Hair and makeup artist: Jing Monis
Bridal shoe designer: Jimmy Choo
Gift registry: "We asked guests to donate to Rights4Children, a Pokhara-based NGO dedicated [to] improving the lives and living standards of disadvantaged children, youth, and families."
Wedding hashtag: #teamswitaj