Beauty Amid Chaos: This Couple's Lipa, Batangas Wedding Became More Unforgettable Due To Taal Volcano Eruption
While eruptive activity at Taal volcano was intensifying, this couple made the most of the situation and celebrated their union in the most unforgettable way
Couples who are about to get married always pray for good weather on their big day. A wedding is a once-in-a-lifetime event that takes months to prepare, so they can only hope that everything about it goes as planned and is perfectly executed. There are always unforeseeable and unavoidable things that could happen on the wedding day itself, but what do you do when a natural disaster occurs? Evan Gonzales and Kristine Peren decided to make the most of their special day and chose to be happy despite the state of calamity.
January 12, 2020 started as a bright and sunny day in Lipa, Batangas. The smiles on the faces of Evan and Kristine matched the brightness of the sunshine that day. However, as they were getting close to saying their "I dos," the unexpected happened: eruptive activity at Taal Volcano in the province of Batangas began to be felt. The smallest active volcano in the world and one of the most active volcanoes in the Philippines spewed a sky-high column of steam and ash, prompting the Philippine Institute of Volcanology and Seismology (PHIVOLCS) to raise the alert level to 4 on Sunday night. Earthquakes also occurred, following the ash and steam explosion, and ashfall has even reached Metro Manila.
The volcano last erupted in 1977—that's 43 years ago! What are the chances that, on Evan and Kristine's big day, a historic event of such magnitude would transpire?! In the face of unthinkable tragedy, they found joy in each other's arms instead. They chose to remember and immortalize this moment with a picture-perfect shot against the background of the giant ash cloud that showed beauty amid chaos.
Their wedding may not have turned out exactly the way they imagined it to be, but at the end of the day, they still feel blessed that they were able to celebrate their love with the people closest to them and, more importantly, they're all safe.
Get to know this couple and read about their wedding straight from real bride Kristine: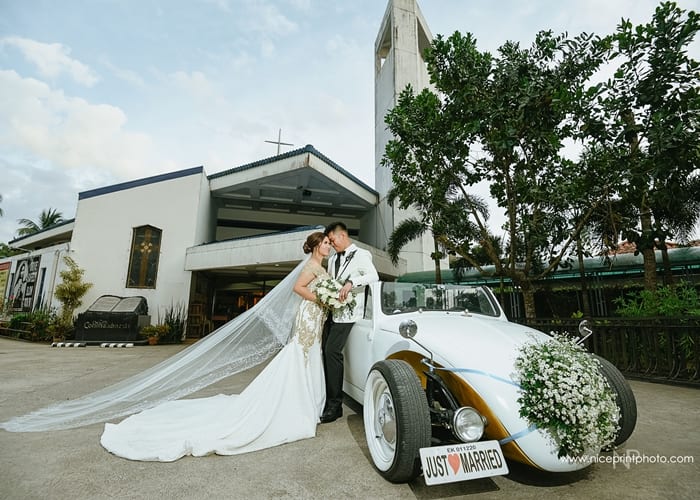 When did you and your husband meet?
"September 2014"
How long have you been together?
"3 years and 3 months"
What are your current occupations?
"Evan is a civil engineer while I am an industrial engineer."
What do you enjoy doing together? Hobbies, interests?
"We love travelling, seeing wonders locally and internationally. Usually, after our daily work, we love visiting cafés and restaurants to eat and eat and eat."
What was your wedding's theme/motif? Why did you choose it?
"Our wedding's theme/motif is black with touches of gold, as we wanted it to be unique. We also see black and gold as an elegant and classy color combination."
How long did you prepare for the wedding?
"We prepared for 10 months."
What were some of the challenges you encountered along the way?
"Since we are from the South, Lipa in Batangas, we really tried to attend Manila wedding expos to see new trends and meet competitive suppliers. We actually attended four wedding expos in 10 months."
What tips can you share to engaged couples when it comes to planning their wedding?
"Plan ahead. Attend wedding expos
—
they're really a big help! Plus, you'll see big suppliers in the industry offering great and amazing discounts there. Yes, wedding preps can be difficult, but just enjoy the journey together."
Please share in detail what happened at your wedding as well as the story behind the picture NicePrint took with the ash cloud in the background.
"To be honest, Evan and I had no idea what was really happening since we were doing our photo shoots. We just heard from some of our guests and suppliers that Taal Volcano was erupting. At around 2:50PM, when we were about to leave our hotel for our 3PM wedding ceremony, I got so scared because our surrounding suddenly started to get dark. Then, our couturier said, 'Nag-aalboroto na po 'yung Taal Volcano, Ma'am.'
"Then when we were inside the church and the ceremony was ongoing, sunod-sunod na 'yung lightning and thunder. Akala ng lahat simpleng lightning and thunder lang, pero after the ceremony, paglabas ng mga guests mula sa simbahan, all were shocked to see the ash cloud or ash formation. Kitang-kita s'ya na pataas nang pataas!
"My husband said, 'Let's have a picture with the ash cloud as background. Minsan lang ito mangyari eh, both the wedding and the Taal volcano eruption.
"Some of our guests went home early kasi lumilindol na raw sa area nila, but many of our guests still stayed and finished the reception program. After the reception, we felt sad for some of our suppliers who were from Manila, because they couldn't go home. I think some of them looked for hotels where they can stay in since it was apparently zero visibility in SLEX due to ashfall.
"We found beauty in the midst of chaos by thinking that our wedding day would really be unforgettable to everyone who attended. Napaka-historic ng araw ng kasal namin since ang tagal na pala ng last eruption ng Taal Volcano.
"We still feel blessed na nagawa naming matapos 'yung reception program bago pa mag-worsen 'yung ashfall."
Details:
Church: St. Therese of the Child Jesus Parish, Talisay Lipa City
Reception venue: Mount Malarayat Golf & Country Club
Caterer: Culinary Adventures by Mount Malarayat Golf & Country Club
Wedding coordinator: White Ribbons PH
Photographer/videographer: Nice Print Photography & Exige Weddings
Event stylist: Tropical Blooms
Florist: Flowers & Greens
Hair and makeup: The Face Mantra by Malick James Hilado
Wedding gown/groom's suit designer: Lauren Berberabe
Entourage gowns designer: Lauren Berberabe
Bridal car: Laguna Lovedub Bridal Car
Invitation: Cumbidado
Musician: The Manila String Machines
Engagement ring/wedding ring: J's Diamond
Lights/sound and special effects: PINE Audio and Lights - Special Effects
Fireworks: Dragon Fireworks Batangas
Grazing table: Gabrielle's Appetizers and Dessert
Cake maker: Marilou Maglinao
Souvenirs: All in Red Clay Factory, Gabrielle's Appetizers and Dessert
Mirror booth: OMG Photo Memories
Photographs by NicePrint Photo
Here's how you can help those who were affected by the Taal Volcano eruption: click here.