#RealWeddings: This Elegant Autumn-Themed Wedding Took Place During The Strongest Typhoon That Hit Japan This Year
A Category 5 storm couldn't stop Miguel and Nicole Rocha from becoming Mr. and Mrs.!
On their wedding day, Miguel and Nicole made it through a record-breaking storm—literally!
But the couple who had the rest of their lives to look forward to couldn't be dampened by the gray skies and perpetual rain; as the groom himself said, it was nature's way of reminding them that he and his bride could weather any storm together as long as they stayed true to each other and remained by each other's sides.
Their pre-wedding shoot in Tokyo, Japan
Bringing their loved ones to Tokyo, Japan to celebrate their union, this couple gifted them with a night to remember and an opportunity to explore one of their favorite cities at mid-autumn, the season that inspired their ceremony's black and gold aesthetic.
Dressed in a Patricia Santos Atelier gown for the ceremony and reception, Nicole was a vision of bridal perfection and definitely looked the part of Mrs. Miguel Rocha, a role she'll play with tons of love from now on to forever.
Learn the details of Miguel and Nicole's rainy but romantic Japan wedding here!
About the couple
When and how did you and your husband meet?
"[In] 2010, through common friends"
How long have you two been together?
"We have known each other since 2010, officially together since 2013." - Miguel
"I was in a relationship, so he patiently (or maybe not-so-patiently?) waited for me for about four years. Aren't I lucky?" - Nicole
What are your current occupations?
"Miguel [is a] brand manager at Commonwealth PH, [and I am] the group head for Marketing and Public Relations for a major Philippine multinational corporation."
What do you enjoy doing together? Your hobbies, interests?
"Netflix, [and] anything to do with coffee, shopping, eating, traveling." - Miguel
#RealWeddings: The Tropical Paradise Of Balesin Was Transformed Into Boho Heaven At This Wedding
Preparing for the wedding
What is your wedding's motif or theme, and why did you choose it?
"Exquisite fall colors: a black and gold theme (Miguel's favorite colors!) for our collaterals, and for our welcome reception." - Nicole
"Our favorite colors perfectly blended with the season." - Miguel
How long did you prepare for your wedding day?
"A year and 3 months after the proposal in Capri, Italy." – Miguel
How did you choose your wedding venue?
"We fell in love with Andaz Tokyo Toranomon Hills the first time we saw it." – Miguel
What were the challenges you encountered along the way?
"Multi-tasking, especially for a destination wedding, [and] trying to keep composed despite a lot of obstacles. The greatest of all was not allowing the biggest super typhoon to hit Tokyo in 60 years (Typhoon Hagibis) ruin our wedding weekend." – Miguel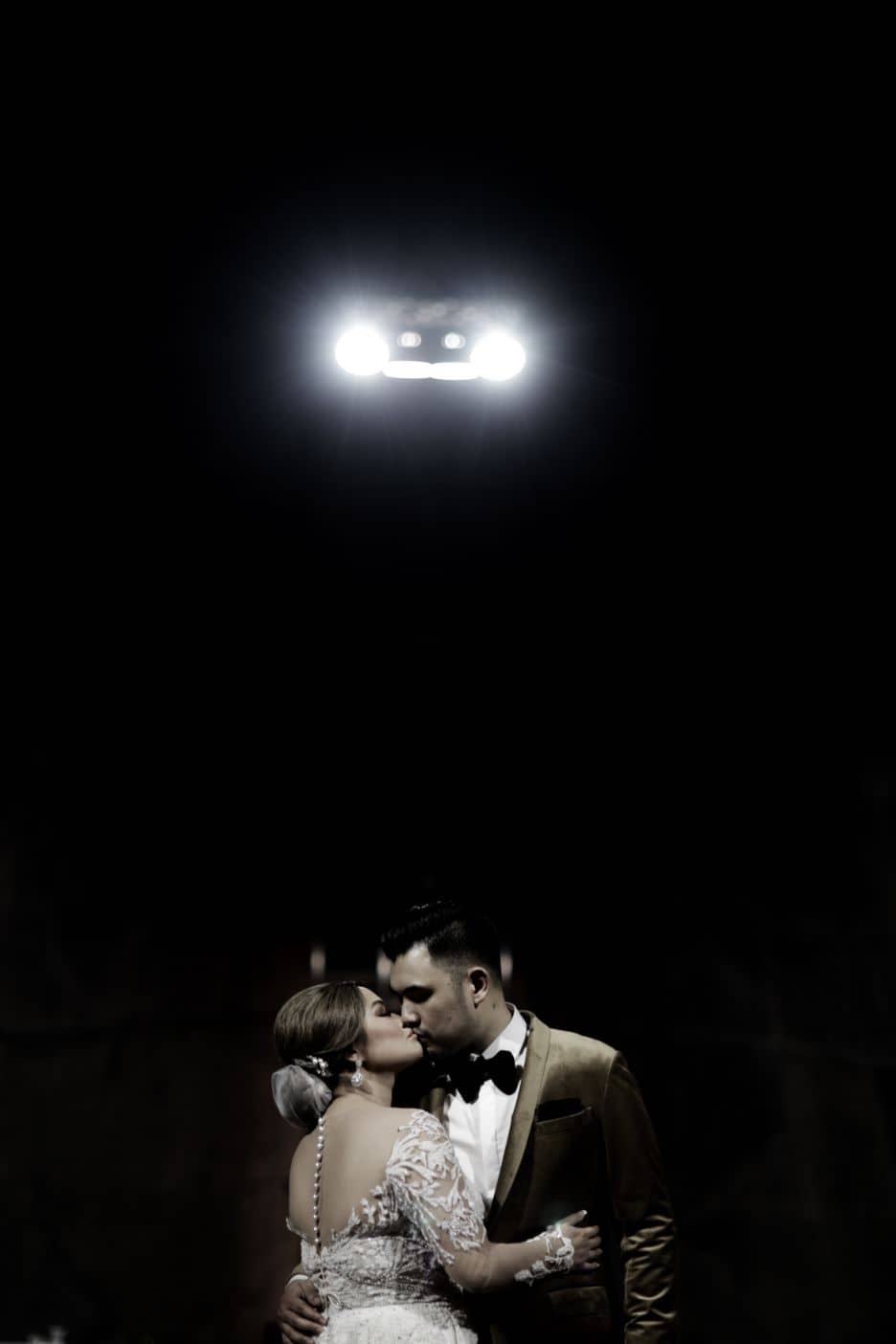 What was the best part in preparing for your wedding?
"It [was] fun to plan everything out. And then, seeing it in person, actually happening on the day itself—there [was] no greater feeling." – Miguel
"Getting to know and love (and let's be honest, also sometimes hate) your fiancé!" – Nicole
What is your tip to couples when it comes to planning a wedding?
"Learn how to compartmentalize. As a couple, you are almost guaranteed to fight. When hurdles are thrown at you, face them head on. Put yourself outside of the situation and analyze, try to find the solution. Most importantly, have fun!" – Miguel
"Exercise patience and prudence. Remind yourself that your significant other is only extra annoying because wedding planning is such a high-stress/high-pressure situation." – Nicole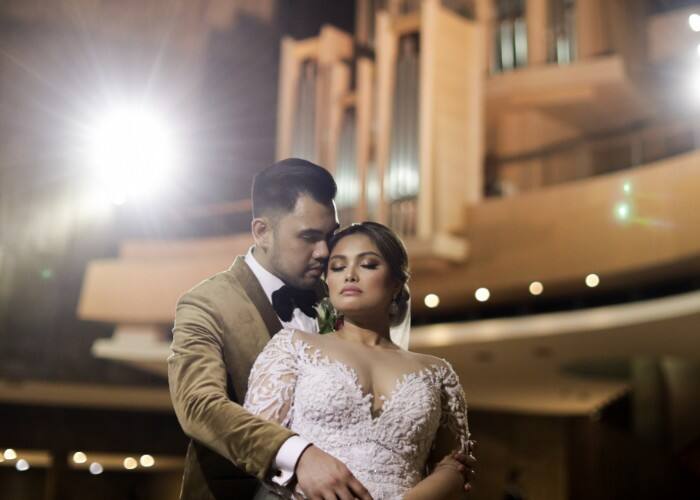 Nicole alberto and miguel rocha's fall wedding
SWIPE LEFT OR RIGHT
TO NAVIGATE BETWEEN PAGES
The Wedding Outfit
Tell us something about your wedding gown, designer, and why you picked them.
"[Patricia Santos'] attention to detail and exquisitely unique design. She made the autumn theme/season of the wedding her inspiration."
Tell us something about your hair and makeup looks, and accessories.
"Inspired by Autumn."
What are the highlights of the program?
"Despite the crazy typhoon that was at its peak during our actual wedding day (talk about showering blessings, right?), everything fell into place. We were even featured on the news for pushing through with it all. I reckon it was all symbolic of our relationship and our ability to overcome anything. Also, seeing all our loved ones from all over the world was just spectacular. From Norway, Amsterdam, Sweden, Italy, New York, New Jersey, Los Angeles, Las Vegas and more." – Miguel
Details
Number of guests: 140
Ceremony venue: Palazzo Ducale Azabu for welcome cocktails and Saint Mary's Cathedral Tokyo for the ceremony (I am a huge fan of its designer who is arguably Japan's most important architect, the Pritzker-prize winner, Kenzō Tange." - Nicole)
Reception venue: Andaz Tokyo Toranomon Hills ("We were supposed to move on up to the rooftop studio and terrace for drinks and dancing... and more of the spectacular view but Typhoon Hagibis got in the way. No matter. It didn't stop us from having the perfect evening. We had our insanely fun after-party indoors." - Nicole)
Date of wedding: October 12, 2019
Wedding coordinator: Yuki Kutsuna of Waqwaq Weddings
Photographer: Pat Dy
Videographer: Red Sheep
Invitations/Printers: "Nicole made everything herself, from the logo/monogram, the invitations, the neon sign, the sintra board for the entrance, the inserts for the goody bags, down to the program of the mass." – Miguel
Designer of entourage gowns: Debbie Co Atelier
Jewelry designer: Cartier
Bridal shoe designer: Manolo Blahnik, Gianvito Rossi and Jimmy Choo
Florist: "Thanks to Nicole's aunt who is based in Tokyo, we had the help of the second biggest flower supplier in Tokyo! Life with Flowers, Japan, and Andaz hotel and our wedding planner, Yuki, for the set design." - Miguel



Host:
Adrian Padiernos
Entertainer: DJ Snu
Priest: Father Raniel "Pal" Berdos
Giveaways: "Monogrammed everything! A sturdy yet chic, black 'MN' tote bag with Japan goodies and a love letter to our guests complete with recommendations (our Tokyo favorites), comfy 'MN' velour slippers, rose gold four leaf clover heart necklaces for the ladies who were part of the entourage, Mont Blanc pens for the principal sponsors, jewelry boxes for the bride squad, and rose petal (real rose petals!) poppers (they smell so good!)."
Cake maker: Andaz Toranomon (wedding reception) and Palazzo Ducale Azabu (welcome dinner and drinks), BON sweets & congrats! (wedding cake)
Hair and makeup artist: Paul Nebres for hair, Jelly Eugenio for makeup
Gift registry: Crate and Barrel
Wedding hashtag: #FromAlberToRocha
Photographs by Pat Dy / Team Pat Dy, courtesy of Miguel and Nicole Rocha