#RealWeddings: A Beautiful "Pandemic Wedding" That Took Place At Morden Park House In London
She wore a Balmain blazer dress, while he donned an ensemble inspired by what Tom Cruise wore in one of the "Mission Impossible" films
Ana Kalaw, now Mrs. James Masami Miyazaki-Ross, worked in fashion and publishing for a decade. If you told her at the beginning of her career that learning about clothes, designers, hair and makeup, and growing her network in the local lifestyle scene would one day eventually help her stage her UK-based wedding while a pandemic raged on, she would have laughed in disbelief.
But as her love story goes, she found herself standing side by side and hand in hand with her groom, Jamie, at London's Modern Park House on October 8, 2020, looking every inch a stylish modern bride. Jamie wore a suit inspired by the Mission Impossible series; perhaps it was a nod to them pulling off a feat as impressive as their beautiful wedding.
"Every step of the way, despite the situation and all the setbacks we encountered, I was happy knowing that I was marrying a man who would do anything so we could be together," Ana says.
She, like many other brides who pushed through with their weddings this year, teaches everyone a lesson about love and marriage: "In the end, you'll realize that you don't need the grand ballroom setting, the lavish floral arrangements or the humongous ice sculpture to happily wed. Joy and beauty can be found even in a less than ideal situation, as long as you're surrounded by people who wish nothing but the best for you"—that, and how free-flowing champagne always makes everything better.
As Ana and Jamie celebrate their first month of wedded bliss together, read about how they planned for a COVID-challenged ceremony, the stories behind their big day's best moments and details, and what she advises to brides-to-be below!
About the couple
How did you and your husband meet?
"Jamie and I met in December 2017 in Bangkok at a dinner arranged by our common friends. I used to live in Bangkok and had gone back to pick up stuff that I had left behind. Jamie, who's based in Tokyo, was there to do his annual medical checkup. Coincidentally, he was flying to Manila for work after Bangkok. So I took him to dinner five days after we met. That may have been our first date."
How long have you two been together?
"Coming up to three years—and now, the rest of our lives."
What are your current occupations?
"I am a writer and editor. Jamie is a financial consultant/analyst."
What do you enjoy doing together?
"Hunting down the best pistachio desserts and amazing Indian/Middle Eastern/Mediterranean food (we travel to eat), watching silly animal videos (more me), staying in nice hotels (more him), getting in our 10,000 steps a day (definitely more him), exploring markets, rambling about the countryside or through cool neighborhoods, ogling art and artifacts in museums, experimenting with home-cooked fare (he cooks, I eat), and lazing away Saturday afternoons (preferably at home on the couch or in a park surrounded by flowers and trees too tall to climb)."
Preparing for the wedding
What was your wedding's theme, and why did you choose it?
"I would say the theme was 'Get Married As Soon As Possible.' Jamie and I got engaged on Christmas Day 2019 and we were originally planning to do the civil stuff in Tokyo or London in mid-2020, and have a much bigger destination wedding sometime February 2021. But, well, COVID happened. Jamie had to fly back from Manila to Tokyo when the Philippines went on lockdown in mid-March.
"We (naively) thought that the whole thing would be over in two months and he could return to the Philippines, but that wasn't the case. The lockdown prevented him from coming to Manila and I couldn't fly to Tokyo because Japan had cancelled all tourist visas. By June, Jamie was already trying to figure out how we could still push through with our plans to marry and be together.
"Getting married in absentia in Japan was one option. Stealing away to Croatia (apparently one of the easiest places to get married) was another. Fortunately, the UK embassy in Manila started accepting visa applications in mid-July and we made the decision to marry in London where Jamie's family lives. (Jamie is a UK citizen, and is a Brit on his dad's side and Japanese on his mother's side)."
How long did you prepare for your wedding day?
"I got my marriage visa from the UK embassy in early August and immediately booked a flight out to London for three weeks later. I did a two-week quarantine after arriving in London and then we gave notice of our marriage at the register's office the day I got out of quarantine. Then we had to wait 30 days to have the ceremony. So we probably had less than two months to plan the actual ceremony."
What were the challenges you encountered along the way?
"I think the challenges we had were quite different from the usual challenges a bride and groom encounters in normal times. We mostly had to deal with uncertainties regarding changing policies and movement restrictions.
"Trying to get out of the Philippines was nerve-wracking, for one. I applied for a visa at that time when the government rescinded on its decision to allow 'non-essential travel,' but was very vague when it came to defining what they considered essential travel. Plus, Metro Manila was put on MECQ a few weeks before my departure date, and I was told that under this restriction, I wouldn't be allowed to leave. It was a waiting game for two weeks to find out if NCR would revert to GCQ, and if I could fly out or not.
"Then a week before I was supposed to leave, the airline I was flying suddenly required all passengers from the Philippines to undergo a PCR test. I had to scramble to find a reputable hospital/clinic that could give me a test and get me back the results within at least 72 hours. At that time, you had to book weeks in advance if you wanted to get a test but wasn't showing symptoms. I must have spent an entire day calling hospitals and clinics. I was finally able to book a slot but ended up having to rebook my flight a week later.
"We thought that things would be more under control in London. But figures started to rise a few weeks after we arrived and the UK government changed the rules regarding gatherings, from 30 people maximum to 15, and only six to a table. It was hard to find a restaurant with a private room that could accommodate the necessary setup, and we only found a venue the weekend before the wedding. There were two long tables for six in the room, positioned about two meters apart. We had to raise our voices to be heard by the people at the other table.
"I also found it difficult to deal with the fact that my immediate family—my mom, Pie Kalaw, and my sister, Iya—and closest friends couldn't be physically present at my wedding. I struggled with this the most. We also felt bad that Jamie's aunt and second mom, Noriko-San, who lives in Tokyo, couldn't be at the ceremony."
What tips can you share with brides-to-be when it comes to planning a wedding?
"1. Try, as much as possible, not to get married in a pandemic. But, if you really have to, then bear in mind that you have to be flexible. Your plans will go awry. Things won't always work out how you want them to, but just believe that they will work out for the best. In the end, you'll realize that you don't need the grand ballroom setting, the lavish floral arrangements or the humongous ice sculpture to happily wed. Joy and beauty can be found even in a less than ideal situation, as long as you're surrounded by people who wish nothing but the best for you. Good times can be had over good food and good wine.
"2. Love the dress you're in. One of my best girlfriends, Prair (she and her husband, Joel, introduced me to Jamie), told me this when I was having second thoughts about the dress I wanted to buy: 'You will be wearing this dress when you say 'I do' to the man you are going to spend the rest of your life with. Whatever you choose, you deserve to feel and look beautiful in it.'
"3. Get help. Our wedding was tiny but I already felt a bit overwhelmed, so I can only imagine the planning and stress a full-blown celebration entails. So ask for advice, surround yourself with a support group and get help. Now I understand why a coordinator is necessary!
"4. Commit to a skincare regimen at least four weeks before the wedding. It helps with achieving that bridal glow (along with a good CC cream).
"5. A wedding will always win when you have a good supply of free-flowing bubbly."
What was the best part in preparing for your wedding?
"Every step of the way, despite the situation and all the setbacks we encountered, I was happy knowing that I was marrying a man who would do anything so we could be together."
What are the highlights of the program?
"We cheered when the officiant was able to pronounce our names right (James Masami Miyazaki-Ross and Ana Piedad Gueco Kalaw). She did give us a warning before the ceremony started that she may struggle with saying our names, but we think she did great! We were told, after we had signed the documents, that it was a tradition at that register's office to hand over the marriage certificate to the head of the household. They gave it to me. Bless those lovely, witty women at Morden Park House."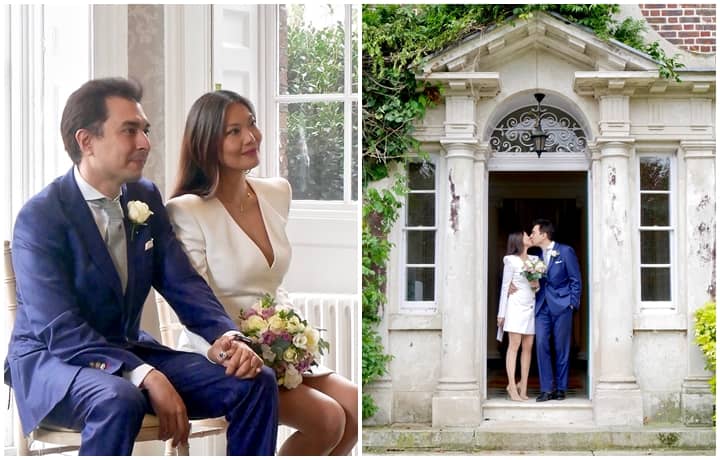 Photo Gallery
Photo Gallery
The wedding outfit
Tell us something about your wedding dress.
"I wore a cream blazer dress by Balmain. I bought it off the rack at a boutique called Matches a week before the ceremony. It has the signature Balmain extended padded shoulders and gold-crested buttons. I had initially wanted to wear something by a Filipino designer so, before I left, I asked my dear friend, Louis Claparols, if he could make me a piece. Unfortunately, Manila was placed on MECQ a few days after we met up, and it was nearly impossible to source fabric, do fittings and coordinate with sewers. So I ended up having to shop for a dress in London."
Tell us something about your groom's outfit.
"Jamie wore a navy blue suit with a one-button jacket and cuffed pants inspired by an ensemble Tom Cruise wore in one of the Mission Impossible films. He had it tailor-made at a shop in Tokyo called Tagaru. Jamie claims that his suit is much cooler than Tom's, though, and that he wore it better. He wore it with a white shirt, a gray wool tie, black JM Weston shoes and burgundy-colored socks."
Share the stories behind your accessories or jewelry, and the inspiration behind your bridal look.
"I did my own hair and makeup. COVID cases were rising at an alarming rate in London in the days leading up to our wedding, so I was hesitant to book a stranger to do my face. There was no way I was going to pull off the dewy, doe-eyed look that looks good on most brides, so I just did what I do best: smudged eyeliner and matte berry lips. My hairstyling skills are quite limited so I went with my usual: straight hair and a middle part. I think it worked well with the dress' minimalist silhouette.
"I briefly considered a sleek high ponytail but realized it would be too severe with the power shoulders on the dress. It would have looked like I was brokering a deal instead of getting married (although, if you think about it, those two are almost synonymous).
"I accessorized with a pair of dangling diamond-link earrings in one ear and diamond studs in the other. These were 'something borrowed' from my mom. And I wore a necklace with a diamond pendant and another diamond-studded pendant that my sister gave me. My mother-in-law, Michiko, lent me a cabochon-cut star sapphire ring so I could have 'something blue.'"
Details
Number of guests: "There were a lot of restrictions in the UK due to COVID. We could only have four guests at the actual ceremony and 15 people maximum at the reception. We ended up having Jamie's parents, Peter and Michiko, and his sister, Eriko, as our witnesses at the ceremony. They all had to wear masks and practice proper social distancing. My mother and sister watched the ceremony over Messenger—Mom in Manila and my sister, Iya, in Singapore. And we had six other guests at the reception, including Jamie's brother and sister-in-law, Denny and Lucie; three of Jamie's London-based friends; and a Filipina friend of mine living in London, Anne Elicaño-Shields. Nine guests in total."
Ceremony venue: "We got married in a beautiful sunlit room at Morden Park House in London."
Reception venue: "Ishbilia in Knightsbridge, which is Jamie's favorite Lebanese restaurant in London. (I got to eat falafels on my wedding day!). Funny thing is, this is the same restaurant that Jamie ate at as soon as he was returned to the UK after being kidnapped by Kurdish rebels in Turkey about eight years ago (that's another story). So now, it's memorable for him for two very different reasons."
Wedding date: October 8, 2020
Wedding coordinator: "The bride and groom."
Photographer: "London was experiencing a surge in cases when we got married so we decided to limit the people in the venues to just family and close friends. My sister in-law, Eriko, took beautiful photos during the ceremony. At the reception, my brother-in-law, Denny and his wife Lucie, took turns taking photos. Sometimes, I acted as photographer too."
Invitations/Printers: "Invitations weren't needed this time, but after the wedding, we commissioned a portrait by Robert Alejandro through Pandemic Pop-up, Kate Torralba's new project. We're thinking of using it on our invites when we have a bigger celebration with all our family and friends—whenever that may be."
Florist: "To be honest, I had completely forgotten about flowers. Good thing, my mother-in-law, Michiko, generously arranged for me to have a lovely bouquet of white and lilac roses with eucalyptus leaves, and a rose boutonniere for Jamie. She got them from a boutique shop named Gardenia in Wimbledon near where they live."
Jewelry designer: "There was no time to get the wedding rings we wanted!"
Bridal shoe designer: "Aquazzura"
Officiator: "The lovely registrars at Morden Park House."
Giveaways: "Laughter, cheer, and memories"
Cake maker: "We didn't have a cake. Instead, we had all-you-can-eat baklava."
Gift registry: "Our post-pandemic plans are still up in the air, so lugging around gifts from one place to the next is the last thing we want to do. Although, my sister, Iya, did arrange for a wedding package to be delivered to us. It included a bottle of Moet & Chandon Brut encased in a metal box printed with our names. We thought that was awesome."
Photos courtesy of Ana Kalaw