#RealWeddings: This Eclectic Autumn-Themed Wedding Looks So Magical
This pandemic wedding was moved five times, but its picture-perfect turnout was totally worth the wait
When it comes to thwarted plans, people have always said that the third time's the charm.
But what if it takes a third, a fourth, and even a fifth attempt to get things right? For pandemic newlyweds Iza Gallego and Angelo Japlos, the answer is simple: requiring five tries to get their wedding day as special as can be didn't make their big day any less exciting. And in fact, the bonus rounds they got were exactly what they needed for things to transform from charming to magical.
They were set to become Mr. and Mrs. in March 2020, just a few days after Luzon was placed under lockdown, and this love story was put on hold. Frustrated as they were, Iza and Angelo put their heads together, got to work, and treated the situation like their first mission as husband- and wife-to-be. In the end, it took them 319 days to get to the finish line: the altar.
It was a full 319 days of planning and praying, of keeping fingers crossed and hoping for the best, however, "the best" is an understatement for what came of all the waiting and wishing, given that this couple didn't enjoy just one wedding, but two!
It's a story best told by Mr. and Mrs. Japlos themselves, so read on to learn how Iza and Angelo pulled off the most memorable nights of their lives, so far!
When and how did you meet?
"We met through Tinder back in 2014 a day before Valentine's Day. We were not actually looking for love, and just wanted to know more people. We were both new to this Tinder app thing, and as lucky as it sounds, it was our first time using the app and found each other immediately. Our world became smaller when we knew that some of our friends and relatives knew each other. We never ran out of stories to share and we soon got into dating each other, and the rest is history."
How long have you been together?
"We have been together for seven years now."
What are your current occupations?
Angelo is a sports analyst supervisor of an international firm, and Iza is a marketing and events manager.
What do you enjoy doing together? Hobbies, interests?
"We love to discover unique food and dining experiences. We love watching psychological movies, going on museum tours, traveling, learning about different cultures, and coffee and wine dates."
What is your wedding's motif, and why did you choose it?
"Our wedding's motif was an 'eclectic autumn theme,' and we chose that motif because of the warm tones that resemble the sunrise and sunset. We thought that the earth tones would be pleasing to the eye and would go well with any other color. We also felt that this color scheme was elegant, classy, and dramatic at the same time."
How long did you prepare for your wedding?
"Initially it took about a year of planning from the date that Angelo proposed, February 15, 2019 in Bali. [Planning took place from] a day after Valentine's Day to our original date [of] March 20, 2020. We had everything set, but unfortunately, the pandemic happened, and our preparation was extended for another year."
What were the challenges you encountered along the way, considering the ongoing pandemic?
"First, we were worried that our marriage license would expire. We did not want to repeat the long process, especially when things were uncertain, not knowing what will happen next or when [the pandemic would] end.
"Second, we had to inform all our suppliers [about] our decision to postpone and reschedule the wedding to another date. Initially, we had rescheduled it to May 12, hoping that everything would be fine by then.
"Third, unfortunately, community quarantine was extended until May 15, so we had to wait for the government to declare general community quarantine (GCQ) in Rizal.
"Fourth, when it was announced that Rizal was already downgraded to GCQ, coming for Metro Manila which was [then under] modified enhanced community quarantine (MECQ), we grabbed the opportunity to travel and have a very intimate wedding in Antipolo with only eight persons, the priest and the photographer included, towards the end of May. We had to make sure that we followed the Inter-Agency Task Force on Emerging Infectious Diseases' guidelines and travel requirements (for PNP checkpoints). Given that, our parents were not allowed to witness our first intimate wedding since they were vulnerable to the virus. This is why we wanted to push through with another intimate wedding but with our family and loved ones."
"We decided to have part two of our wedding in Metro Manila instead of Antipolo, as our original venue for the reception was no longer available. So we waited until the fourth quarter of 2020 and tried to reschedule (for the fourth time) in November, but Metro Manila was still under GCQ.
"So, we had to move again, and reschedule it to February 2, 2021, hoping yet again that situation would be better. On January 2, 2021, we already reserved a new reception venue in Metro Manila, and we were also able to book a new church for the ceremony. However, the government announced again that GCQ [had been] extended until the end of January. We got worried and didn't want to risk our February 2 date, so we decided to move our reception venue to Antipolo yet again.
"Unfortunately, we were not able to get the full refund from our Metro Manila venue, but business is business. We also had to look for another hotel preparation venue as most of our preferred hotels were not accepting any more bookings for weddings. Luckily, we were able to find a beautiful replacement for both reception and hotel preparation venues, and still keep our booked church in Metro Manila, which was about 30 minutes away from both reception and preparation venues.
"All in all, we were still very blessed to have such wonderful and understanding suppliers who helped us along the way. Moreover, even though we had to move our wedding multiple times, we still had the wedding of our dreams."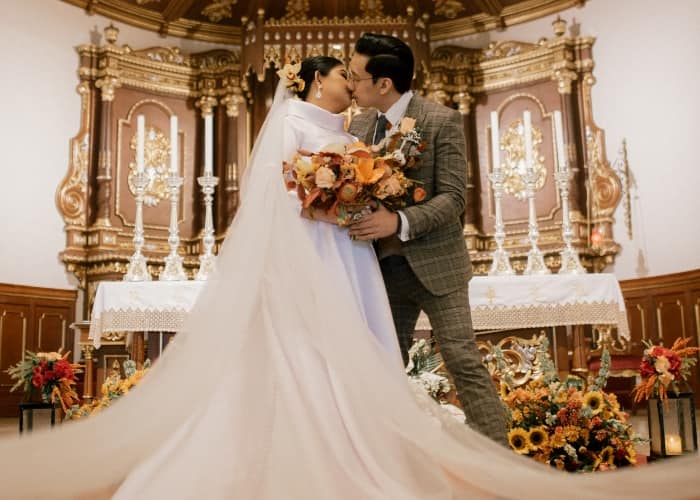 Angelo Japlos and Iza Gallego's Wedding
Angelo Japlos and Iza Gallego's Wedding
What was the best part in preparing for your wedding?
"Given the extended timeframe, we had the opportunity to check and iron out each and every detail to make sure that our wedding will be close to perfect. Also, we realized the things that are essential over the things that are just 'nice to have.' And last but not least, we were able to form an unbreakable bond with our suppliers, who are now our friends."
What tips can you share to brides-to-be when it comes to wedding planning?
"Always communicate with your partner and decide together. (It always takes two to tango!). Don't be disheartened when your first choice [doesn't] work out. Always trust in God because he has better plans stored for you."
Tell us something about your dress.
"My wedding gown was a classic Rosa Clara in full Mikado fabric with high collar, long sleeves, full covered buttons at the back and with an eight-foot long trail. I love the dress because it was simple, elegant, and regal. It was a gift from my aunt because she could not make it to our wedding. Angelo was reminded of Princess Leia from Star Wars because of the high collar! Then, for my reception gown, I changed into a danceable, full-bodied French lace gown (fabric from Valli Tessuti Alta Moda) and sewn beautifully by my uncle who also worked as a gown designer abroad."
Tell us something about your hair and makeup looks, and accessories.
"My makeup artist was Jelly Eugenio. He gave me a non-traditional bridal look by accentuating my eyes with dark brown hues to create more depth that will make my eyes look more dramatic. My hairstylist was Paul Nebres and he opted to do a high bridal bun with floral accents of gypsophilia, orange mokara, orange astilbe, and peach lisianthus from Teddy Manuel's bouquet . They used fresh flowers to accessorize my hair."
Tell us something about your groom's outfit.
"The groom's outfit was a three-piece suit tailored by Vin Orias of Orias Studios. The coat and trousers were made with brown heathery fabric that went well with the nude vest, complemented with a blue polyester necktie. The groom wore a pair of burnt-brown double monk strap leather shoes, and Cartier spectacles to complete the look."
What are the highlights of the program?
"Starting with our church ceremony at Saint John Paul II Parish at Eastwood City, the aisle was beautifully styled by Teddy Manuel with gold urn vases with orange and yellow carnations, large sunflowers, alternately arranged with small maple plants, ferns, and lamps with small autumnal corsage collection of flowers. The ceremony was accompanied by the beautiful voices of The Philippine Madrigal Singers, who sang "The Flower Duet" [from the opera Lakmé] during the entourage march and "Minsan Lang Kita Iibigin" during the bridal march.
"For our reception at The Emerald Events Place, the cocktail area was styled by Teddy Manuel. [He created] Instagrammable nooks of autumnal trees that were picture-perfect, matching the lush green and majestic view of the Metro Manila skyline, as well as both Laguna de Bay and Manila Bay, that [was] a truly magnificent spectacle.
"Cocktails were served outdoors by Moment Catering of The Moment Group. [They offered] a cocktail buffet of our favorite finger foods such as 8 Cuts skinny fries and onion rings, nachos, chicharon bulaklak, [street food], fish tofu, crab and lobster with sauce. There were also pop-up carts from Taters offering their flavored butter, white cheddar, Texan barbeque, sour cream, and nacho cheese popcorn, and Black Wagyu with their signature melt-in-your-mouth wagyu beef cubes and premium Japanese scallops. To top it off, we also served some of our favorite Merry Moo ice cream, with flavors such as dark chocolate, sea salt caramel, avocado, and polvoron.
"Our main menu for the guests was also prepared by The Moment Catering which featured a mix of some of their best dishes such as shrimp-based laksa from Phat Pho Manila, Manam's sisig, roasted pork belly and ube sago shake, Mess Hall's butter milk fried chicken, and our favorite assorted Mo Cookies. These were served at the reception hall which was styled by House & Wedding by Garry Zari.
"According to Garry, the inspiration and idea generator for this vibrant autumn wedding [was] having those rich colors of oranges, canary, taupe, and gold. The design direction was to present the whole idea in a new way. We wanted to avoid a too-literal interpretation and instead opted for something stylish and elegant and yet, timeless. From a magnified leaf came out lines, forms, and shapes that ran through the whole design. The stage backdrop was painted with half leaves in various tones, accentuated with floor lamps that [mimicked] leaves and branches [through] a modern approach. Garry placed five of those to represent the five years of our love and courtship before we got engaged.
"For the materials, the protagonist for this design [was] the repeating dried leaves, which [were] dried [for] almost a year, because of the pandemic. Keeping them for a long period of time added character to [their] color and texture.
"For the accents, the table assignments were unique since I [Iza] came up with an idea of coding the tables with different forest animals. Garry painted these forest animals on ceramic tiles using watercolor, and placed them on top of a block of wood accented with dried cinnamon and flowers. The handmade menu cards were also a favorite because Garry's team took cheese cloth and used the process of decoupage printing for the text.
"The hanging lamps [were] the culmination of all the ideas for our eclectic autumn wedding. The curvy lines forming lamps that [were] suspended as canopy on top of the VIP tables represent the flying leaves of autumn.
"Last but certainly not the least, to entertain our guests, our first dance started with a slow dance accompanied with the song "I Won't Give Up" by Jason Mraz, then followed by a mashup of 80s and 90s hit songs that delighted all our guests."
Details:
Number of guests: 70
Hotel preps venue: Eugenio Lopez Center (Antipolo City)
Ceremony venue: Saint John Paul II Parish (Eastwood City)
Reception venue: The Emerald Events Place (Antipolo City)
Date of wedding: February 2, 2021
Wedding coordinator: Kiss The Girl Events (led by Arbee Delgado)
Photographer: The Daydreamer Studios
Videographer: Mayad Studios (Director: Carmela Hubag)
Caterer: Moment Catering (The Moment Group) / Taters / Black Wagyu / Merry Moo
Bridal gown designer: Rosa Clara
Bridal robe and stylist: Geof Lagria, Geof Lagria Styling
Bridal shoe designer: Manolo Blahnik
Groom's suit designer: Vin Orias, Orias Studios
Jewelry designer: Kate Valerio (engagement ring) / Dahlia Jewelry (wedding ring)
Bride's hair and makeup artist: Paul Nebres and Jelly Eugenio
Groom's grooming: Groom Me Weddings (Bryan Cruz)
Entourage gowns: Mara Chua, Opposites Attract Studio
Entourage robes: Macy's
Entourage HMUA: Ten Franco and Eyzi Salang
Invitations/printers (if applicable): The Invitation Co., Global Invitation (misalette), Karatula Marketing (safety signages)
Set designer/stylist: House and Wedding by Garry Zari (Garry Taganas)
Florist: Teddy Manuel
Host: JC Alelis, Master of Ceremonies
Entertainer/s: Manila String Machine / Philippine Madrigal Singers (choir for ceremony)
Officiator: Father Victor Clemen
Giveaways: DIY (an organic abaca bag packed with different Filipino goodies that will remind the VIPs of a sunny afternoon merienda
Face Masks: Thalasoshop
Cake maker: Miel Cake Design
Sparklers and confetti: Dragon Fireworks Inc.
Photobooth: Baicapture
Bridal car: A Perfect Day Wed Car Luxury Bridal Cars Manila
Chairs: K & N Event Rentals
LED, Sounds & Lights, Tech: Hifi Blitz and BFRC Asia
Wedding hashtag: #JAPLOSniIZA
Photos courtesy of Angelo Japlos and Iza Gallego