#RealWeddings: This Couple Pushed Through With Their Boho-Indian Wedding Amidst the Pandemic
The accessory designer married the love of her life in a simple yet striking ceremony and reception!
Not many people know this, but we actually met on Tinder! He was getting his Masters Degree at La Salle during this time, while I was getting my second degree in Interior Design at PSID.
We swiped right on each other and matched sometime in June 2014, after which Shane messaged me about having some common friends in La Salle, which I replied to right away. What's funny is he replied to me almost two weeks after! All that time I thought he wasn't interested, but he was just busy balancing school and a day job at the same time.
After that reply, we talked almost every day for a week, and we finally decided to "eyeball" in Eastwood at this restaurant/bar called Publiko on July 11, a date that we would later on call our 'meet-sary' and celebrate every year. It was a rainy night, and we got to know each other over pizza and beer. It was an awesome first date! We have been together for six years since then, and have been inseparable since.
After four years together, Shane proposed to me in Angkor Wat in Cambodia, just a day before my birthday. It was definitely a memorable one! Since then, we've been planning our dream wedding—a destination beach wedding with all our family and friends.
Everything was smooth sailing with the wedding planning until a week before our wedding, Covid-19 happened. We regretably had to postpone our church wedding to a later date due to the pandemic. With our church wedding on hold until next year, we thought it best to have an intimate civil ceremony instead. We decided to get married on September 25, which is our actual anniversary as a couple, making this date even more special.
Off the bat, we knew we wanted this to be simple but at the same time still very "us". With around 2 weeks to go, we searched for suppliers online and planned our wedding! Just like the wedding we had planned earlier in the year, we wanted it to still have that tropical boho-Indian feel. We decided to get married at the Hall of Justice, to be followed by an intimate lunch with our immediate families at Ninyo Fusion Cuisine and Wine Lounge.
My dress was made by the Hamu design duo, Ham and Mamu, who helped me bring the piña Filipiniana dress of my dreams to life, while my colorful bouquet was custom made by the guys over at The Flower Man PH, who I stumbled upon online.
The other details of our wedding just fell into place as we got closer to the date. I designed my own earrings as well as those of my mom, sister, and mother-in-law, while the styling of our reception venue was very DIY as well, where we used the Indian lanterns we bought in Mumbai, originally intended for our church wedding, and mixed these with colorful bottles and tropical leaves.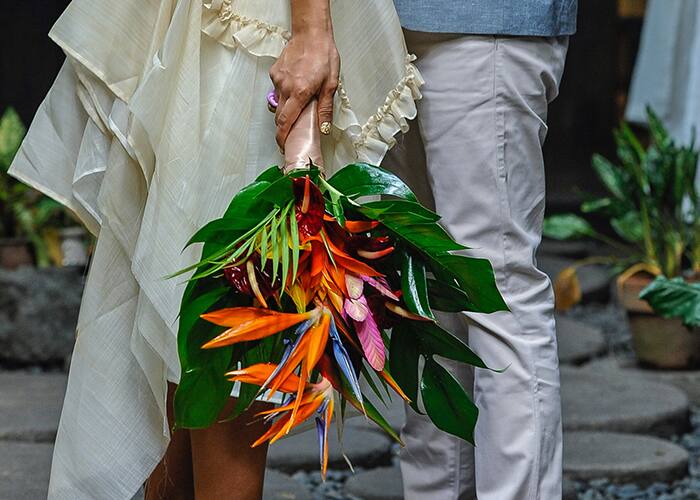 #RealWeddings: Carla and Shane
#RealWeddings: Carla and Shane
Despite the less than ideal planning time for our civil wedding, everything turned out just how we imagined it to be. It was the wedding we always wanted—a day where we were able to spend with the people we loved most.—Carla Cruz-Bellare
Suppliers:
Church/Ceremony venue: Hall of Justice
Reception venue: Ninyo Fusion Cuisine and Wine Lounge
Date of wedding: September 25, 2020
Photographer: Greg Mayo
Videographer: Bobby Maddatu
Invitations/Printers: Sqooid Designs
Designer Bridal Gown: Hamu Studio
Designer Groom's Shoes: Recraftsman
Florist: The Flowerman PH
Jewelry Designer: Earrings by Tropik Beatnik (@tropikbeatnik on Instagram)