#RealWeddings: The Beauty In Simplicity Was Highlighted At Charles Tiu & Sari Lazaro's Tagaytay Wedding
The couple only had one month to pull off this out-of-town wedding, but the result turned out to be elegant and simply lovely
Sari Lazaro was set for a springtime Italian wedding.
She had scheduled her ceremony for March this year, and being a fashion designer, she even toyed with making her wedding dress herself. Tickets were booked and a venue was found, and things were exciting! Her then fiancé, Charles Tiu, was looking forward to their upcoming nuptials just as much as she was, and the two had everything planned and ready to go shortly after getting engaged in November last year.
2020, however, had other plans.
March turned out to be the COVID-19 health crisis' peak in Italy; piazzas and churches were devoid of life, Italy's population was stuck at home, there was no dining out or night life to speak of, let alone plans of international weddings pushing through.
What was a bride like Sari to do? Simple—keep calm, and stay in love. Because isn't that what weddings are about, anyway?
Despite having to move their wedding date (and venue!) not once, but twice, Sari and Charles never lost focus on the occasion's true meaning: that their wedding was a celebration of their relationship, and that a pretty venue (yes, even one as beautiful as an Italian church surrounded by the most picturesque landscape you ever did see) was but a bonus.
The Tiu-Lazaro ceremony finally pushed through on July 24—just a little over a week before quarantine restrictions were tightened yet again (it must be true, what they say—third time's the charm). Inviting only a few friends and family members on the special day, the couple was happily wed in Tagaytay Highlands in a private venue dressed in classic blue and white.
With just one month to prepare for their "I dos," Sari and Charles can definitely inspire other husbands- and wives-to-be with their epic story of a wedding! Learn more about their story of falling in love, getting to know more about each other during this time, and what other brides can gain from their experience.
Sari Lazaro talks about the details of their wedding below:
About the couple
How did you and your husband meet?
"We met briefly about three years ago through a common friend. It happened to be in a place in Poblacion called Polilya."
How long have you two been together?
"We have been together for two years."
What are your current occupations?
"He is currently working for their company that supplies floors. On a normal day (no pandemic), he wears many hats. He coaches for three teams (D-League, MPBL and Mighty Sports), works for their family during the day, and at night after his day job, he is a sports anchor. I am a fashion designer and recently, we opened up a coffee business together called Your Daily Dose."
What do you enjoy doing together?
"We like to eat! On a regular day, when our schedules are so busy, spending time together is gold. We are a normal couple who likes to drive out of Manila to have breakfast during the weekend, spend the day in Tagaytay, and enjoy the day. We watch movies or shows together. We have date nights. We just enjoy each other's company a lot, even if we are doing different things, but we are physically together. After this pandemic, I have a few activities lined up, things we can easily do in the city. For example, Sip & Gogh, leather making classes, archery, and perhaps visit the National Museum of National History. He, on the other hand, would like to go riding."
Preparing for the wedding
What was your wedding's theme, and why did you choose it?
"We had actually planned for two weddings. Our original plan was to get married in Bracciano last May. Everything was set but the pandemic happened. At that time, in late February, Italy had the highest number of COVID-19 cases in the world, so we decided to move our wedding on the same date, to the Philippines. At that time, we did not know the gravity of the situation yet, so we planned for a wedding here.
"In March, the lockdown happened, so we had to postpone the wedding again. In June, my husband (then fiancé), decided to carry on with our wedding plans since the government had eased up on quarantine restrictions. We literally had a month to plan and prepare everything. I am quite happy that he is such a helpful and hands-on partner (during wedding planning and everyday). We had a mix of the two themes we planned for in May, but in a more minimal way."
What were the challenges you encountered along the way?
"COVID-19, time, not having all of your close friends and relatives present, and quarantine restrictions, specifically for my entourage gowns. Our workshop is located in Mandaluyong (the city in Metro Manila with the second highest infection rate), so our workshop was closed until mid-June. There was no way we would be able to make gowns, so most of our guests just used what they had and some just got online. I just gave a color and it worked out well. At the end of the day, these things do not matter so much. We just wanted to get married and have our families and loved ones safe."
What was the best part in preparing for your wedding?
"My husband says the whole process of planning for the wedding and meeting with the suppliers to know how they can turn our vision into reality. For me, I particularly enjoy the creative process of making mood boards for the theme, styling, and all the little details. Making the content of the 'wedding kit essentials' box was fun, too. I also enjoyed recording the song I sang, as I was walking down the aisle. It was so meaningful because the song was mainly about offering our marriage to God. To me, nothing is more important than making Him the front, center, and back of our marriage."
What tips can you share with brides-to-be when it comes to planning a wedding?
"Organize, organize! Make a checklist of all your paper requirements before anything and follow through on that list. Create your mood board and put everything you want inside, so your stylist can envision your theme better and easily turn it into reality. Choose a theme, make it true to who you both are. On the day itself, some things may not go the way you want, but let it go, have fun and enjoy the moment."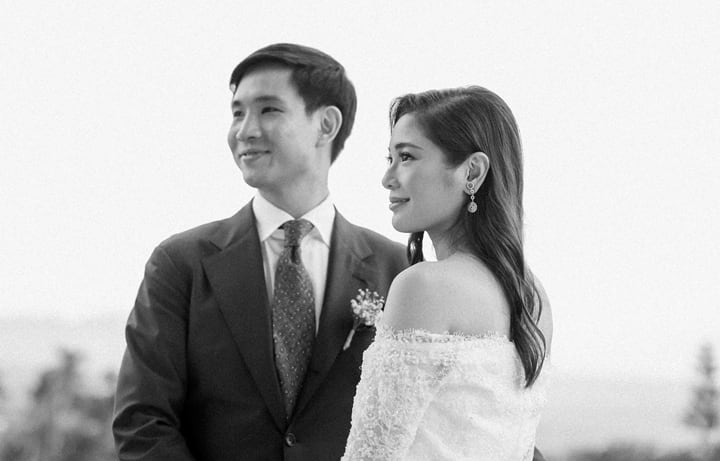 Charles Tiu & Sari Lazaro's Wedding
Charles Tiu & Sari Lazaro's Wedding
The wedding outfit
Tell us something about your wedding dress.
"I was going back and forth about the idea of making my own wedding gown, but since time was not on my side, and we needed to produce 17 gowns including mine in a span of two months, it did not sit well with me. When I visited Rome at the end of February for our May wedding, I visited an atelier in Rome called Antonella Rossi. (They make the finest lace in their workshop). After talking to the owner, I immediately knew I wanted them to make my gown. They just got me.
"True enough, this synergy would be so important because of the lockdown. It meant not being able to go back to Rome to fit my gown. They worked seamlessly with me by sending photos of the model wearing the gown, and thankfully, making gowns is what I do for a living so I knew what to tell them, and I knew where to make the adjustments. As soon as they were done, they shipped the wedding gown to Manila, and the gown fit me like a glove.
"They used two layers of lace. The top layer was embroidered with Chantilly lace with a slightly mermaid body and off-the-shoulder neckline. I wanted it to be simple, classic, and romantic at the same time. (Tip: you know that the lace and gown is made of good quality if the gown is light!). They did such a great job."
Share the stories behind your accessories or jewelry, and the inspiration behind your bridal look.
"I wanted to look like myself and not too dolled up. I opted for fresh makeup and soft curls for the ceremony with my hair down."
What were the highlights of your big day?
"Speeches are always a nice portion of the program. You get to know the couple more and their family. Since most of our friends and cousins could not make it due to the pandemic, our closest friends and relatives made a video talking about who we are as a couple and their best advice on being married. I thought that was nice and personal."
Details
Number of guests: "Thirty five, following Batangas MGCQ [guidelines]. Tagaytay Highlands did a fantastic job at making sure everyone was safe by testing all of their staff members, and providing us with purifiers with UVC that kill all bacteria and viruses on the surface and in the air. They put the purifiers in every corner of the church and in the venue. Guests got tested as well before the wedding as well as all suppliers."
Ceremony venue: Madre De Dios, Midlands
Reception venue: Midlands
Date of wedding: July 23, 2020
Wedding coordinator: Tagaytay Highlands
Hair and makeup artist: MK Qua and Aries Manal
Bridal gown designer: Antonella Rossi
Bridal shoe designer: Isabel Marant
Groom's suit maker: Dalcuore and Ambrossi Napoli from Signet
Photographer: Pat Dy
Videographer: Jason Magbanua
Caterer: Tagaytay Highlands
Invitations and printed material: Bride
Florist: Tagaytay Highlands
Host: Groom's brother, Chris Tiu
Entertainment: Saxophone and band
Event stylist: Tagaytay Highlands
Officiator: Robert Manansala
Giveaways: Wedding essentials kit, Sari Lazaro atelier masks, couple's own lab tested organic disinfectant, and blue fans
Cake maker: Sweet Solutions
Photographs by Pat Dy, courtesy of Sari Lazaro