#RealWeddings: Engaged Couples Will Get A Lot Of Tips From These Newlyweds And Their Modern Minimalist Wedding
This couple's ethereal wedding featured an elegant color palette of dusty blue, gray, white, gold, and nude
For many engaged couples, wedding planning is like a project, executed in collaboration with each other. To some, it even serves as a sneak peek to how their life as a married couple could be—how they work with each other and how they decide on matters can give a feel of their dynamics for when they embark on a new life together.
Such was the case for RJ dela Cruz and Cherry Ermita—theirs was a wedding that not only mirrored each of their personalities, it also allowed them to discover new things about themselves and their relationship as well as rediscover what they have in common. Their collaboration resulted to a beautiful event that symbolizes the beginning of a lifetime of wedded bliss.
RJ and Cherry's wedding was filled with DIY projects that made the event more personal and unforgettable. It was a well planned, tastefully curated, and visually delightful affair that put the spotlight on their amazing teamwork and their unconditional love for each other—thanks in part to their wonderful team of suppliers!
The bride deserves special mention for her sophisticated taste, her attention to detail, and her practical wedding planning hacks that many brides-to-be can learn a thing or two from. Here, real bride Cherry talked about her and RJ's modern minimalist wedding and shared tips for putting together this once-in-a-lifetime event: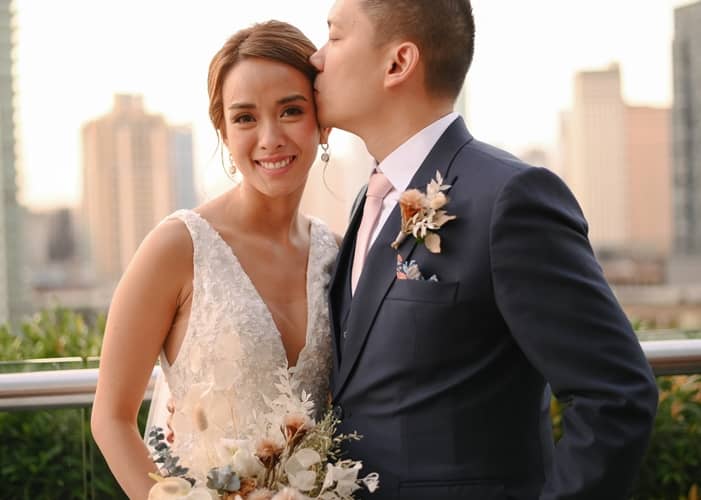 When and how did you and your husband meet?
"We met at work. We don't work in the same office but are part of the same industry."
How long have you been together?
"RJ proposed to me two months before our third anniversary. We are now three months shy of our 4th anniversary (but I guess that doesn't count now since we have a new date to celebrate)."
What are your current occupations?
"RJ is a foreign exchange trader. I'm a money broker."
What do you enjoy doing together? Hobbies, interests?
"We share the love for outdoors. We love going to the beach, hiking, biking. We make sure we go on at least one ski/snowboard trip a year. We also love to go on food trips, happy hours and drink negronis!"
What is your wedding's motif, and why did you choose it?
"We don't exactly know what to call our motif but we wanted it to feel ethereal yet modern and on the minimalist side. Color motif was dusty blue, gray, gold, white, nude-ish shades. We also encouraged our guests to come in muted colors or pastel outfits so that photos will come out nice."
How long did you prepare for your wedding?
"10 months"
What were the challenges you encountered along the way?
"The toughest part was deciding on a date and making sure all the suppliers we wanted were available on that day. We went as far as creating an Excel file to determine which dates they had in common plus taking into consideration the time slots the church had available."
What was the best part in preparing for your wedding?
"Cherry: The never-ending search for pegs! I enjoyed creating our mood board (I turned it into a PowerPoint presentation)! And of course, seeing them come to life!
"RJ: Meeting the different suppliers in person and getting to experience firsthand how they interpret our vision"
What tips can you share to brides-to-be when it comes to wedding planning?
"Oh my! I can go on forever answering this question. I come from a big family and because of this, 330pax was the smallest wedding we could have. But even with such a big guest list, I can say that your wedding can still be intimate and personal, just like ours.
"Guest list: Make sure you invite the people BOTH you and your husband are close to. If only one of you is close/connected to that person, make sure your partner at least knows them and has seen/hung out with them twice. This helped me decide if I should invite certain people I used to be close with in the past but no longer have the same connection at present. This was a tough decision to make but I had to create a system to help me decide. Have your guest list A, B and maybe C. Invite your As early especially those titos/titas you have to invite even if you didn't want to and try to get a feel if they can make it or not. At some point, give yourself a deadline to check on your guest list to see if you can now invite some of the ones in guest list B. Guest list C are the people you can maybe just invite to your wedding after-party! We did this with people we like to occasionally spend happy hour with but won't really know anyone else in our wedding. They came at 9:30 and enjoyed the after-party with us!
"Make it feel intimate and personal despite the number of guests. We did this by trying to DIY as many things as we can and really carefully choosing all the details of our wedding. Our wedding invite and all artworks related to it was 95% DIY. Design and layout was all from us and we just asked out friend who is a graphic designer to lay it out. Luckily, I know my way around Photoshop so from the base envelope design—I designed everything else—Facebook event banner, missalette, note cards/gift cards, etc. All other details like the gold specks, painted parts, wax seals were also made by us.
"Budget: Do not scrimp on food and alcohol. This is what your guests will remember (if they're not too wasted to forget things haha). Another way of cutting costs is to tap into your friends' talent. Ask them to help you and support their businesses. Be resourceful—go online, research and be creative. Lazada and Shopee were my go-to sources for everything I needed. Imagine I was able to find neckties for the entourage for P66! I also recreated the frayed edge ribbons (they cost a fortune online!) by buying fabric in Fabric Warehouse and asked them to help me rip them nicely into ribbons. Another thing that help us save on cost was going to bridal fairs! Some suppliers have good deals or give discounts if you sign up with them during bridal fairs. We went to Toast which is where we found our supplier for flower girls' dresses only for P1800! (for the bearers, we just bought suspenders and bow ties in SM Department Store). We also won our free pre-nup by Jason Magbanua at the Brides and Beyond fair. We joined their Instagram promos/raffle and luckily got picked to win one of their prizes! Lastly, if there are things you think you need/want but you know deep inside you're still not 100% sure or you're still unsure if you have the budget for it, wait until the very end to get it. For us, it was the indoor sparklers, after-party food, and disposable cameras. Those were the things we thought were nice to have but we knew we were already a little bit over budget. We really waited until the week of the wedding to decide if we were going to get it or not. We ended up not getting those three and we don't regret it!
"Make sure to ask around for different recommendations and feedback regarding all suppliers."
Tell us something about your gown and the designer you picked.
"Before getting married, the only thing I knew (or at least, I thought I was sure of) about my wedding dress was that it was going to have a sweetheart neckline. However, I got a very good tip from a friend and she said to try on as many RTWs as time would permit. She said to try different necklines and silhouettes to really make sure I end up with the one that suits me the most. So I started out with all RTW shops and told myself that if I find one that checks most of the boxes (price, lace, front, back, length, etc.) then I would just buy off-the-rack.
"In my journey, I realized that a sweetheart would make me look cute but a deep v-neckline would make me look beautiful, or I guess more mature—and so I decided to go with a deep v-neckline. Long story short, I didn't find one off-the-rack item that was worth it for me, so I went on a search for a designer. With the traffic nowadays, I narrowed down my options to designers in either Makati, BGC, or Wack-Wack. I paid Hallie a visit and she showed me a piece from her then upcoming bridal collection. I fell in love with it the very moment I saw it. I saw how she plays around with the laces/embroidery and also like her style (not so dainty, elegant and modern). It was so easy to work with Hallie. She is very patient and really gets to know her brides/clients to be able to execute what they want but with the additional sparkle and touch of her talent.
"Pro tip: Dont' forget to try on the dresses with the veil and faux flowers which these bridal shops usually have. It gives you the complete feel of the dress/look."
Tell us something about your hair and makeup looks, and accessories.
"Qua did my hair and makeup two years ago when my sister got married (he also did her makeup then). That was my first time to experience his magic. As soon as I booked the church and venue, Qua was the next one I booked. I didn't want to experiment with other hair and makeup artist anymore, because what for? I had no pegs for my hair or makeup because that's how much I trusted him with my look.
"We did the usual relaxed, big waves, hair down for my prep look. I wanted a loose and relaxed bun for church and had asked my friend Nikki (who did our bouquets) to give me some fresh flowers for my hair. As for the reception look, Qua and Aries [Manal] wanted me to match the look of the reception, so they went for the 'Diwata' look on me. To be honest, as they were describing how my hair would be, I told them, 'That's so not me!' Halfway through curling my hair, I made Aries stop and asked him if he was sure it would look nice on me.
"But another advice I got was to just 'let go' on your wedding day. I thought, I got these two for a reason—it was because I trust them. So there, I got my 'Diwata' look and got a million compliments after! My friends were actually surprised because they knew it wasn't me to have my hair like that, but they were so happy I went with it because it looked so nice!"
What are the highlights of the program?
"It would have to be my dad's speech and the father-daughter dance. My dad's speech because everyone loved it! It was super funny, heartfelt, and he was able to get the audience's attention. My personal favorite highlight, though, was my dance with my dad. My dad and I love to dance the swing at parties and weddings. I'm one of the few people my age who look forward to the ballroom dancing part of the program so I can dance with my dad (I really think he dances well! He taught me how to dance the swing). We chose to dance the swing to the song 'Last Dance' by Donna Summer because 1) it's my 'last dance' with my dad before he totally gives me away, 2) it starts out slow so we still get our chance to slow dance, and 3) it would be the perfect program ender to segue to the after-party."
Details:
Number of guests: 330
Church/Ceremony venue: St. John Bosco Parish
Reception venue: Whitespace Manila
Date of wedding: November 29, 2019
Wedding coordinator: Events by Marge Montemayor
Photographer: Pearl Studio by Jaja Samaniego
Videographer: Treehouse Story
Invitations/Printers: Design by the couple together with our friend Miguel Castor
Printers: Kasali.ph (inserts), GA Printing (cards)
Designer bridal gown: Elizabeth Hallie
Designer entourage: Elizabeth Hallie (ladies)
Florist: Nikki Silos (Bouquets & boutonnières)
Host: Sam YG
Entertainer/s: Jazz Trio by RJ Pineda
DJ: Euric
Set designer/stylist: Gideon Hermosa
Church choir/music/band: St. John Bosco Parish Band
Priest: Fr. Bernie Carpio
Giveaways: Beyond Stitched, personalized abstract family portraits by Patricia Oien, Modern Myth, Walking Photobooth
Cake maker: Bizu
Hair and makeup artist: Mark Qua and Aries Manal
Bridal shoe designer: Staccato
Gift registry: Rustan's Weddings & Beyond, Knotsandpans.com, Crate and Barrel, Abensons/Habitat
Wedding hashtag: #RJpoppedtheCherry