#RealWeddings: Traditional Filipino Aesthetics Got A Beautiful Contemporary Upgrade At This Colonial-Themed Wedding
Capiz, rattan, piña, narra and more—this couple's modern Filipiniana wedding captures an era's most romantically nostalgic elements
You might call them old souls.
And by the looks of their gorgeous Filipiniana-themed nuptials held earlier this month that mirror the beauty of a time gone by, bride and groom Dominique Gana and Jonathan Pabillore could be exactly that—lovers who have lived once or twice before, and yet, spent those years in the arms of one another.
Who knows? Their 2019 wedding might not even be their first in the many lifetimes they've lived together, side by side and hand in hand, but this is certain: Doms and Jon have found love, and their lifelong commitment could only be celebrated in a ceremony whose theme was nothing short of heart-tugging and yes, even nostalgic.
Theirs was a wedding that was a beautiful departure from such an occasion's traditional elements of fairy tale whites and grandeur and an explosion of florals and light; instead, understated elegance, simplicity, and organic touches ruled the day, the dominant colors being hues of browns and beige accented by peach tones (truly, it was as if living inside the world of a faded photograph for a day).
From the bride's Filipiniana-inspired wedding dress to the party's hanging anahaw fan décor and the carefully curated menu of local delicacies, everything and anything at this wedding was done with purpose and style.
Scroll down to learn more about the wedding and the couple behind one of the most unique weddings we've seen this year.
About the couple
When and how did you and your husband meet?
"Jon and I met in our first year of law school. We were blockmates and even seatmates. Jon asked me to be his girlfriend in our second year of law school and it's been six years since then."
How long have you been together?
"We've been a couple for six years."
What are your current occupations?
"We're both lawyers."
What do you enjoy doing together? Hobbies, interests?
"We enjoy doing everything together, from small things like eating in new restaurants, playing in Timezone and watching movies, to big things like going on outdoor adventures or traveling to new places."
Preparing for the wedding
What is your wedding's motif, and why did you choose it?
"Our theme was modern Filipiniana. We're really passionate about choosing modern Filipino as our overall wedding theme because we love the culture and traditions that come with Filipino weddings—everything from the fiesta spirit to the performances involved. Filipino-themed weddings are a rarity nowadays, for one reason or another, but we wanted to show that our traditions and the Filipino aesthetic is beautiful and still relevant."
How long did you prepare for your wedding?
"We've been preparing for a year and four months since Jon proposed last March 2018."
Is there a story behind your wedding venue?
"For our church, we chose St. Alphonsus Mary de Liguori (St. Alphonsus Church) because it's the parish where I grew up in. Not to mention, my grandfather and my tito are also interned there. St. Alphonsus Church also has a very clean, structured and modern aesthetic.
For our reception, we chose The Eye at Greensun, primarily because of its large capacity and the 360-degree screens present in the venue. We wanted to create a visual experience for the guests while also being economical about styling.
What were the challenges you encountered along the way?
"We had two challenges for our wedding:
1. Finding the perfect wedding partners to help us achieve our vision, and
2. Managing the different facets of the program that we had planned.
Finding the right wedding suppliers (or partners, as we like to call them) was a challenge because we really wanted partners who we connected with. We looked at the relationship we could have with them, especially how collaborative and open they would be to our suggestions and input while also bringing something new to the table.
Because of the performances featured in the program and level of creative direction needed to bring the theme to life, Jon and I (along with my sister, Petra Gana) were forced to become wedding coordinators ourselves, dedicating countless hours preparing the design materials, [and] attending weekends of dance practice among other things. It was overwhelming at times–given our full-time jobs–but of course immensely fulfilling at the end of the day."
What was the best part in preparing for your wedding?
"The best part about getting ready to get married for us was thinking of ways to make our wedding fun, personal, and engaging for all our guests. More than anything, we wanted it to be a showcase of our love that everyone could enjoy."
What tips can you share to brides-to-be when it comes to wedding planning?
"My personal tip for organizing a wedding is to get help, whether it's getting a full-time or [part-time] coordinator, asking your family members, or bridesmaids/groomsmen to be more involved in the wedding process. The wedding journey can become overwhelming at times with all the pressures and concerns you have to consider. From my experience, there were so many people who wanted to help and were just waiting for me to ask.
Another advice would be to think about your guests. While a wedding is meant to celebrate the union of a couple, it is also about sharing the love of the couple with the people they love. We made it our personal goal for our guests to feel the same happiness that we felt on our wedding day. From the moment they entered the church, up until the last hour of the after-party, we wanted to make sure each guest felt that they were a special part of our journey. This extended to having personal handwritten letters for around 170-plus friends and primary sponsors on their tables and giving out copies of a comic depicting our love story during our cocktails."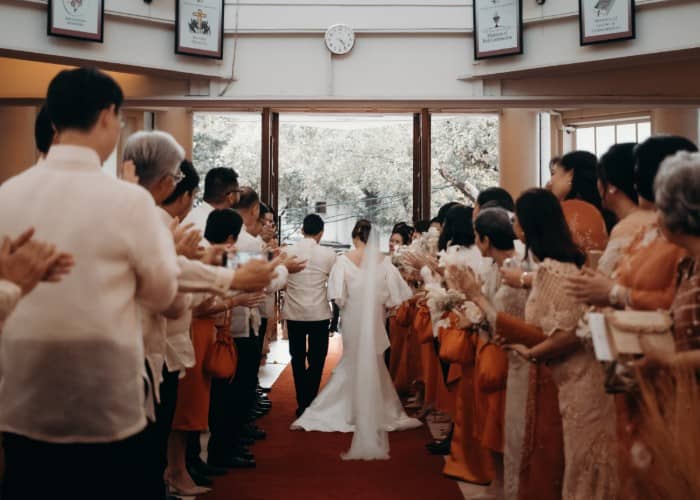 Jonathan Pabillore and Dominique Gana's Filipino-themed wedding
SWIPE LEFT OR RIGHT
TO NAVIGATE BETWEEN PAGES
The Wedding Outfit
Tell us something about your gown and the designer you picked.
"My wedding gown designer is Vania Romoff. I knew she would be the perfect fit ever since I saw the gown she made for her own wedding. I felt that her style and background would be the best fit to my theme of Modern Filipiniana–something simply sophisticated while also rooted in tradition."
What about your hair and makeup looks, and accessories?
"For my jewelry, I wore an Amami hair barrette and earrings. I encountered the brand through my sister and became invested in their advocacy to restore the disappearing art of tambourine jewelry-making by local artisans in Ilocos.
For my shoes, I wore custom-made Muni-muni heels. I also chose Muni-muni because of its identity as an ethical local brand that proudly sources and designs its products in an ethical and sustainable manner.
For my makeup, I wanted a look that was natural, fresh, and glowing. At the end of the day, I just wanted to look like myself on my best day.
For my hair, I wanted to keep it classic. My hair for the ceremony was an up-do bun, inspired by vintage hairstyles and older formal portraits. In contrast, my hair for the reception was down and free-flowing for a more relaxed and youthful look."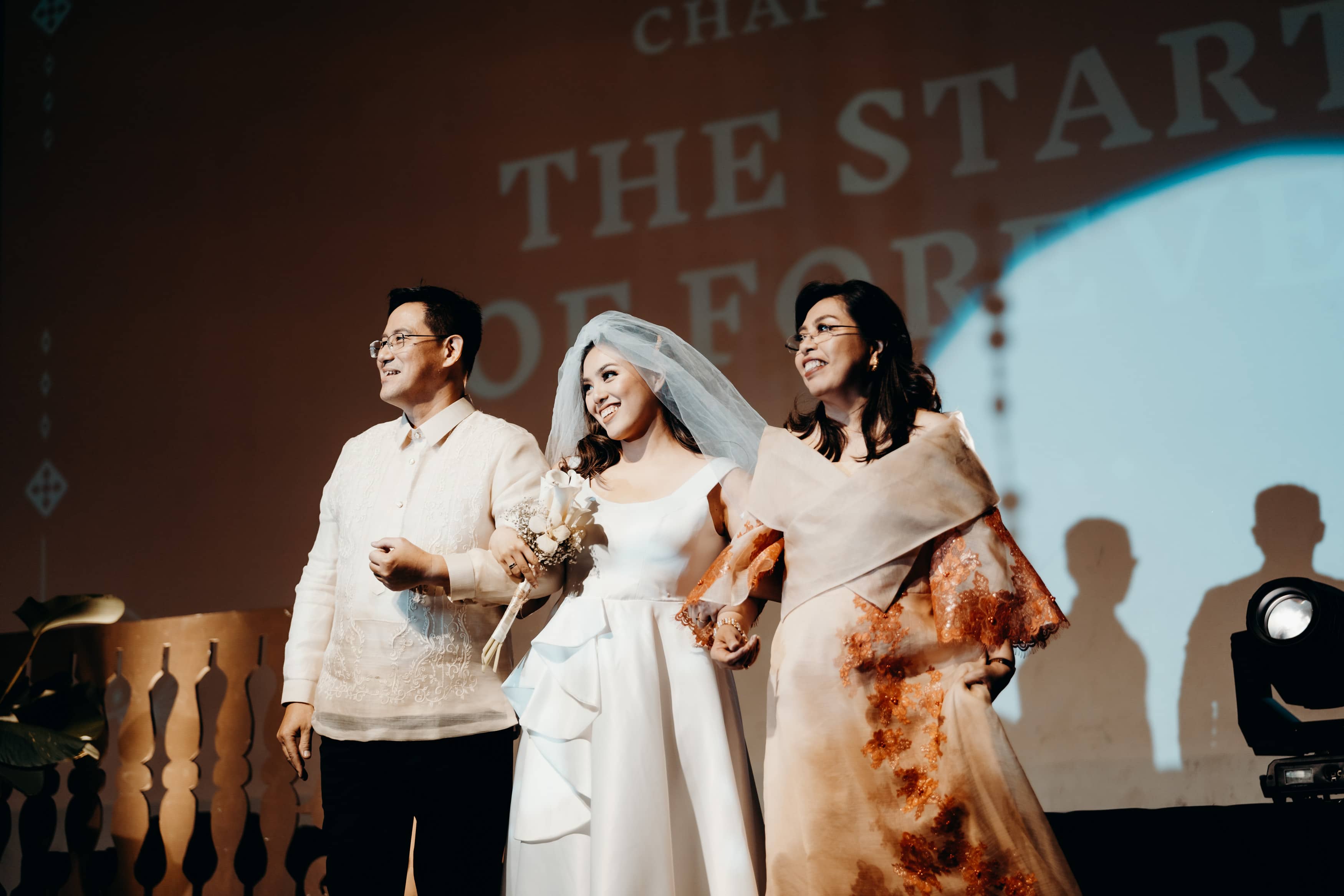 What are the highlights of the program?
"For the ceremony, one of my personal highlights was my bridal march. The whole morning, I was so anxious being alone and apart from Jon. But when the church doors opened and I saw him again, I became calm, which to my surprise was his experience as well. We both loved my bridal march song, 'Forever in Love,' because it was composed by my grandmother, Bing Pimentel, for the wedding and it talked about the miracle of our love.
For the reception, one of my personal highlights was our entourage dance and family musical number choreographed and directed by Jourdan Bartolome. Together with some of our entourage, we practiced for over 50 hours for three months prior to the wedding.
For the start of our program, we welcomed our guests with traditional Filipino dances; we performed Pandango Sa Ilaw followed by the Cariñosa, with an intermission of 'Tala' by Sarah Geronimo, and then lastly, the Tinikling."
At the end of the program, we performed a family musical where we depicted our love story from when we met in law school right up to the wedding day itself and used popular songs from Apo Hiking Society and other artists like PDL, Donna Summer, and even the Mamma Mia soundtrack. Instead of hiring performers, we personally found it more fulfilling to perform for all our guests, showing them how grateful we are for their presence in our lives.
We also loved the styling of the reception venue, particularly the digitally-painted interiors of a Spanish-colonial house illustrated by Adrian Panadero that were brought to life through animation by Janina Malinis. The 360-degree wall of Greensun really helped us transport our guests into a different space, helping everyone immerse themselves into the theme more.
The food as well perfectly complemented the theme. From Cibo's curated local produce integrated into all the dishes, to the custom Filipino-inspired cocktails (e.g. turon, milo dinosaur, [and] 'Empi' highball), care of Love Drunk Bartending.
Lastly, we also really loved the same-day edit video care of Good Wolf Films. We found their approach to wedding videos so different because it captured our story like a documentary, integrating audio clips from our one-hour extensive interview prior to the wedding day itself and showing our moments as raw and as real as they could be. The film was so personal and true to our love story and gave us something more than a recap of the day."
Details
Number of guests: 480
Wedding ceremony and reception venues: St. Alphonsus Mary de Liguori and The Eye in Green Sun
Wedding date: August 3, 2019
Wedding coordinator: Series of Fortunate Events (SoFEM)
Photographer and videographer:
Atlas Studio and G
ood Wolf Films
Jewelry designer: Amami for my tambourine earrings and hair barrette
Hair and makeup: Makeup by Byron Velasquez and hairstyling by Nancy Soriano
Printer for invitations and other paper elements: Adrian Panadero and Mike Parker for invitations and Mike Parker for graphics and branding for all printed materials
Entourage's designer: Elvis and Tina Cagungun of ElvisTina Barong House
Groom's suit maker: Elvis and Tina Cagungun of ElvisTina Barong House
Bridal shoe designer: Muni-muni Studio
Groom's shoe designer: Black Wing Shoes, Marikina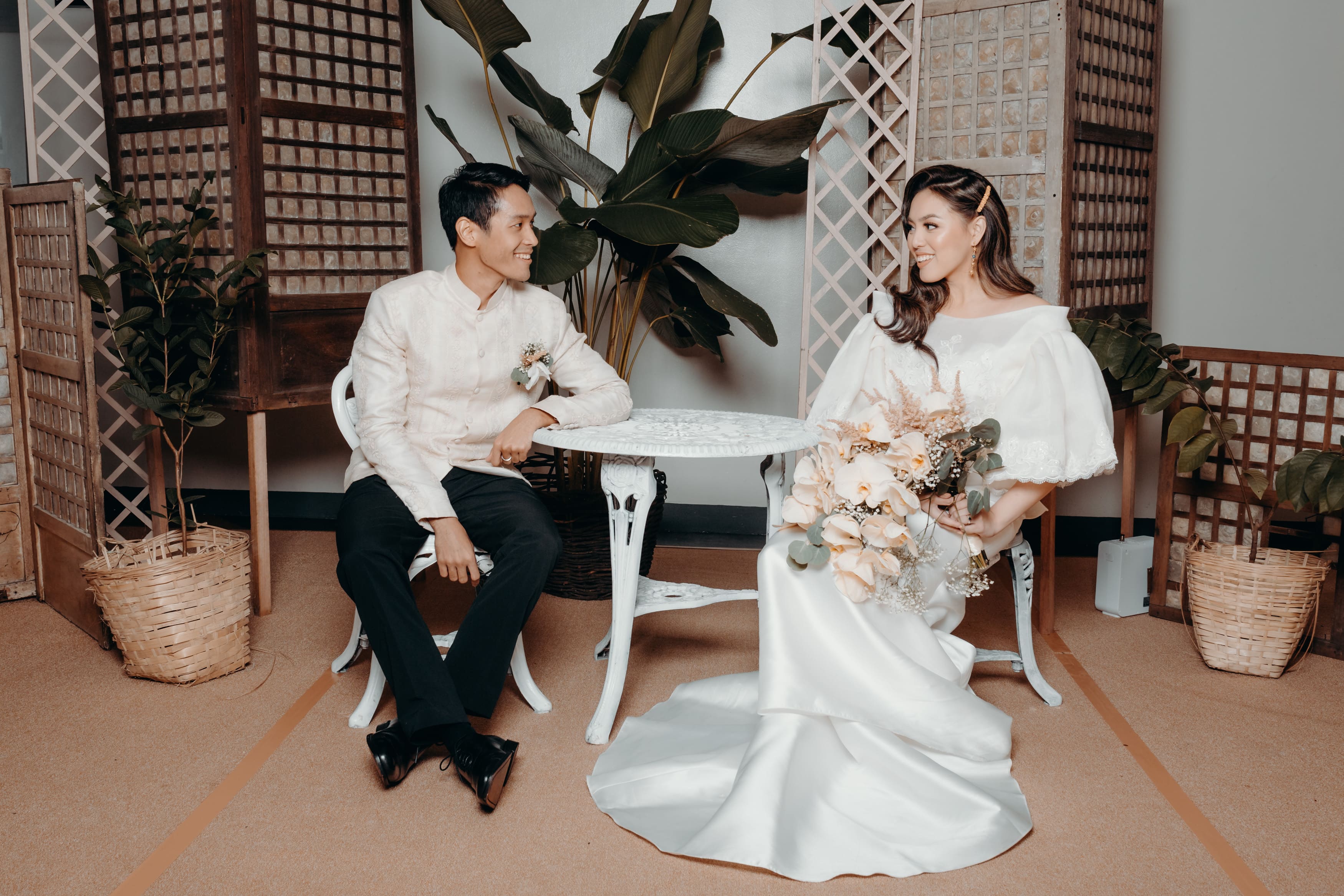 Event stylist and florist: Rabbithole Creatives for the church and reception styling and Blooms and Things by Agi Wang for the bridal bouquet and entourage flowers
Host: Carlo Go
Entertainment: The UST String Quartet for the reception and DJ Joey Santos for the afterparty
Priests: Rev. Fr. Anton Pascual and Msgr. Matt Garcia
Giveeaways: Auro Chocolates
Caterer and cake maker: The catering was by Cibo di Marghi Signature Caterer and the cake by Max Gana, my cousin, of Merced Bakery
Gift registry: Our personalized gift registry website was made by Jenny Lapus (www.kwentonijonatdoms.com)
Wedding hashtag: #KwentoNiJonAtDoms
Photographs courtesy of Dominique Gana-Pabillores