#RealWeddings: This Couple's "Micro Wedding" Reminded Everyone What Truly Matters In A Marriage
With just 18 guests in attendance and a ceremony planned a month before, these newlyweds were happy to concentrate on what made their big day truly special
True or false: Tinder-born romances aren't built to last.
Surprise! That's a trick question.
It matters little where true love blossoms, and what truly counts is what's done to care for it by the people it finds.
Ask newlyweds Liz Lanuzo and James Pacaba how they did it; they married on October 26, 2020, exactly six years after they met on the dating app and in spite of a pandemic.
"It was so random, the way we met, but we were pretty much together since the first date!" this bride shares.
And with six years of learning and loving together, they knew exactly how to pull of a COVID wedding: do without the fuss and frills, stick to the basics, keep things classic, and most importantly, never lose sight of what a wedding is ultimately for. It's not for the pictures, the hashtag, and yes, not even the dress, but a celebration of beginning life again, this time, as a married couple.
"To be honest we didn't even start planning the wedding until a month before, since we were so busy with our respective businesses with the pandemic and all. But we hoped to have a celebration with 18 of our closest friends and family. And that's how our pandemic micro wedding came to be," Liz shares.
She had only 18 guests in attendance composed of family and friends.
Each of them witnessed how this relationship began, matured, and reached a point where it was ready to become official in a loving marriage, and in fact, the smaller crowd made the day all the more intimate, and in the end, all the more tailored to the couple's personality.
Their vows and guests' speeches were the best parts of the event, next to ending the day as a new husband and wife.
"It's been an amazing journey and we can't wait for what's next!" says Liz.
Check out the gallery below to see snaps from the Lanuzo-Pacaba nuptials!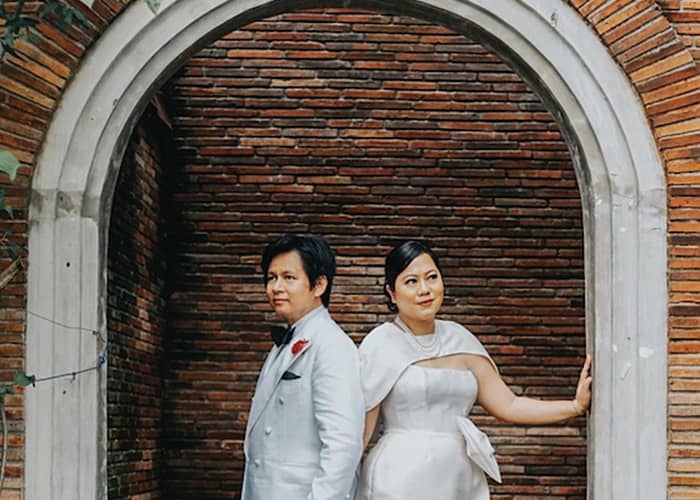 #RealWeddings: Liz and James
#RealWeddings: Liz and James
Wedding details:
Ceremony and reception venue: Las Casas Quezon City
Wedding date: October 26, 2020
Photographer and videographer: Tip Top Stills & Films
Wedding dress designer: Mara Chua
Hair and makeup artist: DIY by the bride
Jewelry designer: Princess Laura Jewelry
Bridal shoe designer: Roger Vivier
Groom's suit designer: Galan Manila
Florist: Nene's Flower Shop
Stylist: Hannah Pacaba of The Renegade Brigade
Priest: Francis K. Donayre
Wedding hashtag: #lizandjamespacaba