#RealWeddings: The One-And-A-Half-Day Civil Wedding Preparation Of This Couple Was All Worth It In The End
Jeri Lim and BJ Kua were supposed to get married last May, a wedding event intended to have 600 guests. But due to COVID-19, they decided to push through with an intimate civil wedding gathering held at the bride's home instead
Is love really sweeter the second time around? Yes!
It's an answer that blushing bride Jeri Lim, who now happily calls herself Mrs. BJ Kua, has given several times throughout the years; first, when BJ asked her to be his girlfriend when they were two teenagers in love, again when they got back together in their 20s, and finally, a third time when BJ asked her to be his wife.
"We started dating in high school and became official a day after my 14th birthday. We were together for almost two years until we broke up... Ten years forward, we started dating again and, after a few missed tries, have been together ever since!" she tells Metro.Style.
Come June of this year, Jeri—and this time, BJ, too—gave a fourth "yes" when they decided to push through with their wedding plans despite challenges imposed by the COVID-19 crisis. It was a yes to marriage, after all, and not a grand ceremony—a yes to love and what gives it meaning rather than the wedding gown, the party, or the lavishness of it all.
"The pandemic reminded me that at the end of the day, being married to BJ is the most important thing," Jeri adds.
With much of their lives already spent by each other's side, and with the next days, months, and years to live as husband and wife, Jeri and BJ are undoubtedly a couple who has managed to find reasons to smile and feel love's power in some of the most unique circumstances ever.
Get to know the newlyweds and their love story below!
About the couple
How did you and your husband meet?
"We were in 7th grade when we met each other, but we both don't remember the exact moment. We started dating in high school and became official a day after my 14th birthday. We were together for almost two years until we broke up and went our separate ways. We remained friends throughout high school and college and were in the same circle as our high school barkada. Ten years forward, we started dating again and, after a few missed tries, have been together ever since!"
How long have you two been together?
"Six years before getting married, not including the time we were together when we were younger."
What are your current occupations?
"I am currently heading the campaign management team for an e-commerce company, while BJ is working for an airline, handling Network Planning and Research."
What do you enjoy doing together?
"Before the pandemic, we enjoyed going on trips and trying new restaurants with family and friends. We also bonded over good massages, especially after busy work weeks. When the lockdown started, we learned to appreciate the simple joys of staying at home. Wine and Netflix became our go-to (activities) while our three Bichons (Summer, Maddie, and Coco) kept us company. Recently, we learned to play Mahjong and are honing our skills against our parents."
Preparing for the wedding
What was your wedding's theme, and why did you choose it?
"One of the plans we had was to get married in a vineyard in Yarra Valley, so we tried our best to have a mini garden wedding in my house!"
How long did you prepare for your wedding day?
"One and a half days!"
What were the challenges you encountered along the way?
"The main challenge was definitely trying to find someone who can marry us in the house. Once we secured a wedding-solemnizing officer who was willing, everything fell into place. We already had a vision of what we wanted the event to be, so we already knew which suppliers to look for. We were already canvassing suppliers throughout the ECQ (enhanced community quarantine), in case we had a chance to get married. We both agreed that we wanted a team to cover the event, but to lessen the exposure, we looked into photo and video teams. We chanced upon NicePrint Photography and luckily, they were available, so we booked them right away. We also inquired from Blloons, and asked Tita Nikki Chatto to provide flowers."
How did you decide on your wedding venue?
"Since we were under quarantine, we had very limited options. Having it at home was perfect, as it added a dash of personalization that no other place could have offered."
What was the best part in preparing for your wedding?
"It's like having a school project with your favorite person and best friend. In the process, seeing each other's professional side and asking for help from each other."
What tips can you share with brides-to-be when it comes to planning a wedding?
"Concentrate and prioritize the important things; do away with minor details. The pandemic reminded me that at the end of the day, being married to BJ is the most important thing. All the other things are just 'add-ons,' and our backyard wedding ended up being more meaningful to me."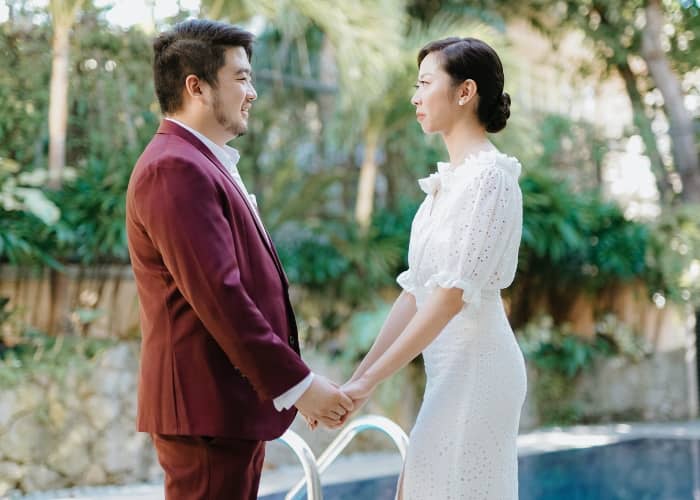 Jeri Lim & BJ Kua's Wedding
Jeri Lim & BJ Kua's Wedding
The wedding outfit
Tell us something about your wedding dress.
"I actually bought my dress from Charina Sarte towards the end of 2019, but never had the chance to wear it. Thankfully, I had that dress, otherwise, I would have had nothing to wear. The dress was in line with our garden wedding and provided the extra touch."
Share the stories behind your accessories or jewelry, and the inspiration behind your bridal look.
"I was intent on wearing the pearl earrings from my grandmother, since I wanted to feel her with me even though she was not able to join us. Since I'm a lola's girl, we even planned our original wedding date on her birthday. She had not been feeling well for the last couple of months and it was important to me that [she] was part of our celebration. A few days after our wedding, she passed away, so I was very glad I wore the earrings she gave. Aside from the earrings, I just wore a necklace gifted by my parents and my engagement ring."
What were the highlights of your big day?
"BJ wanted to surprise me with his cousins' rendition of the song 'I Do' by 98 Degrees, which was our song back in high school. I was so touched that he remembered and was about to start crying when he started sobbing. I ended up laughing about it because I was so surprised!"
Details
Number of guests: "We only had two guests due to the ECQ, everyone else was family. Our original wedding was planned for 600 guests."
Reception venue: "Both the wedding and the reception were held at my home."
Wedding date: "June 6, 2020, a week after our original wedding date (May 30)."
Hair and makeup: "My makeup artist was Nikki Duque while [my hairstylist] was Sherwyn Amodia. It was quite easy to work with Nikki as I've worked with her several times before and actually consider her a good friend!"
Photographer and videographer: NicePrint Photography
Bridal shoes: "I just bought from Zara and it was also the pair I used during our engagement party."
Jewelry designer: "My]pearl earrings were given by my grandmother, engagement ring from JMA Jewelry, and wedding ring from Hong Kong. BJ's wedding ring is from James Allen."
Groom's suit maker: "Felipe and Sons, BJ re-used the suit he wore when we had our engagement party last January. It was always his dream to wear a maroon suit (it's his favorite color) to our wedding, so I guess it worked out for him in the end!"
Entourage designer: "Martin Bautista but the entourage was not able to attend."
Florist: "We booked Tita Nikki Chatto for our wedding, and also had her do our engagement party flowers. So, when we were able to finalize our civil wedding, it was only natural we asked her to do our wedding flowers. It was such a blessing that she was able to accommodate us and our requests. I also ordered balloons from Blloons, which became the backdrop for our wedding cake and champagne table!"
Caterer and cake maker: "Since we only had a day and a half to prepare and the ceremony was at 3 p.m., we opted to serve heavy merienda. We also wanted everyone to be back home before the curfew. With the limited time we had, we just ordered a cake from Wildflour, assorted dimsum takeout from Choi Garden, and truffle lechon from Pepita's Kitchen. We also served wine, and cocktails from EDSA BDG."
Hashtag: #BJeri
Photos by NicePrint Photography