Beauty Amid Chaos: Taal Volcano Erupted During The Tagaytay Wedding Of This Doha-Based Couple
The bride prayed it won't rain on their big day because they chose a garden wedding. "Prayers answered, it did not rain. Pero may mas malaki pa palang nangyayari sa labas na we had no idea about"
"The moment our Pastor pronounced, 'You may now kiss the bride,' we kissed then biglang may malakas na 'boom' three times. It was perfectly timed like it was part of the wedding," says Joan Javier of this unforgettable memory from her wedding. She and Romeo tied the knot in Tagaytay over the weekend when Taal Volcano was erupting.
This couple dealt with several challenges to reach this milestone in their lives. Despite this calamity, nothing could've dampened their mood. It was their big day, so they decided to simply make the most of it. They pushed through with their wedding reception, while their coordinators monitored the situation and prepared for the worst case scenario.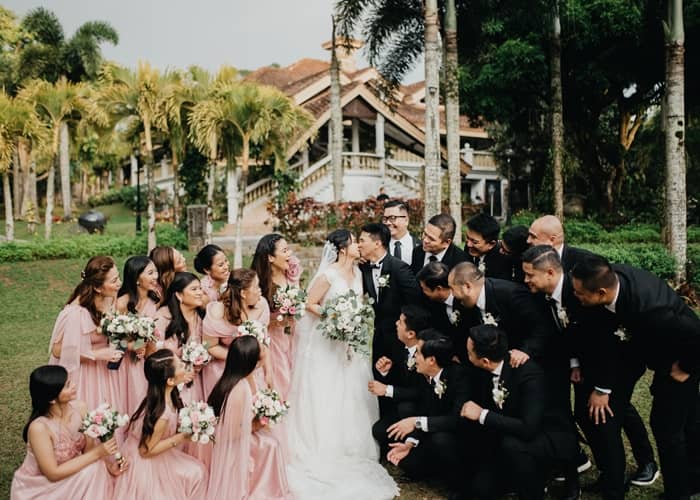 "It was indeed a very memorable experience. The love and support from our families and friends who stayed to celebrate with us and the dedication of all our suppliers and staff show the beauty amidst the chaos," Joan adds.
Joan and Romeo are both based in Doha, Qatar and only reunited with their loved ones for this special occasion. As they leave to start their journey to wedded bliss, they bring with them unforgettable memories from such an extraordinary wedding celebration, and they leave behind prayers for the Taal survivors.
Taal Volcano erupted on the afternoon of January 12, and its alert level declared by the Philippine Institute of Volcanology and Seismology (PHIVOLCS) quickly escalated to 4. The last time it erupted was 43 years ago, back in 1977. Taal Volcano is the smallest active volcano in the world and one of the most active volcanoes in the Philippines.
When did you and your husband meet?
"We met last December 11, 2014. It was actually my 28th birthday party."
How long have you been together?
"4 1/2 years. We'll celebrate our anniversary this coming July."
What are your current occupations?
"Romeo is an accountant, and I'm working as an executive assistant in Doha, Qatar."
What do you enjoy doing together? Hobbies, interests?
"We love to travel, run, and eat!!!"
What was your wedding's theme/motif? Why did you choose it?
"Motif is dusty rose. Theme is classic and romantic. I chose it because you will never go wrong with classics. The wedding will be timeless!"
How long did you prepare for the wedding?
"A year"
What were some of the challenges you encountered along the way?
"Logistics, because we are based in Doha. But thanks to Ms. Bon, our wedding coordinator from Events and Elements, we were able to bridge the gap.
"In the middle of planning, Romeo's father was diagnosed with stage 4 cancer and eventually passed away August of last year. It was fairly recent, and we thought of postponing the wedding but our families were all very supportive, so we pushed through with the plan as we knew that's what Romeo's father would have wanted."
What tips can you share to engaged couples when it comes to planning their wedding?
"Before planning, make sure that there's an open communication between you as a couple. Compromise is key! Know what you want and stick to it. If you must, make sure to get the best wedding planner. Don't stress over the little things."

Please share in detail what happened at your wedding and the story behind your picture with the ash cloud in the background.
"Earlier that day, it was cloudy and it actually drizzled during my prep photo shoot outside. I was praying na sana hindi matuloy ung ulan because it was a garden wedding. Prayers answered, it did not rain. Pero may mas malaki pa palang nangyayari sa labas na we had no idea about.
"My coordinators didn't tell me anything para 'di ako ma-stress. Then as I was about to walk down the aisle, I overheard my guests saying that something big was happening outside. Hindi ko masyado pinansin kasi I was so nervous because the ceremony was about to start.
"Thank God natapos ang ceremony, and the moment our Pastor pronounced, 'You may now kiss the bride,' we kissed then biglang may malakas na 'boom' three times. It was perfectly timed like it was part of the wedding.
"We went on with the post-nup pictorials. The venue, the lighting was just perfect. Masakit na actually 'yung paa ko but our photographer, Myio, asked for one last photo. Pinaakyat niya kami sa isang ladder then there was that epic picture.
"We proceeded with the reception and program. We removed all the games and just focused on the wedding traditions and speeches to cut the program short. Umuwi na 'yung ibang guests because they were already worried, but some stayed and celebrated with us.
"Our coordinators monitored the situation outside and gave us updates constantly for the safety of our guests and staff."
Details:
Ceremony and reception venue: Hillcreek Gardens Tagaytay
Full planning: Events and Elements
Photographer: Myio Okamoto Photography
Videographer: Jason Magbanua
Bridal gown designer: Pronovias
Bridal shoe designer: Monique Lhuillier
Groom's suit designer: Paul Smith
Entourage gown designer: Ariane Gamboa and Ed Alejandrino
Hair and makeup artist: Ariane Gamboa
Catering: Jullianne's Catering & Event Services
Cake maker: Chef Anna Katrina Pascual
Host: Portia Trinidad
Lights and sounds: Artuz101 Professional Lights and Sound System
Mobile bar: Le Reve Mobile Bar
Musician: Libante Strings - Experience World Class Music
Photobooth: Photoman
Ceremony chair: Forrent & 18thph
Invitation: ToUnfold
Guest souvenirs: Urban Perfumery Mktg.
Principal sponsor souvenirs: Alexander Fragrance
Photography by Myio Okamoto
Here's how you can help those who were affected by the Taal Volcano eruption: click here.