#RealWeddings: This Couple's Big Day Has All The Elements Of A Beautifully Memorable 'Pandemic Wedding'
From the initial plan of getting married in Turkey, Dennis and Kylee created a heartfelt wedding in the bride's hometown Baguio
From not wanting to get married, to planning a wedding in Turkey, to getting married mid-pandemic in Baguio my hometown, Dennis and I have been through quite an interesting five going on six years together. But it's always like that with him—a roller coaster life filled with some dips and lows, but mostly with the highest highs.
About two years ago, when we started talking about marriage and all that jazz, we discussed an intimate wedding where all our guests would end up as good friends after the celebration. We were on a trip in Turkey when we started having serious conversations about this wild idea of forever. After the trip, having fallen in love with everything from the food to hotel prices, we thought what better way to keep a wedding intimate than holding it in Turkey, in a coastal city called Ephesus, where Mama Mary lived. Dennis and I are Catholics and we loved that the country, despite its main religion being Islam, also had such a strong Catholic history.
When the pandemic hit the Philippines in March, I was not at all worried that our October wedding would get affected. We all know how that turned out. So, on 10/10/2020 after much (much!) debate and discussion with everyone, most especially with myself, Dennis and I decided to get married in Baguio, where my family is still based. For sentimental reasons, our wedding still had hints of Turkey— from giveaways like the Evil Eye, Turkish Delight in our guests' hotel rooms, floral prints in the invite and lanterns along the church aisle.
Everything was simple and very rustic, which I think was also very in-theme with Baguio and a semi-outdoor veranda reception. I'm not girly so I didn't choose to have a lot of flowers, unless dried, and I wanted our colors to be very muted. We had no program at the reception, just good times! As a couple, we really aren't mushy, so Dennis and I didn't even have a first dance or other wedding traditions. What we loved though were the continuous and heartfelt messages that our friends and family gave and kept giving throughout the night; majority from those who couldn't make it physically.
Dennis and I got married in a small Church—Saint Aloysius Gonzaga Parish, the Church of St. Louis University (SLU). It was special to us because my dad was the one who constructed it and my family, including Dennis, are very close to the priests. Half-laughing with happy tears in my eyes, I half-danced towards Dennis with the Medasin Remix of Scared to Be Lonely, the lyrics replaced with more romantic-sounding strings. Even as the doors opened in front of me, I still couldn't believe we were getting married. Finally, after everything. I also remembered Dennis asking me, "What will change when we get married?" I just said "We'll still be us, but it will finally be official, in front of God, in front of our family and friends, it will officially be you and me, forever." I got a little excited, haha.
We had 50 guests, all tested at my "Despedida de Swab" and before entering the church. We required all our suppliers to get tested as well. We created a safety bubble, wanting to make sure the wedding was safe, especially because my grandparents were attending. The bubble created an atmosphere of relaxation and gave us a relieving sense of normalcy at the ceremony and reception. This was all thanks to our ninang's family, the Ledesmas, who are our very close friends. With God's grace, everyone tested negative for Covid-19 and remained so even two weeks after the wedding. We wanted our guests to be treated really well, from the whole experience to little things like the gifts in the welcome bags, goodies in the room to giveaways at the reception. They made the trip to Baguio for us, so we really wanted them to have a good time; until now, we've been so grateful to our family and friends.
In the end, we were very happy to get married where I grew up, with an intimate wedding and a big surprise in the form of the macho groom crying at the altar. That was icing on the cake! I cried for what seemed like every hour, of course. I guess we don't express feelings as much in front of other people but marriage is marriage—it does things to you, haha. I know this thing we have runs deep and I know we're inseparable. And, despite everything that happened this year, 10102020 was a blessing to us and we were grateful to have God as a witness to our union, finally. —Kylee Gan
Scroll through the gallery below to see more of Kylee and Dennis' beautiful wedding: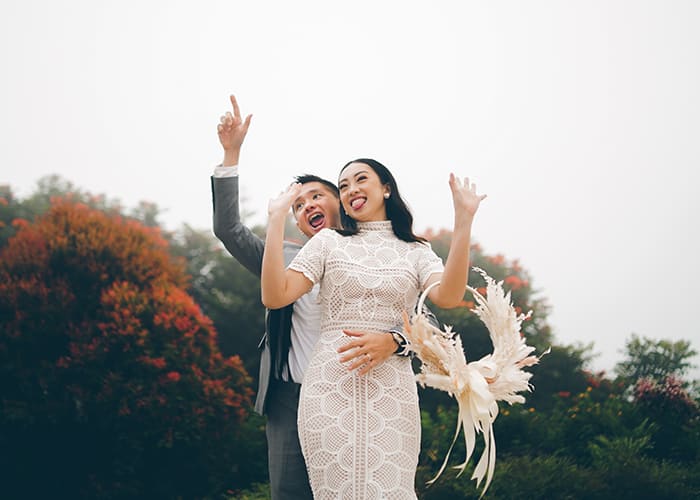 #RealWeddings: Kylee and Dennis
#RealWeddings: Kylee and Dennis
Wedding Suppliers:
Church/Ceremony venue: Saint Louis University Parish (Saint Aloysius Gonzaga Parish)
Reception venue: Baguio Country Club, Luigi's Veranda
Date of wedding: October 10, 2020 (10102020)
Wedding coordinator: Chai and Co. (Chai Ramos)
Photographer: Franalca (officially), but I asked my friend Andreo Bongco to take shots too
Videographer: Franalca
Invitations/Printers: My friend Gela Gundran (she helped me with our logo too!)
Designer bridal gown: Elizabeth Hallie Design (One of my maid of honors saw the dress online, sent it to me and we went to the studio to try it—it was love at first sight. It was the very first dress I fit and after fitting a number of dresses in a number of studios, I really came back to Elizabeth Hallie's dress).
Designer entourage: Asia Coronel (for Man of Honor, Maid of Honor, Mother of the Bride)
Designer groom: He's proud to have bought a suit from SM Department Store!
Stylist/Florist: Bernardo Borja
Priests: Fr. Erick Villamar, CICM was our officiator and he was joined by Fr. Gilbert Sales, CICM and Father MacWayne Maniwang, CICM
Giveaways: I sourced them from everywhere, and I mean everywhere, hehe! I put them together myself, with the help of my Maid of Honor of course.
Cake maker: I requested different basque cheesecakes from Michelle Barrera, strawberry basil cheesecakes from @kayekeyks by KK, and a multi-layer New York Cheesecake from Baguio Country Club
Hair and makeup artist: Archie Vergara
Gift registry: Rustans, Crate & Barrel, and Knots and Pans