#RealWeddings: This Couple Had A Lovely Springtime Wedding Surrounded By Sydney's Calm Waters
The Southeastern Australian city proved to be the perfect venue for the simple wedding of equestrienne Michelle Barrera and polo player Santi Juban
They say that one of the secrets to a love that lasts isn't how deeply in love you are with your spouse, but that aside from loving them, you have to like them, too. In other words, a romance built on friendship is a great foundation to build a marriage on!
Such is the story of newlyweds Michelle Barrera and Santi Juban who tied the knot in New South Wales, Australia this month, a couple who started out as friends and eventually realized that their destinies were intertwined more intimately than they had first thought.
As this groom himself wrote on Instagram days after his big day, "We were so afraid to admit to ourselves that we already loved each other even before. We were so afraid that we might lose each other as friends, we set our feelings aside; but I always knew I loved you... Our courtship may have been short, but our love story was written long before we were born."
Nine months have passed since Santi first told Michelle he loved her, and it's since proven to be a gesture that would dictate their future as a happily married couple.
See more from their springtime wedding below!
About the couple
When and how did you and your husband meet?
"We met in 2011 through the horse scene in Manila. I was training for the SEA Games and was at Manila Polo Club, where we were introduced by friends near the stables. We remained friends for many years after that."
How long have you two been together?
"We dated a little in 2017, but I wasn't ready at the time, so we stayed friends until he asked my dad permission to date me in December last year."
What are your current occupations?
"[Santi] is a member of the Philippine Polo Team for the SEA Games 2019, and is a production and location manager in his family's film company, Philippine Film Studios Inc. I am a travel writer, equestrian coach, and the Secretary General of the Equestrian Association of the Philippines (EAP), the National Federation for equestrian sports in the Philippines."
What do you enjoy doing together? Your hobbies, interests?
"We share a passion and love for horses, so we really enjoy being at the farm or in the stables with our four-legged friends."
#RealWeddings: This Elegant Autumn-Themed Wedding Took Place During The Strongest Typhoon That Hit Japan This Year
#RealWeddings: This Couple Got Married In Picturesque Bali With A Pink And Gray East-Meets-West Theme
#RealWeddings: This Elegant Autumn-Themed Wedding Took Place During The Strongest Typhoon That Hit Japan This Year
Preparing for the wedding
What is your wedding's motif or theme, and why did you choose it?
"We wanted the wedding to be simple, yet elegant. It was a spring wedding, so we decided on light spring colors. I didn't want my bridesmaids in blush because every wedding I had been to in the last year was that color, so I decided on a steel blue for the bridesmaids, a darker shade of blue for my matrons of honor, Monica my sister and my grandmother Gretchen, and a pastel pink for the flower girls to tie it all in together. Santi wanted the men in barongs by Rabacca Barongs, so the older men wore barongs with black pants which really brought out the beauty of the steel blue flowy dresses, and the boys wore barongs with cream pants and brown shoes to go with the girls in the pastel pink."
How long did you prepare for your wedding day?
"We started preparations as soon as we got engaged, because we knew we didn't have much time if our wedding was to be in October (we wanted it before the SEA Games, but before the end of the year because of sukob). Most of the planning was done within three and a half weeks, with little details being fine-tuned until we arrived in Sydney mid-September."
What were the challenges you encountered along the way?
"Distance was most definitely a challenge. We were really lucky my sister was so energetic even eight months into her pregnancy. She drove everywhere to show me venues and churches, went to food and cake tastings. We were also very blessed to have an aunt who helped with my parents' wedding 38 years ago in Sydney to coordinate with us, too!"
#RealWeddings: The Tropical Paradise Of Balesin Was Transformed Into Boho Heaven At This Wedding
#RealWeddings: This Late Summer Luxe Bohemian Wedding In Vancouver Is Simply Elegant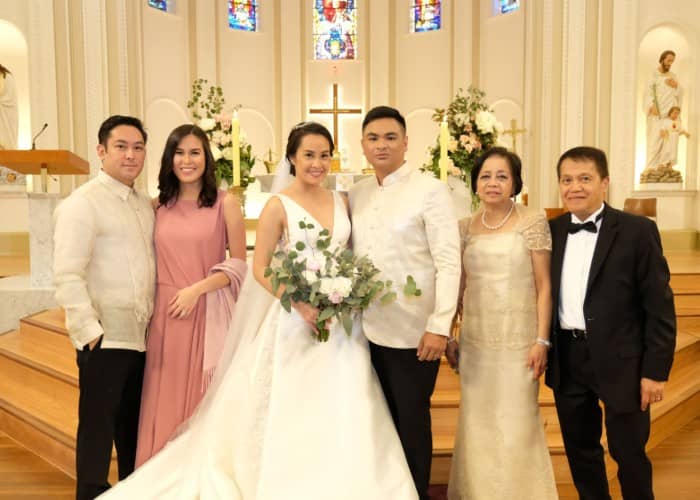 Michelle Barrera and Santi Juban's real wedding
Michelle Barrera and Santi Juban's real wedding
How did you choose your wedding venue?
"We had a few venues in mind, but in the end, everything really just fell into place on its own through prayers. Sounds cliché, but that's really what happened."
What was the best part in preparing for your wedding?
"Going through the trials of the planning together and getting through them stronger. Knowing we would have each other for the rest of our lives."
What is your tip to couples when it comes to planning a wedding?
"Expect the trials. Don't sweat the small stuff. Remind yourselves of the true meaning of marriage and the significance of the ceremony. Focus on that, and adjust to parents' wishes."
#RealWeddings: This Couple Got Married In Dreamy San Francisco City Hall
5 Stunning Elements At This Modern Day Couple's Vow Renewal That Caught Our Eye
5 Stunning Elements At This Modern Day Couple's Vow Renewal That Caught Our Eye
The Wedding Outfit and Reception
Tell us something about your wedding gown, designer, and why you picked them.
"I tried on gowns from a few places, but I really wanted something simple in the end. My gown was from Pronovias (Spain), but through Pronovias Philippines. I had some things added to it to make it truly me, and then had my long-time favorite designer and friend, Randy Ortiz, do my veil."
Tell us something about your hair and makeup looks, and accessories.
"My accessories were all heirloom pieces from my grandmothers, and mom.

I had a very trusted makeup artist who has been a constant with me since 2008, Raymond Ko, so he knew my style and personality well.

I asked for a clean, timeless look, and I was really happy with what he did."



What are the highlights of the program?
"Every little detail of the wedding is so strongly engrained in my memory, I don't think I could pick just a few. From getting ready with my closest friends, sister, mom, and grandmother, to the ride to the church and stopping for a while with my dad, to the entrance into the church with a few sound mishaps that threw everyone off (myself included), the homily of our celebrant, the Papal Nuncio, our vows, and taking a step back to slow down and notice all the details, to the water transport to the reception, my dad singing, our father-daughter dance as a surprise, singing waiters, and our first dance followed by a party and McDonald's served on platters. It was all magical."
#RealWeddings: Traditional Filipino Aesthetics Got A Beautiful Contemporary Upgrade At This Colonial-Themed Wedding
#RealWeddings: This Couple Invited 700 Guests To Their Real-Life Fairy Tale Wedding
Details
Number of guests: 183
Ceremony and reception venues: St Joseph's College Chapel, Hunters Hill, and Deckhouse, Woolwich, New South Wales Australia
Date of wedding: October 7, 2019 (The Feast of Our Lady of the Rosary)
Wedding coordinator: The bride's aunt, Malu Barrios
Photographer and videographer: NicePrint Photo and Jose Pleno
Invitations/Printers: "My mom did all the place cards for seating (each one lovingly by hand!). CLP Printer [did] the invitations."

Designer of entourage gowns: "The [maids of honor] and bridesmaids' dresses were from JJ's, flower girls' dresses from Kingdom boutique, and the father of the bride, mother of the bride, and matron of honor's [outfits] by Patis Tesoro."

Bridal shoe designer: Jimmy Choo

Florist: Fleur Events, Sydney







Host: James Cummings
Entertainer: DJ Abdel Aziz

Priest: Papal Nuncio Archbishop Adolfo Tito C. Yllana

Giveaways: Gravy Boats with couple's logo for all guests by Mary Ann Feria Colmenares of Artisana Handmade Gallery, Bacolod, Kissing Bell place card holders for all guests) by my mom, Pashminas for the church and cruise to reception, special wedding reserve "Santi & Michelle" wines served throughout reception from Gooree Park Wines, Mudgee New South Wales Australia Ballet flats for the women [that were] ordered on Etsy, and couple's logo paperweights-for the godparents by the Suarez Brothers.

Cake maker: Simmone Logue Cakes and Dedes Events Catering

Gift registry: Rustan's

Wedding hashtag: #ThePerfectSANMICH
Photos by NicePrint, courtesy of Michelle Barrera-Juban / Additional images from @syjuban