#RealWeddings: This Fairy Tale-Inspired Wedding Is The Definition Of Classic-Romantic
This couple took their guests to a whimsical romantic garden
Happily ever after exists. And this couple believes in it, so much so the start of their life together forever even unfolded in a place that calls to mind fairytales and happy endings: Cinderella's Castle at Disney World, Florida.
With such a magical place like that holding significance in the relationship of Nicolas Dynn Mendoza and Prescilla Krishna Remata, there was no way they wouldn't factor that in for their big day. The keywords to this wedding are classic and romantic motifs mixed with whimsical and fairytale-like elements.
The reception was held at a dome tent, dressed up with ambient lights and lots of red accents. Love was definitely in the air, and it was felt in each and every detail of this wedding. It was an event that was six months in the making, one that was beautifully pulled off despite challenges in mounting a pandemic wedding. "It was like building a sand castle, nothing was truly set in stone," says the bride of the difficulties they had to go through for their wedding to materialize.
Sure, the circumstances weren't ideal, but all that matters in the end is that the outcome was beyond ideal. To them, it was perfect just the way it is; it's what dreams are made of. This king and queen got their happy ending, and they'll have a great love story to share for years and years to come.
Scroll down to read more about this timeless wedding, with details told by the bride herself:
About the couple
When and how did you meet?
"Our love story began at 36,000 ft. on a flight en route to Japan. I was working as a flight attendant and Nico was one of my passengers. It was purely coincidental, but he said it was love at first sight!"
How long have you been together?
"We've been together for four years and it just keeps getting better every year."
What are your current occupations?
"Nico is a contractor and has his own construction company. I work at Philippine Airlines as a flight attendant."
What do you enjoy doing together? Hobbies, interests?
"Before the pandemic, we would always plan and try all sorts of outdoor activities and adventures—be it hiking, biking or simply going on a road trip. Now, on our regular days, we find thrill in fixing our new home and spending time with our dogs and other pets."
About the wedding
What is your wedding's motif, and why did you choose it?
"Our wedding was inspired by our travels and the place where we got engaged in—Cinderella's Castle at Disneyworld, Florida. From there, we decided to combine different themes to create a whimsical romantic garden setup with plenty of lush red florals and rose gold accents. We wanted to create a whimsical/fairytale-like ambiance, hence, we focused on ambient lighting which worked well with our venue's existing dome tent. Red was the main color used from the smallest detail to the big ones to make the look cohesive and consistent with our romantic theme."
How long did you prepare for your wedding?
"We were engaged for two years and we had plenty of time to prepare, but because of last year's restrictions, everything was put on hold and the planning part really only started six months before our wedding date. It was a bit alarming but the key is to get an experienced coordinator."
What were the challenges you encountered along the way?
"Planning a wedding in the time of COVID is a huge challenge in itself. Although what affected us most was the emotional rollercoaster at the start of 2020 when uncertainty swept the wedding industry and all of our plans suddenly shifted. Our guest list was cut down to 50 and we had to start from scratch again to comply with the new quarantine protocols. It was like building a sand castle, nothing was truly set in stone."
What was the best part in preparing for your wedding?
"The best part was researching and creating our wedding mood board plus DIY-ing most of the wedding materials and gifts. Our goal was to make the wedding as personalized as possible since we only had our family and closest friends to celebrate with. We were very hands-on, and I put effort to leave a mark on every little detail to make the wedding more personal and unique."
What tips can you share to brides when it comes to wedding planning?
"Get your groom involved, and decide on everything together. Make sure to book the suppliers that you feel most comfortable with not just because of their name/brand but because you truly believe in their work. We were so lucky we have friends who became our suppliers, and we had suppliers who eventually became our friends."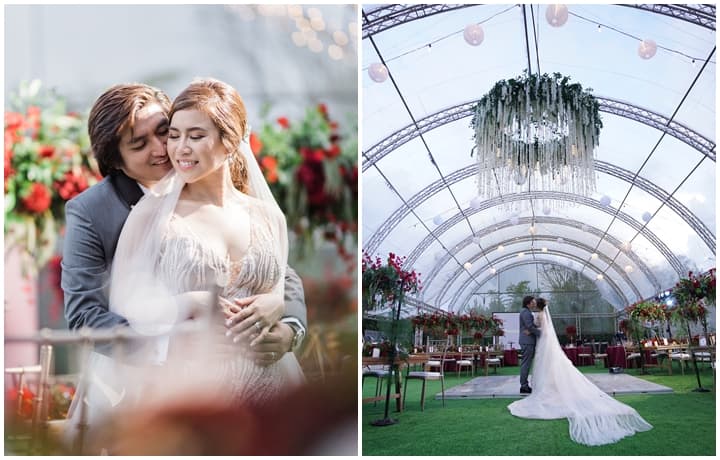 Nico & Krish's Wedding
Nico & Krish's Wedding
Tell us something about your gown.
"I wore a beautiful two-way Jo Rubio creation. The look for the ceremony was a serpentina silhouette made of nude lining overlain with ivory French tulle which features a detachable bustle made of French lace embellished with embroidery and pearls. For the reception, the bustle was removed and a nude cape train adorned with beads was stitched and attached on the shoulders. Jo went above and beyond my expectations."
Tell us something about your hair and makeup looks, and accessories.
"I initially wanted to do my own make up but I didn't want to disappoint so I looked for a makeup artist who has the same makeup style as I do. I requested for a youthful, peachy-coral makeup for the ceremony and then we added a little shimmer for the reception. Nothing transformational, I wanted to be able to feel and look like myself."
Tell us something about your groom's outfit.
"Nico was wearing another Jo Rubio ensemble in bluish gray partnered with his dream red sole shoes: Christian Louboutin."
What are the highlights of the program?
"There were a lot of key points in the program especially because Markki Stroem, our host, added charm and allure to the occasion. But what struck the most was when Nico surprised me with an astounding performance from none other than the soul siren Nina! She serenaded us during our first dance and all I could do was cry! It felt like a dream that I didn't want to wake up from. She was wonderful and truly divine; the perfect wedding singer. We could get married everyday if it meant seeing her perform over and over again!"
Details:
Number of guests: 60
Ceremony venue: Our Lady of Ephesus Chapel, Bella Rosa Gardens
Reception venue: Lower Garden, Bella Rosa Gardens
Date of wedding: January 21, 2021
Wedding coordinator: Rhed Sarmiento
Photographer: Law Tapalla
Videographer: Dux Dacudao, The Spark Series
Caterer: Bella Rosa in-house catering
Invitations/Printers: Invitations by Ten
Bridal Bouquet: Boxed Blossoms
Bridal gown designer: Jo Rubio
Bridal Robe: La Rosa Bridal
Groom's suit designer: Jo Rubio
Bride's and groom's shoe designer: Christian Louboutin
Entourage gowns: Sonny Mindo
Florist/set designer: Bella Rosa in-house styling
Hosts: Markki Stroem and Lynn Migel Estoque
Entertainer: Nina
Jewelry designer: Holimar Jewelry
Officiator: Rev. Fr. Garry Toribio
Giveaways: The Rustic Craft
Cake maker: c/o Bella Rosa
Hair and makeup artist: Nikki Betos and Carlo Roblico
Wedding hashtag: #KrishLandingonNico
Photographs by Law Tapalla, courtesy of Krishna Remata