#RealWeddings: This Quarantine-Friendly Wedding Was Unconventional In Many Ways
The couple's wedding outfits went with matching customized masks, and they gave away "new normal" kits as souvenirs
When it's meant to be, it's meant to be.
And that means not even a raging pandemic can get in the way of a union founded on love, faith, and genuine commitment when Divine Providence wills it to happen just as it was planned.
Just ask newlyweds Nikki Dionisio and her husband, Miller Duron who waited patiently for marriage after a four-year relationship but then went from zero to breakneck speed in June when they were tasked with coordinating a wedding and a party in less than 14 days.
Other couples might have taken it as a sign to scrap all plans made and accept their losses, but not for this Mr. and Mrs. They took it as the ultimate opportunity to trust in each other and in the guidance of their faith—an element they say that's always kept them together through thick and thin.
Nikki and Miller's downsized, but nonetheless beautiful and touching, ceremony is a testament to what today's times are teaching all couples: that it's the love between husband and wife that counts the most, and everything else—the photos, the party, the cake, and everything in between—are but secondary characters in their love story.
Read about how Nikki and Miller pulled off their ceremony, and what they loved most about it.
About the couple
How did you and your husband meet?
"We met in the first quarter of 2016 through my former young professor in college, who was then his co-professor in the school where he was teaching [in]. After we met in a restaurant near their university (I live behind the university where they used to work) because of that professor, he added me on Facebook and consistently sent me messages until he asked me on a friendly date."
How long have you two been together?
"Four years on April 18, 2020."
What are your current occupations?
"I am an arts and events manager and owner of Just Dream Events PH, while my husband Miller is a college professor of English and literature."
What do you enjoy doing together?
"We love to work together in a coffee shop, travel in and out of the country (we had our prenup shoot in Kota Kinabalu, Malaysia with local suppliers. We just also wanted to visit Old Town's coffee shop there, which we really love), go to church, and pray weekly. Friday before bedtime is our official prayer day as a couple. [We also enjoy getting] full body massages."
Preparing for the wedding

What was your wedding's theme, and why did you choose it?
"Burgundy and old/rose gold, and blush. We just wanted one 'strong' color combined with some dainty ones. [There was] no particular theme, but we just wanted elements that will remind us that [our] wedding wasn't the typical one, especially because it happened during 'COVID times.'"
How long did you prepare for your wedding day?
"Since we got engaged last June 22, 2019, we started preparing for a bigger wedding (around 200 to 220 guests) at the Manila Polo Club main hall. But due to the pandemic, we only had less than two weeks to prepare. We only started preparing after June 16, 2020 when it was announced that Metro Manila would still be under GCQ (general community quarantine). We really wanted to push for the original wedding date of June 29, 2020, Monday, because it's the birthday of my late father, Ptr. Pabs Dionisio, who passed away on May 13, 2019.
"We believe that it's his prayers and guidance that led us to decide to marry each other, and some of our most meaningful memories as a couple were when we took turns taking care of papa when he was going back and forth to the hospital for six months before he died.
"They were not the best memories for me and Miller because it was saddening to see papa so weak, but talking with papa regularly then, being taught of life's lessons by him, being prayed for by him, praying together for him, and taking care of him together were what made Miller and I more sure of each other and made us grow as a couple through thick and thin."
What were the challenges you encountered along the way?
"Since we just had less than two weeks to prepare, we had to rush everything like finding the perfect intimate venue and suppliers who will agree to last-minute preparation, haggling with our suppliers for the supposed big wedding, so they would give discounts since it was a more intimate and shorter wedding this time.
"Not all stores were open so everything was limited; some jewelry and clothes stores were still closed. Pampering ourselves before the wedding was also tough... [We also] had to lessen the number of suppliers since the wedding was small and not much people were allowed. We also couldn't do a same-day edit video.
"We decided to not include senior members of the family in the celebration so as not to risk their safety, so Miller's mom and elder sister, as well as my grandmother (whom Miller really loves and vice versa), weren't in the wedding. It was a tough decision to not have the people closest to us there, but we didn't want to take risks."
How did you decide on your wedding venue?
"I chose between Romulo's Quezon City and Ninyo Fusion Cuisine. The former looks elegant with its black and white interior design, and is the usual venue for intimate gatherings, but the latter's being quaint and unconventional as a wedding venue was what made us choose it.
"The main dining room only holds up to a max of 15 guests including us, so that was good enough since the suppliers dined in the gazebo area. The gazebo area, which is usually used for dates and proposals (I remember Billy Crawford proposed to Coleen Garcia there, and Liza Soberano and Enrique Gil went on a date there as well), looked so romantic but is seldom used as a wedding ceremony. That was a major factor in our decision. Not everyone gets to do their wedding ceremony in that small space!
"We imagined 15 guests would fit that narrow space, plus we could still improve the décor by putting flowers in the aisle and ceremony area, then the guests would be inside the gazebos—something different! It just needed a minor enhancement since the natural trees, plants, hanging branches looked nice already.
"The only fear I had was if it rained, I would have to do plan B, which was to move the ceremony to a much smaller space upstairs. Thank God, it was sunny, but not very hot that day. God is good! My papa from heaven blessed the wedding, I guess.
"But of course, another factor why I chose Ninyo was because I loved the idea of having a curated meal or a seven-course degustation for my guests. It's something more unique and, again, unconventional."
What was the best part in preparing for your wedding?
"Since I'm also an event organizer who does weddings, the best part for me was that I got to do it for myself and my fiancé this time. What was good about it was meeting with the suppliers who are mostly my friends, planning the event together with my then fiancé, and making all my dream wedding elements come to life without having to get anyone's approval (except my fiancé's). This time, it's not my clients, but I, who will make the final approval.
"And since our wedding happened in the middle of a pandemic, and we're one of the first few couples who got married since GCQ started, everything was new. There was so much to learn. Non-conventional elements were considered and done. There were a lot of surprises and adjustments which were sometimes inconvenient, but challenging and exciting as well—just like my girl friends' surprise virtual bridal shower via Zoom two days before my wedding, which I did not expect. (P.S. With the appearance of a special guest, actor Daniel Matsunaga, it was more fun for the girls)."
What tips can you share with brides-to-be when it comes to planning a wedding?
"Your wedding should reflect who you are as a couple. There are Pinterest, Instagram, etc., but use them only as inspirations to get ideas. The most important part is still what you want and what will make you happy in your once-in-a-lifetime event. Do not be afraid to do something out-of-the-box especially when it's not prohibited.
"For example, since (Miller and I) are not fans of long ceremonies, we did away with a lot of entourage members... We didn't do the candle, veil, cord rituals, but just the rings. I had no veil, so for the 'kiss the bride' portion, it was the masks that we removed.
"My bridal walk music was an acapella recording of 'Sa Aking Puso' by my friends from the singing group Acapellago, a ninang (spiritual leader) prayed for us on behalf of everyone else who couldn't attend because of COVID-19, and the contract signing was not done during the ceremony to avoid dead air and a longer ceremony."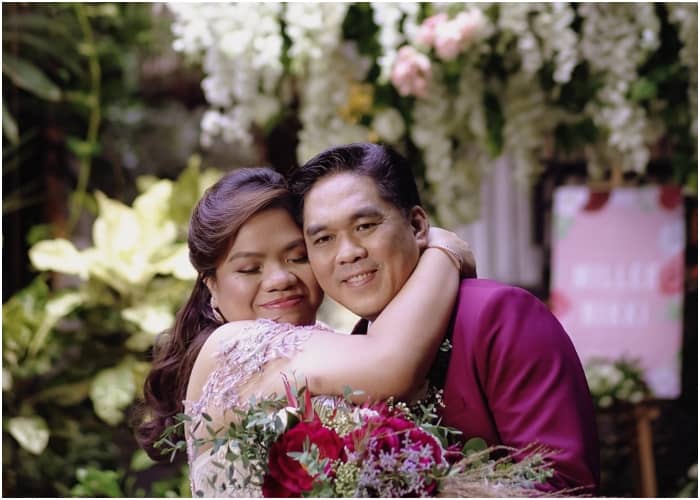 Nikki and Miller's wedding
Nikki and Miller's wedding
The wedding outfit

Tell us something about your wedding dress.
"My gown designer is Jerome Salaya Ang, a known fashion designer who used to be my schoolmate in De La Salle-College of St. Benilde. Since I wanted to be an unconventional bride, I chose him because of his bespoke gown designs which have unique designs and structures. I love how he made an asymmetrical gown for me; one side was made of lace, and one side was gazar like the rest of the gown. The mask matches the color of the gown, and is embellished on the left side, while the gown is embellished on the right side."
Share the stories behind your accessories or jewelry, and the inspiration behind your bridal look.
"One accessory that has a story was my necklace and pendant that I placed on my bouquet because the pendant has my father's ashes in it. Most jewelry stores were still closed at the time of my wedding, so I couldn't find a locket pendant where I could place his photo, so I just wrapped around that necklace (with the pendant containing his ashes) around my bouquet.
"Also, since masks are now an essential in weddings, it's an additional accessory that makes this 'COVID wedding' different. We also gave away masks in our motif colors to all guests upon arrival.
"For my overall bridal look including the bouquet, the statement I wanted to convey was that 'This is a one-of-a-kind wedding happening in a not-so-ideal time, so I'm wearing a non-conventional blush pink gazar gown and holding an unusual bouquet (bigger in size and had unique flowers).'
"It's like the whole look says, 'Everything about this wedding is unusual, but it doesn't make it look less beautiful and less memorable. It will actually make it more memorable.'"
What were the highlights of your big day?
"The bridal walk was accompanied by acapella music by Acapellago."
"I drove my bridal car."
"Our wedding happened on my late dad's birthday, so the pendant on my bouquet had his ashes in it."
"The unusual wedding ceremony venue was at Ninyo gazebos."
"We did a TikTok dance medley for our first dance."
"My sister and I sang as a surprise for groom."
"There was no live entertainment. The soprano duo from the Philippine Madrigal Singers did a video recording of their performance in their respective homes, which we played during dinner. They personally greeted us in that video so it wouldn't look as if it was just downloaded from YouTube."
"We had a curated seven-course fusion degustation for dinner."
"For the styling of venue, I wanted flowers everywhere from the entrance, to the aisle, to ceremony area, to all tables, to the cake, and to the reception backdrop."
"There were acrylic shields on tables in between guests."
"There were health declaration forms, temperature testers, foot disinfectant mats in the venue, and alcohol everywhere!"
"The guests wore masks in motif colors."
"I had a man of honor instead of a maid of honor; my best friend was the man of honor."
"We gave away 'new normal' kits as souvenirs."
"We did removal of the masks for the "kiss the bride" portion."
"I had giant, unusual flowers for my bouquet. I wanted a big, red fruit tea flower, other big flowers and dried twigs and leaves in my bouquet."
"I didn't want a white wedding gown, so I chose a blush pink gazar gown instead."
"There were fresh flowers on our cake."
"Our prep venue was in an AirBnB house since there were not many hotels open in the area."
"The surprise virtual bridal shower two days before was done with celebrity guest Daniel Matsunaga."
"There was a #MIKKIkiAmbagKami pre-nup donation effort for 'no work, no pay' individuals during the pandemic."
Details

Wedding date: June 29, 2020
Wedding and reception venues: Ninyo Fusion Cuisine gazebos and main dining room
Wedding coordinator: "Full Planning by myself and my events company, Just Dream Production & Events (@justdreameventsph) and on-the-day coordination by my friends from The Weekend Planner."
Pastor: Pastor Frederick Dechavez ("my father's pastor friend")
Invitations and other printed materials: Invitation design by Kassandra Faith Tolentino of @writtenfaith; envelope, signage, and menu card designs by Madeleine Sablada and Donna Capacete
Photographer: Chapter One Studios
Videographer: Wishing Well Films
Host: Dana Dionisio-Moldes
Entertainment: "The Nightingales (the duo sopranos from the Philippine Madrigal Singers Bianca Lopez-Aguila and Ma. Rhina Paula Palma-Cruz) and a surprise song number for the groom by me and my sister Dana."
Wedding gown designer: Jerome Salaya Ang
Groom's suit maker: Il Santos
Entourage designer: Jerome Salaya Ang
Florist: Clintcarl Flowershop
Event Stylist: Patrick Henri Caunan of Blueprint 102
Caterer: Ninyo Fusion Cuisine
Cake maker: Sendang's Cakes
Giveaways: New normal kit containing two disposable masks, one burgundy or old rose washable fabric mask, alcohol, liquid soap, and sanitizer from Alcobac (design by Madeleine Sablada and Donna Capacete; wedding logo by Ninin Adique; printing by ATC Printing)
Hashtag: #WalangMIKKIkipigilSamin
Photos courtesy of Chapter One Studios