#RealWeddings: Guia and Noel's Intimate Garden Wedding
Nothing could stop this couple from tying the knot—even cancelled out-of-the-country wedding plans!
Noel and I met each other in 2015 when I was already starting my career as a banker and he was building a start-up company. It did not take long for us to grow in love as we were like-minded, yet still able to provide the right balance to each other's thoughts and feelings. As an engineer and a businessman, Noel has deeply inspired me with his commitment and determination and taught me a lot on the value of resilience. The past five years that we have been together has been full of both highs and lows, but I would say that it was really the bad times that led us to making a decision that we wanted to spend the rest of our lives with each other.
After getting engaged in February 2019, we have been planning for our dream wedding: an out-of-the-country wedding in a small chapel supposedly in October 2020, which of course had to be deferred due to the pandemic. As much as we wanted to just get married once, we were more eager to already start our married lives together hence decided to have a civil wedding for now.
With all the quarantine restrictions in place, we were forced to have an intimate wedding with our immediate families only. As the venue was secluded and with spacious outdoors, it was absolutely the perfect place to hold even just a small gathering at this time. As a cherry on top, Noel surprised me with my dream bridal car as his wedding gift to me. He bought a 1979 Mercedes Benz 280E, which was not in a running condition then, and restored it to exactly how I like it within 42 days just to make it to our wedding date.
Despite all the stress and hassle of having to quickly plan a wedding during a pandemic, everything turned out perfectly and even better than what Noel and I had imagined. All that has happened that led us to this wedding was indeed a blessing in disguise for us to be able to spend our special day with people who matter the most.—Guia Silva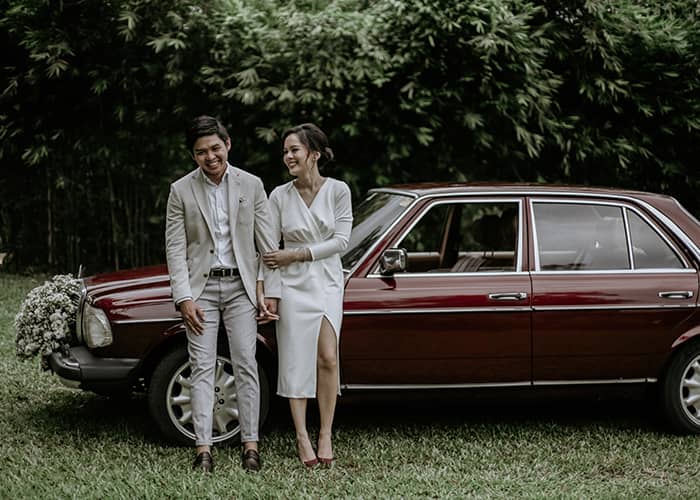 #RealWeddings: Guia and Noel
#RealWeddings: Guia and Noel
Wedding Suppliers:
Ceremony venue – Sanctuary Garden, Angelfields
Reception venue – Cucina Bernardo, Angelfields
Photographer – Lula Images (@lulaimages on IG)
Videographer – Lula Films (@lula.films on IG)
Designer bridal dress – Carina Bailon (@carinabailonatelier on IG)
Bridal robe – La Rosa (@larosanovia on IG)
Florist – Flowers and Pots by Viera
Priest – Reverend Emmanuel Rey Moreno
Cake – Sumthing Baked (@sumthingbaked on IG)
Brazo Cupcakes - Bizu Patisserie
Makeup – Isabelle Lopez (@belle.doesmakeup on IG) for makeup
Hair Jonas Lucas (@jonaxlucas on IG) for hair