This Couple Put Together Their Rustic Romantic Intimate Wedding In Just A Month!
"When you strip all the shiny elements of a big fancy wedding, you end up with what matters most to you—your husband, your family, and your health," the bride said
Couples with a great romantic relationship are often said to "make sweet music together." For this lovely pair, however, the idiom is different: they make spicy salsa together—"the dance, not the sauce," the groom quips.
Many couples end up dating and even getting married after meeting in one fun night of clubbing. But not a lot would have a story to tell about them starting their road to forever from a salsa gathering—that's exactly what makes the love story of Paj Rodriguez and Patrice de Asis unique and special. The chemistry and the connection they established together that evening till the wee hours of the morning were so electrifying it keeps the flame burning in their relationship.
More salsa date nights later, and here they are, dancing to the beat of their dreams.
The dream wedding for Paj and Patrice was supposed to take place in Bali, with its lush greenery setting the backdrop for what could've surely been a one-for-the-books kind of wedding. But when the pandemic entered the picture, like many engaged couples did during this time, they went for plan B to celebrate their union. The timing may not be ideal, yes, but it was ultimately up to the couple to make the most of the given circumstances and gift themselves with the most heartwarming event they'll treasure for the rest of their lives.
After all, as Patrice said, "When you strip all the shiny elements of a big fancy wedding, you end up with what matters most to you—your husband, your family, and your health. It's still okay to keep planning for a repeat though, that's the best part because you get two weddings!"
And in a way, that's something to look forward to, as well, as a next milestone in your relationship. If at first you couldn't push through with your dream wedding, well, you have other chances to celebrate: your wood, tin, crystal, porcelain, silver, and gold wedding anniversaries! Besides, a wedding is just a one-day affair, but marriage is meant for a lifetime.
Scroll down to read more about this couple and their rustic-themed intimate wedding:
When and how did you meet?
Paj: "It was one spicy night in 2018 when Patrice's friend invited her to a small gathering in Makati to try out salsa (the dance, not the sauce). I happened to be one of the few people in that group of friends. The evening started at 6p.m., followed by a lot of food, drinks, dancing (real and sexy, not just fist pumping club dancing), and laughter continued for hours until the group eventually called it a night at 4a.m. of the next day. It was so spicy, it created a spark between us."
How long have you been together?
"A little over 2 years now"
What are your current occupations?
Paj: "Patrice works in Unilab on weekdays, and works with her family business, Grand Nourriture, on her days off. I run AirTaxi.ph."
What do you enjoy doing together? Hobbies, interests?
Patrice: "Starting out, we both had very busy schedules but somehow managed to find time for each other. On weekends we spent in town, we would go salsa dancing or play tennis. Paj teaches me how to play tennis since he used to compete and win. On weekends and holidays we spent out of Manila, we would often go diving—Batangas, Malapascua, Bali, and Amanpulo are our favorites. Traveling, adventures, and getting lost in new places are always a favorite. We went on so many unforgettable adventures in a span of a year and a half (until the pandemic started). We're looking forward to traveling again once lockdowns are lifted."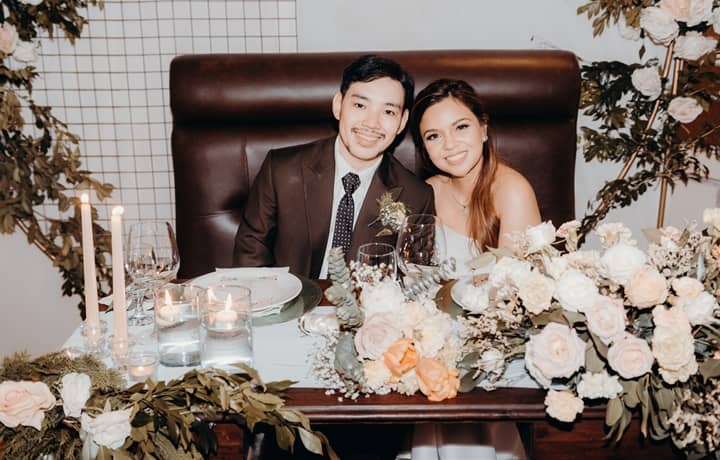 Paj & Patrice's Wedding
Paj & Patrice's Wedding
What is your wedding's motif, and why did you choose it?
Patrice: "I wanted to keep the wedding simple and rustic, incorporating my favorite color, green, in the mix. Before the pandemic, I already had my mood board set up for Bali and since we couldn't use a lot of green and white then (because the wedding was supposed to be outdoors as it would just be redundant), I figured that it was the perfect time to have this second choice for our intimate wedding."
How long did you prepare for your wedding?
"This intimate wedding was prepared in a month."
What were the challenges you encountered along the way?
Patrice: "Like all 2020 couples who were forced to downsize and/or cancel because of the pandemic, I guess the biggest challenge was finding a common date for all booked suppliers. It was also very difficult because we had family and friends who were coming from abroad. Considering the ever-changing series of events, we set deadlines on when each decision had to be made. Come decision time, we wanted to get married no matter what, even if there was a pandemic and a recession and whether or not suppliers were available. We made everything work in the time frame we had—which included continuously following up venues and suppliers to make sure everything was going to be set."
What was the best part in preparing for your wedding?
Patrice: "How hands-on my husband (then fiancé) was in preparing for this wedding! Having an array of choices can be very overwhelming and I found myself very, very fickle with details as I would easily change my mind the next day. It was very helpful that Paj and I would talk about what we both wanted, what elements would best represent our personalities as individuals and as a couple. Even though it was an intimate wedding, we still had all the elements of a normal wedding in place—photographer, videographer, hair and makeup artists, wedding cake, reception, etc. And it actually made it a bit more meaningful because we had more time preparing it together because of the quarantine."
What tips can you share to brides- and grooms-to-be when it comes to wedding planning?
Patrice: "For brides, especially those who are getting married in 2020, it's okay to cry. Cry for awhile and then remember that you can still have your dream wedding later on. As much as you would have wanted all your family and friends to be with you on your special day, always remember that you are marrying the one person who can make all the other elements seem like distractions and clutter. When you strip all the shiny elements of a big fancy wedding, you end up with what matters most to you—your husband, your family, and your health. It's still okay to keep planning for a repeat though, that's the best part because you get two weddings!"
Paj: "For grooms, no matter how simple you think planning an intimate wedding is, don't tell your bride-to-be. Make sure your heads are together when coming to a decision and enjoy it as much as you can. The benefit of being hands-on (if you're as OC as me) is that details are not as overwhelming especially if you're just a small group of below 15 people. You can plan and implement everything yourselves!"
Tell us something about your dress.
Patrice: "I wanted a dancing dress that I could wear again to my wedding next year, for it to be a little bit more meaningful. So I brainstormed with my dear friend and go-to designer for all my events, Rosenthal 'Chantal' Tee, for her to make me one. She designed me a silk peau-de-soie mid-length dress with a draped bodice and touches of crystal buttons.
How about your hair and makeup looks, and accessories?
Patrice: "I wanted something classic and clean so I opted for a half up-do hairstyle. I fell in love with how my makeup artist can copy the sultry eyes similar to the style of makeup artist Hung Vanngo. The moment I had my bridal trial, I knew that she was the one for me. She's an artist and I've never felt my best self until I sat in her makeup chair! My jewelry was my something borrowed from my mom, my hair clip was my something old, and my Jimmy Choo shoes were my something blue."
Tell us something about your suit and the accessories that completed your look.
"My suit is a deep forest green single breasted suit with complementing face mask and pocket square, designed by Philip Rodriguez. My watch is Breitling Super Ocean Heritage from my father. My belt is from Zara, it's a reversible black and brown leather belt that I got for only P1.2k—very sulit, I've been wearing it for years! My tie is a gift from Patrice's parents from a specialty shop, Cade 1926, in Milan's Galleria Vittorio Emanuele II Duomo. My shoes are a one-of-a-kind bespoke pair of austerity brogue oxfords in Burgundy Weinheimer scotch grain leather, tailor-made entirely by hand by Sapatero."
What are the highlights of the event?
"The reception in Café Ysabel was very simple. We walked in, cut the cake, did a toast, and thanked those who came and made the occasion possible. A five-course lunch was served shortly after, and followed by a speech from both sets of parents before dessert was served. It was a very intimate and heartfelt moment made memorable especially with the very few family members that were able to attend. We chose Café Ysabel because we had one of our first dates there, and it was decidedly the most ideal location for our reception."
Details:
Number of guests: 14, including the Priest
Ceremony venue: Mary the Queen Parish
Reception venue: Café Ysabel, San Juan
Date of wedding: July 4, 2020
Wedding coordinator: Self-coordinated
Photographer: Atlas Studios
Videographer: Studio King
Caterer: Café Ysabel
Invitations/printers: Sariling Sikap, e-mail invites for everyone
Bridal gown designer: Rosenthal Tee
Bridal robe: Intissimo
Groom's suit designer: Philip Rodriguez
Florist/set designer: Eye Candy Manila
Host: The groom
Entertainment: #PAJingPATRICE Spotify Playlist
Jewelry designer: Radiant Jewelry
Officiator: Fr. Guy Guibellondo, SJ
Giveaways: Café Ysabel's Strawberry Short Cake in Tin Cans
Cake maker: Sugar Craft Manila
Hair and makeup artist: Ennah Trinidad
Wedding hashtag: #PAJingPATRICE
Photographs by Atlas Studios, courtesy of Paj Rodriguez and Patrice de Asis